This post for my no-sew burlap tree skirt is one of our most popular posts in the history of Uncommon Designs.  This is the perfect time to share it again with you! There is absolutely still time to make this beauty just tin time for the holidays and your tree will love you for it.  After three years, I can promise you that my skirt is still in great shape and the ruffles are still full and impressive.  Enjoy!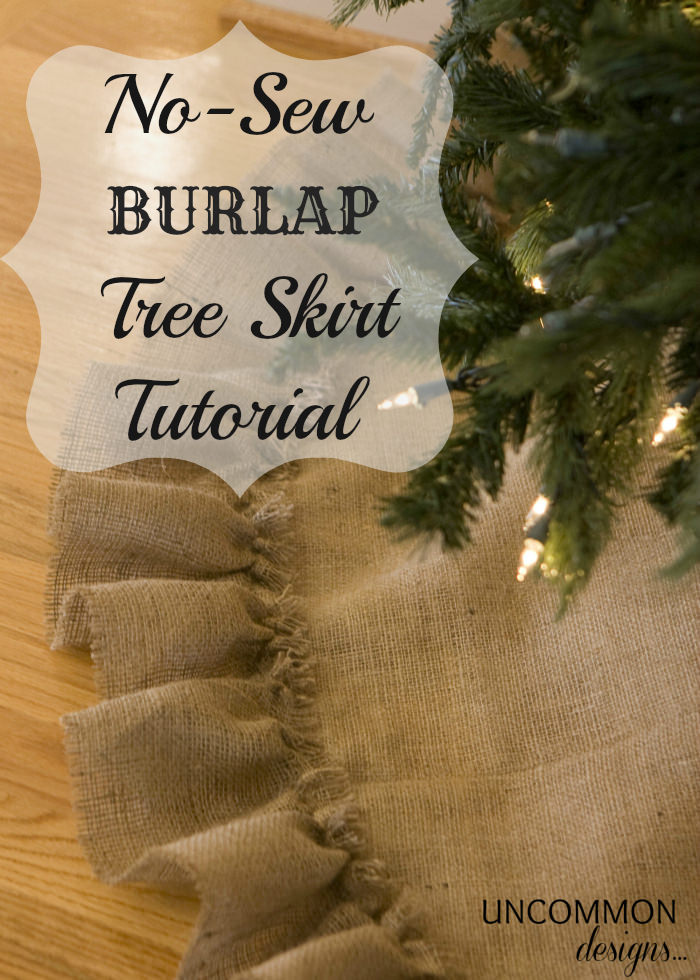 Do you ever wish that you had a beautiful tree skirt like the ones you see in magazines?  I did!  For years, I had just been draping burlap underneath my Christmas tree.  While it served its purpose, I really wanted something a bit more finished.  With the help of a few goodies from BurlapFabric.com, I was able to finally make that wish come true…
A No-Sew Burlap Tree Skirt 
Just looking at all of those pretty ruffles gets my heart all a-flutter!  Here is how you can make a no-sew burlap tree skirt for yourself…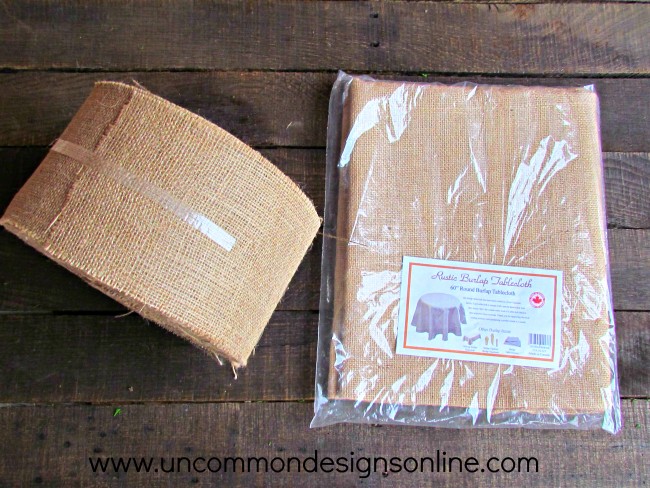 Supplies:
 Step One.  The first thing you will  do is fold your tablecloth into quarters.  Simply fold over once and then again. Now you will know where the middle of your tablecloth is.  You will unfold one time and cut a half-circle out of the middle.  I used a paper plate, but you could just freehand if you want.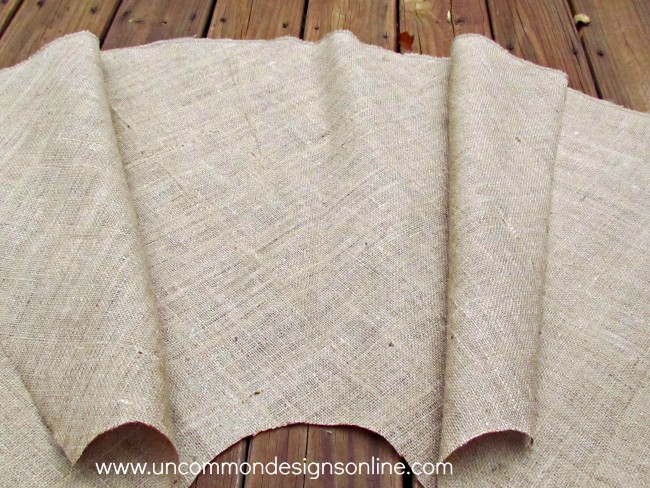 Step Two.  To create an opening, simply cut straight down from one point in the middle circle to the outer edge.  You can leave these edges unfinished or you can press them down with an iron and hot glue the edge down.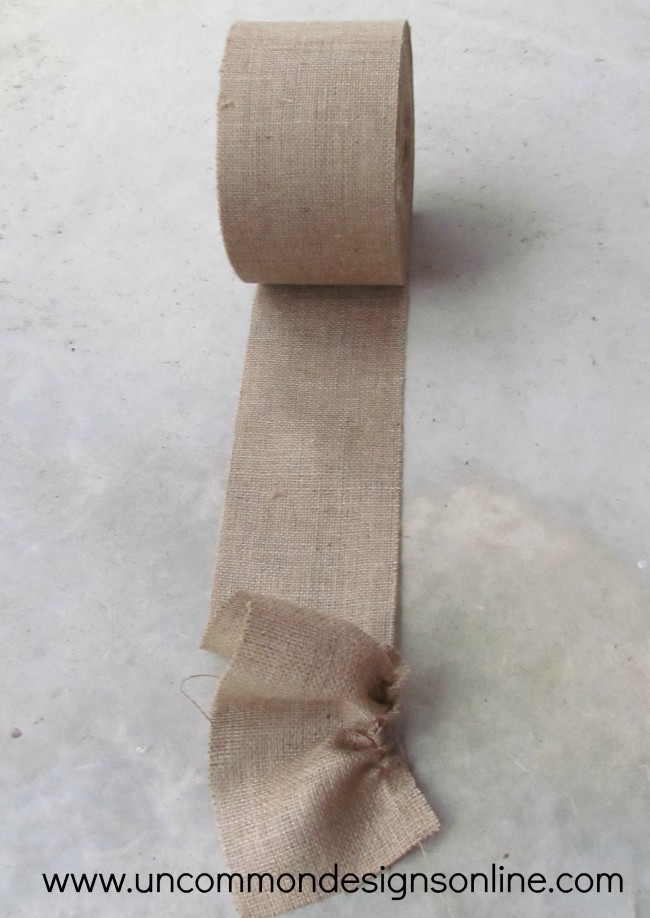 Step Three.  Now you will take your 6 inch wide burlap roll and start making some ruffles.  I pulled one thread about one inch from the top and started pushing it all the way down until I had enough ruffle to cover the outside of the entire skirt.  The next two pictures will show you a close-up of how to pull a thread to make a ruffle and what it will look like while you are ruffling.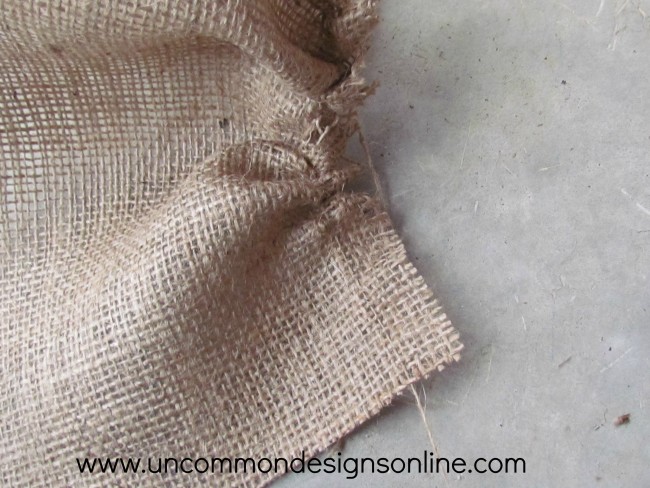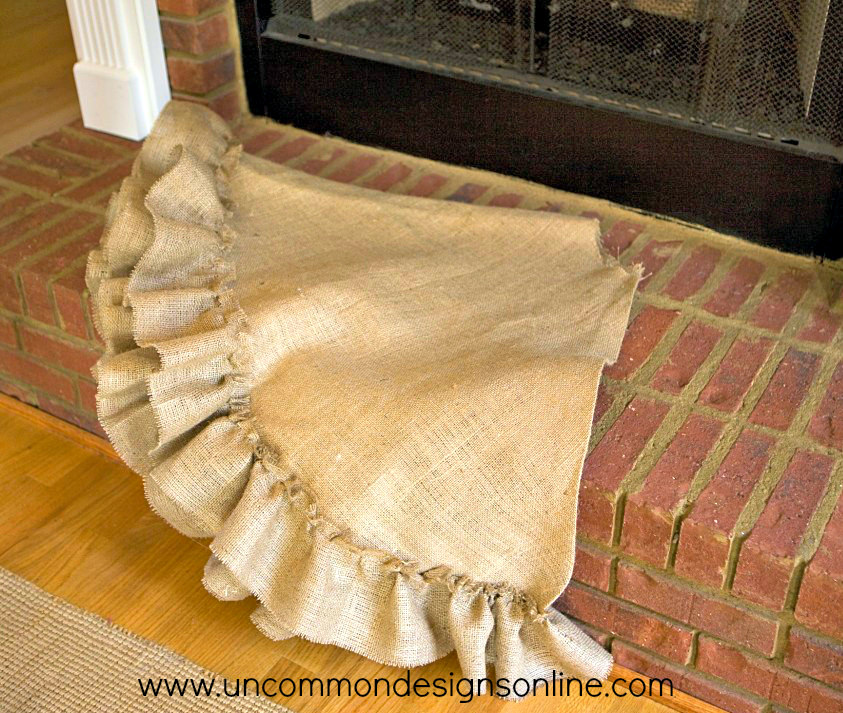 Step Four.  To finish the tree skirt, you will simply hot glue the ruffle to the edge of the tablecloth.  You will need to remove any frayed fibers of burlap.  I did not at a closure, but you could easily sew ribbon, buttons, or hook and loop tape to use for fasteners.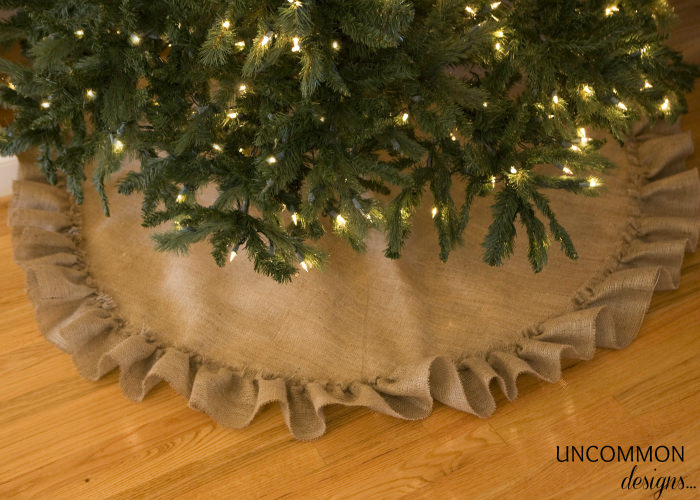 I am really loving the tree skirt and it was such a simple project!  It peeks out from beneath my tree in just the right spot and the ruffles are gorgeous!
If you are a burlap lover like Bonnie and I, you may enjoy our burlap project page!
The following two tabs change content below.
Hey y'all! I am Trish and the creative voice behind Uncommon Designs. I adore party planning, holiday celebrations, and all things crafty! I am so excited to share my creative adventures with you!
Latest posts by Trish Flake (see all)