Hey y'all… remember me? I know… I've missed you, too!
Today I am happy to report that I'm getting my crafting mojo back. I'm sharing these fun DIY painted pumpkins with this fabulous leopard pumpkin that is the star of her trio. Isn't she fantastic?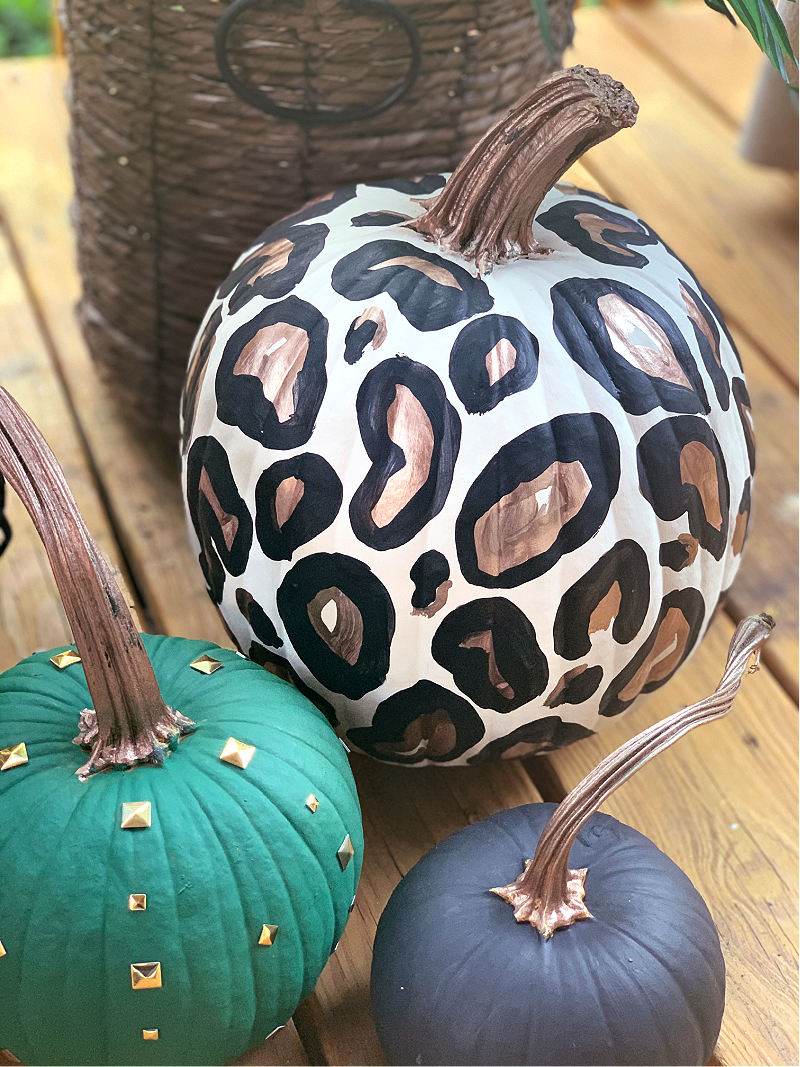 Simple Painted Pumpkins
Halloween has long been one of my favorite holidays, but we've been on a bit of a break.
Our split began a few Halloweens ago when I was home alone with all the lights out in the pitch-black dark knee-deep in gingerbread crumbs. I'd like to say that I was watching a scary movie eating warm cookies, but I was actually pouting.
It was the first year neither of my girls were home for trick or treating and I was throwing myself a big fat pity party. I had decided that since no one would be home, I wouldn't pass out candy and the plan was to work on this Christmas table and turn my lights off when it got dark so no one would think I was home. Well, I worked all day on a gingerbread house that was completely stunning and when it got dark, I kept my word and did not turn on a single light.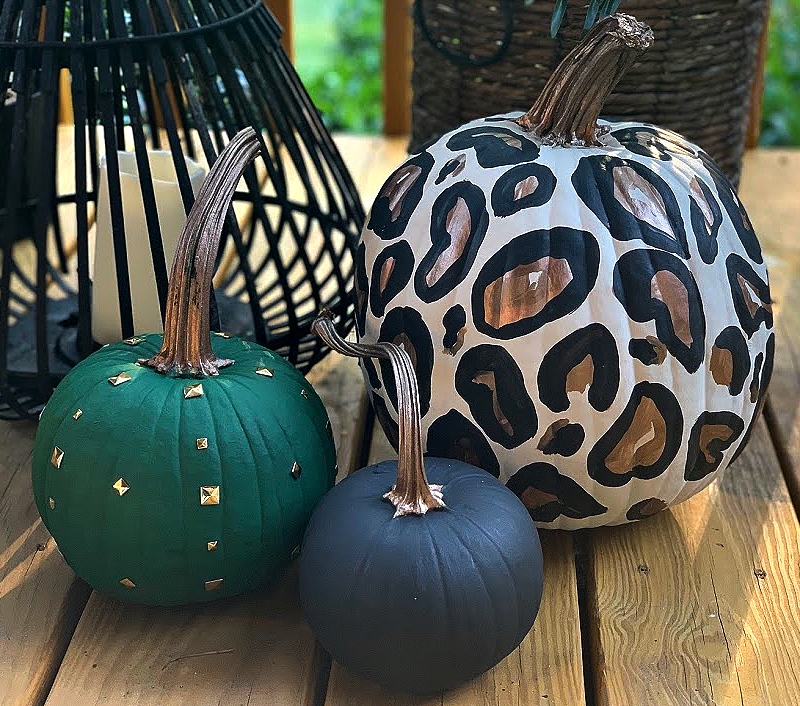 The problem was that everyone in my neighborhood knows how much I love Halloween and naturally they stopped by for trick or treating. Even with the lights off, the doorbell rang and rang and then I heard a large bang. I ran into my kitchen and stomped right on my perfectly crafted gingerbread house… it was in a million tiny little pieces.
I literally cried until I had no other choice but to laugh and eat Reese's cups.
When it got late enough, I turned on the lights, cleaned up my mess and welcomed the girls home… then I ate some of their Reese's cups.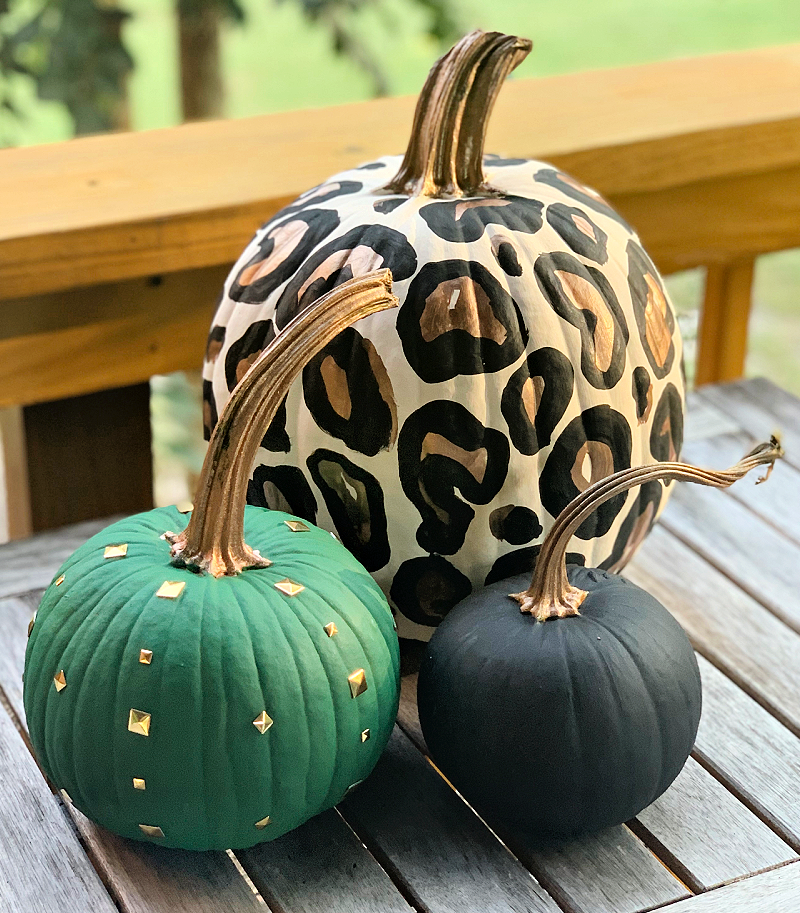 With the world in chaos and nothing feeling quite right, I have decided to lift my ban on Halloween and get my holiday craft on. I started with these gorgeous pumpkins. You won't believe how easy they are to make!
Painting a Leopard Pumpkin
Leopard and cheetah are my new neutral, so it made perfect sense to paint a leopard pumpkin. It may look hard to paint, but I promise it isn't at all!
I grabbed some white paint and gave this girl a thick base coat. Once the base coat dried, I splotched on metallic gold spots, let them dry and then outlined the gold splotches in black. Splotching is a super technical word for just putting paint somewhere with no grand plan. It is pretty much foolproof!
There were a few spots that looked bare, so I just added some smaller splotching and then painted the stem with the gold paint.
Painting an Emerald Pumpkin with Brad Detail
I'm also in love with this emerald pumpkin. She is so elegant and all I did was paint her with a couple of coats of green paint and add these brad stickers.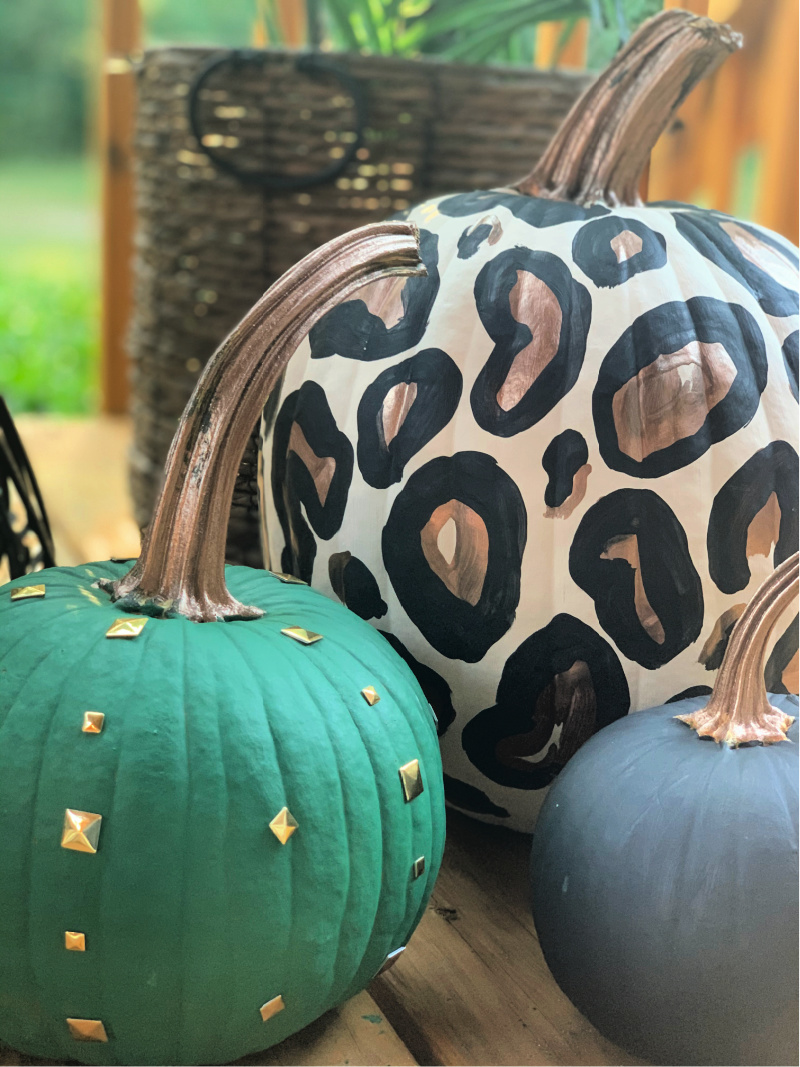 I also finished off this pumpkin with a gold-painted stem. A little paint, a few stickers and you have a simple way to make a pumpkin that can last all the way through Thanksgiving.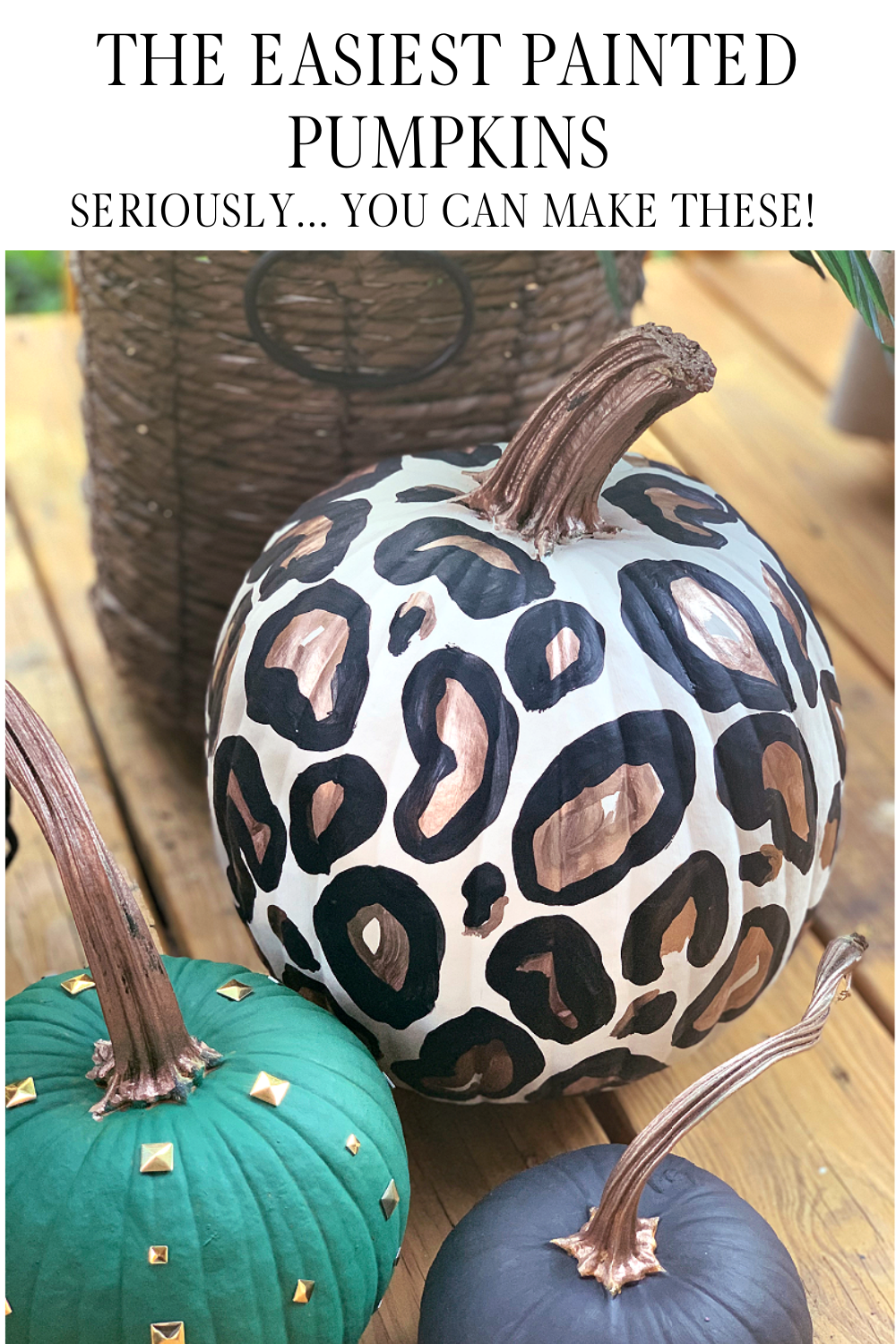 The following two tabs change content below.
Hey y'all! I am Trish and the creative voice behind Uncommon Designs. I adore party planning, holiday celebrations, and all things crafty! I am so excited to share my creative adventures with you!
Latest posts by Trish Flake (see all)