This post was sponsored by Chesapeake Bay Candle Company. All opinions are 100% are own.
They say Fall is upon us…
I have to admit, it  doesn't feel much like fall. Our lawns are still green, some of our pumpkin stands haven't opened yet and and we just survived Hurricane Matthew. Even though I am still sweating to death, I want to celebrate fall the best way I know how… through the senses.
Normally, I don't decorate my home for Fall, but you should check out Bonnie's home tour. It is drop dead gorgeous. I adore Fall decor, but I am normally so busy that by the time I have time to breathe, it is almost Christmas.  We also don't have family over to our house for Thanksgiving, so Fall decor does get skipped a lot.  It shouldn't, but it does. When the kids were younger we would go all out for Halloween, but this is our busiest month of the year and they are content with carving their pumpkins and dressing up the front porch as the holiday approaches.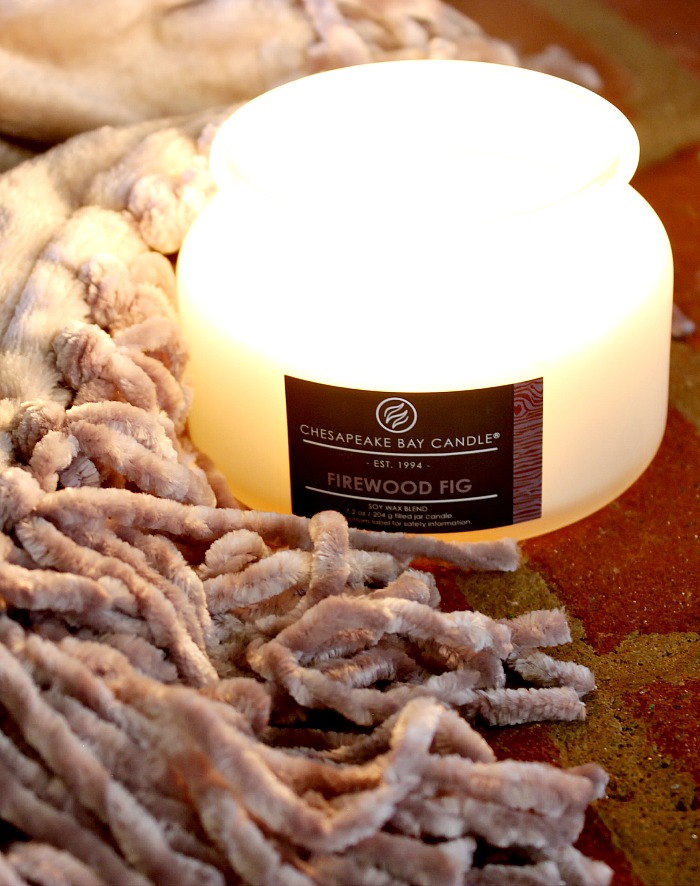 This year I decided that I don't have to miss all of the beauty of fall. Even though our schedule is packed with cheer, football games, fall festivals and church activities, we can still embrace it in small ways.  For example, a nice new silky and warm throw and some of my favorite Chesapeake Bay Candles.  Even if it is hot outside, I can light my candle and create my own bit of fall inside. It amazes me how just the smell of a candle can completely transform you.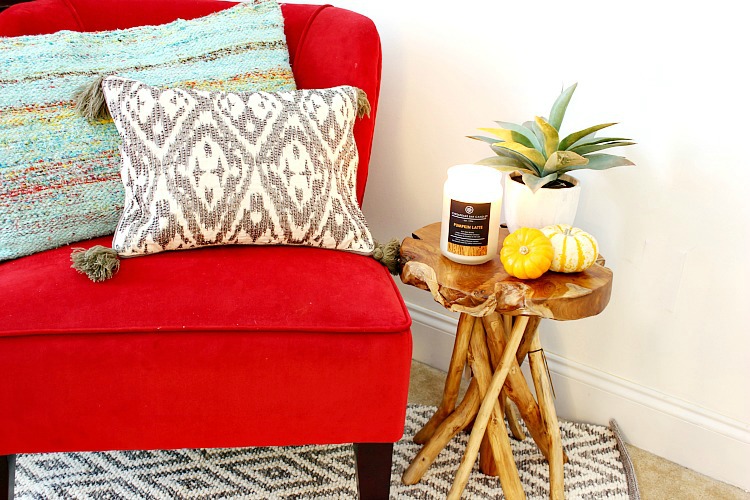 I brought in some fall texture with this amazing live edge wood side table and gorgeous pillows that signal cooler weather is on the way. They are cozy and beg for you to come relax and cuddle up on the couch. I have to tell you those couch cuddling sessions are a precious time that I get to spend with my girls. They won't be little forever and I love being so close to them.
Speaking of the girls, they have decided that Pumpkin Latte is their favorite scent. It smells divine and it really does fill my home with the essence of the season. It has a sweet blend of pumpkin, brown sugar, creamy vanilla with the perfect touch of cinnamon.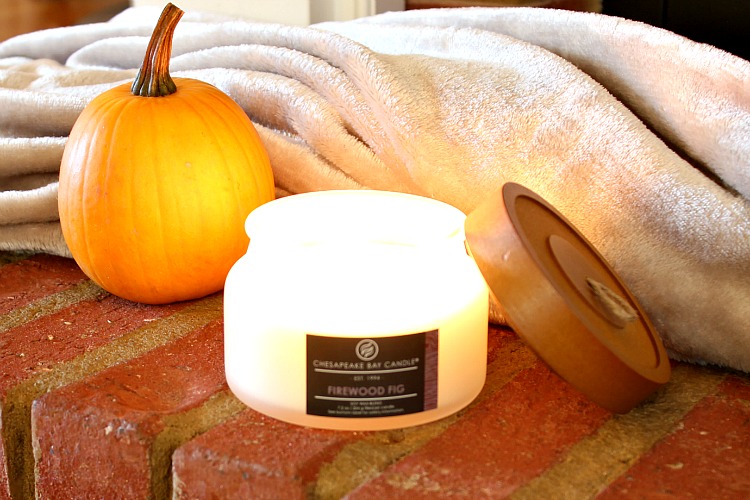 My favorite is Firewood Fig. It is slightly musky and woodsy with that sweetness of fig. It reminds me of my in-laws home in the winter.  They have a buffalo stove and you can't help but slow down and relax and enjoy naps by the fire and conversations that are priceless. To me there is nothing like it. Somehow when I am there I give myself permission to just enjoy the sweet moments as a family without the distractions of daily life. You can't  put a price tag on that friends.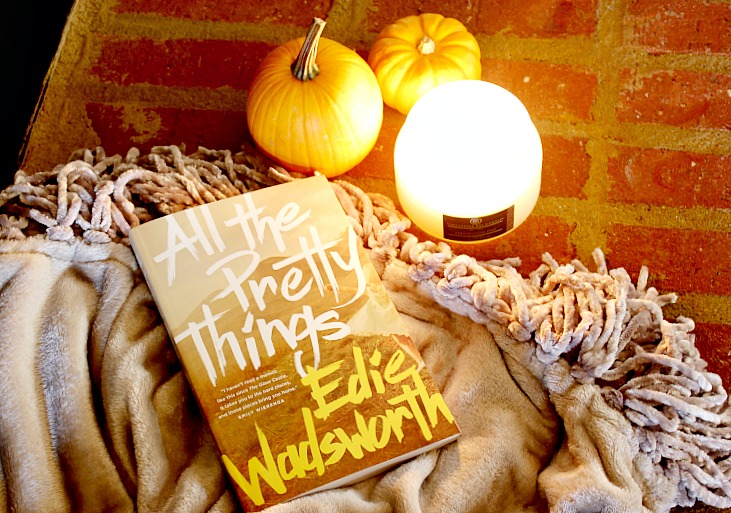 This weekend, I plan to light my Firewood Fig candle, cuddle up on the couch with my kids and read a book.  I'm going to put this computer away and enjoy fall with my family.  After all, with the hurricane coming, it will be cool and rainy and we have no place to be, but together. Bliss.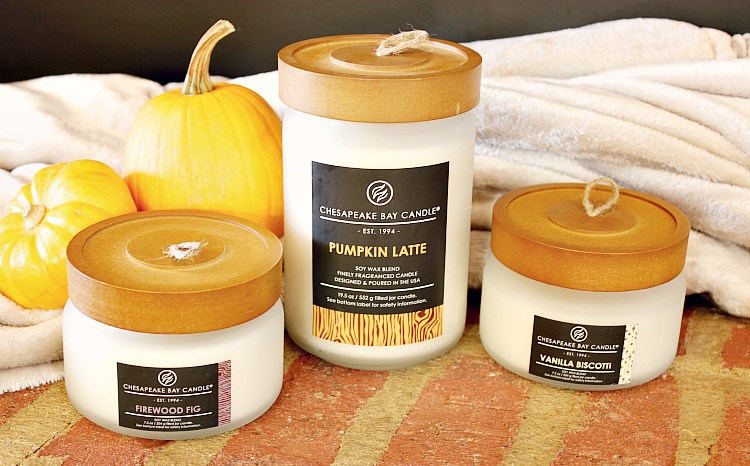 Be sure to check out Chesapeake Bay Candles for their entire Heritage Collection line.  My next stop is the Vanilla Biscotti… the whole house will smell as though I've been baking all day. I can't wait!

I just saw this morning that right now your Fall favorites from the Heritage Collection are 35% with the coupon code. Get them while it lasts… you will be so glad you did!
The following two tabs change content below.
Hey y'all! I am Trish and the creative voice behind Uncommon Designs. I adore party planning, holiday celebrations, and all things crafty! I am so excited to share my creative adventures with you!
Latest posts by Trish Flake (see all)