This shop has been compensated by Collective Bias, Inc. and its advertiser. All opinions are mine alone. #WinterizeYourClosets #CollectiveBias
It may sound silly, but I have always dreamed of having a super organized entertaining closet. Some of you may be wondering what the heck I am talking about, so let me explain a little. Some of my very favorite things are beautiful dishes, cake stands, and pretty glasses. I am the gal in my circle of friends who is constantly asked… "Hey Trish, can I borrow your (fill in the blank) for a party I'm hosting this weekend". Before I would have to take my friends into my bathroom… yes the bathroom for them to pick out what they wanted to borrow out of a closet that was deep and dark and a little embarrassing at times.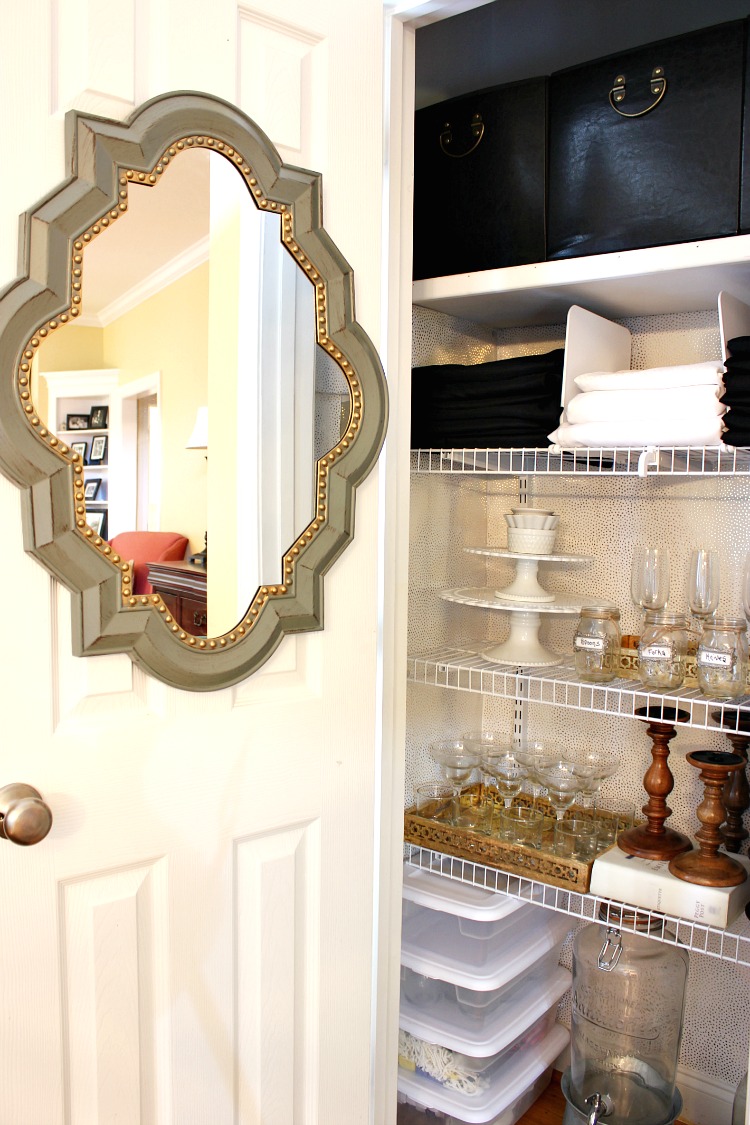 I'm not embarrassed any longer. And my friends and I don't have to hang out in my bathroom pulling things out of the closet to get to what they need.  Isn't she a dream?  I love my new entertaining closet and I am so grateful that it was so simple to put together. Remember when I redid Ann's closet?  Well I have teamed up with Rubbermaid again and they continue to rock my "wish I was always organized" world.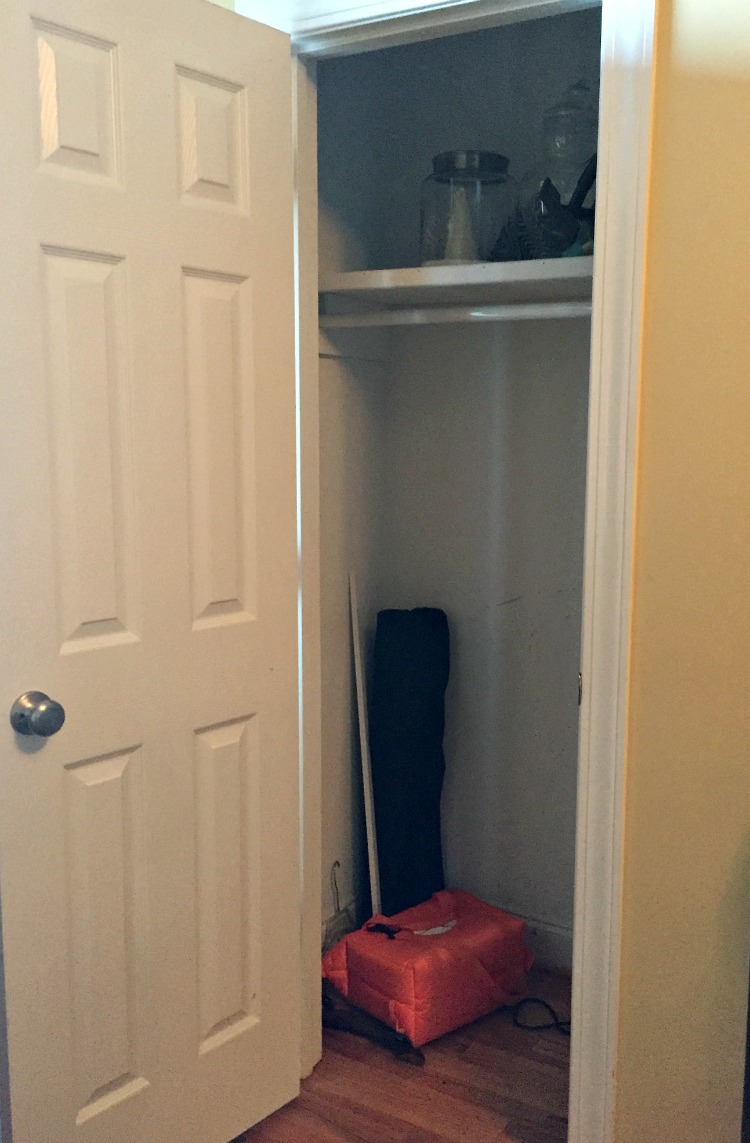 This is what my closet somewhat looked like before.  I say somewhat because I had to clean it up a little before I shared it with you guys. It was literally filled to the brim with throw pillows, table leaves, and clothes destined for the thrift shop. Those items were taken care of first, so I could do a little measuring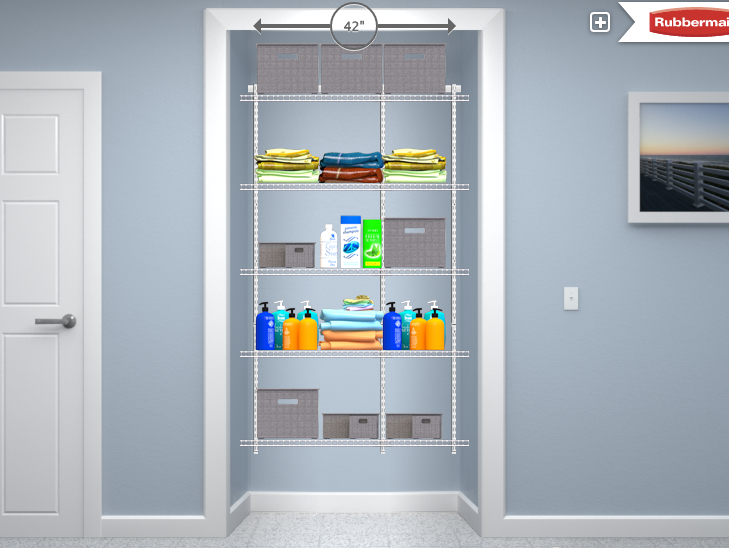 The next step in my closet organizing journey was using the Rubbermaid Storage Planner to get an idea of how I would go about the installation.  The planner was amazing and so simple to use.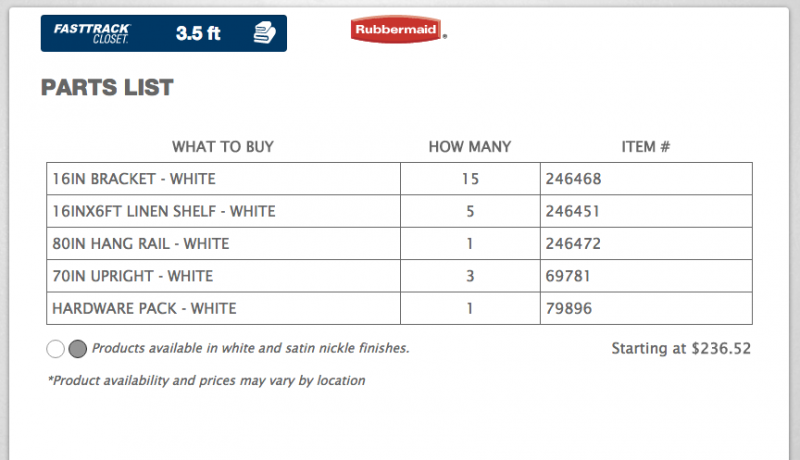 When you are done with the planning, the Rubbermaid Planning Tool even summarizes everything you will need and a cost estimate. So very helpful, right?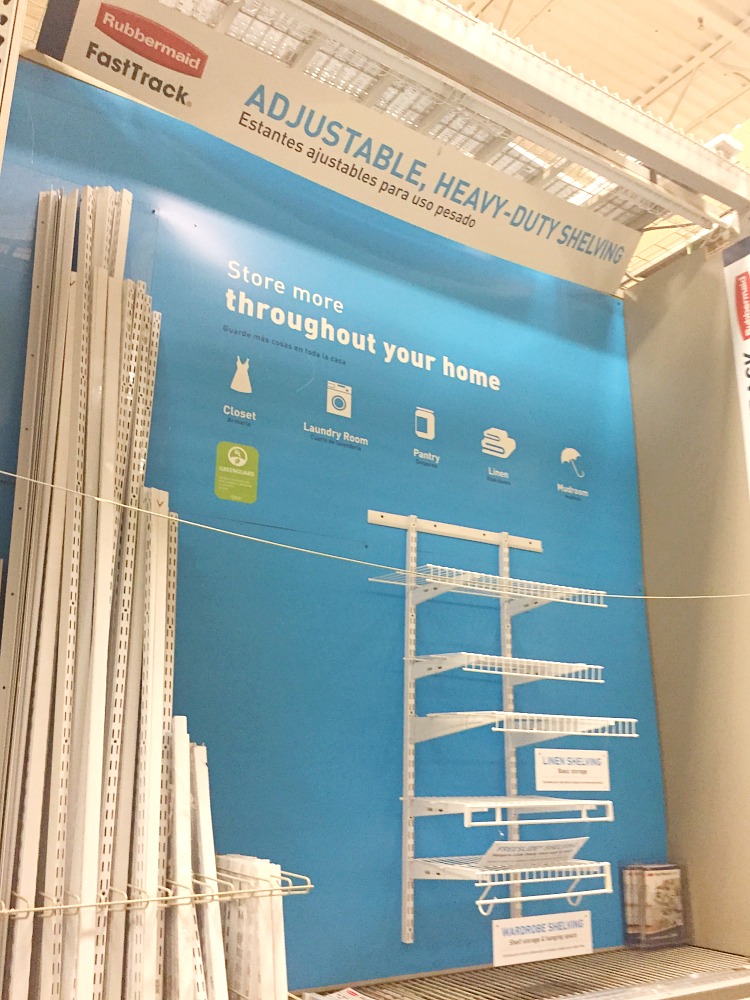 Off to Lowes I went to go check out Rubbermaid® FastTrack® closet system. It is great for laundry rooms, linen closets, pantries, and I knew it would be the perfect selection for my entertaining closet. I purchased my supplies and headed home to get started.
An Organized Entertaining Closet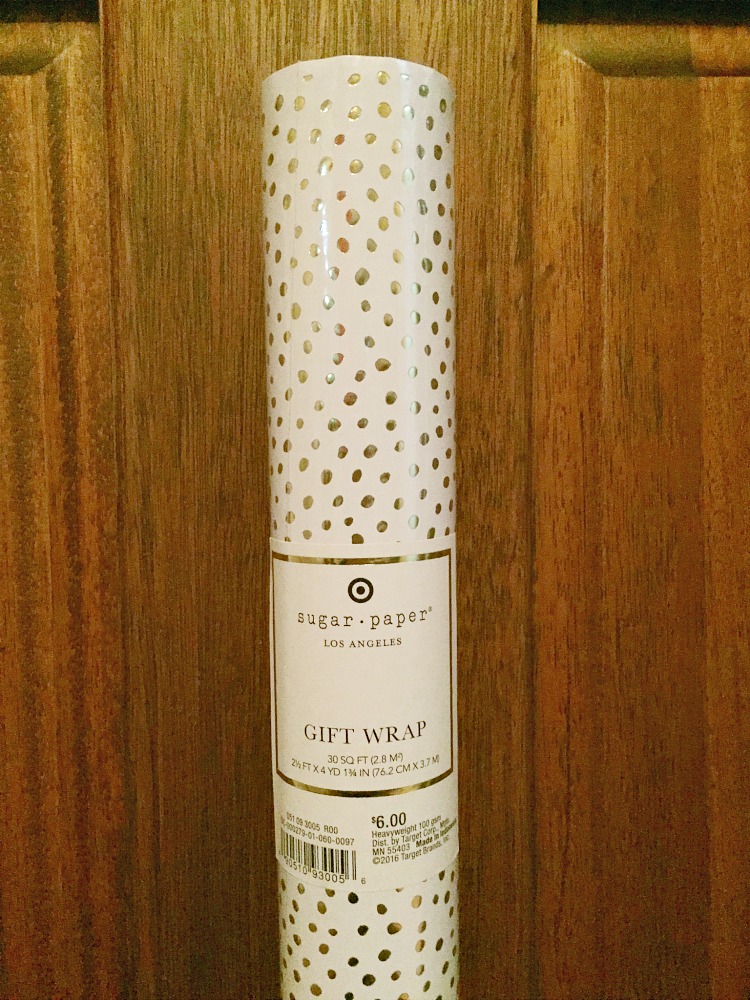 The walls of my closet were pretty beat up, so I decided to use this fancy wrapping paper to line the walls.  It was really thick paper with raised gold imperfect and random dots.  Perfect for an imperfect and random  girl who loves beautiful things.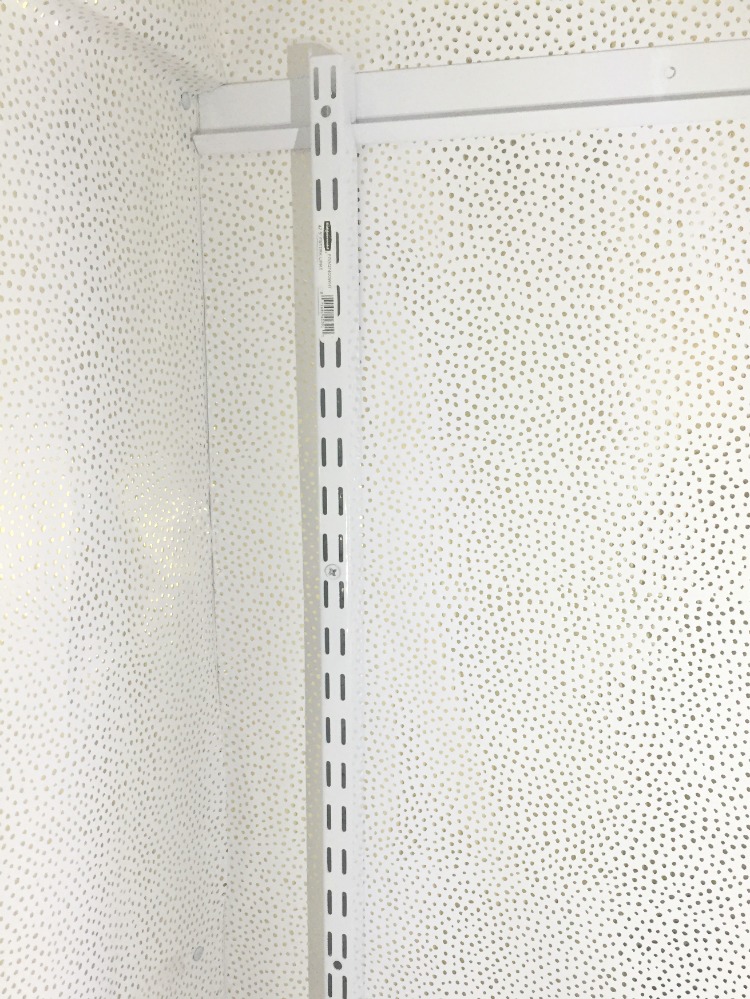 I lined the walls with the paper and began the install.  Using a level, you first instal the rail that you see at the top and then follow up with the white hanging upright rails.  This was so easy to do and I couldn't believe how quickly it all came together!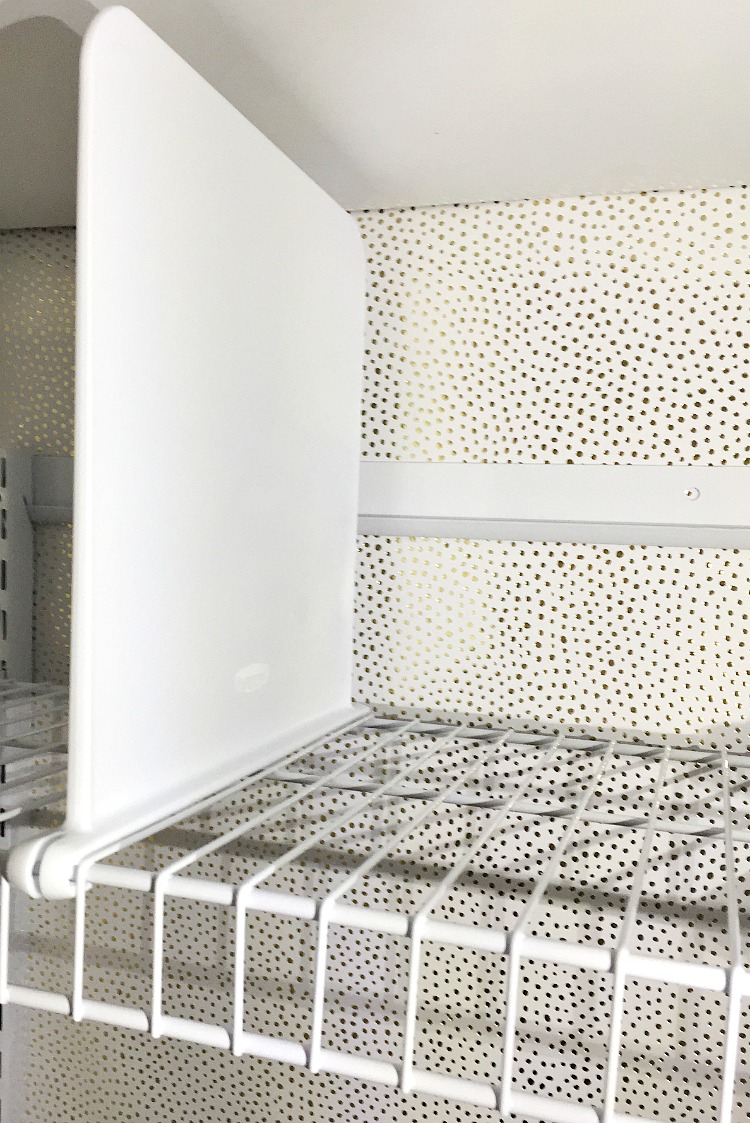 Here is where the real fun began.  I knew that I wanted to be able to separate my table linens, so I used the Rubbermaid® FastTrack® White Plastic Shelf Dividers on the top shelf. They literally just snap into place!
Now my tablecloths are neatly folded and in one designated spot.  Before, they were in the bathroom closet, dining room drawers, you name it. Now they are ready to whip out at a moment's notice and be wrinkle free and clean!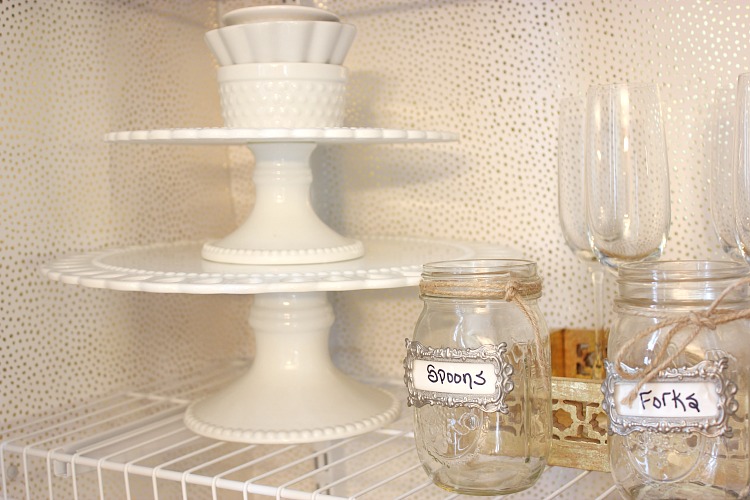 I filled in the the other shelves with my entertaining essentials. My sister recently handed me down her set of cake stands, and they have a prominent place on the middle shelf.  The mason jar utensil holders get used almost weekly around here, too!
Then I used a few of my favorite gilded gold trays to house my glassware and added in my favorite candlesticks and white entertaining dishes.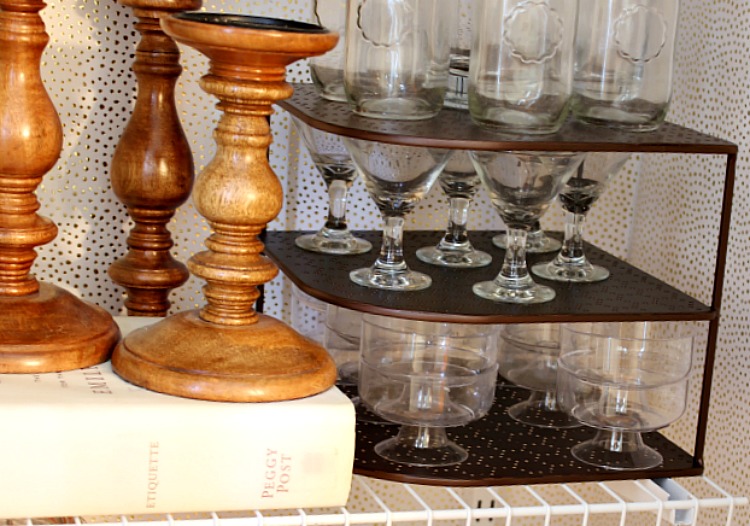 This tiered storage item is meant for storing plates, but it was perfect for my small glasses and dishes.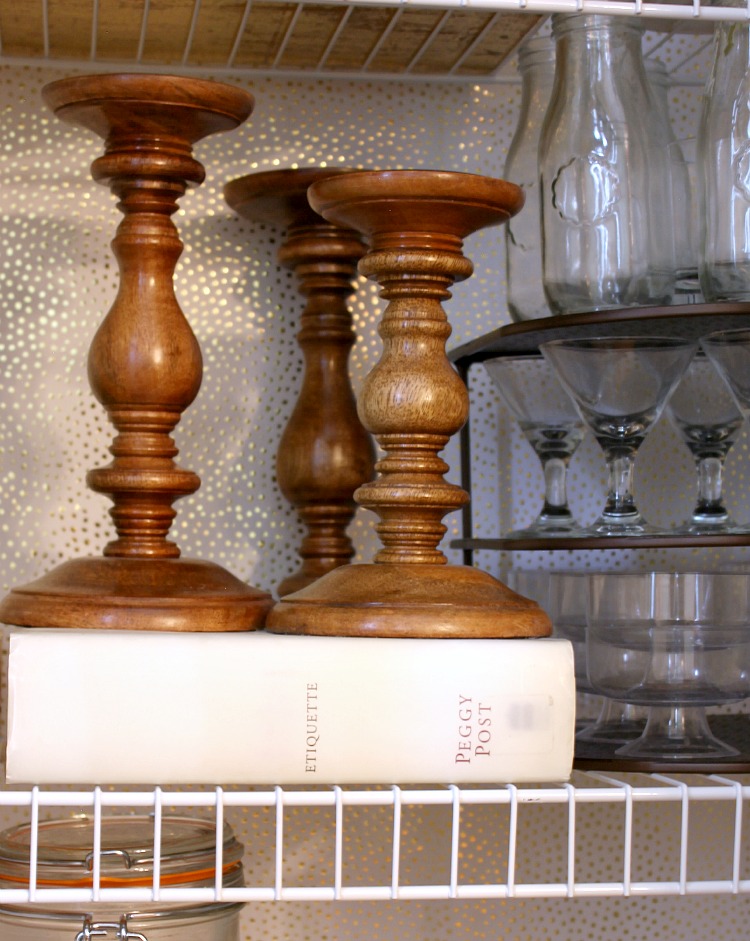 You will also see that I included a gift that my grandmother gave each granddaughter when they married. Peggy Post's book on etiquette. I have referenced it so many times, even in today's casual world, a little bit of manners never hurt anyone. 🙂
I know you must be thinking about not having the ability to store coats in a coat closet. Well, we have never been able to do that due to my cluttered closet, but now we can store guests coats when they come and they even have a mirror on the door to check their lipstick and hair as they enter and leave.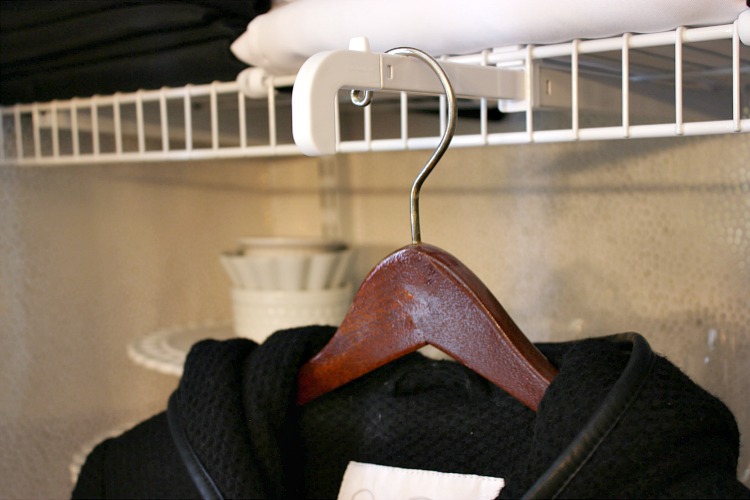 This is made possible by using the Rubbermaid® FastTrack® White Steel Valet Rod. It recesses when not in use and you can pull it out to hang coats when you  need to. See… problem solved!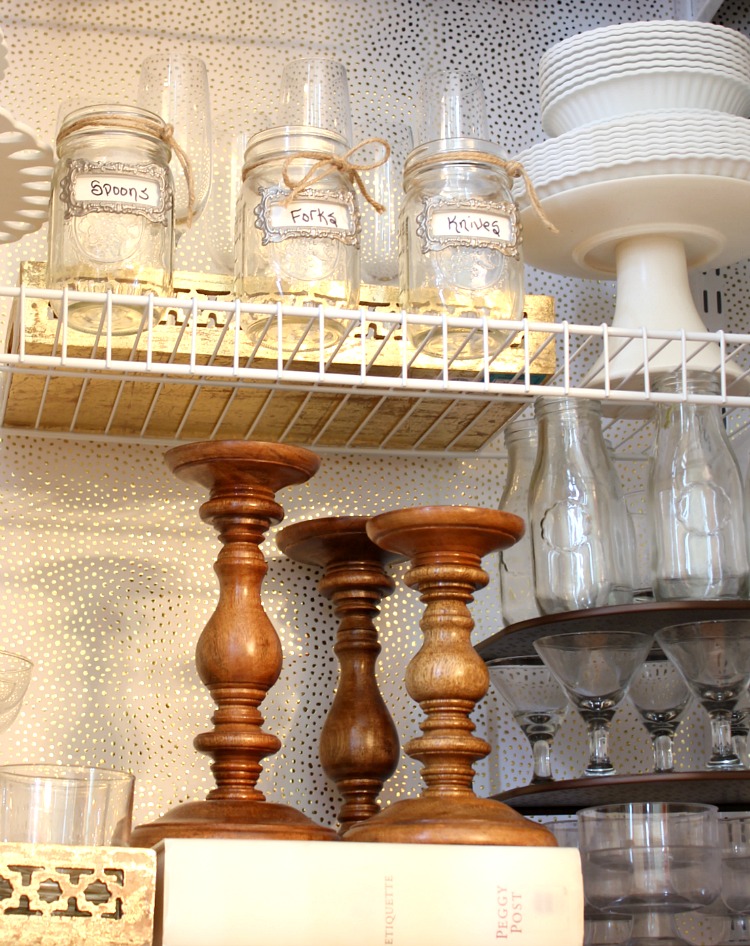 It may seem silly, but when you have a heart for entertaining, a closet like this might just set your heart a flutter.  I love it and keep going by and opening the door. The kids think I'm crazy, but what is new?
Can you think of a closet in your home that you would like to get organized?  Maybe you have a linen closet that doesn't quite fit your lifestyle or do you dream of a pretty closet like mine? Rubbermaid® FastTrack® can make these dreams a reality for you! Just jump in!
The following two tabs change content below.
Hey y'all! I am Trish and the creative voice behind Uncommon Designs. I adore party planning, holiday celebrations, and all things crafty! I am so excited to share my creative adventures with you!
Latest posts by Trish Flake (see all)