A few years ago, I created a very sweet carrot patch filled with Easter treats.  It has been one of our most popular Easter posts.  I thought I'd share how we put it together and how simple it is for you to bring to your next egg hunt or Easter gathering!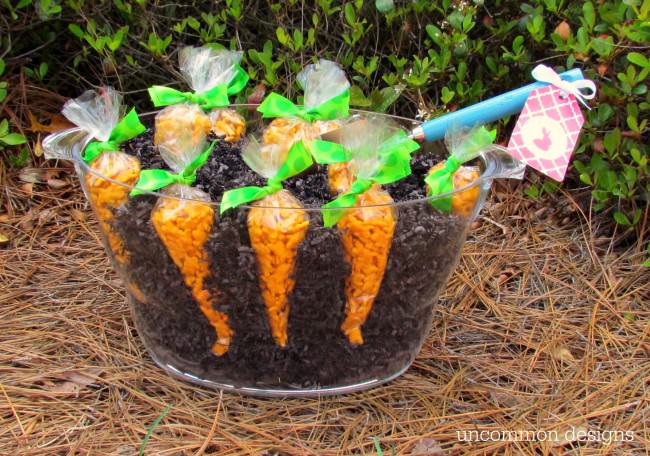 To put this garden together you will need a few supplies: (may include affiliate links)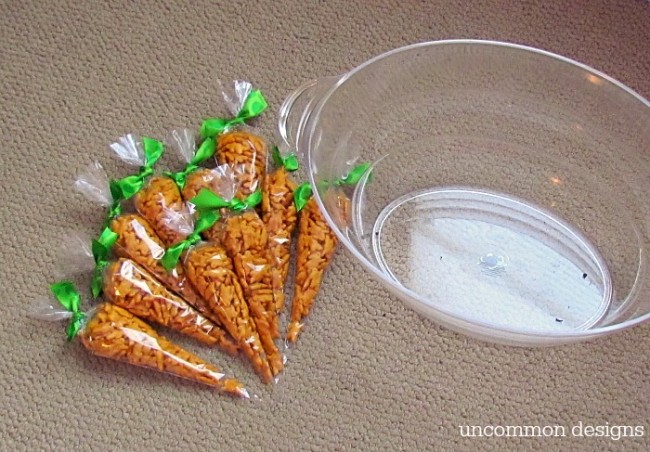 To start, you will want to prepare your carrot Easter treats.  I purchased a few boxes of Annie's Cheddar Bunnies
, or you can use gold fish if you'd like. I then filled the triangle treat bags

with the crackers and tied them with a cute green polka dot ribbon.  This was a really great alternative to sugary candy treats.  Now we are ready for planting!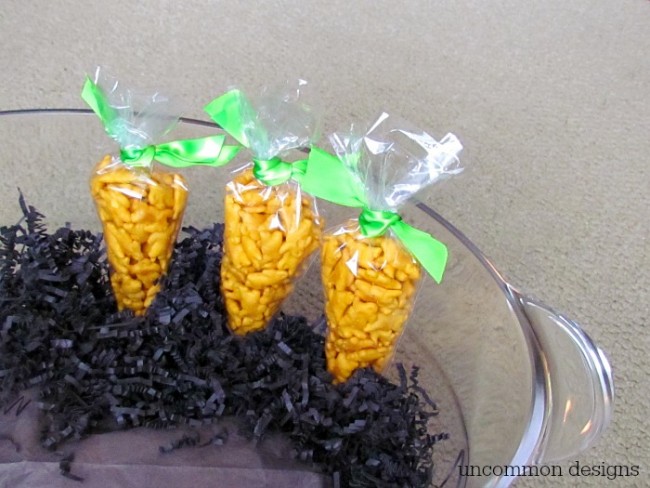 To save on the amount of brown shredded paper, I decided to crumple up some brown tissue paper and place it in the bottom.  My container was pretty deep, so this was really cost effective.  I found this container at Target and I have also seen one very similar to this at World Market.  You will put a little shredded paper at the bottom and then begin putting in your carrots. Place the shredded paper all around the carrots until they are planted to your liking.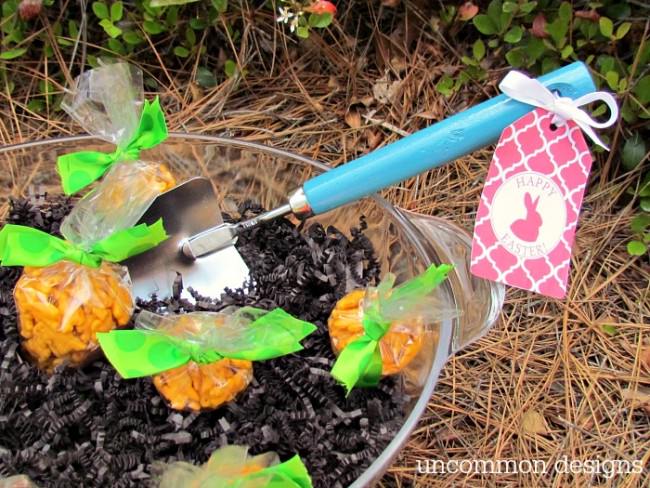 Make sure that the paper is pretty loose so the kids can pick their carrot easily.   When I was done, I placed a painted trowel in my garden for a little added style.  Finally, I added a tag from the Mod Bunny Collection by Green Beansie Ink.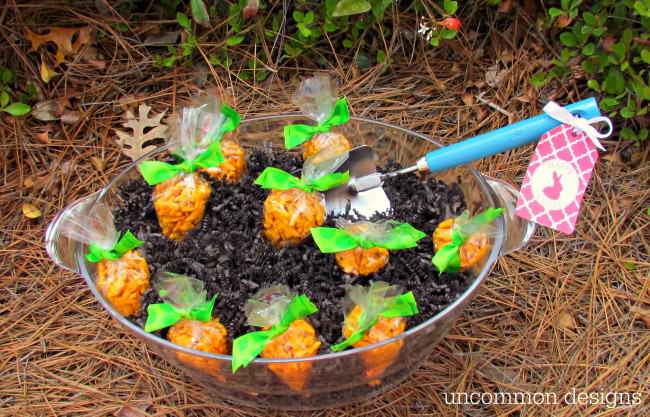 Now our carrot patch was perfectly complete!  This is such a simple craft, but it really adds so much interest to your party table.  This would be a wonderful treat to bring to a preschool party, too!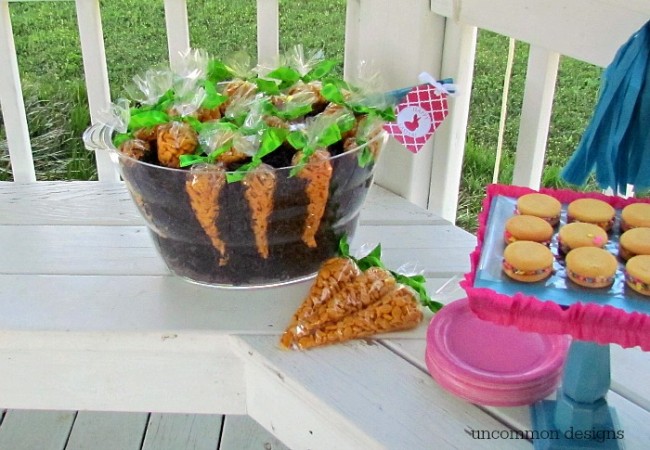 We used ours at our neighborhood Easter egg hunt party and it was a smashing hit!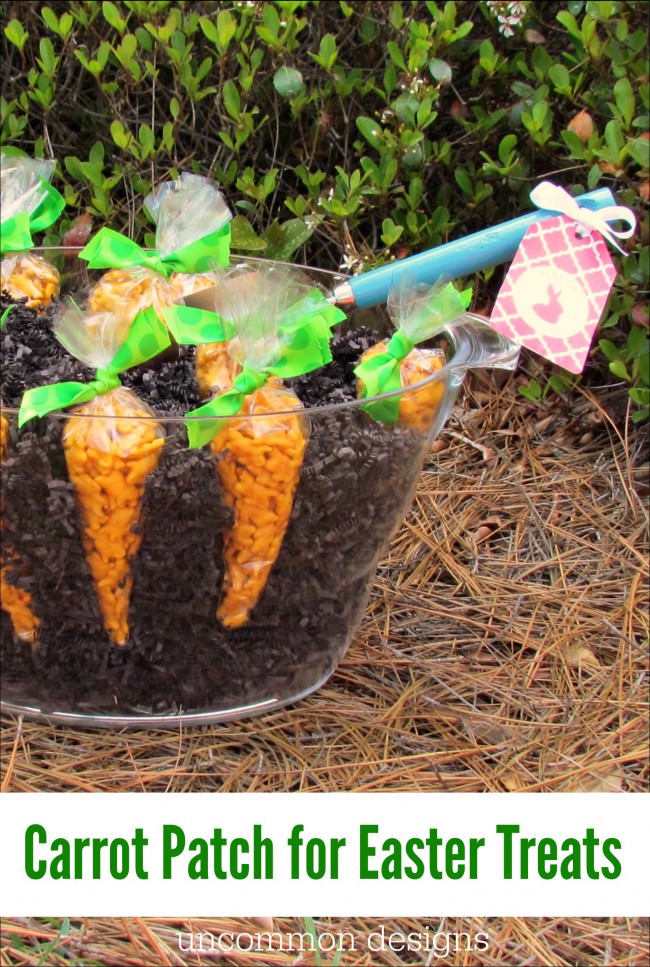 Have fun with it!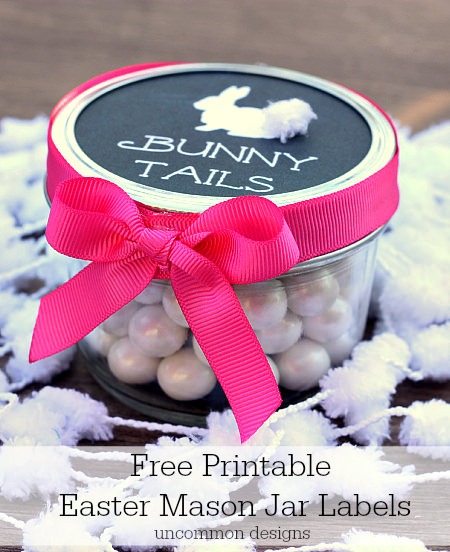 For another great idea for Easter treats, check out our bunny tails mason jar treats with free printable labels!
The following two tabs change content below.
Hey y'all! I am Trish and the creative voice behind Uncommon Designs. I adore party planning, holiday celebrations, and all things crafty! I am so excited to share my creative adventures with you!
Latest posts by Trish Flake (see all)