Hey y'all! Are you feeling the chill in the air?  It's finally cold here and I just want to curl up on my couch with my soft blanket, drink some coffee, and get sucked in by Pinterest.  There… I admitted it… I am a lazy Pinterest addict who loves her blankie!  Now that we have that out of the way, I can share my so crazy easy Halloween hurricanes with you.  I really heart them.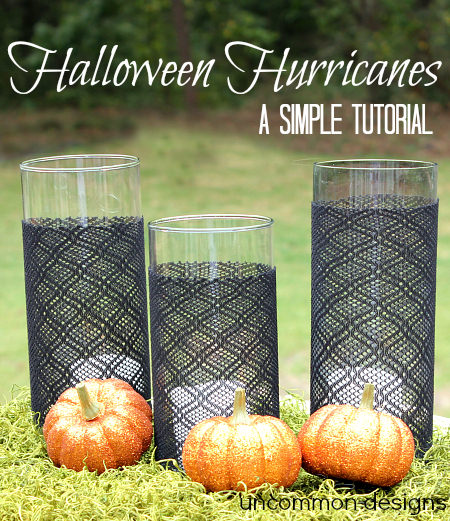 A while back, I was checking out some craft magazines at the bookstore and I saw a dining room table decorated with all of these hurricanes that were dressed up in fishnet stockings.  They were just so classy and they would match perfectly with my Halloween decor.  I had to make them and I am so glad that I did… it only took 3 minutes, seriously!
Here are the instructions for you to make a set for yourself…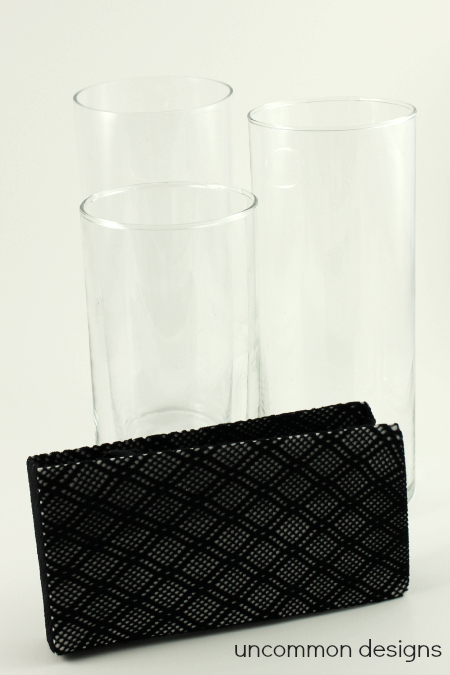 Step One.  Gather your supplies.  I used three glass hurricanes from the Dollar Tree and a pair of black patterned fishnet stockings. I am no fashionista by any stretch, so this would probably be the only time in my life I will ever make this purchase.  Hee hee!  You will also need a pair of scissors.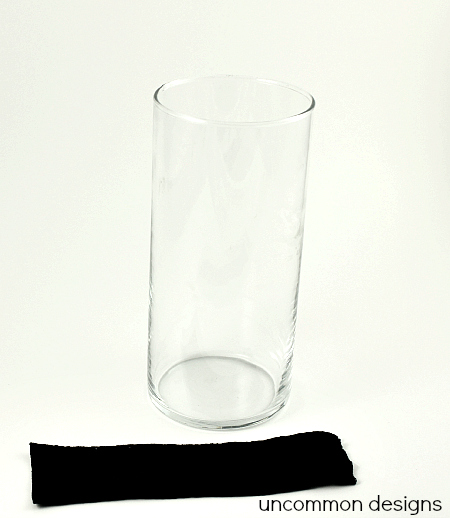 Step Two.  Cut a length of stocking a little longer than the length you would like for it to be on the glass candleholder.  No need to finish the ends, just make sure to cut as straight as possible!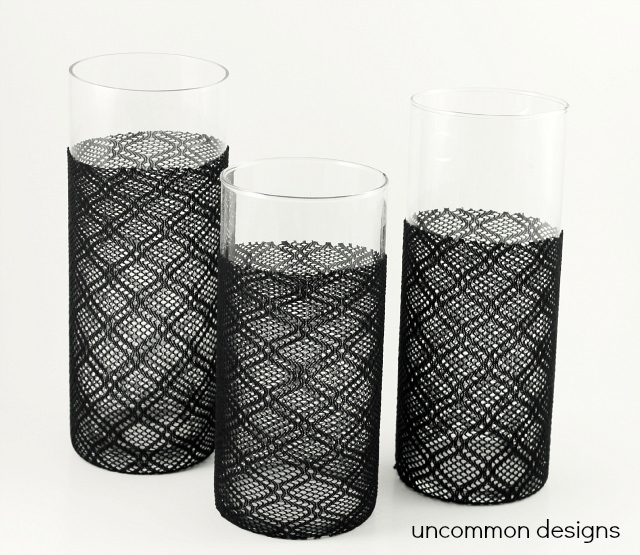 Step Three.  Slip the stocking over the bottom of the hurricane and pull it up to the desired height.  Repeat with the other two candleholders.  That is it!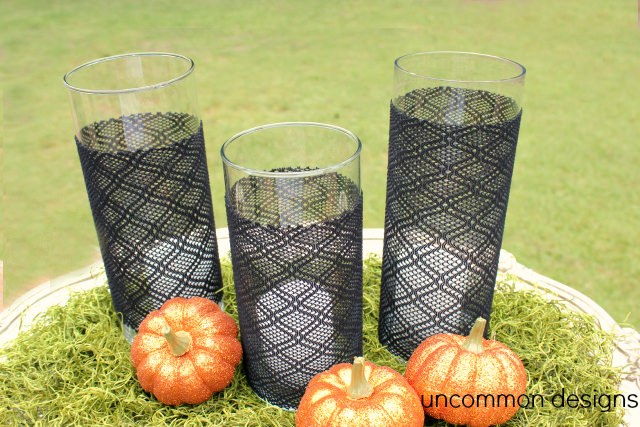 Aren't they just fabulous?!  No joke guys, I could make these during one commercial break of Duck Dynasty! The fun part is that once I brought them inside and lighted them at night, they are ten times more beautiful.  There is just something about flickering candles that make your home feel so inviting and peaceful.  I love that they are so easy and just so elegant, too.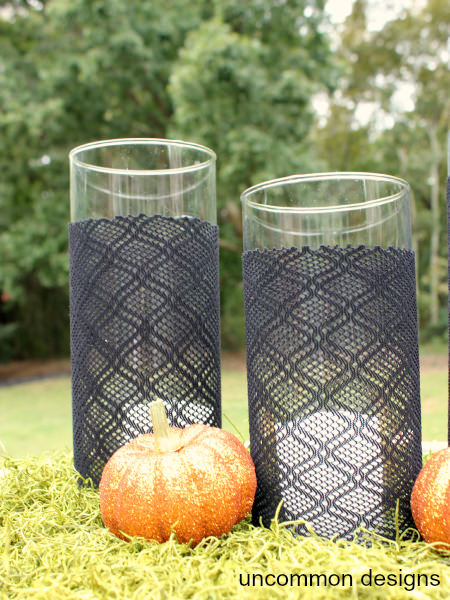 What have you been making this week?  I have lots more Halloween goodies to share with you on Friday!
*Trish
You may also like…
Elegant Feather Boa Wreath   Beware Banner  Glitter and Glam Pumpkins
The following two tabs change content below.
Hey y'all! I am Trish and the creative voice behind Uncommon Designs. I adore party planning, holiday celebrations, and all things crafty! I am so excited to share my creative adventures with you!
Latest posts by Trish Flake (see all)