Hey guys!
I hope you are doing good today… I sure am!   I am sharing a super fun project that I just completed in my entryway, a fun Halloween chalkboard printable.
Do you have an area of your home that is beautiful as is, but when you are ready to decorate for the holidays it seems to fall short?  I love this large framed picture, but it really needed to be transformed for my Halloween decorating.
I simply adore all of the large chalkboards, but really didn't want to take down this print just for a few months out of the year.  I decided to make a Halloween chalkboard printable that I could place inside of the picture frame for a temporary holiday art piece.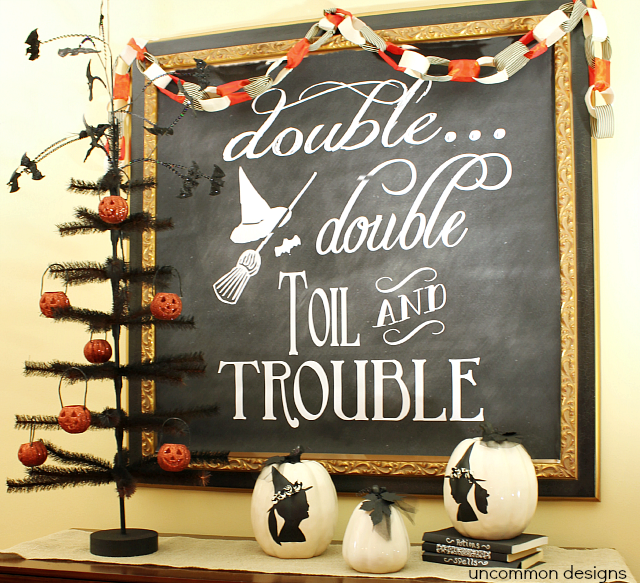 I just love how it turned out!!  All I did was send it to Office Depot and they printed it out for me and it was less than $6. I adhered it to the glass of the picture with 3M Command velcro strips.  You just can't beat that for a 52 x 52″ piece of art folks.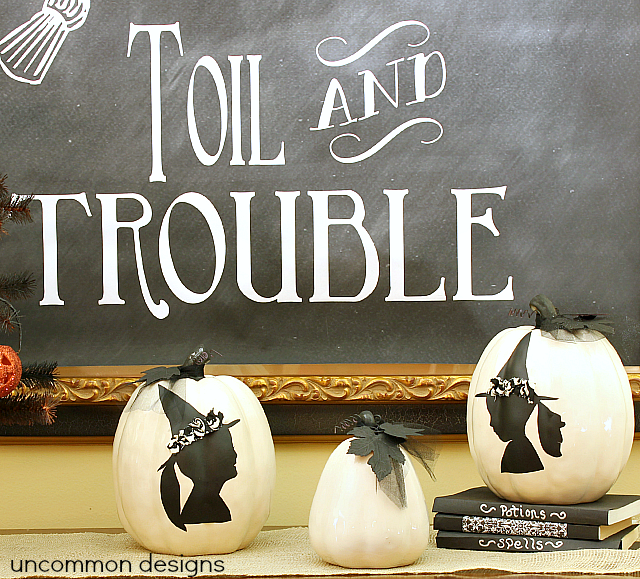 You may remember these silhouette pumpkins from last year?  They are still my favorite pumpkins in the history of time.
Now it wouldn't be nice not to share would it?  I have created a free printable poster and smaller print for you to enjoy, as well!
Halloween Chalkboard 24″ x 36″ Poster Free Printable
Halloween Chalkboard 8″ x 10″ Free Printable
Hope you have a wonderful day sweet friends!
*Trish
The following two tabs change content below.
Hey y'all! I am Trish and the creative voice behind Uncommon Designs. I adore party planning, holiday celebrations, and all things crafty! I am so excited to share my creative adventures with you!
Latest posts by Trish Flake (see all)