Hello Uncommon Designs readers!  It's Heather from Setting for Four and I'm so excited to be a new holiday contributor for Bonnie and Trish!  Pinch me!!
Today I'm sharing a quick and easy pumpkin decoration idea: Glam Glitter Pumpkins!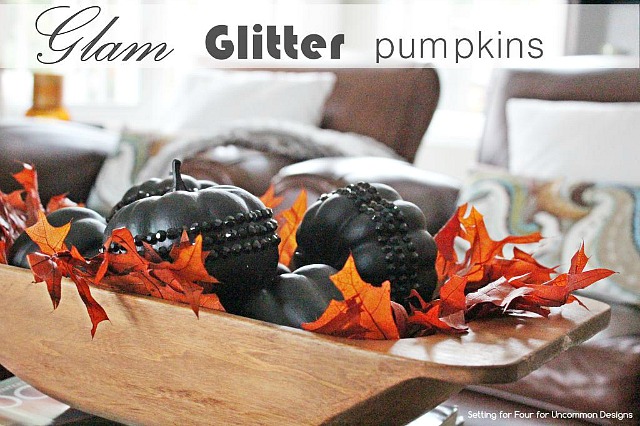 As an interior design consultant, I love to decorate!  I also love glamour and shine!!  These bling pumpkins are the perfect way to add a touch of beautiful sparkle to your fall or Halloween decor.
A designer 'rule of thumb' is that every room needs a touch of black. These pumpkins, dressed in black, are the perfect way to bring this stylish color into a room and can be easily mixed with adorable white baby boo pumpkins and regular orange pumpkins too!!
Just 3 supplies are required…not only are these quick to make (great for last minute decorating!) but they are super budget friendly too!
Supplies: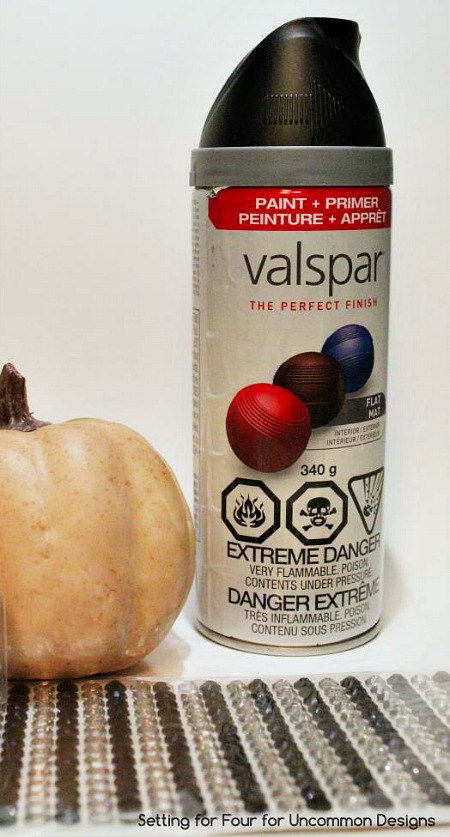 Rhinestones – these are also called 'Glitter Stickers' and are packaged as rows of rhinestones on a sheet.
Small foam pumpkins
Black 'Flat' Spray Paint
– – –
Start by spray painting the pumpkins with black spray paint. Use 2 coats and let the first coat dry before applying the second coat.
When the pumpkins are completely dry: peel off a row of rhinestone stickers and apply them about 1/3rd from the bottom of the pumpkin.  I just eyeballed it!  Continue until you've made a complete ring around the pumpkin.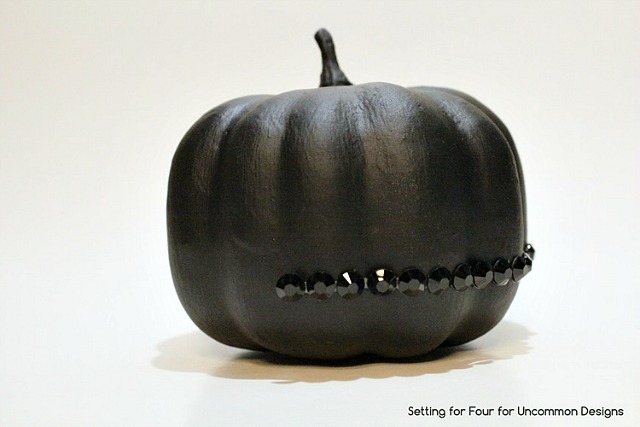 Add another 2 rows of rhinestones above the first row, separating each row by a 1/8 inch space.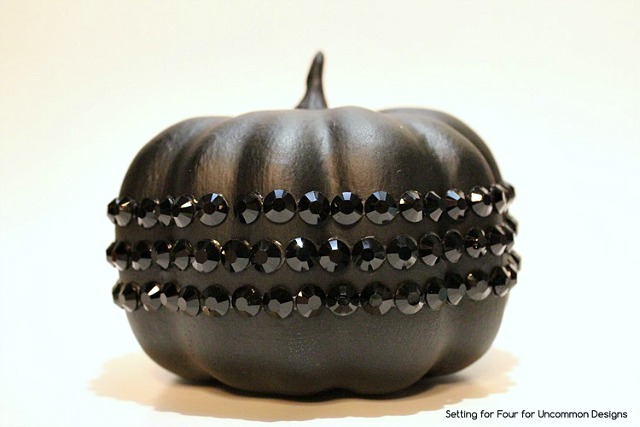 I love the sparkle!!!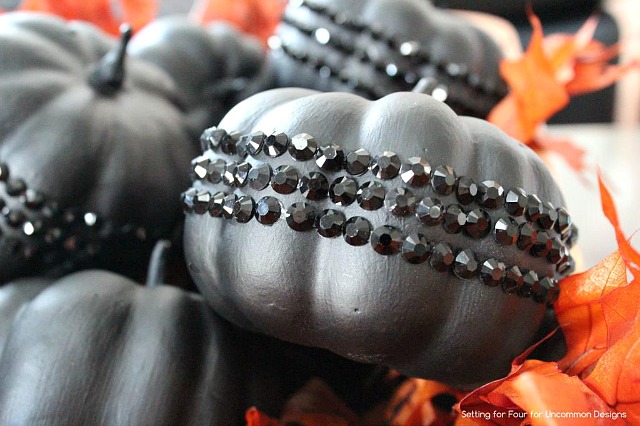 See how easy and quick they are to make?  Once your pumpkins are spray painted, adding the glitter is a great DIY to do in front of the TV watching a football game (like I did! 😀  )
I absolutely love them!  A perfect touch of understated glam and fun!
I added several of these DIY Glam pumpkins and a bed of copper colored oak leaves to my DIY antiqued dough bowl.
I love the touch of glam they bring to my living room.
I can't wait for the nights to cool down so that I can light our fireplace and cozy up in one of our club chairs with a warm throw blanket and a mug of hot chocolate..and admire these glitter pumpkins as they sparkle in the firelight!
These glam pumpkins are also a great idea for fall and Halloween tablescapes too!
Happy fall everyone!
Until next time….you can find me on Pinterest and Facebook!  Drop by Setting for Four sometime and say Hi!!
Heather
Setting for Four is a home design, décor and lifestyle blog. Focus is on home renovations, crafts, DIYs, tutorials, recipes, as well as family friendly design and decorating ideas that won't break the bank or sacrifice style.

_________________________________________
Now aren't those the cutest things! Trish and I hope that you will stop by Setting for Four and check out all of Heather's incredible projects!
The following two tabs change content below.
Hey y'all! I am Trish and the creative voice behind Uncommon Designs. I adore party planning, holiday celebrations, and all things crafty! I am so excited to share my creative adventures with you!
Latest posts by Trish Flake (see all)