It's time for parties, gatherings, and social events. Are you prepared to bring a sweet treat to WOW your friends and family?
Today is my last monthly contribution for Uncommon Designs, and I'm kinda bummed about that. I've enjoyed sharing my cookies, brownies, and cake pops with Bonnie and Trish.
The ladies said that my 4th of July Pops were a BIG HIT with everyone, so I'm doing one last cake pop tutorial for ya!
Christmas Tree Cake Pops…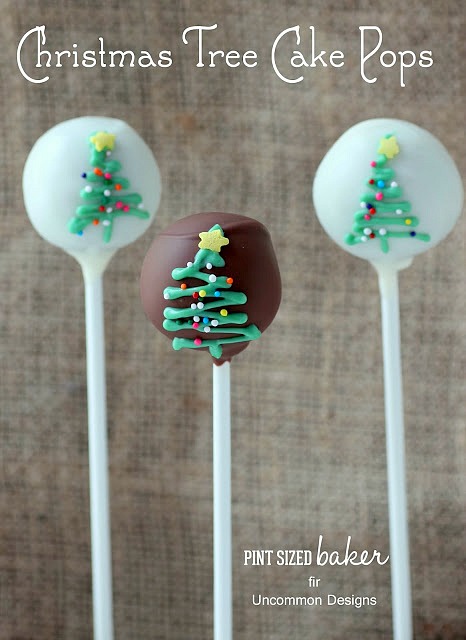 These simple Christmas Tree Cake Pops are easy to make and are sure to impress.
I was so thrilled with the design, that I've sent my family these in their Christmas boxes. (Shhh… don't tell them.)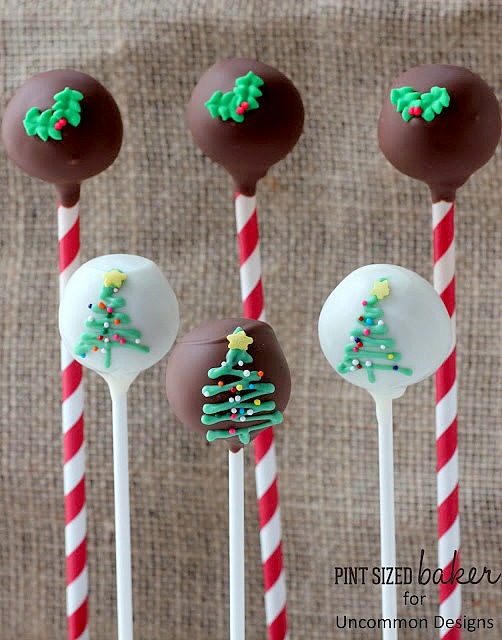 To make these Christmas Tree Cake Pops…
1. Start with 1/4 of a 9 x 13 cake and add 2 tablespoons of frosting to it. Mix it well, I use my KitchenAid mixer to do it, until it's at a play-doh like consistency.
For a video on making the batter check THIS out.
2. Use a 1 tablespoon cookie scoop to measure out your servings, and place them on a cookie sheet lines with wax paper. You should get 10 -12 pops.
3. Now roll them smooth between your palms without squishing them.  Cover them with wax paper and place them into the fridge while you melt your candy.
4. Get a bag of Wilton, Make N' Mold, Almond Bark, or Candiquik (they are all the same, so it doesn't really matter). Pour the candy pieces into a large ceramic mug and microwave it for 1 minute. Take it out and stir it. Even if it's not melted, stir it. Then put it back into the microwave for 30 seconds at 70% power. Take it out and stir it again. It should be mostly melted. Let the heat from the mug continue to melt the candy.
5. Get 12 lollipop sticks and your cake pops out of the fridge. Dip 1/4 inch of a stick into the candy and then insert it half way into the cake pop ball. Stand it up in a cake pop stand and continue with the rest of the pops.
6. Stir the candy again and make sure that it's smooth. Now dip your cake pop straight up and down in the candy and let the excess drip off. Don't bang the stick against the mug, gently tap the stick and rotate the pop to help get the excess off. Stand the cake pop into the cake pop stand to dry and complete all the cake pops.
For a video on how to dip cake pops, check THIS out.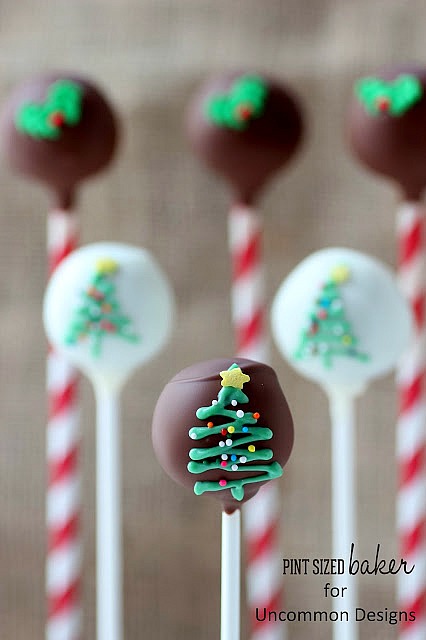 Now you should have a basic, naked cake pop!
To decorate it with the Christmas Tree…
You'll need 1/4 cup of melted green candy, rainbow sprinkles, star sprinkles.
Put the candy into a baggie and place the baggie into a bowl of HOT water to melt. Massage the bag to aide in melting.
Dry off  the bag and snip a small corner off. Pipe a zig-zag pattern starting from the bottom and work your way up. Sprinkle and decorate and set aside to dry.
Simple and done!
Now, go make them and totally impress your friends!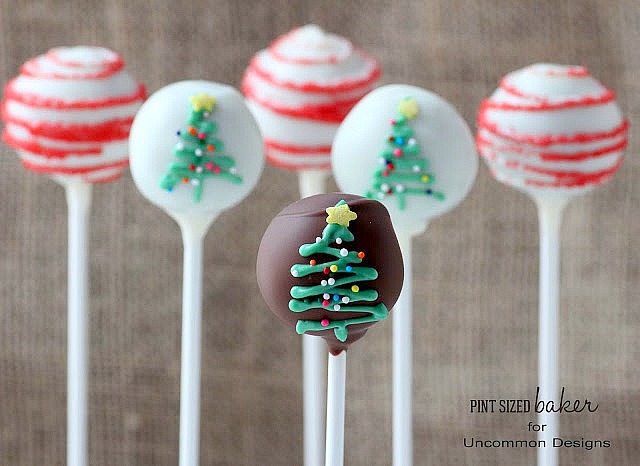 Thanks again for having me join you each month with my sweets. You can still find me at Pint Sized Baker and Dieter's Downfall!
I hope you all have great Christmas and a wonderful 2014!
We have absolutely LOVED having Karyn with us! She is incredibly talented and has shown our readers how to make some incredibly delish recipes!
The following two tabs change content below.
Hey y'all! I am Trish and the creative voice behind Uncommon Designs. I adore party planning, holiday celebrations, and all things crafty! I am so excited to share my creative adventures with you!
Latest posts by Trish Flake (see all)