Who is ready to celebrate? Trish and I love the summer and especially all the fun! Today out sweet contributor Karyn, from Pint Sized Baker is back with a treat that is both yummy and cute. These 4th of July Cake Pops would make a fabulous centerpiece at your party. Take it away Karyn …
Did ya'll enjoy my Shortbread Dulce de Leche Bars and Strawberry Yogurt Popsicles?
Today I'm going to share a fun cake pop tutorial that you can make for the 4th of July!
You don't need anything fancy for these cake pops. A trip to any craft store will do.  I found some fun straws, jumbo toothpicks and fun pinwheels to use in place of lollipop sticks.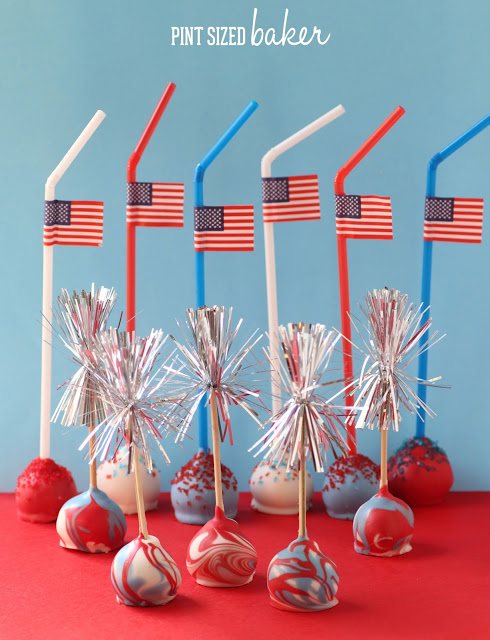 `
At the craft store you can also pick up a bag of red, white and blue candy melts and sprinkles. Easy right?
Then make a box mix of white cake, divide it into three bowls and color one bowl red and one bowl blue.  Bake them as cupcakes.  We are only going to use three cupcakes of each color for our cake pops, so you'll have a few left over to decorate and enjoy!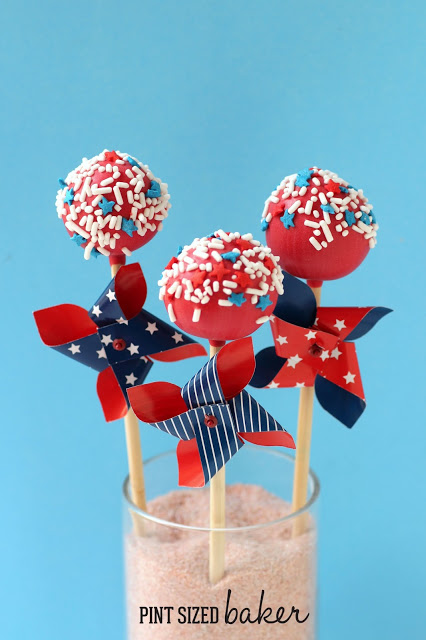 Check out the video on how I make my cake pop batter.
And here's a video on how I dip my cake pops.
I hope they help.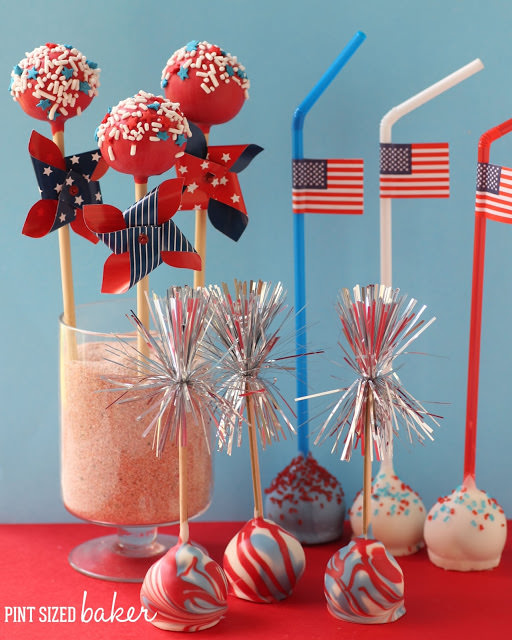 Step 1.Take three cupcakes and add a tablespoon of vanilla frosting to it.  Mix completely!  It should end up as a play-doh consistency.  Use a 2 Tablespoon Cookie Scoop to measure out 4 to 5 cake balls.  Roll smooth and complete for each color.
Step 2. Once they are all rolled, cut each one into three equal parts.
Step 3. Put each color together.
Step 4.  Roll smooth. Don't smoosh, just press gently and roll.
Once they are all rolled, place them onto a cookie sheet lined with wax paper, and put them into the fridge.
Melt your candy melts in a ceramic mug at 70% power for 30 second increments in the microwave. Do not let your candy overheat. Stir every 30 seconds. You should not need more than 2 minutes.
Remove the cake balls from the fridge, dip your straw/ toothpick/ lollipop stick into the candy then insert it halfway into the cake ball. Set aside while you complete all the cake pops.
Dip the cake pop into the candy melts and tap off the excess. Stand up straight and add sprinkles while the pops are still wet. Let them dry completely before wrapping.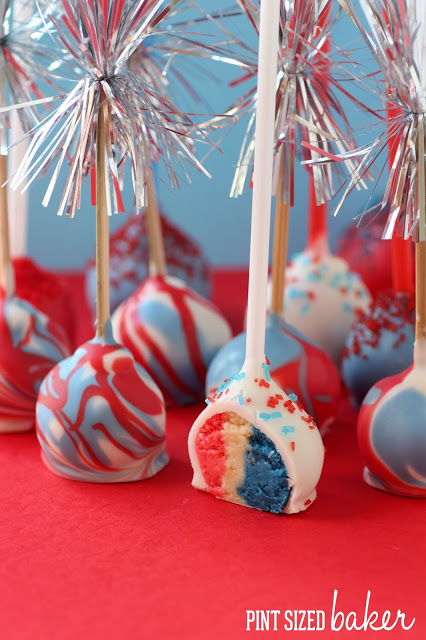 I hope you all have a great 4th of July! Stay safe and have fun!
Need a super idea on how to serve those amazing cake pops? Trish created this DIY Cake Pop Stand…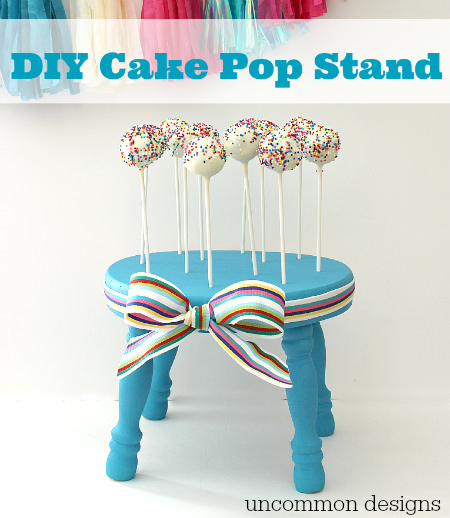 How adorable is that?!
And don't forget the decorations! We have some amazing 4th of July Diy Projects to help you create a festive party atmosphere…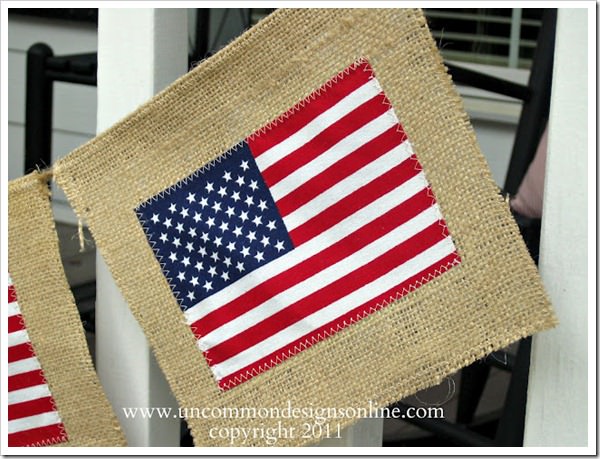 Enjoy!
The following two tabs change content below.
Hey y'all! I am Trish and the creative voice behind Uncommon Designs. I adore party planning, holiday celebrations, and all things crafty! I am so excited to share my creative adventures with you!
Latest posts by Trish Flake (see all)