Hey y'all!
How are your holiday projects coming along?  I am at that point where I still have so many ideas, yet the hours of the day don't seem to be multiplying like I need them to.  I have been making sure to carve out some time for simple things really make my kiddos happy… that is what it is all about, right?!  Meet Sleighbell… she is our Elf on the Shelf and resident troublemaker.  Sleighbell needed a little fashion help, so we made our sweet girl her very own Elf on the Shelf dress… out of a sock!
Yep… a little holiday sock!  Isn't it just the cutest little dress ever?  This idea was born out of this mama's determination to not have to spend $10 on a couple of elf skirts.  The ones from the store are really cute, but a little pricey for my elf taste.  This frock can range from free to about $1.  That is more like it!
You probably are like me and have several lonely socks that have long lost their partners.  Now you can reuse them and help your elf channel her inner fashionista!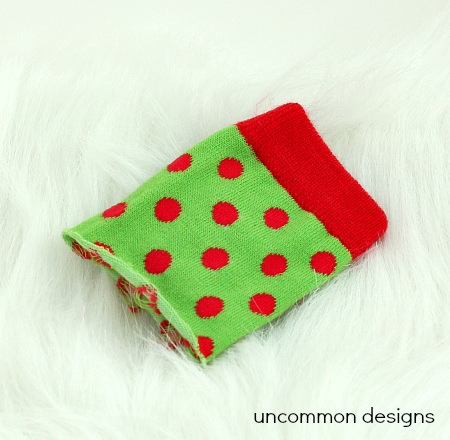 To make the Elf on the Shelf dress, simply find a child-sized sock that doesn't have a wide opening.  Here is the hardest part… decide how long you want to make it and cut it.  Yep, that is it!  You can see from the picture that it just curls up a little at the end, but mine did not fray at all.
Sleighbell was so over the moon about her new dress that she rifled through my craft stuff and blinged herself out with some rhinestone stickers, too!
Months ago I had picked up tiny rhinestone stickers from Wal-Mart in the ribbon section.  Apparently, Sleighbell thought they were perfect for Elf on the Shelf  jewelry!  She put them on her ears for earrings, made herself a necklace, and she even donned a diamond bracelet.  Such a little diva.  I also love her simple ribbon headband… so cute!
Does your family have an Elf on the Shelf?  We have enjoyed our Sleighbell and all of her crazy antics over the last few years.  The girls actually want to wake up early and see where our gal is hiding, which makes for a happy morning in our house.  Their smiles and giggles are so worth it!  I hope you are enjoying the holiday season so far.  We sure are!
*Trish
The following two tabs change content below.
Hey y'all! I am Trish and the creative voice behind Uncommon Designs. I adore party planning, holiday celebrations, and all things crafty! I am so excited to share my creative adventures with you!
Latest posts by Trish Flake (see all)