This post brought to you by TIKI Brand®. All opinions are 100% mine.
Hey y'all!  I hope that you are finally enjoying some warmer weather.  Things are definitely getting hot around here and I am so glad… my family loves hanging out on our back porch.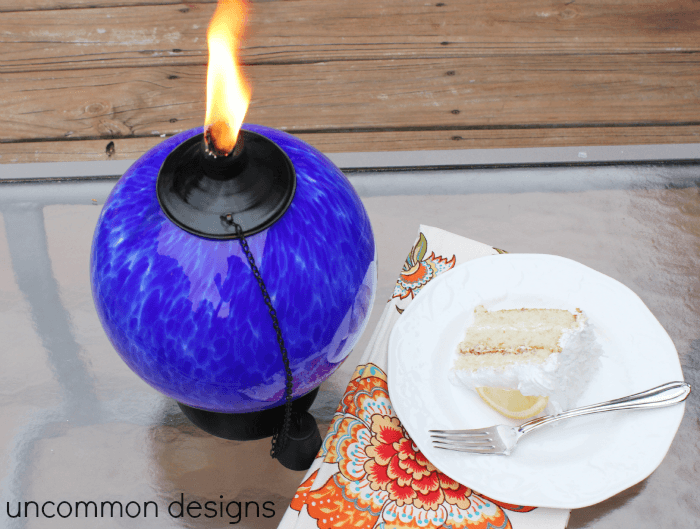 How do you like our typical Friday night dessert?  Yummy cake, sweet tea, and some cool lighting with Tiki Brand torches.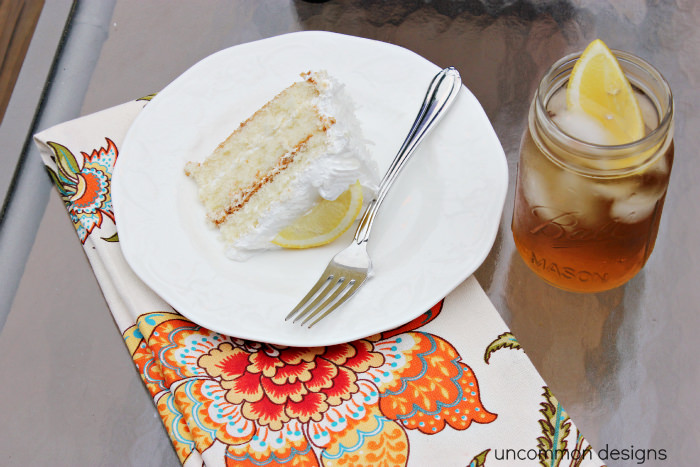 Our porch is like a living room, library, kitchen and dining room this time of year.  I love it!
Isn't my new TIKI Brand Glowing Torch so cool?!  My kids think that I may be the coolest mom ever with this beautiful and fun glowing torch.  I am so grateful that we had the chance to try out some of Tiki's awesome new products.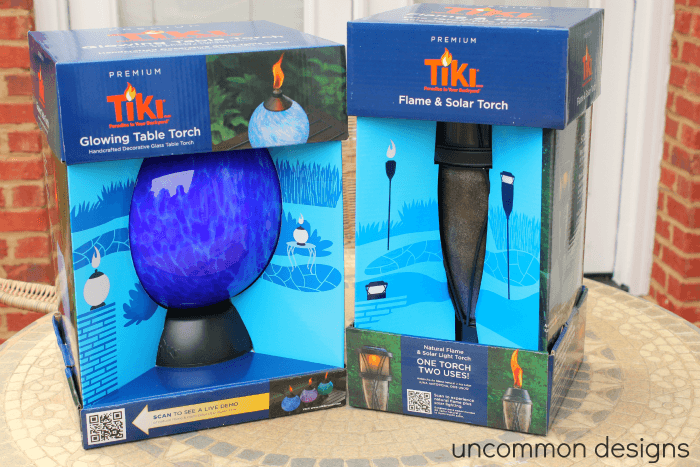 Tiki sent me their TIKI Brand Glowing Torch and theTIKI Brand Flame & Solar Torch to try out.  Thankfully, we finally had warm enough weather to head outside to our favorite room in the house!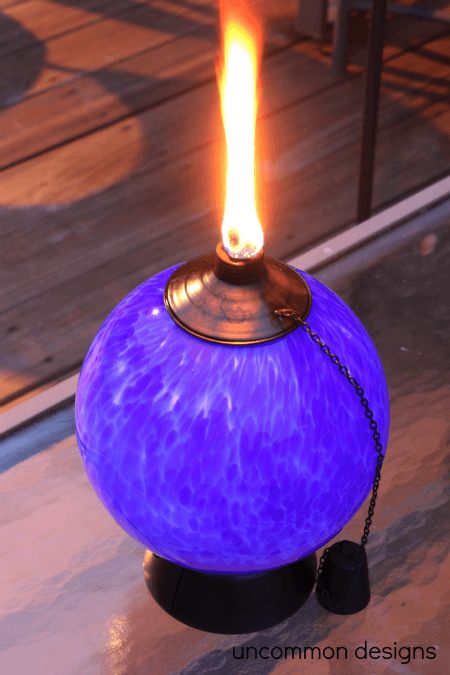 As the evening wore on, you can see some of the amazing effects of the TIKI Brand Glowing Torch.  It's handcrafted art design looks so beautiful with the torch lit, but it is even so pretty unlit.  It has led lights from within that glow!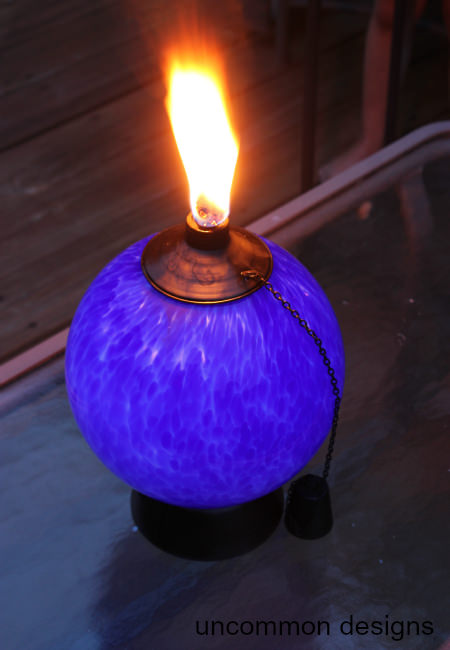 Here is is at night… how awesome right?  It even changes color.  The best part is that if you are worried about your little ones or pets and an open flame, you don't even have to light it to enjoy the led lights!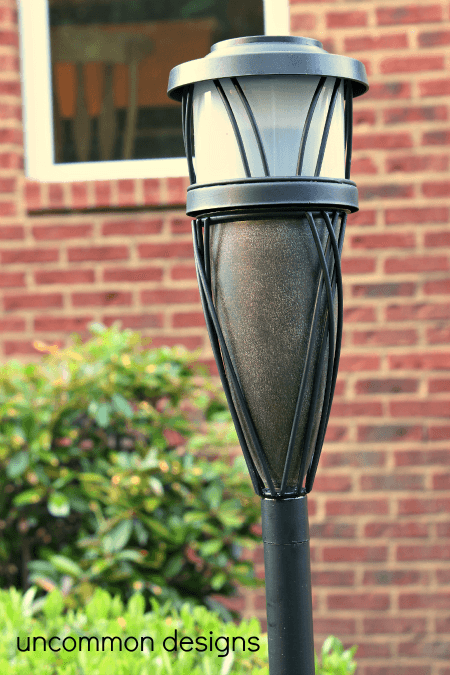 The same goes for the TIKI Brand Flame & Solar Torch.  It is a two-in-one solar light and tiki torch.  You can use the solar light if you are not a fan of the flame.  It also turns on automatically at night! It will last up to 8 hours and flickers like a real light, too.
Here is the same torch… just with the solar light taken off the top.  A beautiful, high-quality tiki torch with a solid flame.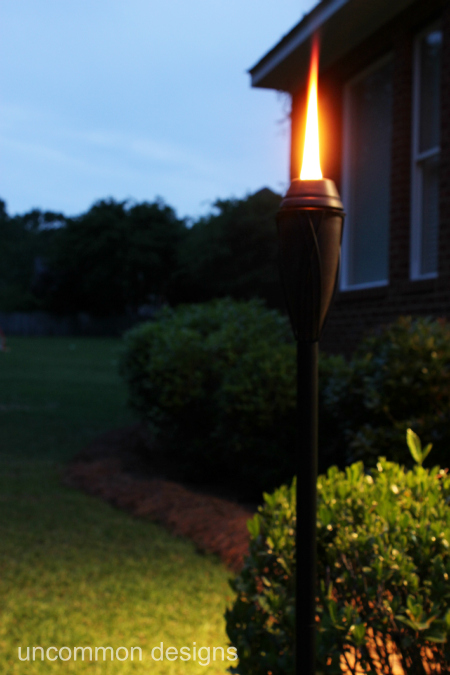 I love how it looks at night.  Perfect for the hubby and I to relax after the kids go down!
To get a better idea of how these products work… check out our video….
They are definitely two fabulous and family-friendly products that my family really enjoyed.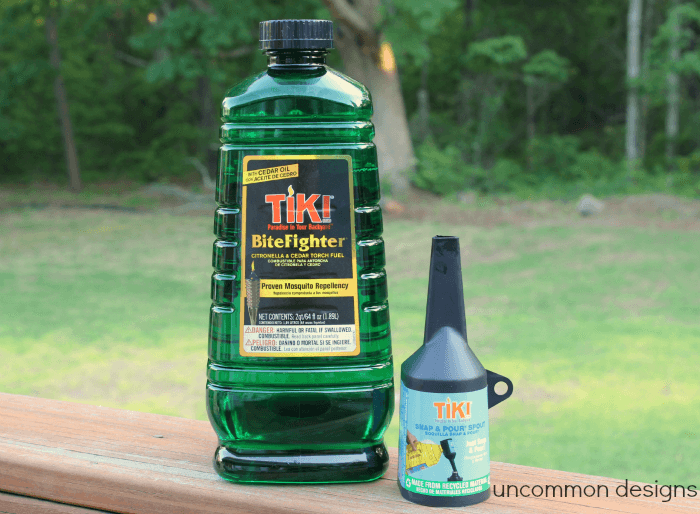 I also used the Tiki BiteFighter fuel and handy snap and pour spout to keep our lights going.  The citronella fuel is definitely a must in our neck of the woods!
To keep posted about the TIKI Brand Glowing Table Torch and other products visit your Target, Walmart, and also find TIKI Brand on Facebook!
What is your favorite Tiki Brand product?
The following two tabs change content below.
Hey y'all! I am Trish and the creative voice behind Uncommon Designs. I adore party planning, holiday celebrations, and all things crafty! I am so excited to share my creative adventures with you!
Latest posts by Trish Flake (see all)