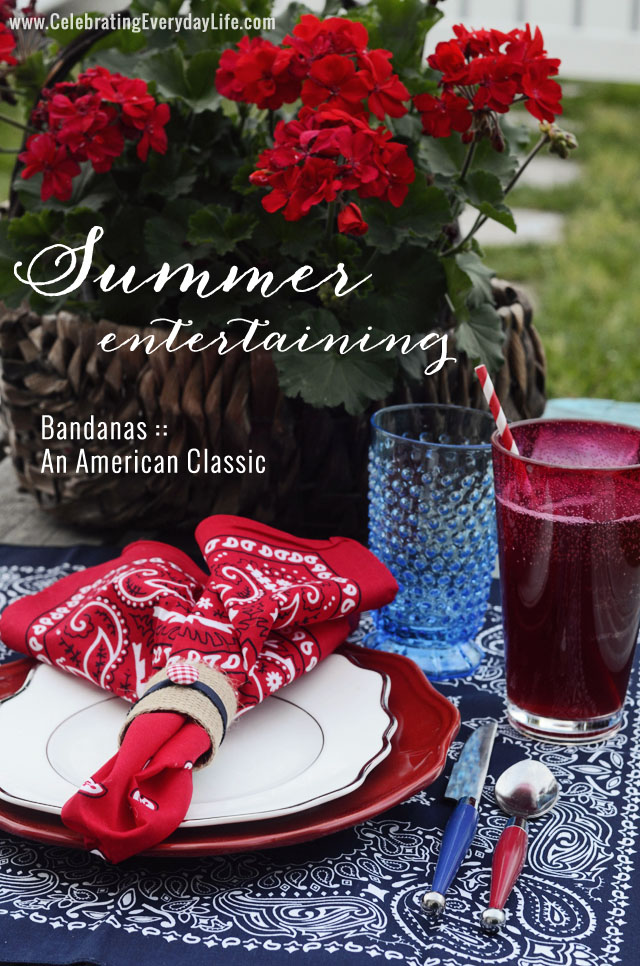 Hello everybody here at Uncommon Designs! My name is Jennifer Carroll and I blog over at Celebrating Everyday Life and as my blog's name implies, I love to CELEBRATE! I believe you can find reasons to celebrate and make the most of your life every.single.day! But, I'm super-duper busy so I always look for ways to make it beautiful, fun AND easy! Today, I'm excited to share ideas for a simple summer Fourth of July party placesetting with items you probably already have – bandanas! I love bandanas because they are inexpensive, durable (you can wash them again and again!) and can be used for several themes – from Barbecues to Birthdays to National Holidays – bandanas are up for the job!
Here I've laid a dark blue bandana on the tabletop as my placemat. Next, I layered a red dinner plate with a white salad plate, both with a cheerful scalloped edge.
Festively colored flatware continue my red, white and blue theme, perfect for Fourth of July. But, the red bandana with the burlap napkin ring, embellished with navy blue ribbon and a red checked button, are the stars of this placesetting in my opinion.
This napkin ring is SO simple!
I used 2″ natural jute webbing  for the base. Trim the webbing to your desired length and wrap around your napkin. There are many ways to get this to hold it's shape, a few suggestions include:
a) pin this with a safety pin (keep the pin on the inside) b) glue ends with a hot glue gun c) attach
velcro
to each end for a reusable seal d) just let the ribbon "hold" it in place for you
A simple red and white checked fabric covered button threaded through a piece of navy grosgrain ribbon  and tied in the back complete this sweet setting.
Add a small American flag to the tableau and you have an instant Patriotic setting perfect for the upcoming Memorial Day and Fourth of July parties!
Need some centerpiece inspiration? Look no further than your local garden center for vibrant red geraniums! They offer loads of firecracker color, are low maintenance, and are easily incorporated into your porch or garden, adding style and value to your home all season long!
I hope you have found a bit of inspiration with this fun and festive Fourth of July tablescape! I look forward to sharing even more tips and ideas for Celebrating Everyday Life with you in June! Thank you so much Bonnie & Trish for inviting me to celebrate with you all today!
Gorgeous Fourth of July tablescape! Need a little lighting for that party? How about these…
So simple and adorable American Flag Mason Jar Lanterns.
 and…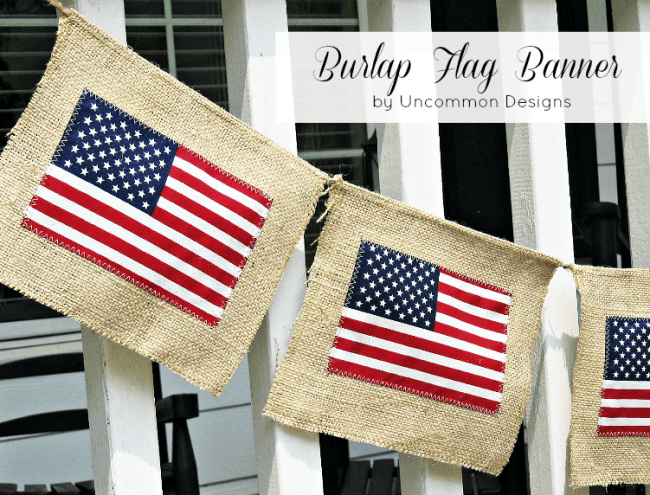 Create a super festive Burlap Flag Banner to welcome your guests!
Enjoy!
this post contains affiliate links    
The following two tabs change content below.
Hey y'all! I am Trish and the creative voice behind Uncommon Designs. I adore party planning, holiday celebrations, and all things crafty! I am so excited to share my creative adventures with you!
Latest posts by Trish Flake (see all)