This post was sponsored in partnership with Air Wick, all ideas and opinions are our own.
Ah the holidays! A time for friends, family, joy, and togetherness right? Yes, but they can also bring on stress and a hurried feeling wouldn't you agree? As our children have gotten older, my husband and I have really learned that family time is precious and slips by quickly.
So with the holidays….Thanksgiving, Christmas, and New Year's right around the corner, I want to share with you my Top Tips for Simple Holiday Decorating.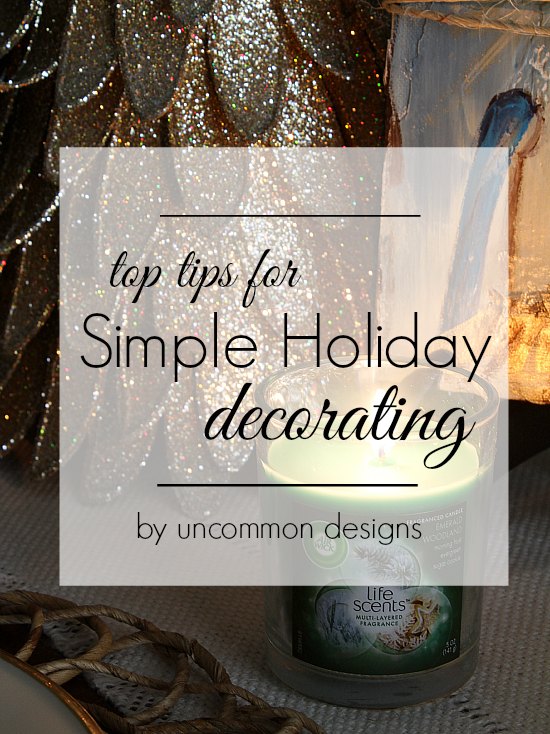 Tip number one may seem to obvious but really read….
TIP #1  : Keep It Simple aka Less Is More
Hear me out, in order to have simple decorating tips, you need to keep it all very simple. That may mean not decorating every inch of your home. Maybe not having every single room a different theme, or not changing things up each and every year. If you have too much in your home for decorations, it may distract you and your family from the things that mean the most and are a special part of each year.
TIP #2: Dim The Lights
If you have dimmers on overhead lighting, use them. There is something about dimming the lights and lighting the fire that creates instant holiday ambiance. If you do not have dimmers, skip the over head lights and use lamps with lower voltage bulbs to create a warm festive look.
TIP #3: Use Scented Candles
Nothing brings back childhood memories of the holidays for me like smells of the season. From baking to fires burning to the scent of the fresh Christmas tree.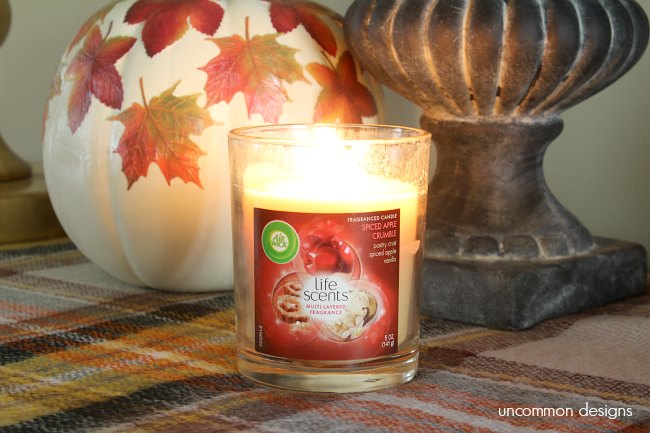 Spiced Apple Crumble….the perfect scent to celebrate Thanksgiving. My children asked me what wonderful dish I was baking when I lit this Air Wick Scented Candle. A scented candle provides a beautiful glow and amazing aroma. These Air Wick Life Scents candles are layered to provide am amazing aroma of complimentary scents.
 Candles have a way to make a holiday dinner extra special. The light bounces off the glitter and highlights special accents at the table. This Emerald Woodland Scented Candle by Air Wick will make you feel like you are picking out that special Christmas Tree.
TIP #4: Involve The Family (especially the kids)
Simple holiday decorating means everyone gets to participate. Our kitchen does not have many decorations until the day we create gingerbread houses and trains. Then they become the centerpiece of our kitchen and we add a little snow fluff around them for and instant Christmas Wonderland.
In the end we have created family memories and decorations…together.
TIP #5: Plan Ahead for Each Holiday
You always think you will get it all done and have so much time, but it really flies by. Setting aside a morning or afternoon plan you holiday timeline, including allowing time for decorating, will decrease the stress and allow you to enjoy the holiday season. So brew your favorite holiday coffee…pumpkin spice or cinnamon…and add some holiday music and scents. These Scented Wax Melts allow the holiday aroma to diffuse softly throughout your home.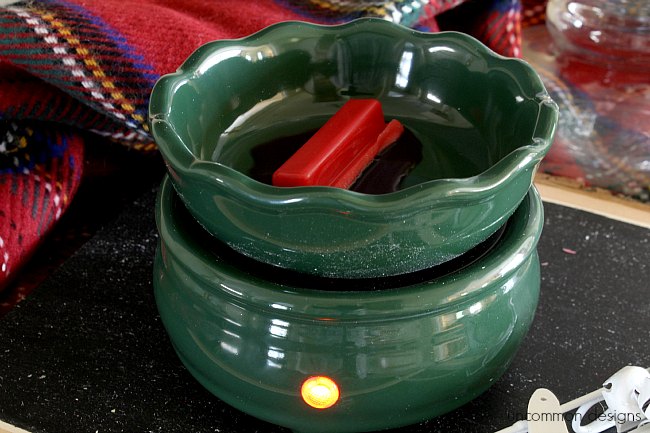 Make a list of what you need and already have for decorating. Get a calendar and go ahead and put events on it that you are aware of. Do not over commit yourselves. Allow some strictly family time and down time throughout the holiday season.
Those are my 5 top tips for simple holiday decorating. What are your best ideas and tips?
 To make your holiday decorating even easier, Air Wick is graciously allowing us to host a giveaway for our readers!
Included in the giveaway is…
2 Apple Crumble Scented Candles
2 Emerald Woodland Scented Candles
The following two tabs change content below.
Hey y'all! I am Trish and the creative voice behind Uncommon Designs. I adore party planning, holiday celebrations, and all things crafty! I am so excited to share my creative adventures with you!
Latest posts by Trish Flake (see all)