Strawberry Shortcake Trifles are My Fave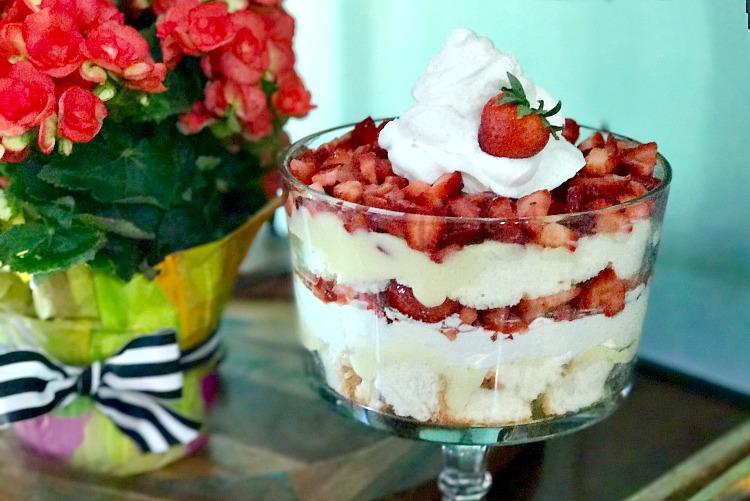 Today I am sharing one of my very favorite desserts… a Strawberry Shortcake Trifle. It is so simple to make and is a crowd favorite every time! Also, be sure to stay tuned to the very end. You could have a chance to win $20,000 toward a kitchen makeover!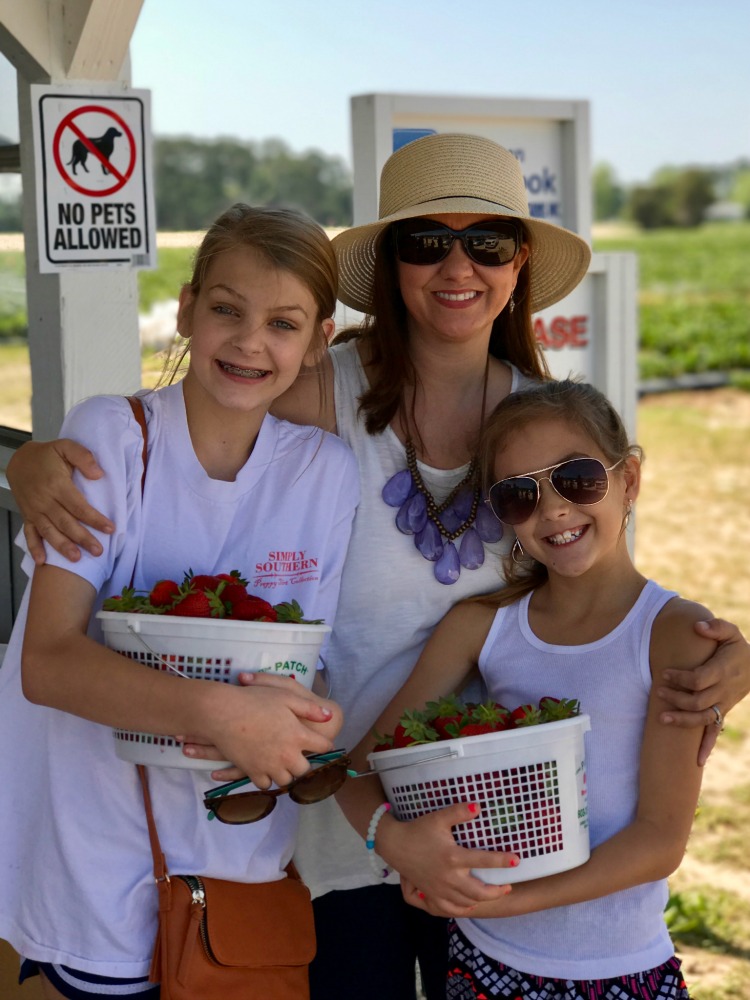 The girls and I had a blast going to pick the strawberries. We may have broken the rules and eaten one or two as we picked. They were just so plump and red and begging to be eaten. This is one of my favorite outings of the year and we are lucky to have a strawberry patch right up the road.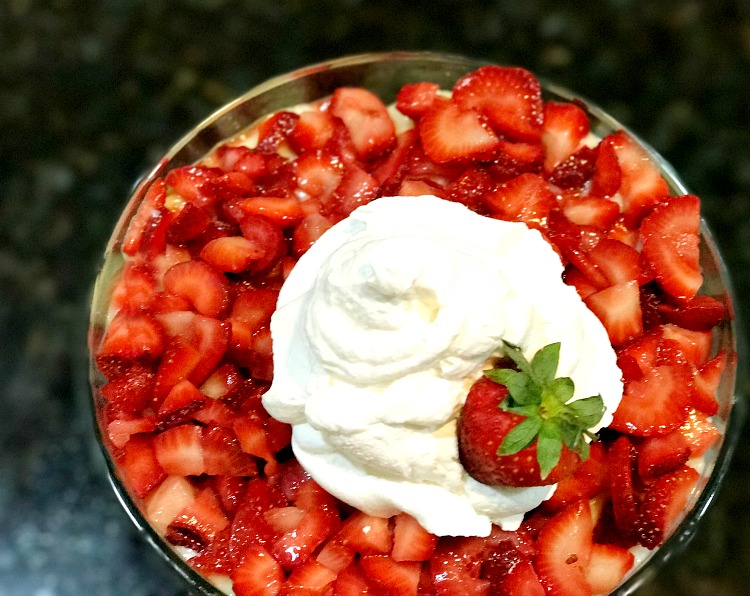 This Strawberry Shortcake Trifle is one of my go-to recipes when fresh strawberries are in abundance, but you could make it all year long with my special secret ingredient… want to know what it is?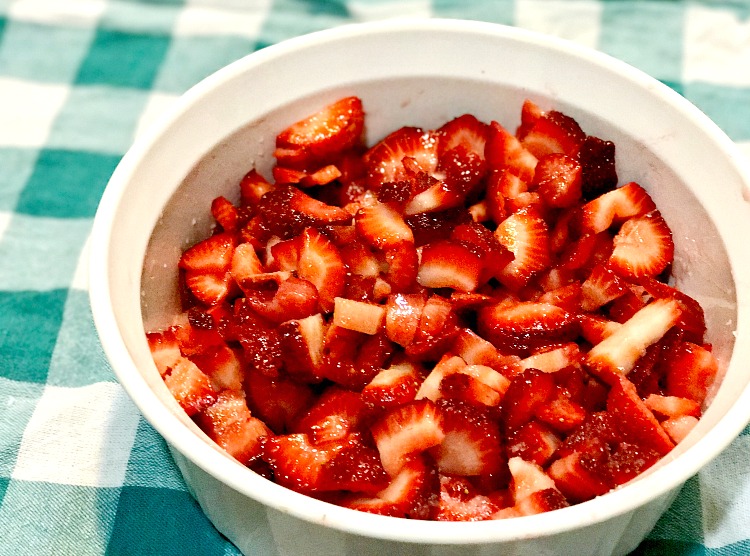 Sugar!
Make sure you slice the strawberries and sprinkle them with sugar and stir it around. The sugar will melt right in to add to the sweetness of the strawberries and isn't grainy because the acid in the strawberries breaks down the granules.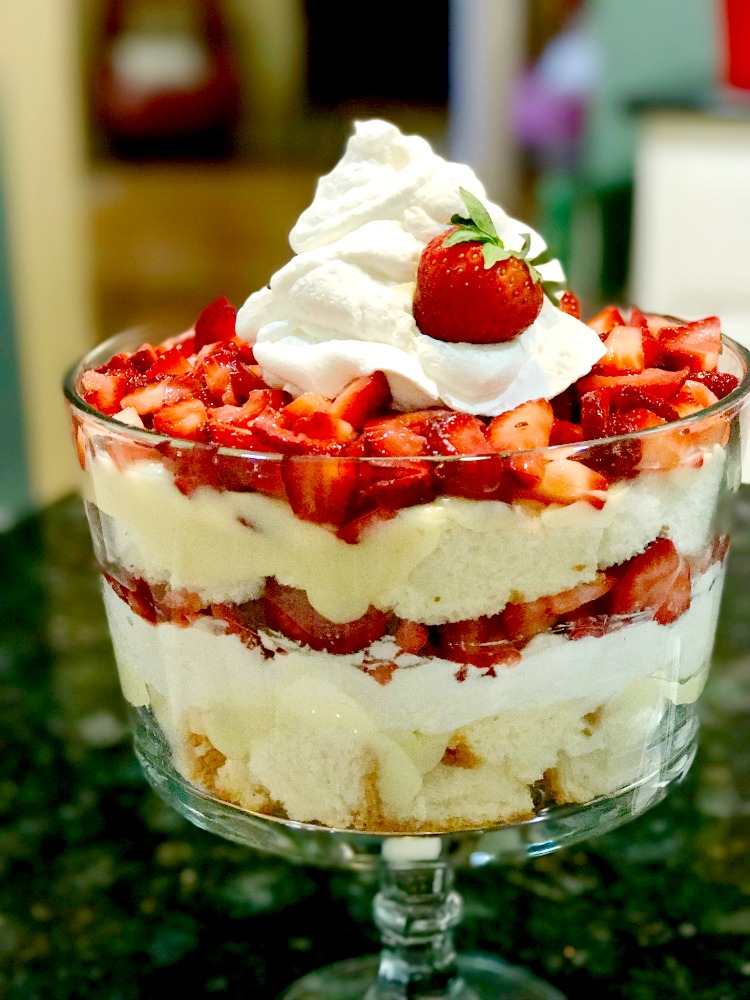 Strawberry Shortcake Trifle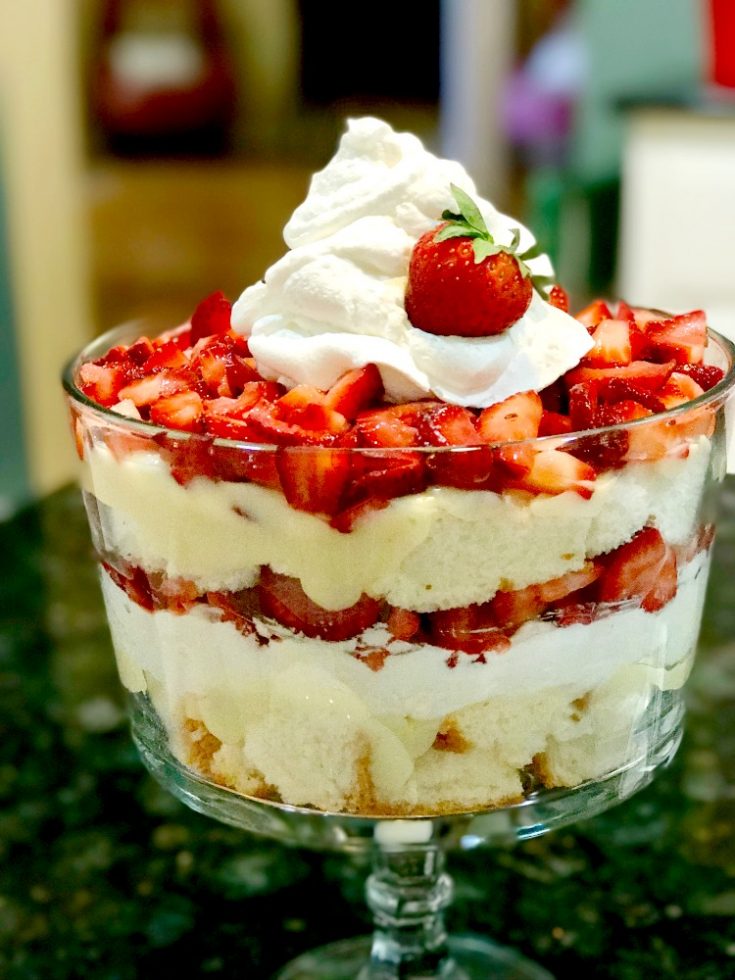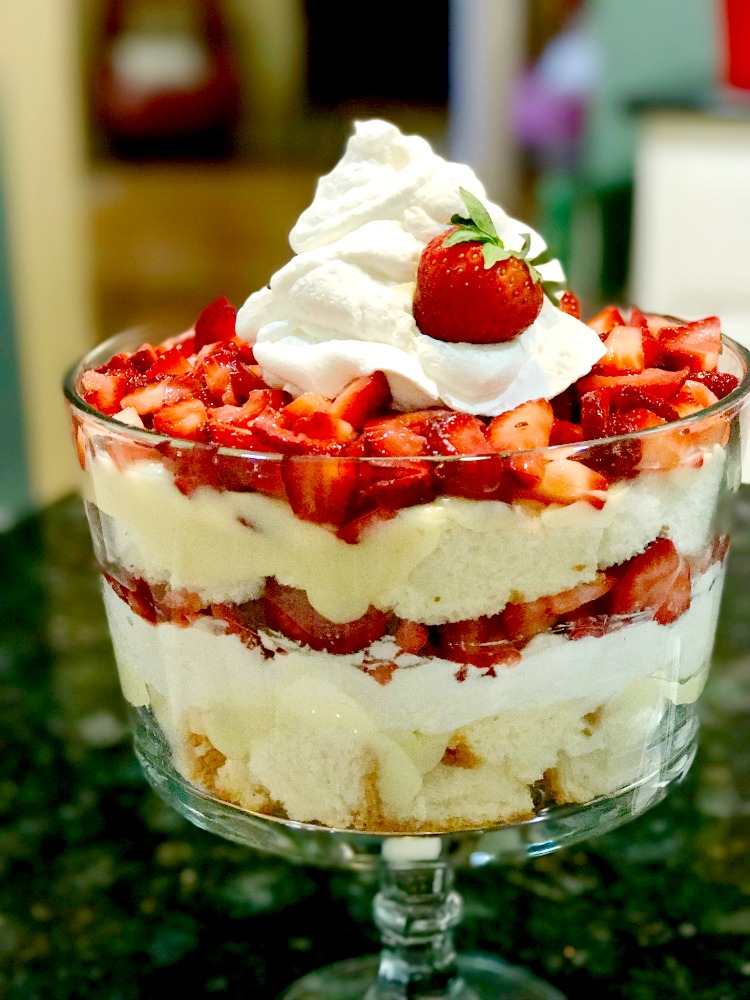 This is the easiest ever dessert recipe for a strawberry shortcake trifle. Layers of angel food cake, vanilla pudding and fresh strawberries come together for the perfect dessert idea for any occasion.
Ingredients
1 Box Angel Food Cake Box Mix
1 1/4 cups water
3.4 oz Vanilla Instant Pudding Mix 
3 cups cold milk
5-6 cups fresh strawberries, sliced. 
2 Tablespoons granulated sugar
Whipped cream (optional) 
Instructions
Make vanilla pudding according to the box instructions. For most brands, you will mix 3 cups cold milk with the mix. Beat pudding mix and milk with whisk 2 min. Pudding will be soft-set in 5 min.
In a medium bowl, sprinkle strawberries with granulated sugar.
Preheat oven to 350F. Do not grease the ban. For best results, be sure bowl and utensils are clean.
Blend cake mix and water in a large bowl at low speed until moistened (about 30 seconds). Beat at medium speed for 1 minute. Do not overbeat. Pour into ungreased 10–inch tube pan and bake immediately.
Bake for 38 to 48 minutes. Check cake is done when top is golden brown and cracked, looks very dry and is firm to the touch. Do not underbake. Hang pan upside down on heat-proof glass bottle until completely cool, about 1½ hours. Loosen edges carefully with flat knife or spatula to remove cake.
Once cake has cooled, cut into small squares.
Place half of the cake squares into the bottom of a trifle dish.
Top with half of the pudding.
Sprinkle half of the strawberries on top of the pudding mixture.
Repeat steps 7-9.
Top with whipped cream. (optional)
Recommended Products
As an Amazon Associate and member of other affiliate programs, I earn from qualifying purchases.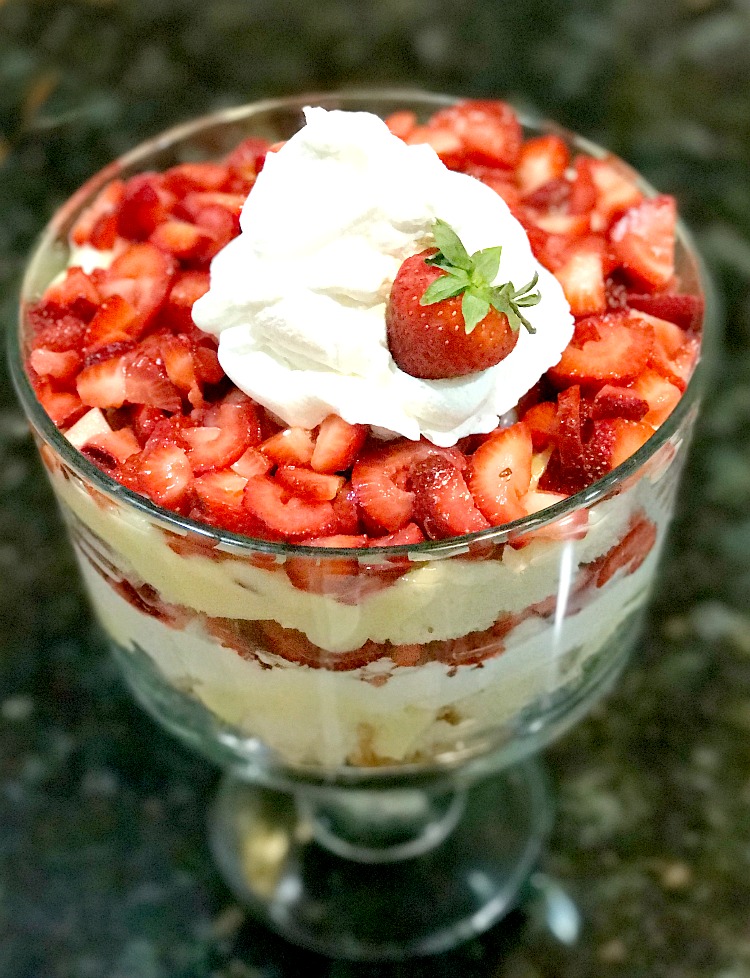 Be sure to pin this yummy dessert for later…
The following two tabs change content below.
Hey y'all! I am Trish and the creative voice behind Uncommon Designs. I adore party planning, holiday celebrations, and all things crafty! I am so excited to share my creative adventures with you!
Latest posts by Trish Flake (see all)