This post was sponsored by World Market. All Opinions are 100% my own. Affiliate links are included in this article.
Bright outdoor decor makes me happy.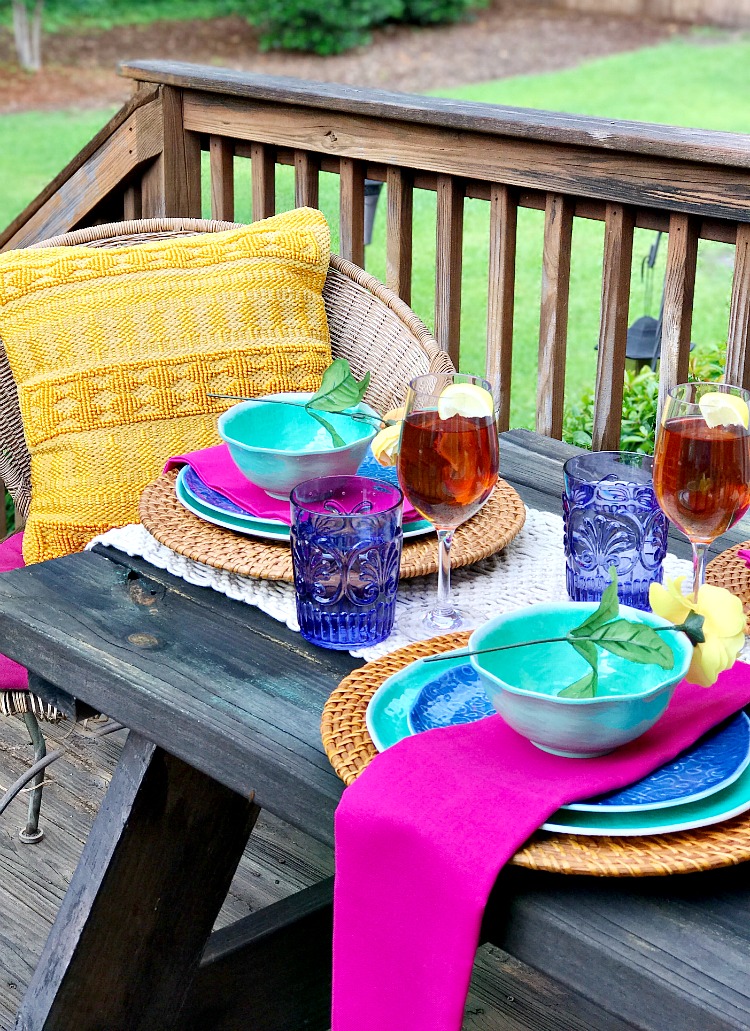 Seriously guys, I love this time of year. When the days get longer and the grass changes into a vibrant green, I almost begin to nest. If you have ever been pregnant, you know what I mean. For me, I love being outside in the evenings and I crave the time when I can pretty up my porch and soak it all in. For me, World Market is my one-stop shop for everything outdoor dining .  I had Doris, the Lexington, SC store manager laughing as I depleted her stock of plates and acrylic glasses.  To find your local store click here.
This year, my goal was to be able to set a gorgeous table in just a few minutes to eat outside as a family. There is something about dining outdoors that makes it feel like a celebration, especially when you have a table dripping with color.  Today I want to share with you how I set up a station for outdoor entertaining and dining that has me prepared each and every day!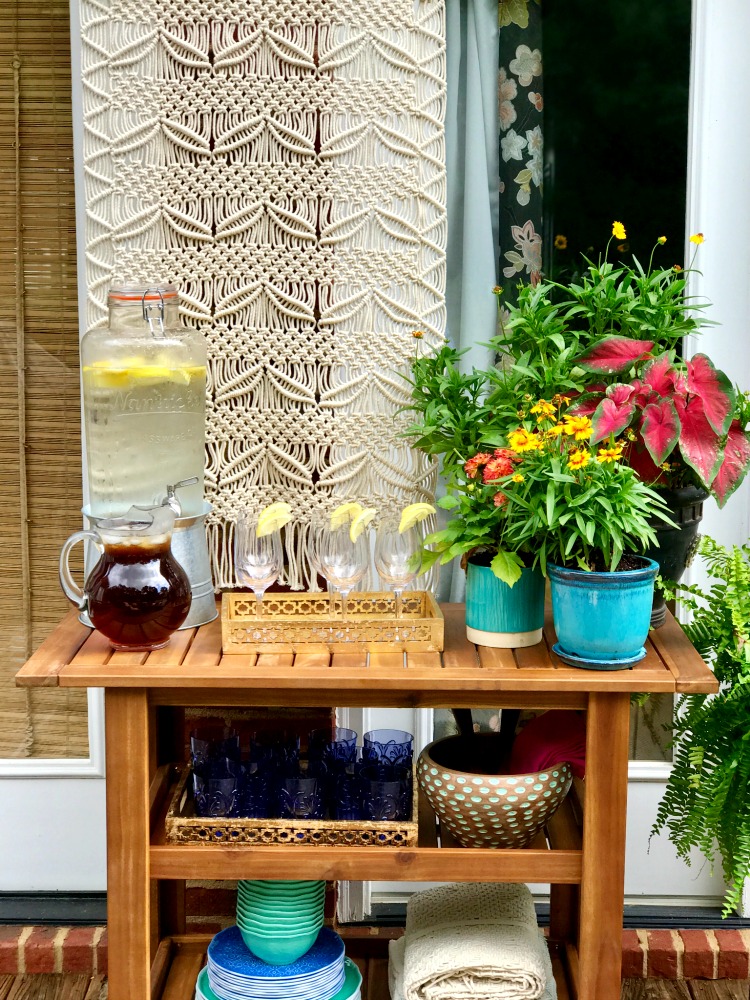 I needed a small table to put on our back deck that can store all of our goodies. The Jason Balcony Table from World Market was the perfect fit. It was slender, had a top surface for prepping drinks and food and shelves for storage. The best part… it is super affordable and I put this bad boy together by myself in twenty minutes!  No joke. That means anyone can do it!
I am in serious love with this macrame wall hanging. It really completes my porch in a way that I didn't think would be possible. It nestles right under the overhang of my porch and out of the elements, but I think it would hold up to rain just fine. It is almost like a hammock. Throwing it behind some of my favorite plants lends a gorgeous and organic feel.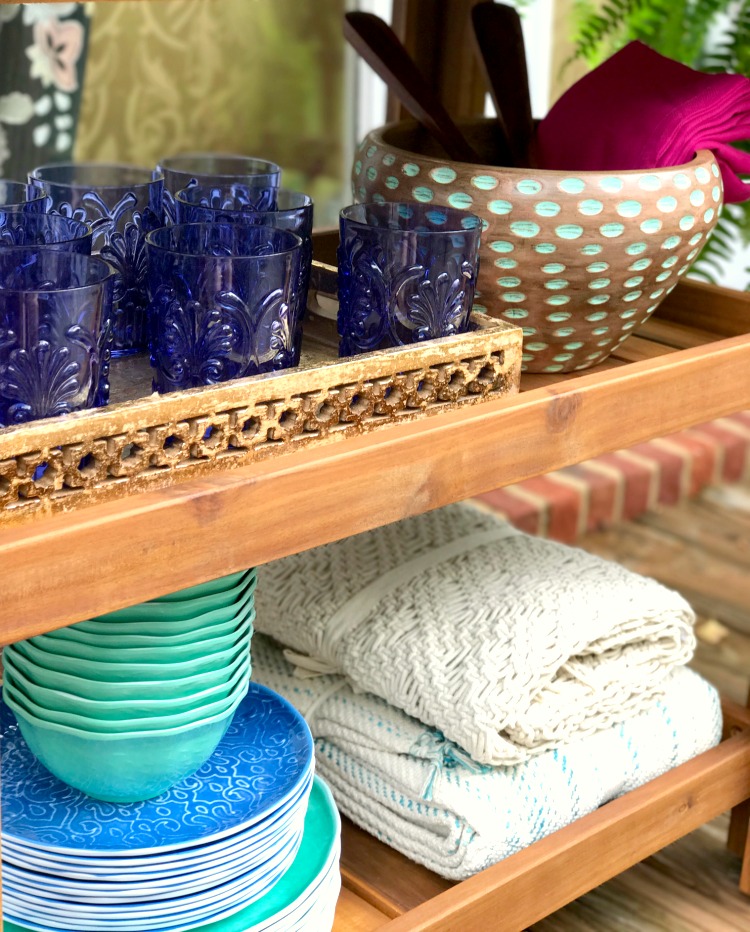 The shelves have room for everything!  How amazing is that Ocean Wave Salad Bowl?  It is one of my favorite new pieces from the Outdoor Living Collection at World Market and it is the perfect size for a salad for my family of four.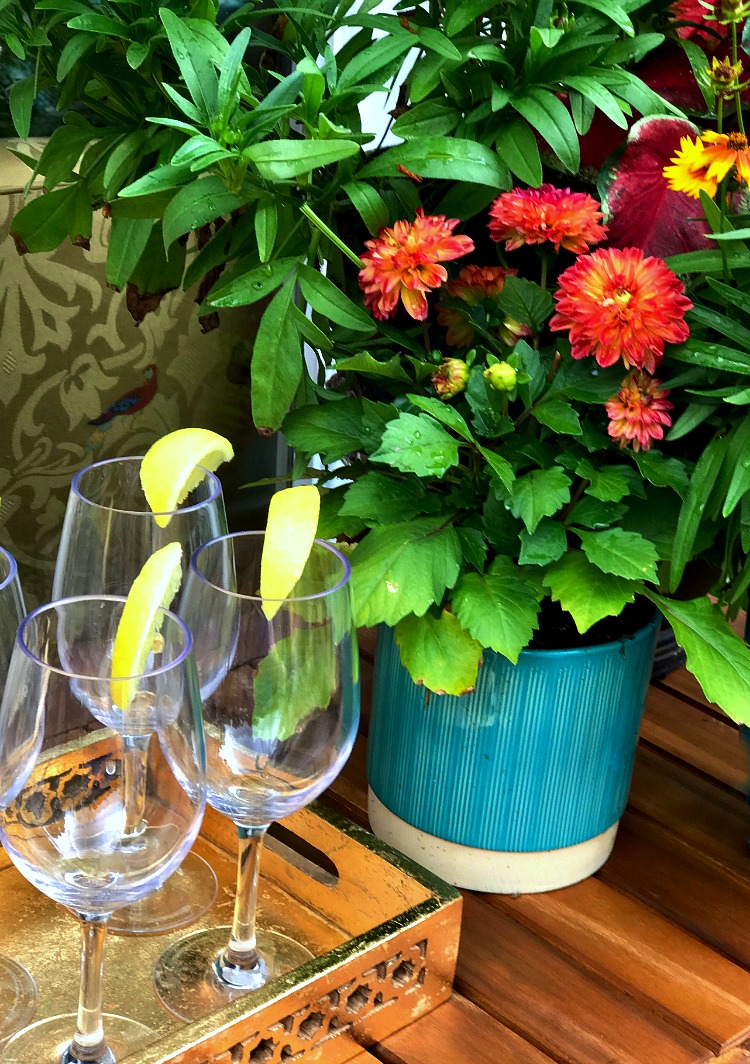 Now who is ready to set a beautiful table in just five minutes?  Me, me!  Let's dive right in and I'll show you how layering a table is so easy and creates an atmosphere for casual dining at home that makes you glad you didn't have to eat out.
First things first… the foundation and a little mood lighting. I am equally obsessed with this Macrame Table Runner as I am with the Macrame Hanging. It just brings a very relaxed and beachy vibe to an ordinary picnic table. The Weathered Gray Pillar Candlesticks are the perfect touch to accent the table and provide a little outdoor lighting as the sun goes down.
If you haven't ventured into the world of acrylic glasses… you are totally missing out!  I love them and they are easily transportable to parties or on vacations!  They also look like a million bucks on your outdoor dining table.  These Blue Acrylic Tumblers are my favorite part of the table. They are casual, kid-friendly and bring a jewel-like glow to accompany the more rustic elements of the table. I discovered the Acrylic Chardonnay Glasses last year and they get tucked into my cooler and go on vacation with me quite often. The kids also happen to think they are very chic when drinking their sweet tea out of them.  Be sure to check out my Southern Girl's Guide to Sweet Tea if you are new around here.  It is a popular post and will have you brewing the perfect pitcher every. single. time.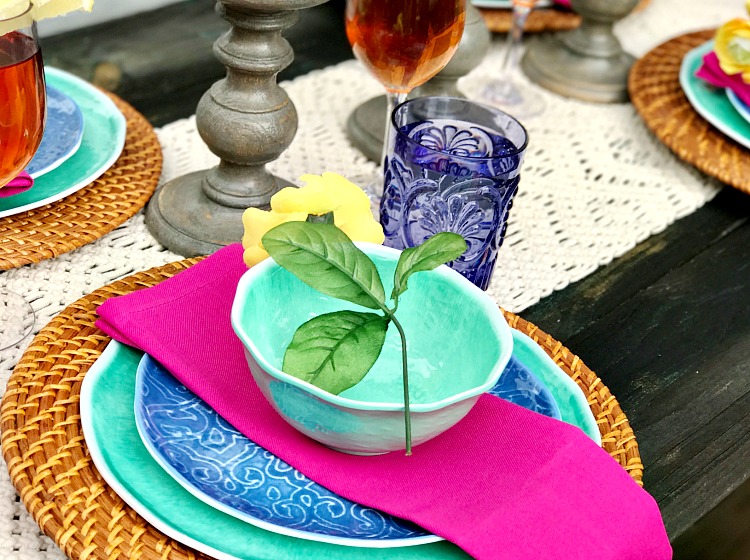 For the perfect place setting, a little layering goes a long way. World Market's Aegan Collection of Melamine plates and Bowls has all of my favorite colors. I started with my go-to Rattan Chargers and layered with the 11 inch plate in aqua and then the 9 inch plate in blue.
Now you guys know I love a pop of pink. I used the Magenta Buffet Napkins to drape over the plates and under the salad bowl and it adds so much depth. I decided to include a golden ranunculus on top of the bowl for the perfect touch and to complete the table. We are now ready for summer meals and all the laughs and quality time that comes with it!
Shop the post:
Clear Acrylic Chardonnay Glasses
Weathered Wood Pillar Candlesticks
Watch how Lifestyle Expert Brandi Milloy shares her top tips on bringing indoor comforts outside…
Weather-resistant pillows and rugs that look as good as they feel make decorating easy, and a versatile Veracruz Sectional lets you play with your seating setup. Accent tables and surprisingly soft vibrant rugs made from 100% recycled bottles add color and tie the entire space together, affordably. Read more: http://bit.ly/2odzKaB
The following two tabs change content below.
Hey y'all! I am Trish and the creative voice behind Uncommon Designs. I adore party planning, holiday celebrations, and all things crafty! I am so excited to share my creative adventures with you!
Latest posts by Trish Flake (see all)