Spicy Dill Crackers AKA Card Crackers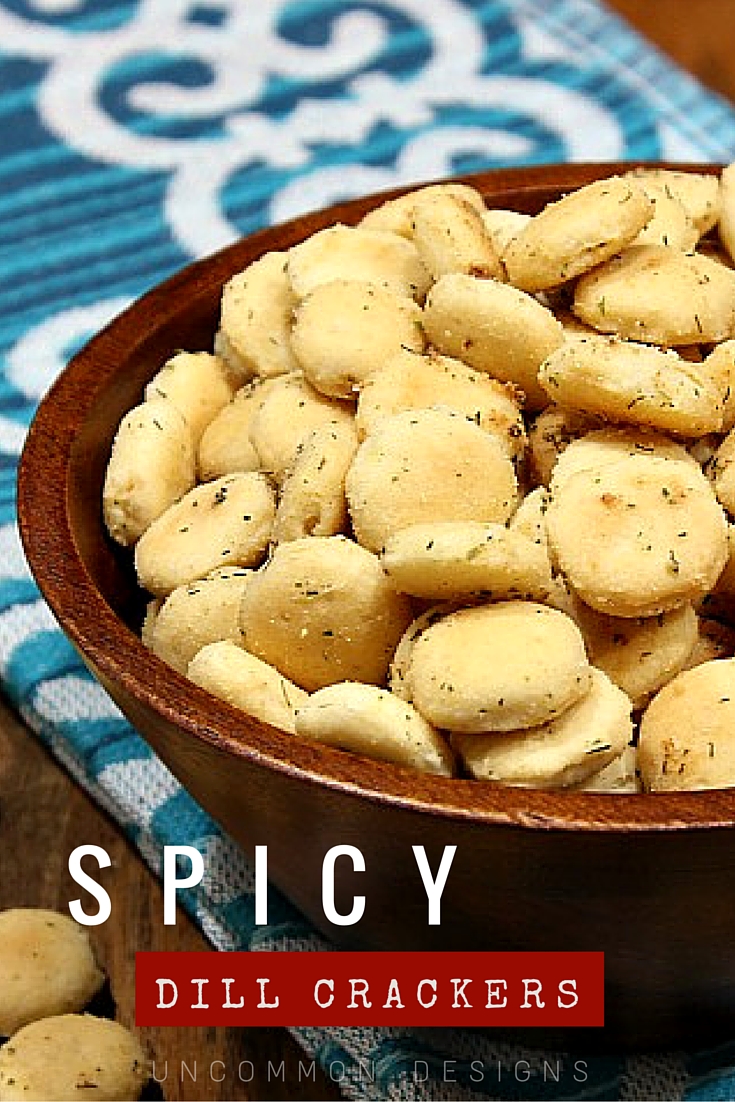 When I was little, we would spend most of our holiday breaks at my grandparent's house in Atlanta, Georgia.  Those are some of my fondest memories.  We would gather with our cousins, aunts, uncles and my grandparents and play cards for hours.  Have you ever played Canasta?  It is so fun!  While we were playing cards we would snack up a storm.  My favorite thing to munch on while playing cards were these spicy dill crackers or what I call card playing crackers.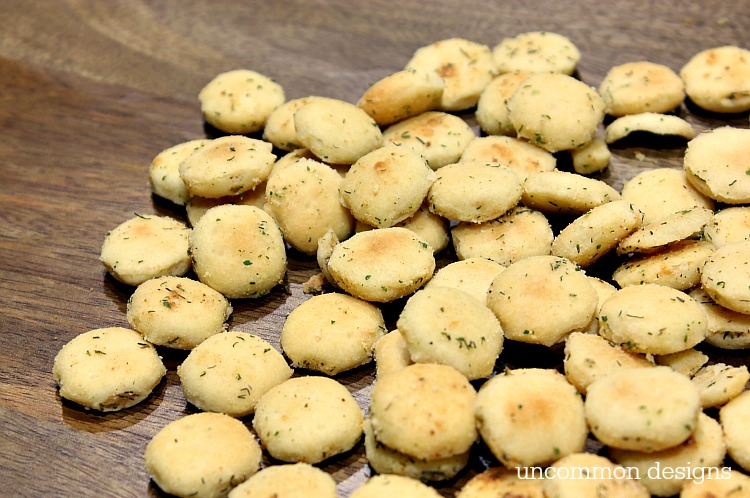 I miss those laid back holiday nights giggling with cousins and noshing on all sorts of goodies.  I thought you guys might enjoy this recipe for spicy dill crackers.  Don't worry… they aren't too spicy.  Just a little dry ranch dressing and dill and they are seasoned to perfection.  I really love that they are so fast and so simple to make.  I even made them for my oldest daughter's teachers for Christmas gifts this year and it was a delicious, but economical gift when you have lots of people to make gifts for! Here is how you can make a batch or two for yourself…
Spicy Dill Crackers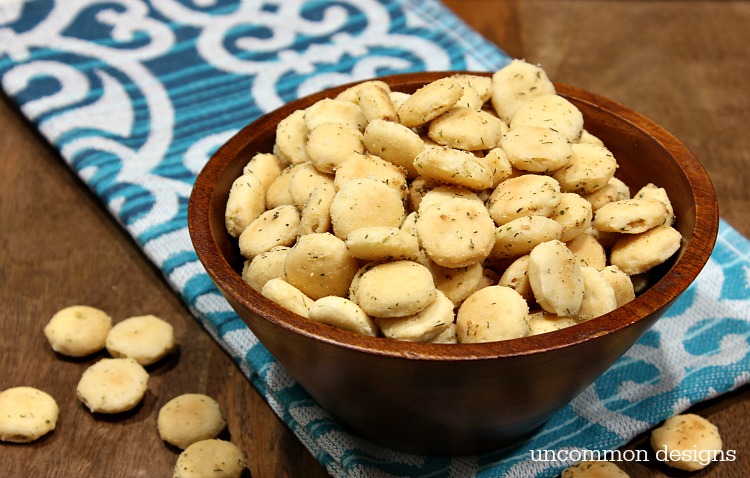 Ingredients: 
10 oz bag oyster crackers
1 tsp  dill weed
1 envelope dry ranch dressing seasoning
1/4 cup canola oil
Cooking Instructions: 
Step One.  
Preheat oven to 250 degrees. Combine the dill weed, ranch dressing mix and canola oil in a large bowl.  Mix well.
Step Two. 
Add the crackers to the bowl and coat evenly with the mixture.
Step Three. 
Place the crackers on a single layer on a cookie sheet.  Bake for 30 minutes or until a light golden brown. I suggest turning them over every 10 minutes for even cooking.  After cooled, store in an air tight container. All done!
[amd-zlrecipe-recipe:48]
Break out the cards and enjoy some of these yummy snack crackers.  They are always a hit when I serve them and they are so easy to double or triple the recipe for a large crowd!  I hope you enjoy them and the company of those you love while eating them!
The following two tabs change content below.
Hey y'all! I am Trish and the creative voice behind Uncommon Designs. I adore party planning, holiday celebrations, and all things crafty! I am so excited to share my creative adventures with you!
Latest posts by Trish Flake (see all)