Update: So, this Valentine's Pillow was a post that I shared a few years ago.  It was about a year after my dad passed away unexpectedly.  A lot has happened since that time, but the heart of the matter still remains true… we need to love one another.
 I still miss my dad so incredibly much.
 Most of the time I am fine and can focus only on the happiest times, but sometimes the sadness comes in and steals me away for a moment.  It comes out of nowhere and really when I least expect it.  I miss him the most when I just need someone to hug me and tell me that they love me and don't need anything at all.   That kind of comfort that only a daddy can give his little girl.  I know that my mom and siblings and the grandchildren miss him, too.  I guess it just never goes away! What I do know is how much more aware I am that we just need to love each other as we are.  It can be a tough, but we are called to do it.  I'm thankful that I have a Heavenly Father that loves me no matter what I do.  I also have earthly folks who treat me the same way and I so blessed.
 As my girls get older, I try to teach them this very important lesson. They'll have to learn a lot of it through the normal experiences of life, but if they see it happening in their own home it has to help.  We'll all fall short sometimes, but at least we have goals, right?
Here is the original post: 
I am so eager to share the new Valentine's pillow  that I made!  Not only do I love it's simplicity, but the message behind it has been weighing on my heart for some time now. 
If you want to skip on down to the craft…that is ok!
Next week will be one year since my Dad has passed and I am feeling a dozen emotions all at once! These last twelve months I have felt like I was anywhere from six years old to in my fifties! At the end of some days I would think about all I had done that day… potty training my toddler, homework with my second grader, meeting with attorneys, closing two businesses while running my own, blogging, and at the same time feeling like I just wanted my daddy.  All of those things can really make a girl's head spin! 
By far, the most difficult thing I had to deal with was the realization that I couldn't fix this and I am such a fixer and family peacemaker!  I couldn't take anyone's pain away, I couldn't bring him back, and I just couldn't make peace out of this.  Whatever pretend control I thought I had was thrown out the window on a daily basis!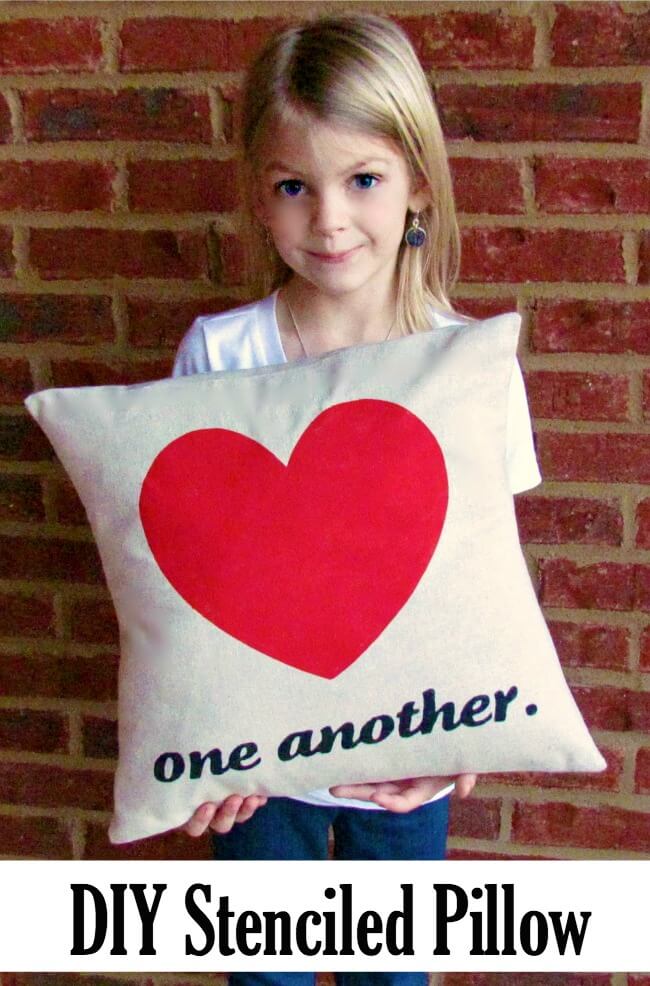 In God's wonderful way and in His own timing, I began to hear… just love one another. 
Don't fix … just love!
Duh!  It was just a quiet whisper at first, but then that verse just kept popping into my head!  I'm learning how to let go of the fixin', but it is slow work for this old gal!  This pillow will sit out as a great reminder of what we are called to do.
_____________________________________________
Now…. back to the craft!  
This was such an easy pillow to make and I just love how it turned out!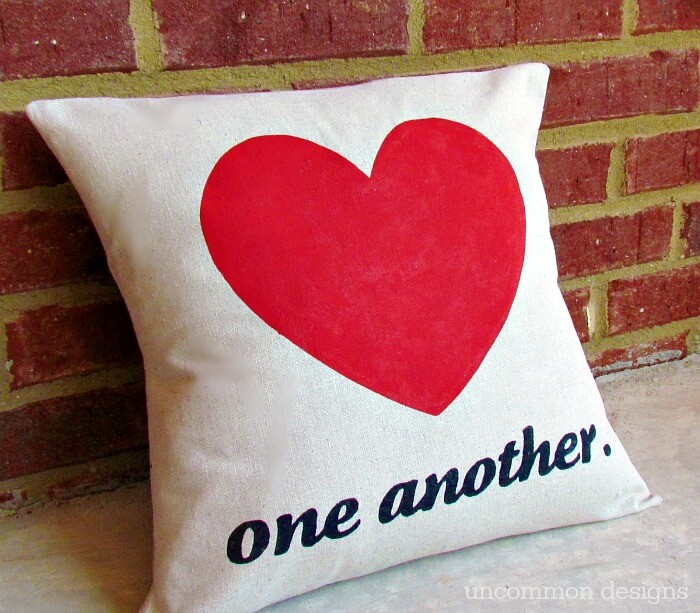 First, I cut out fabric to make a 16×16 pillow with an envelope closure (we have a link to a fabulous tutorial on sewing an envelope closure pillow). 
Then, I created a stencil on my Cricut Cutting System.  I cut it out on freezer paper and ironed it on my pillow front and got to painting!  I used acrylic paint mixed with a fabric medium to paint on the pillow.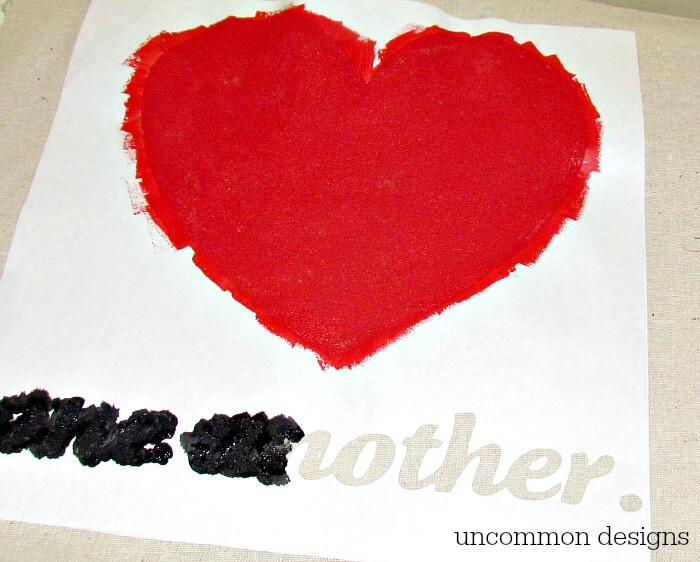 I love using  freezer paper stenciling, you don't even have to paint in the lines!  After the paint dried I lifted off the freezer paper, ironed, and sewed my pillow together. 
That's all!  Super easy!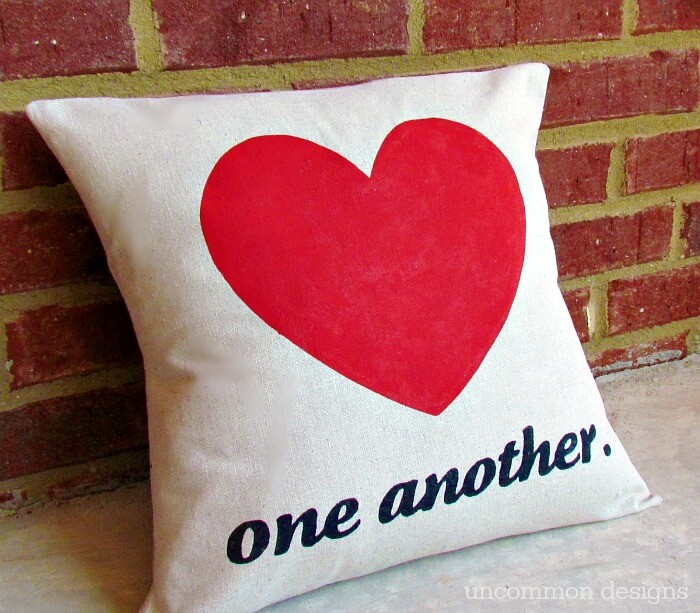 Thanks for listening today!  Y'all are the best! 
We'd love for you guys to check out more of our Valentine Projects. Like this adorable one…
 Who know a Valentine's Mason Jar could be so cute!
The following two tabs change content below.
Hey y'all! I am Trish and the creative voice behind Uncommon Designs. I adore party planning, holiday celebrations, and all things crafty! I am so excited to share my creative adventures with you!
Latest posts by Trish Flake (see all)