This post was written on behalf of DecoArt.  All opinions and craftiness are our own!  
Woo hoo!  Today I was able to complete a few projects around the house and it felt so good!  Do you ever have the feeling that your to-do list will never get done… me too!  Today, I decided to dive right in and tackle just one thing on my list… my painted outdoor  bench.
It was so easy to do, but just one coat of paint made such an impact on my whole porch!  You just have to see what a sad case this outdoor bench was before I got started this morning.
I love things that are a little worn, but this little guy was not exactly chipping with charm.  It had been a decade since we bought it and the stained finish really had taken a beating.  The heat and elements had really taken a toll on this bench and it was screaming for a little rehab.
I knew that the Chalky Finish Paint by Americana Decor would be a great option for this project.  I  didn't have to sand anything beforehand, but I did give it a good wipe down.  I painted the bench with one coat of the Chalky Finish Paint in Carbon.  You can see in the photo above the insane difference with just one little coat of paint.  Isn't it fabulous and I love that the preparation was minimal!
One step further that will really help to protect the bench from the elements was adding a quick coat of the Americana Decor Soft Touch Varnish.  I know that now it is protected and don't worry about any paint chipping off with the weather.
After adding a few pillows, my bench was perfect and ready for the Fall months ahead.  Do you have projects that have been on your never ending to-do list?  Jump right in!  I was finished with this project before lunch!
*Trish
Americana Decor Chalky Finish paint is available in Home Depot, Hobby Lobby, Michaels, A.C. Moore and online. Visit the DecoArt Chalky Finish website for more chalk paint ideas and inspiration. 
You may also love these Chalky Finish Projects that we've done…
DIY Ticking Stripe Wooden Serving Tray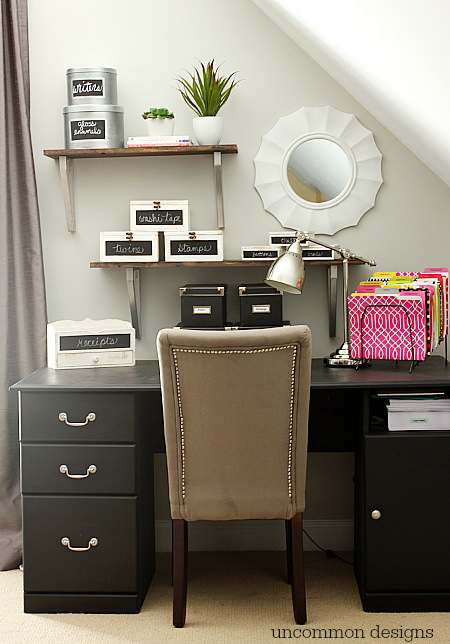 The following two tabs change content below.
Hey y'all! I am Trish and the creative voice behind Uncommon Designs. I adore party planning, holiday celebrations, and all things crafty! I am so excited to share my creative adventures with you!
Latest posts by Trish Flake (see all)