THIS POST HAS BEEN COMPENSATED BY COLLECTIVE BIAS, INC. AND LITTERMAID, ALL OPINIONS ARE MINE ALONE.   #COLLECTIVEBIAS #LitterMaidWalnut #LitterMaid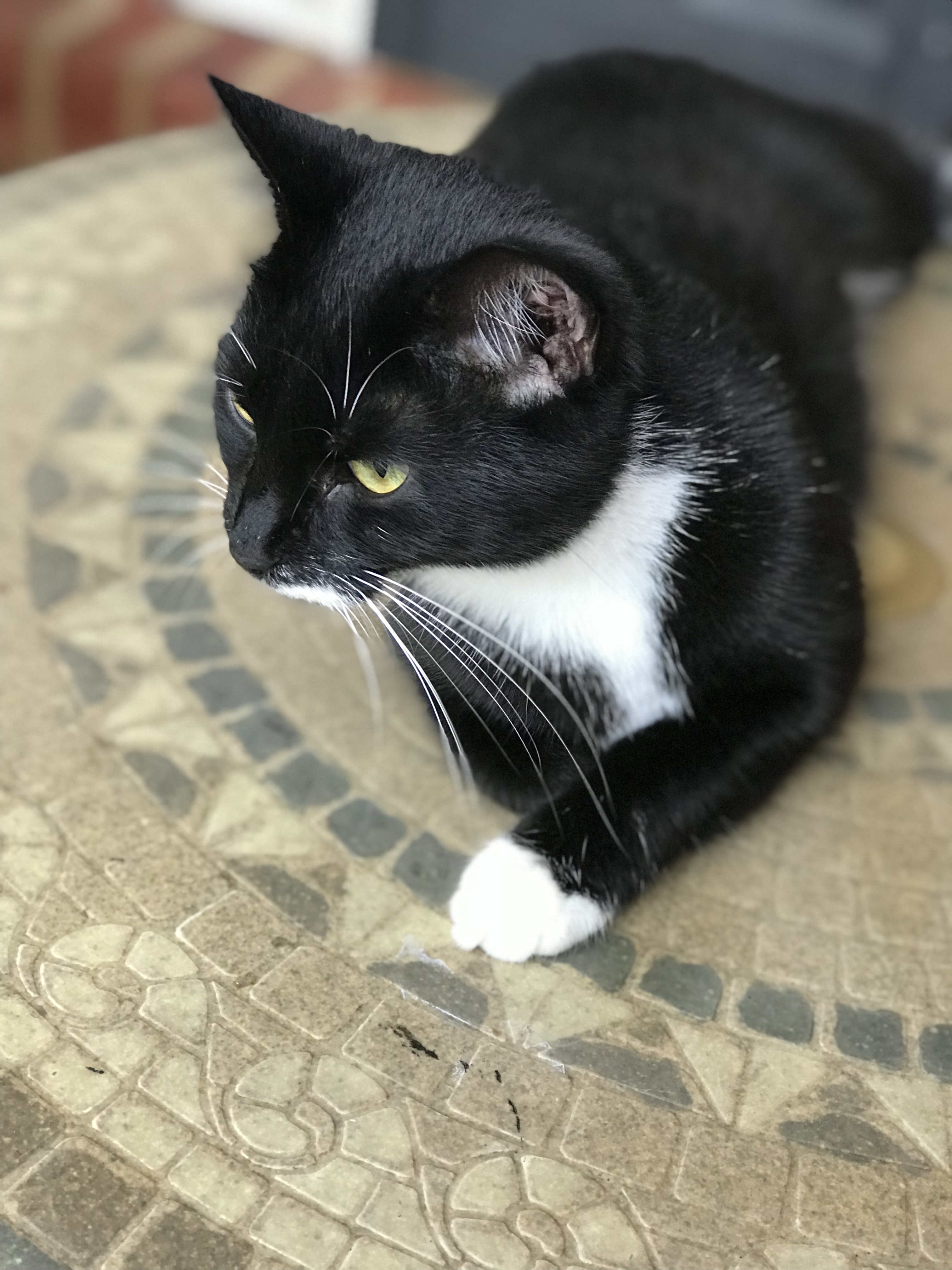 Meet Kitty. She walked into our family this past October. We had just lost our sweet cat and were heartbroken. Kitty came up to our front porch one evening and we instantly fell in love with her. I don't know how she got to us, but our lives will never be the same. She is the most loving animal I've ever come across and we just knew someone had loved her well. We made calls and emailed and posted on social media and no one claimed her. We had prayed for another pet and here she was… a true gift.
About six weeks ago, Kitty wasn't quite herself and we soon realized that she was going to have a litter of kittens. We were elated  and we prepared for their safe arrival. Between you and me, I was so nervous for her… if taking care of Kitty is any indication of how I'll be as a grandma, my girls are going to kill me!
We would lovingly refer to Kitty as the gift that keeps on giving. Literally.
On a cold Monday morning, Kitty delivered four adorable and healthy kittens. It was such a neat experience for the girls to see. Here she is after all four were delivered. She was in love, we were in love… our hearts were overflowing.
We have watched them grow into four playful little kitties and they are now a month old.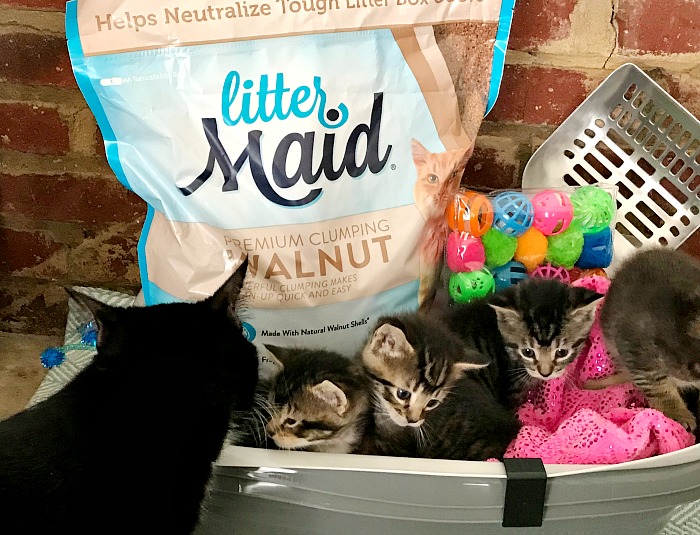 Kitty is such a good little mama. If I'm being honest, she is a bit of a helicopter mom. I wonder who she learned that from 🙂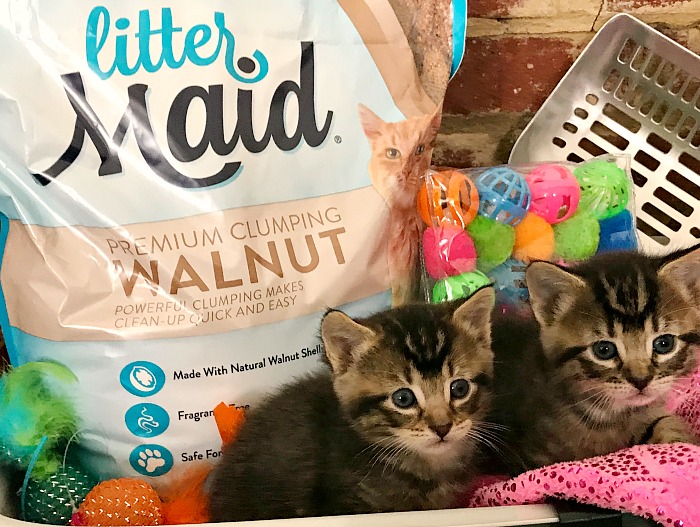 Now we are starting the difficult process of letting go and passing on the gift of these babies to someone else.
We have families that will be taking three of these precious kittens and while we will be sad to see each of them go, we know that they will be loved and bring joy to someone else. I am so happy for these babies and the wonderful families that they will become a part of. I wanted to do a little something special for these friends and I've put together a welcome basket of sorts for them.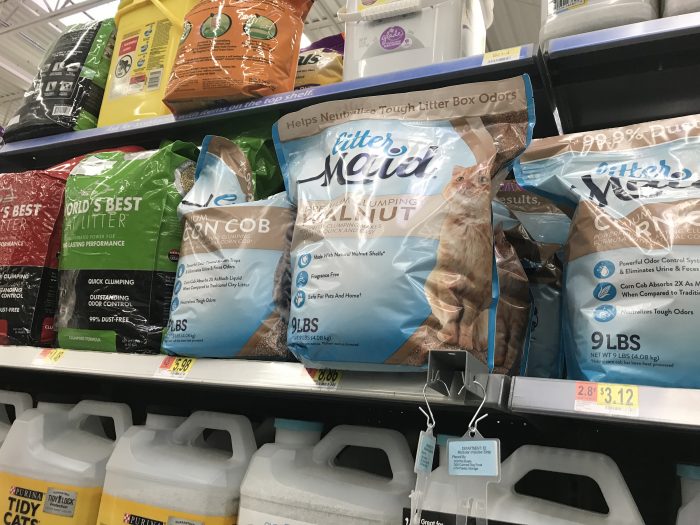 I went to Walmart last week and purchased all that I needed for the basket. I got a litter box that will serve as the basket, some fun toys like the ones they are playing with, a blanket, a scoop and a bag of LitterMaid® Premium Walnut litter. You can find everything in the cat and pet care aisle.
I have always used and trusted cat litter by LitterMaid®.
The LitterMaid® Premium Walnut litter is one of my new favorites. It is made from natural walnut shells, is fragrance free and is a strong clumping litter. It does a fabulous job with neutralizing odors and my favorite part is that it is 99% dust free. No clouds of dust when it is poured and my yoga pants don't end up turning chalky white. We all have our needs, right?!
I am so thankful for these families that will be caring for the kittens. I wanted to do something to show them how grateful we are. I know our friends will love these babies and I'm so glad that we will be able to visit them, too!
We'll also have this sweet girl still.
Thankfully, we have a little more time before they go… off to play with these sweet rascals and their sweet mama!
The following two tabs change content below.
Hey y'all! I am Trish and the creative voice behind Uncommon Designs. I adore party planning, holiday celebrations, and all things crafty! I am so excited to share my creative adventures with you!
Latest posts by Trish Flake (see all)