Hi everyone! My name is Angela and I'm excited to be a food contributor here at Uncommon Designs. At my blog, 
Handmade in the Heartland,
 I share recipes (similar to what I'll be showing here), craft and DIY projects, parenting tips, home decor ideas, lots of dessert recipes and the occasional fashion post.  I'd love for you to pop over and see my blog.
Spring is here and I'm in the mood for a light delicious dessert.  With Easter this weekend I think I'll be whipping up another batch of these mango citrus cream tarts.  I love the crust- you make it with almonds and its tastes like a delicious cookie.  There are few from scratch elements that make this dessert one that will impress everyone you serve it to!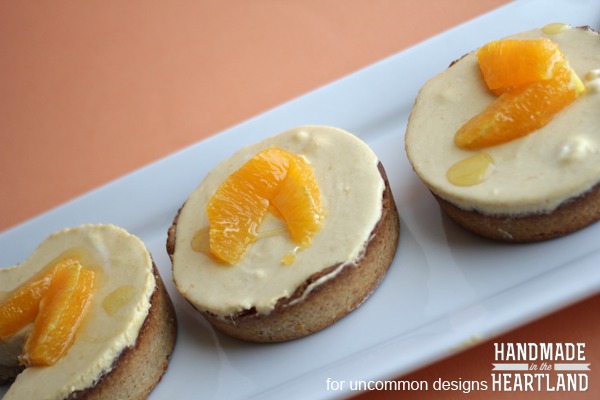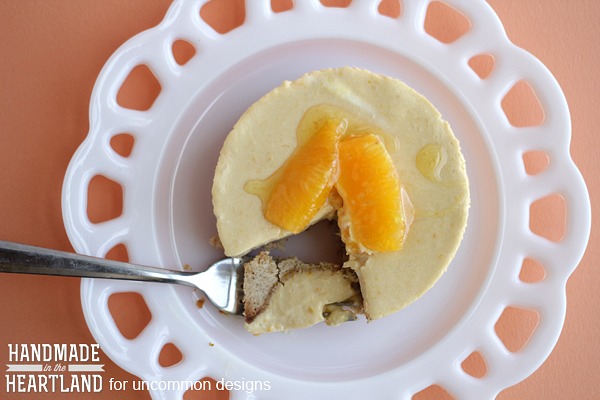 Mango Citrus Cream Tart with a Toasted-Almond Crust
adapted from Bon Appetit
makes 1 regular size tart or 4 small tarts
Ingredients:
Crust 6 tablespoons chilled unsalted butter, diced 3/4 cup all purpose flour
3/4 cup whole almonds, toasted, cooled
1/4 cup sugar
3/4 teaspoon (scant) salt
1 large egg yolk
Filling and Topping:
4 teaspoons water 1/2 teaspoon plain unflavored gelatin
3 large egg yolks
1/4 cup sugar
4 1/2 teaspoons cornstarch
1 teaspoon finely grated orange peel 1/4 cup mango puree (i sliced up 1 mango and pureed it in my blender) 1 cup whole milk
1/2 cup chilled heavy whipping cream
2 oranges for topping
Honey
1.  Prepare your pan.  Brush melted butter over bottom (not sides) of 9-inch-diameter tart pan with removable bottom, or individual tart pans. To make the crust blend flour, almonds, sugar, and salt in food processor until nuts are finely ground. Add 6 tablespoons diced butter. Blend until mixture resembles coarse meal. Add yolk. Blend until dough comes together in moist clumps. Press dough evenly onto bottom and up sides of pan. Pierce dough all over with fork. Freeze until firm, at least 30 minutes. DO AHEAD Can be made 1 day ahead. Keep frozen.
2. Preheat oven to 400°F. Bake crust until deep golden brown (crust will puff slightly), about 18 minutes. Transfer crust to rack and cool completely.
3. Place 4 teaspoons water in small cup. Sprinkle gelatin over. Let stand until gelatin softens, 10 to 12 minutes. Whisk yolks, sugar, cornstarch, mango puree and orange peel in medium bowl to blend. Bring milk to simmer in heavy medium saucepan over medium heat. Gradually whisk hot milk into yolk mixture. Return to same saucepan. Whisk until custard thickens and boils, about 2 minutes. Remove from heat. Add gelatin mixture and whisk until dissolved and custard is smooth.
4. Transfer custard to another medium bowl. Let cool to room temperature, stirring occasionally, about 30 minutes (custard will be very thick).
5. Beat cream in medium bowl until peaks form. Fold whipped cream into custard. Transfer filling to crust. Chill tart until filling sets, at least 3 hours and up to 8 hours.
6. Segment your oranges for topping. Cut 1/3 inch off top and bottom of each orange. Stand 1 orange on flat end. Cut off all peel and pith, following contour of fruit. Working over bowl, cut between membranes, releasing orange segments.7. Gently slide tip of small knife between crust and sides of pan to loosen crust. Push up tart pan bottom, releasing tart. Cut tart into wedges. Transfer to plates. Arrange several orange segments atop each wedge of tart; drizzle with honey and serve.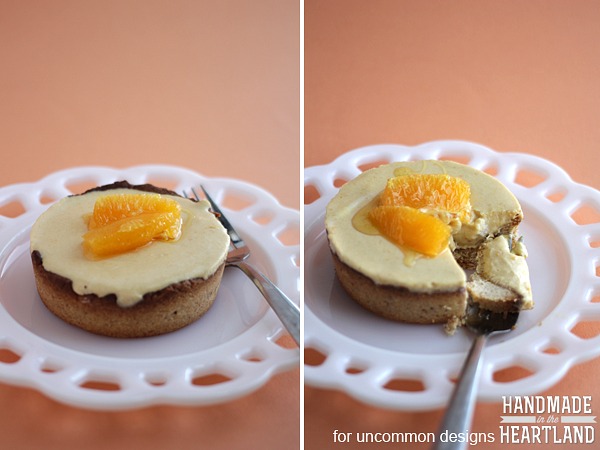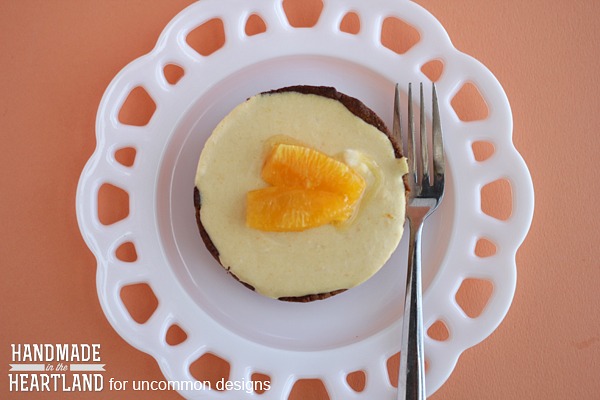 Is your mouth watering yet? run to the store and pick up these ingredients, you wont regret it!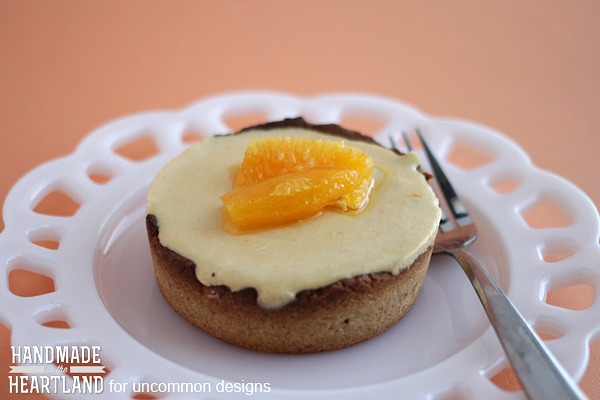 I hope you enjoyed this post.  You might also like these recipes, click on the photo to go to the post!
Follow Handmade in the Heartland on Facebook// Twitter// Instagram// Pinterest// Google+//
The following two tabs change content below.
Hey y'all! I am Trish and the creative voice behind Uncommon Designs. I adore party planning, holiday celebrations, and all things crafty! I am so excited to share my creative adventures with you!
Latest posts by Trish Flake (see all)