This post brought to you by FrogTape Brand Painter's Tape. All opinions are 100% mine.
Does your family love to play outdoor games?  We have had our eye on a new cornhole set for a while, but just couldn't find one that we were in love with.  I knew I wanted stripes, but I couldn't find the perfect set for us. When I saw a few unfinished sets online, I decided that we could purchase one and make our own customized cornhole boards. Using FrogTape® we created the perfect set in no time!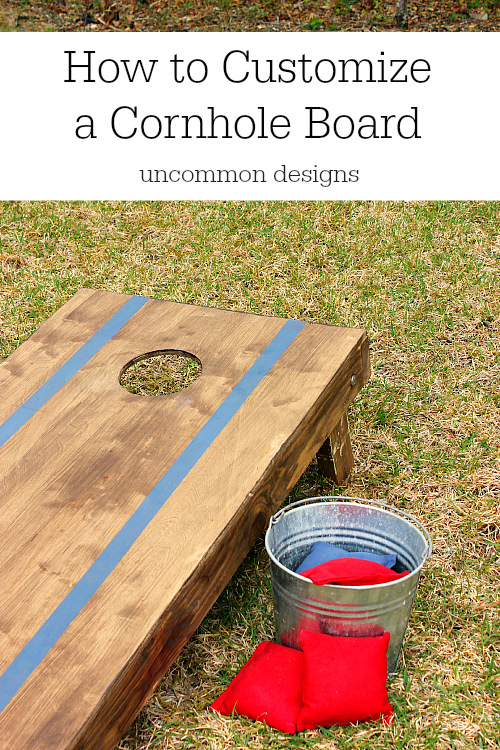 How to Customize Cornhole Boards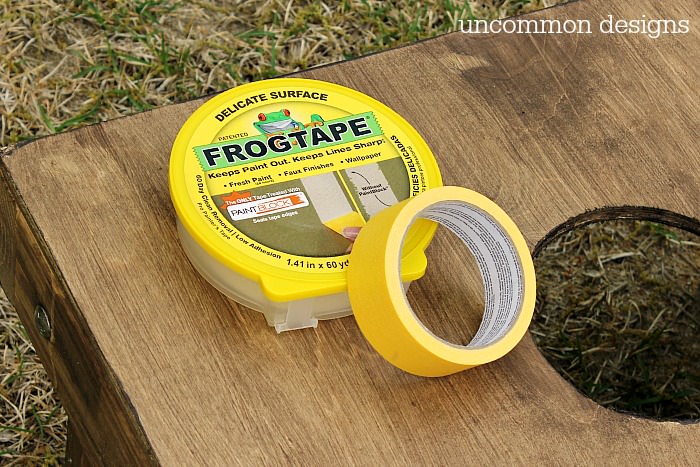 Step One.  Gather your supplies.  You will need a cornhole set that is a solid color or stained.  We purchased a set that was unfinished and used some leftover deck stain.  You will also need paint in your choice of color.  Finally, I used FrogTape® Brand Painters Tape for Delicate Surfaces.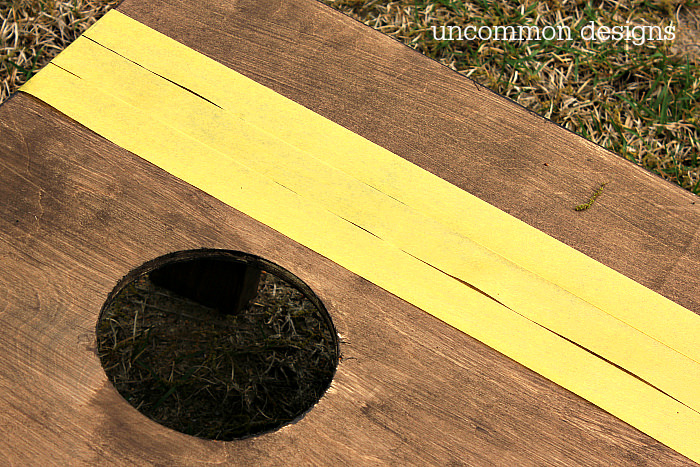 Step Two.  Decide where you would like for your stripes to go.  I measured about 2.5 inches from the center hole and began to lay my tape down.  I layed three rows of tape down loosely.  I measured from the side to make sure my tape was even and then went back over the tape a second time to completely secure it down.
Step Three.  I then removed the middle piece of tape, leaving a perfect area to stripe.  I love the confidence of knowing that with FrogTape's Paintblock® Technology, my stripes will be clean and crisp.
Step Four.  Time to paint!  I added two coats of a gorgeous midnightblue to the cornhole board and didn't even worry about not staying in the lines.  This tape is that good!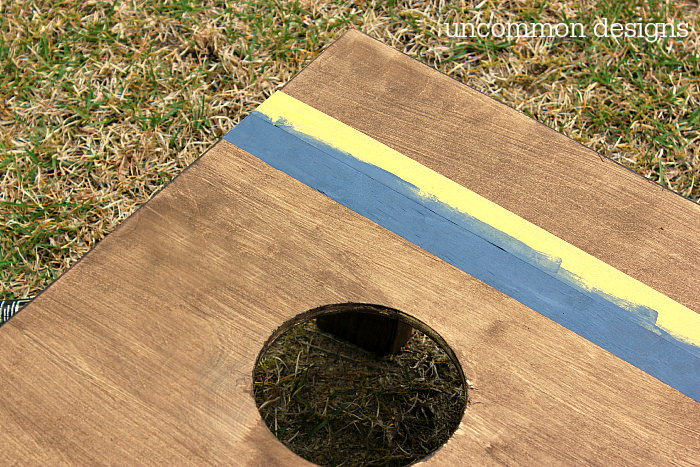 Step Five.  Finally, it was time to remove the tape.  I followed the directions on the FrogTape how-to page and had no trouble at all.  I was left with a perfect and crisp stripe.
Step Six.  Repeat on the other side of the hole and you will be ready to play cornhole.  It is fun for the entire family!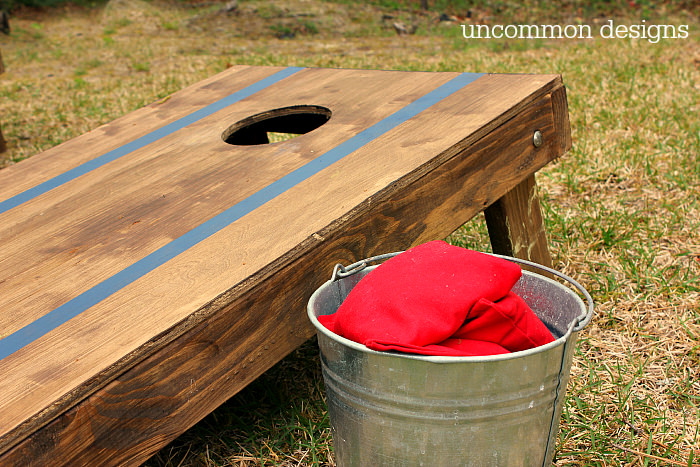 This project was such a success and I know that it was because of the FrogTape® brand of painters tape and It's Paintblock ® technology.  Paintblock is a super-absorbant polymer which reacts with latex paint and instantly gels to form a micro-barrier and seals off the edges of the tape, which means no bleeding.  I have used it before and this is the only painters tape I use because it really lives up to it's promises.
I'd love for you to check out FrogTape® on Twitter.  You can follow them at @FrogTape.
Do you have any upcoming projects where FrogTape® brand painters tape would help out?  Tell us all about it!
*Trish
The following two tabs change content below.
Hey y'all! I am Trish and the creative voice behind Uncommon Designs. I adore party planning, holiday celebrations, and all things crafty! I am so excited to share my creative adventures with you!
Latest posts by Trish Flake (see all)