Hi There! It's Karyn from Pint Sized Baker here to share a great summer treat that everyone is sure to love… strawberry yogurt popsicles!
Is it getting hot where you are? Here in the Mid-Atlantic, the weather has been very nice. Not too steamy yet, but I know those days are coming!
My Little Cup gets out of school the first week of June and she is ready for summer break! She was complaining the other night that Daddy put to to bed too early because the sun was still shining. It was 8:45 and yes, the sky was still glowing with the setting sun, but she's not done with school yet.
Are your kids itchin' to get out of school, too?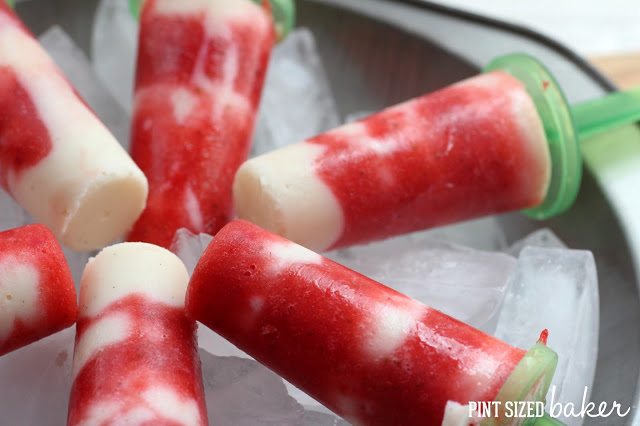 These Simple Strawberry Yogurt Popsicles will be perfect for those summer afternoons (and after school) snacks! They are made with only Strawberries and Yogurt.
I took a cup of hulled strawberries and pureed them in the food processor. No sugar needed.
Then I simply layered the strawberry puree and vanilla yogurt into my popsicle molds and froze them overnight.
Any fruit puree will do. Any vanilla yogurt will do.
Make your favorite and enjoy!
My Little Cup wanted to sell these refreshing treats to the neighbor kids. She even made up this awesome For Sale sign.
I hope that you and your family enjoy these popsicles! Here's to a great start to Summer!
The following two tabs change content below.
Hey y'all! I am Trish and the creative voice behind Uncommon Designs. I adore party planning, holiday celebrations, and all things crafty! I am so excited to share my creative adventures with you!
Latest posts by Trish Flake (see all)