Laundry… oh wonderful laundry!
Just kidding… I loathe laundry.  Really, I would rather clean toilets than do laundry any day of the week.  There… I said it.  Now you guys know one of my  little secrets.  To get even deeper… the girls get dressed quite often in the laundry room.  Doesn't it make sense if their  clothes live in the dryer most of the time?  In my dream world… the laundry is all done every night when my head hits the pillow and my home smells like dryer sheets when you walk in the door. Maybe one day!  
Now that I have gotten honest with you about my laundry habits, I can't wait to tell you about how our family is making the switch to the Honest Company with all of our laundry products….
The Honest Company was founded by actress, Jessica Alba, and Christopher Gavigan after they had been on a frustrating search for safe products for their children and for their homes. They dreamed of  having an ideal,  eco-friendly, beautiful, convenient, and affordable product for families and they put that dream in action when they founded the company.
The Honest Company offers several personal and home care products that use natural and non-toxic ingredients for a safer environment in your own home.  They are also committed to always trying to be better.  Better at everything from product effectiveness, cute packaging, all the way to doing what they can to not harm the earth with the production of products.  I highly recommend that you check our their Principle's page.  You will be a fan before even trying out their products!!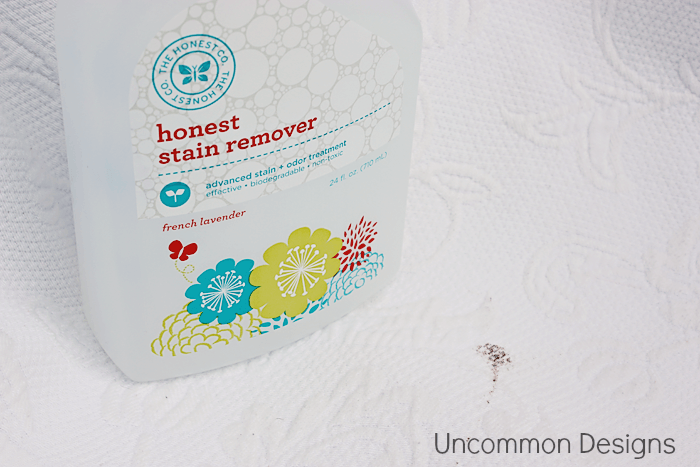 Anyone who has children can sympathize with me in that a good stain remover is a complete necessity.  Here is the perfect example of a chocolate stain on my beautiful white comforter.  I love my babies and their sweet little fingers, but what they leave behind drives me crazy!  I tried the stain remover out and the stain was gone completely… a total score for this mama! And how cute is the packaging… love the flowers!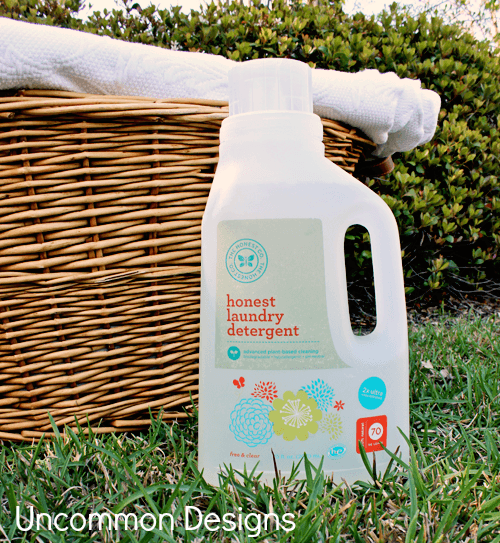 Next up to try was their laundry detergent… another great product!  All I had to do was compare the ingredients on the back of my regular detergent with the ingredients on the Honest laundry detergent.  There are so many crazy chemical names on the label of my favorite detergent brand.  No wonder it smells so good!  Now the Honest laundry detergent didn't come with my favorite laundry smell, but it certainly cleaned my clothes well and is a much safer choice for our family.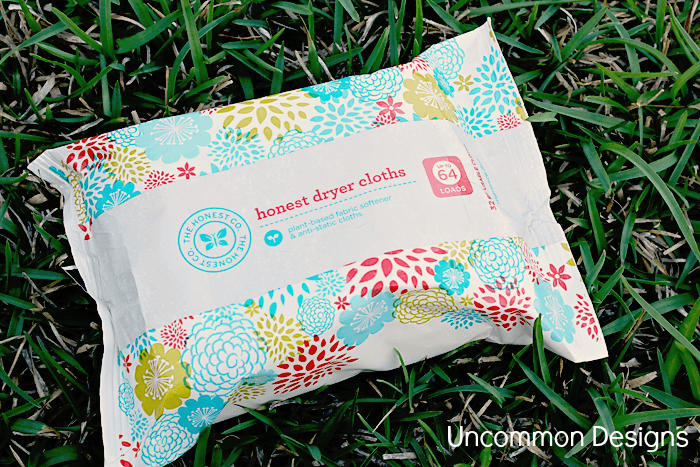 Finally, I tried out the dryer cloths.  Now, the packaging for these guys was exactly like baby wipes!  Hopefully my kiddos won't get into them and wipe their face and hands on them.  Although if they did, they would be okay as they are without all of the toxins!  I used these sheets when I was drying my white bed cover and it has never been more soft!  That my friends is super exciting for me!!  I have not tried them, but they also offer an oxy boost and 4 in 1 pods, which I'm sure are reputable products, as well.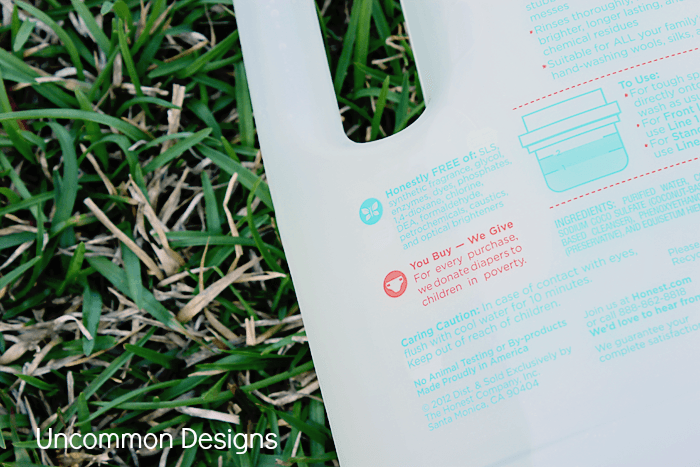 Here is my favorite part about the Honest Company… they are just so giving!  For every purchase made, they donate diapers to children in poverty.  It is right on their label… love it!
Don't worry, they haven't left out you guys… right now you can get $10 off a $40 purchase at The Honest Company using code Pollinate$10off$40. (Limited to first-time customers and one use per customer. Expires May 1, 2013.)
If you are interested in giving The Honest Company a try they offer free trials of diapers and cleaning products.  You also can sign up for their emails here!
 To stay connected, you can follow The Honest Company on Twitter, Facebook and their fabulous Blog!
Take care, 
Trish
"This shop is part of a social shopper marketing insight campaign with Pollinate Media Group® and The Honest Company  but all my opinions are my own. #pmedia #NaturallyHonest  http://cmp.ly/3/8vNxcO."
The following two tabs change content below.
Hey y'all! I am Trish and the creative voice behind Uncommon Designs. I adore party planning, holiday celebrations, and all things crafty! I am so excited to share my creative adventures with you!
Latest posts by Trish Flake (see all)