Elfing your Neighbor has been compensated by Collective Bias, Inc. and its advertiser. All opinions are mine alone. #MerryAndBright #CollectiveBias
Elfing Your Neighbor is a blast!
I love this wonderful season of gifting, but I love a gift that includes a little extra added fun.  You've seen that we love to "Boo your Neighbor", now we are Elfing our neighbor with a little help from American Greetings.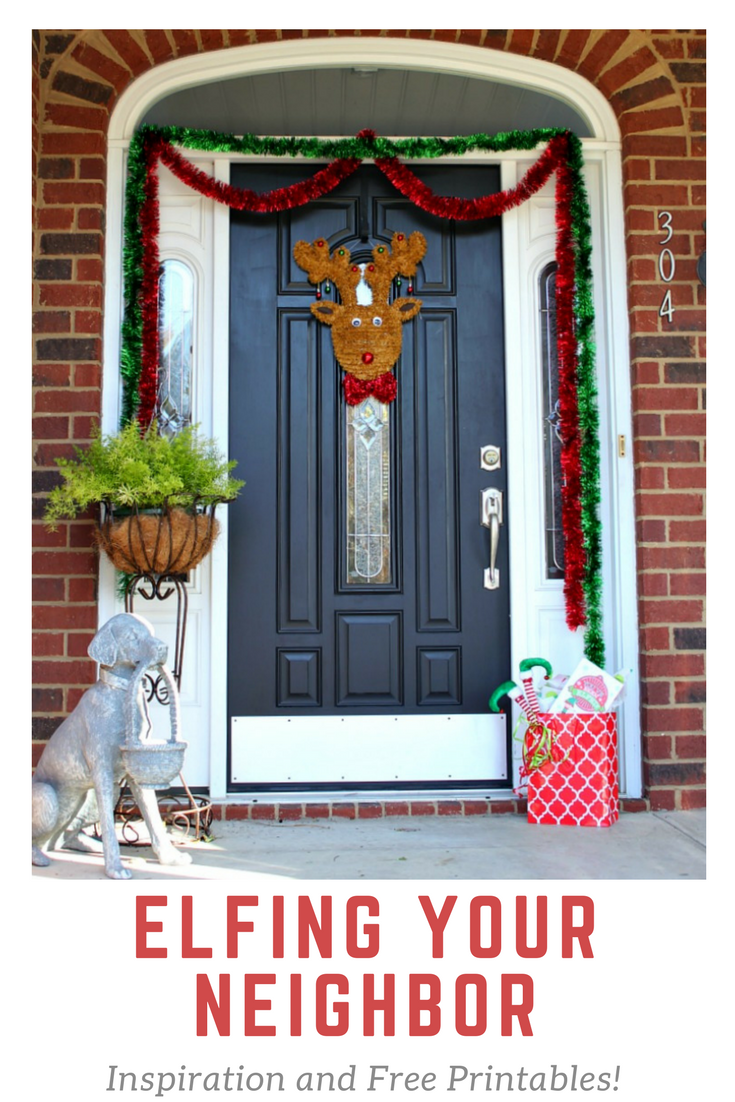 Now before you start feeling like you simply can't add one more thing to you list, I promise you this one is so fun for the entire family.  Bringing a giggle and a smile to someone is a true gift and sharing the joy of the season with your friends and neighbors is what it is all about friends.
I headed out to my local Wal-Mart to gather my supplies to "Elf" my neighbors across the street.  This was the hard part… there were so many bags, wrapping paper, sweet plush bears, and that amazing larger than life glittered card.
Be sure to enter the American Greetings Sweepstakes, as well:
American Greetings #MerryAndBright Sweepstakes
You can find the Ibotta Offer here!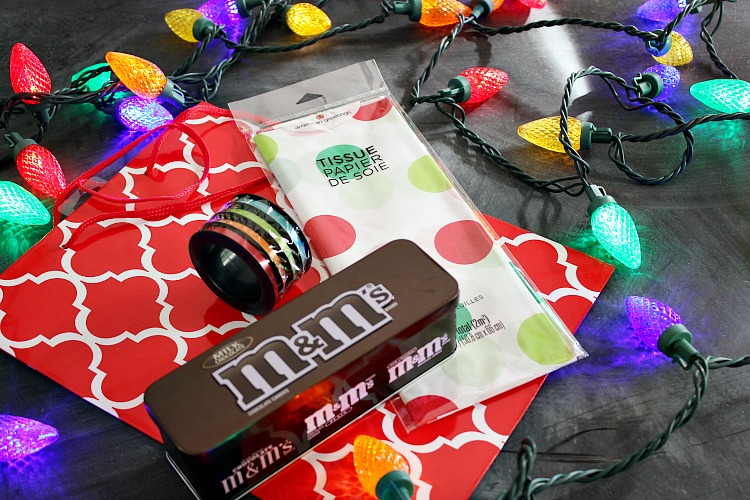 I picked up this quatrefoil gift bag, curling ribbon, awesome printed tissue paper to wrap the gift in, but I have a special added touch… don't worry, we'll get to that.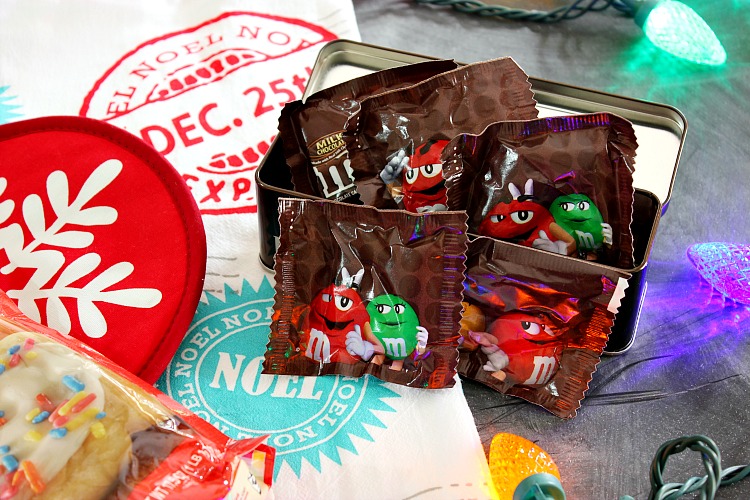 I also grabbed some sugar cookie mix, a cute pot holder, a kitchen flour sack towel and individual packs of plain M & M's in this a collectors box. Be sure to head on over to American Greetings to enter theAmerican Greetings #MerryAndBright Sweepstakes. They are giving away loads of free stuff!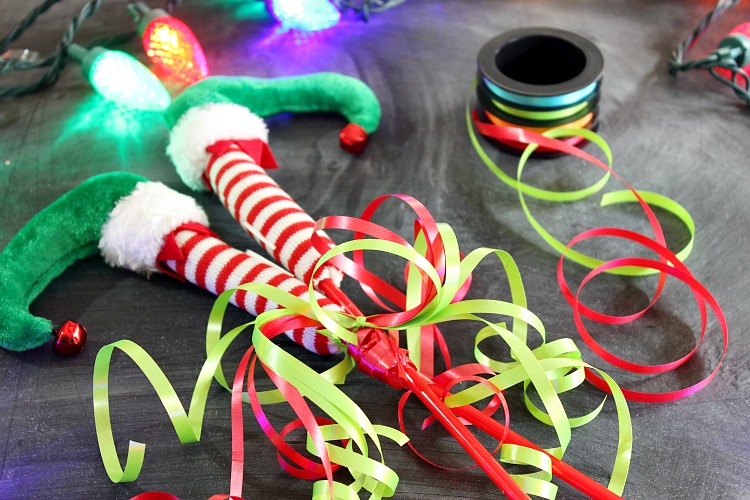 I also found these elf shoes craft picks at my local craft store. I used the curling ribbon to spif them up a bit and then added them to the outside of the gift bag.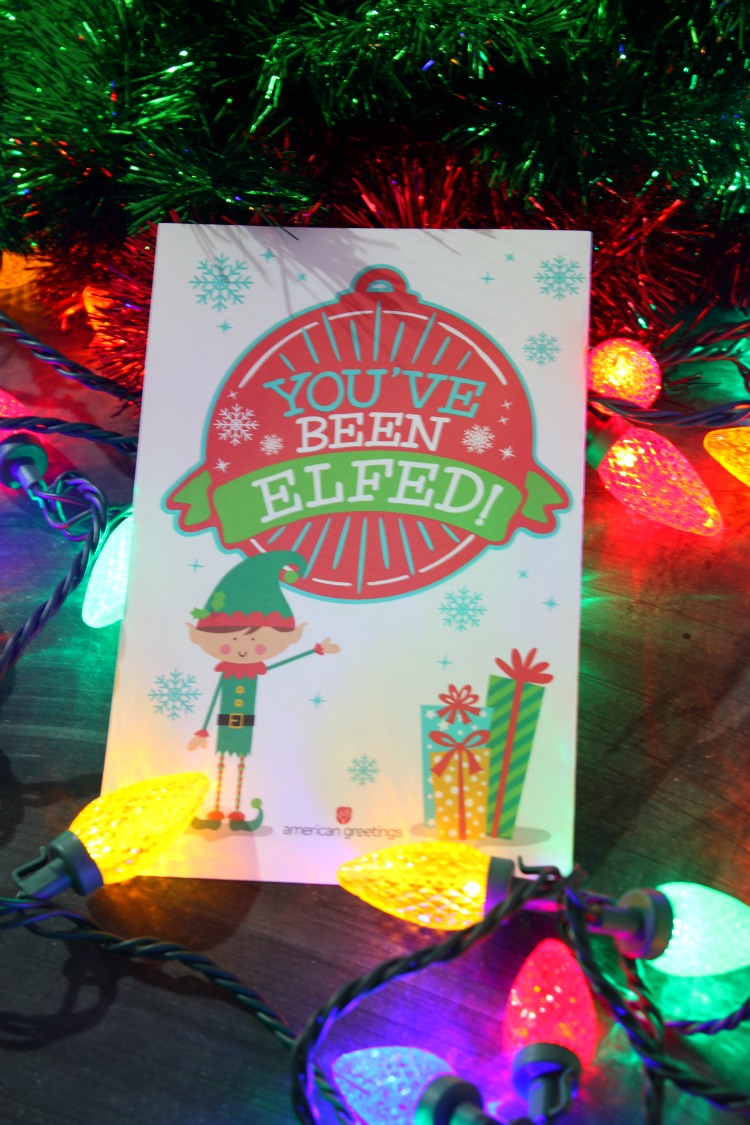 Be sure to download your elf printables on the American Greetings site here.  I printed off two of each of the downloads to include in the bag. They give awesome instructions, too!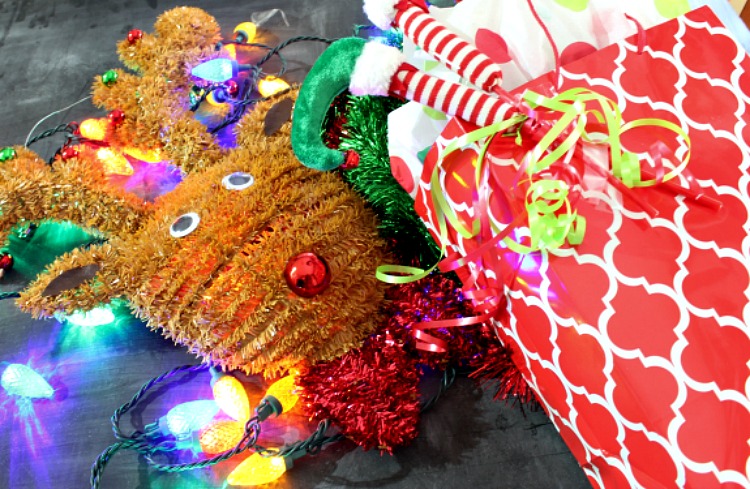 Now comes the part where I felt like I was in the movie Mission Impossible. I texted my neighbor all morning so I knew when they were planning on leaving. Once I saw them pull out, the girls and I grabbed all of our goodies and headed across the street to do a little decorating.
First, we put the bag of all of our goodies by the front door so they would be able to find it.  Although, something tells me that they wouldn't miss our final product.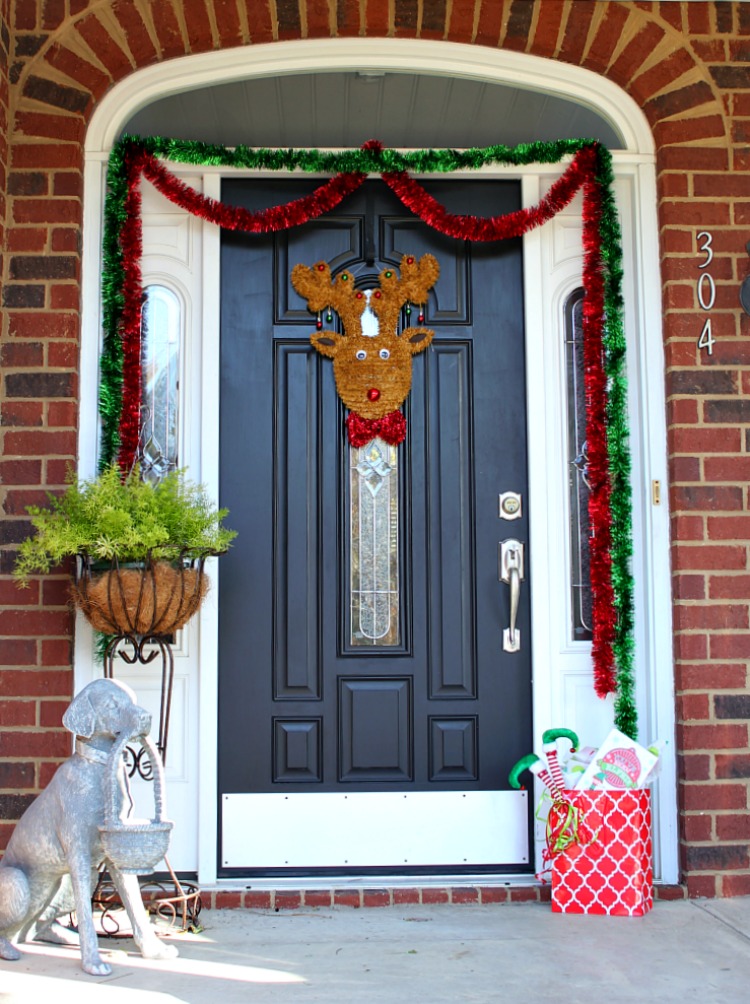 Thankfully she had not already decorated for Christmas yet, because we did a little um "tasteful" decorating for them.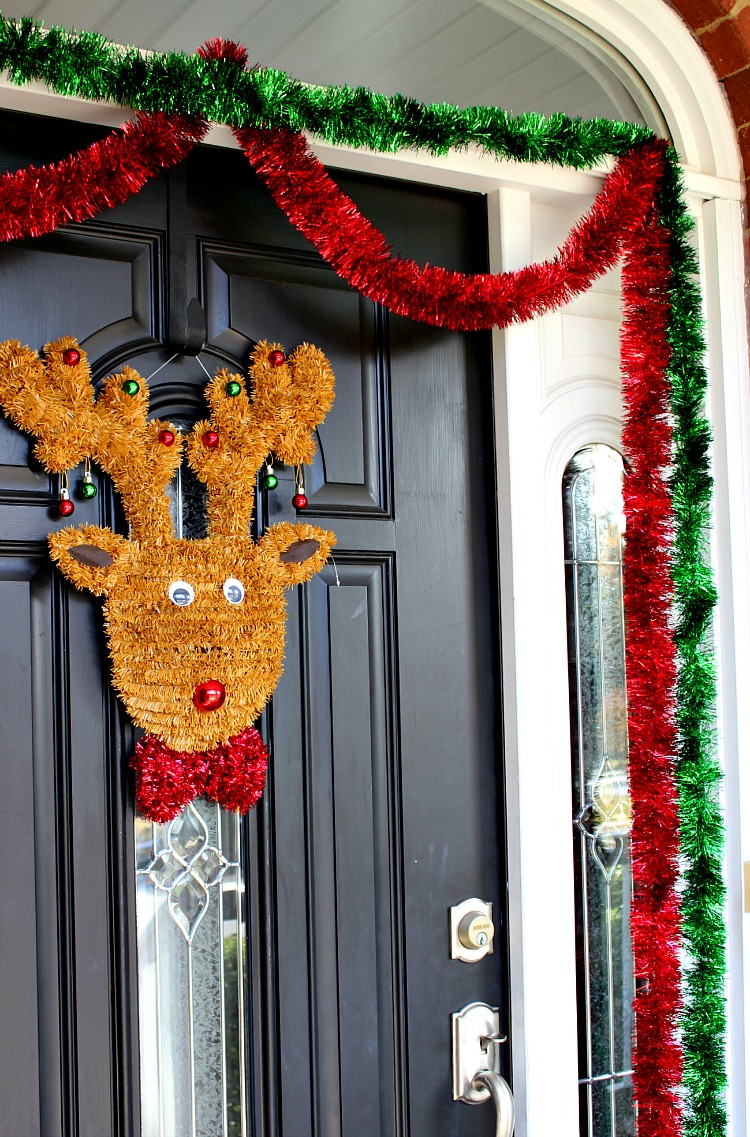 A few additions of tinsel garland and this rudolph beauty made her home so fun and festive. We laughed and laughed as we decorated.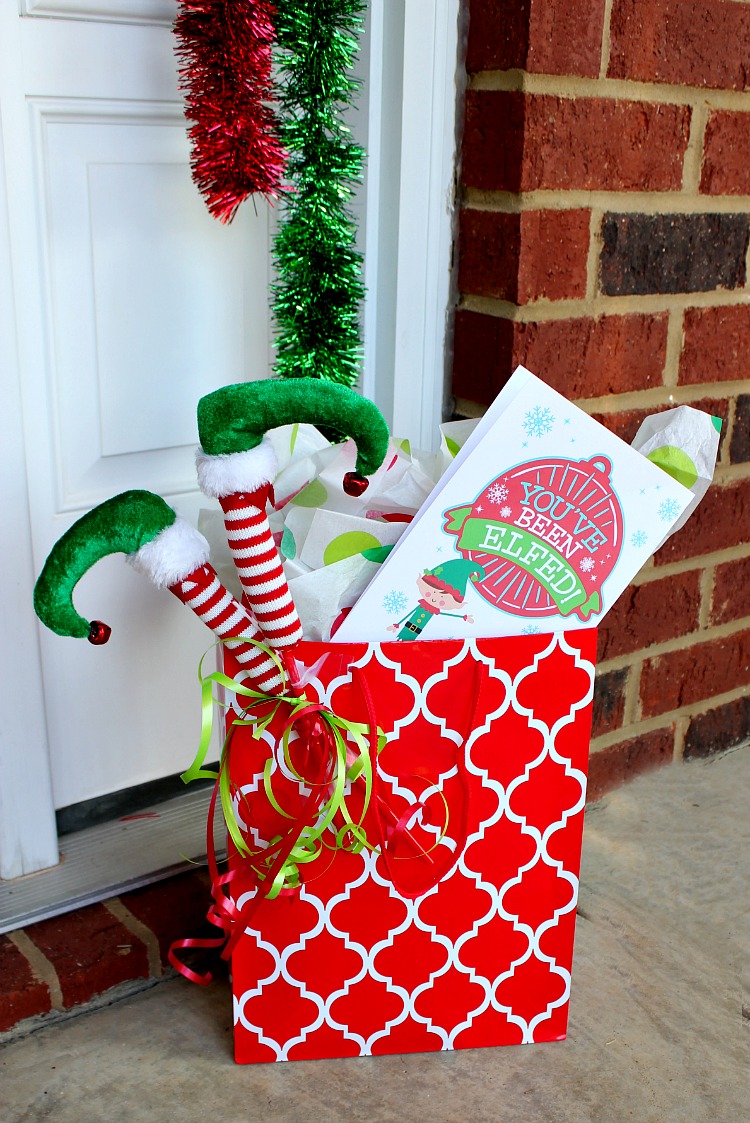 When they came home they absolutely loved it and I am so glad that they did. I wonder who will get "Elf'd" next?  I hope they are as good of a sport as this family, who actually still have all this stuff on the front porch.
This was a really fun family tradition to begin this year and I can't wait to do it again next year!
The following two tabs change content below.
Hey y'all! I am Trish and the creative voice behind Uncommon Designs. I adore party planning, holiday celebrations, and all things crafty! I am so excited to share my creative adventures with you!
Latest posts by Trish Flake (see all)