I know you guys know what a fabulous baker I am… yeah right!!  If there is an easy way to bake something, I am all over it.  These sweet Easter Cupcake Decorations are no exception to that rule!
Aren't they the cutest ever… and so easy!  I have tried numerous times to make the perfect Easter cupcake and failed miserably.  This time was different… I threw all of the complicated ideas out the window and just winged it!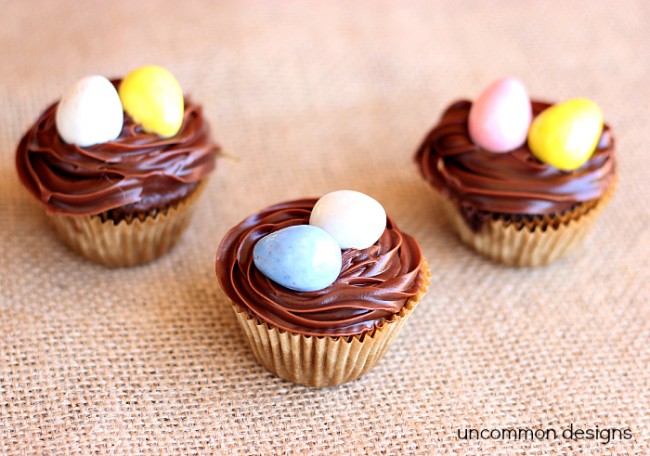 I baked a few dozen mini chocolate cupcakes and iced them with the most classic and delicious icing…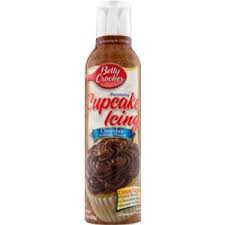 Oh yes… that is Betty Crocker's Chocolate Cupcake Icing… in a can!  It even came with the perfect star tip for chocolate nest making.  Folks, it doesn't get any easier than this and it really tastes quite yummy! Betty really knows what she's doing and is much better at whipping together a batch of heaven than I am.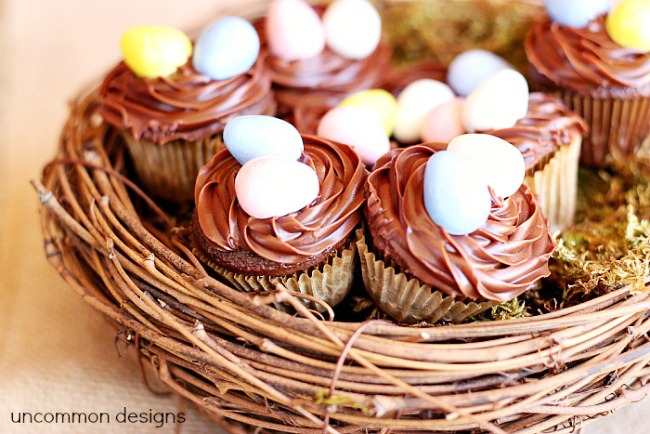 After I swirled on these pretty little chocolate nests, I topped them off with two of the larger Cadbury eggs.  To get really fancy with everything, I placed the cupcakes inside of a nest… so stylish!  The girls thought they were something else, which made this mama so happy.  It doesn't have to be hard to be something special.  In my line of work, I sometimes lose sight of that.  Do you struggle with this… the it has to be unique and flawless… just perfect?  I'm getting better, but it is so hard sometimes.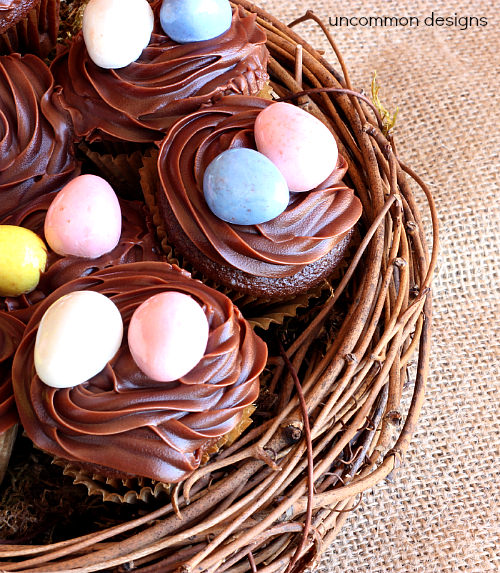 I love my easiest ever Easter cupcakes.  I had plans of freezing them until that special Sunday, but they were too good!  I'll have to whip up another batch in a few weeks.  I'm not sweating it… it was that easy!  I can see these making an appearance every year at our house.  Do you have a favorite treat that is so simple to make?  I'd love to hear about it!
*Trish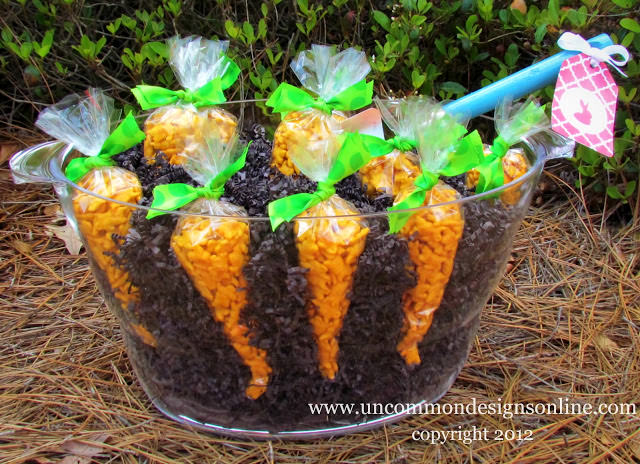 I think you guys would also think this Carrot Patch is quite adorable.  It is a cinch, too!
The following two tabs change content below.
Hey y'all! I am Trish and the creative voice behind Uncommon Designs. I adore party planning, holiday celebrations, and all things crafty! I am so excited to share my creative adventures with you!
Latest posts by Trish Flake (see all)