Sports Banquet Decorations Can Be Beautiful!
I don't know about you guys, but even when I search Pinterest for ideas on how to decorate for a sports banquet, I come up empty handed. If I do see something, it looks like the party store was bought out.  You know how I feel about that if you read about last year's cheer banquet. I can't comprehend how spending gobs of money on something you have no choice but to throw away after the party is over makes sense. I also think that if you are doing a special banquet, that it can be very elegant and not cost a fortune.  Here was my latest bash thrown… our middle school cheer banquet.
This year is the first time that our cheer team had its own banquet. You can imagine how tight our budget was, but you know me and my love for parties. I knew I could make it beautiful and on a shoestring budget.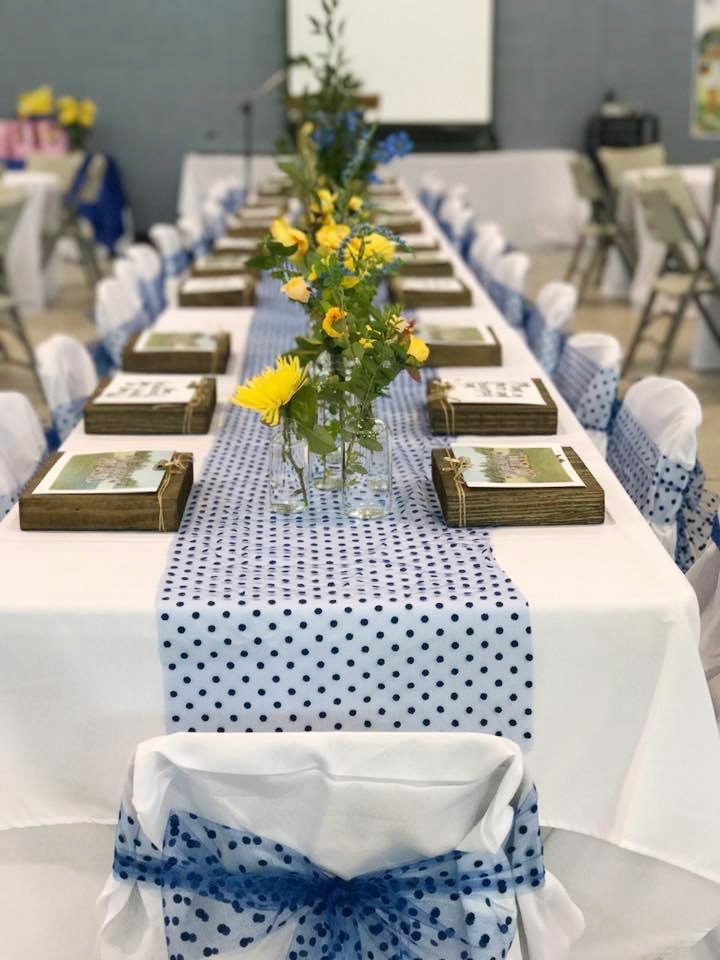 Table Linens: Invest and Re-use
The first thing is to narrow down your color scheme. Sports banquets make that pretty simple. Our colors are royal blue, gold, and white. So that was the party plan.  I let white be the backdrop for just about everything. We used white rectangular tablecloths and round tablecloths and for the chair covers, as well. You won't believe how inexpensively you can purchase table linens. This is an investment worth making if you tend to throw parties. I have purchased at least three dozen pieces from Tablecloths Factory. Trust me, if you use them twice, you will spend the same amount that you would on party store plastic tablecloths. They also make everything look so elegant.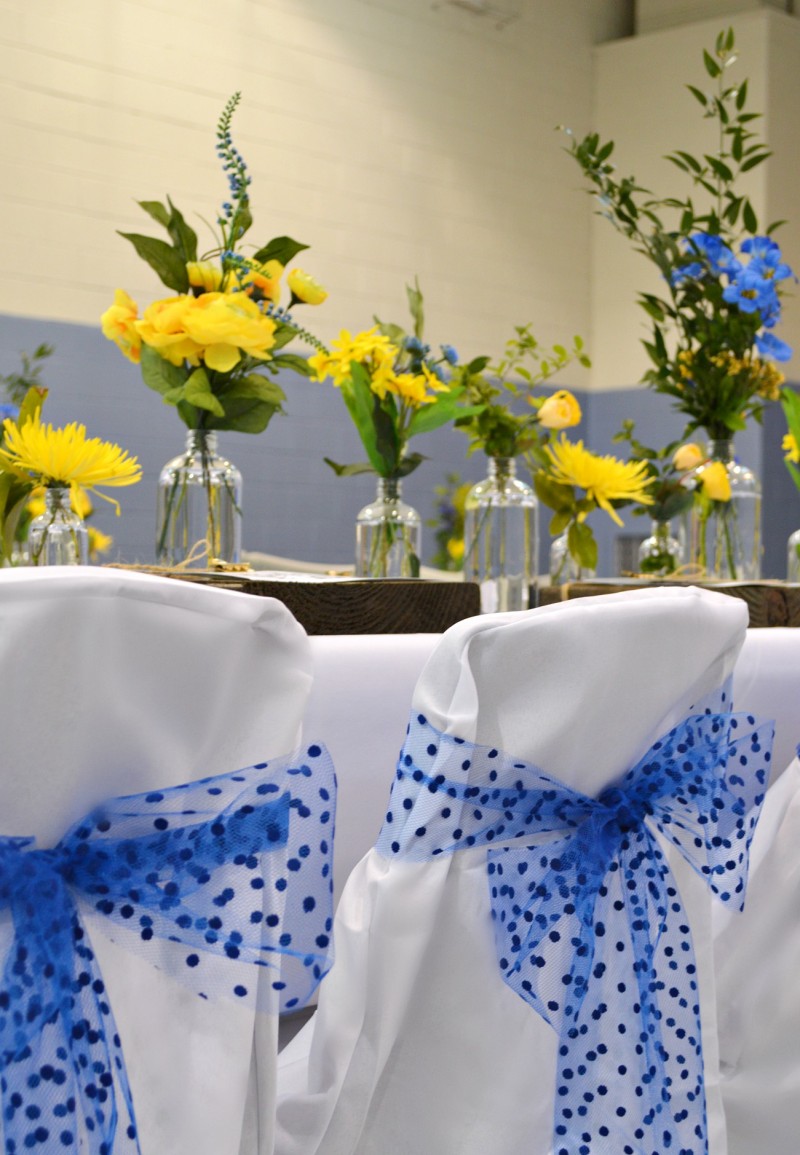 These chair covers really were a wow factor addition. Guess what?  They only cost 98 cents a piece. Yep… and they are stunning.  I didn't even have to iron them.  I only used them on the athlete's table, so that was such a great cost savings and they felt like princesses! The dot chair ties and the tablerunner all came from a bolt of tulle that was cut into pieces. Another great way to save some money and tulle really holds up well and can be used year after year.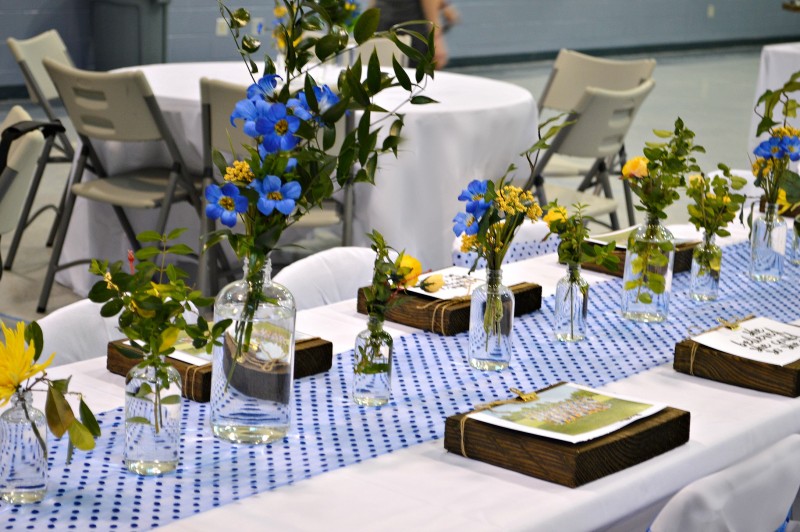 Vases
Use what you have and shop thrift stores! You can collect bottles of all sorts from your local thrift store or purchase them in bulk.  The smaller the opening of the bottle, the less flowers you need to use. These were the perfect size. You can also just collect things along the way and borrow vases and jars from your friends and neighbors.
Flowers
Not one single person at the banquet noticed my hidden secret… using some artificial flowers, some store bought flowers, and some greenery from my yard. Yes sir and it saved a ton of money. Now I'm giving away all of my secrets, but y'all are worth it and you know I've never been one to keep a good deal to myself. When choosing flowers , I think you totally need some real live beauties, but they don't have to even come from a fancy florist. I always find a great deal at Publix or Wal Mart on fresh flowers, but you may need to shop around your local florist to price out something special.  I ended up using live spider mums, gerbera daisies, and some live greenery.
You can see here that I've mixed one live spider mum with other artificial flowers. The greenery was literally just trimmed from bushes and trees in my yard. Just be careful to do this less than one day from your event so they don't wilt. Another great tips is to divide up artificial bunches of flowers to keep things looking real. You'll need a pair of pliers for this, but one bunch can go a really long way. I used one branch from the craft store and literally used it in about 9 different arrangements, so you can see how your savings adds up quickly.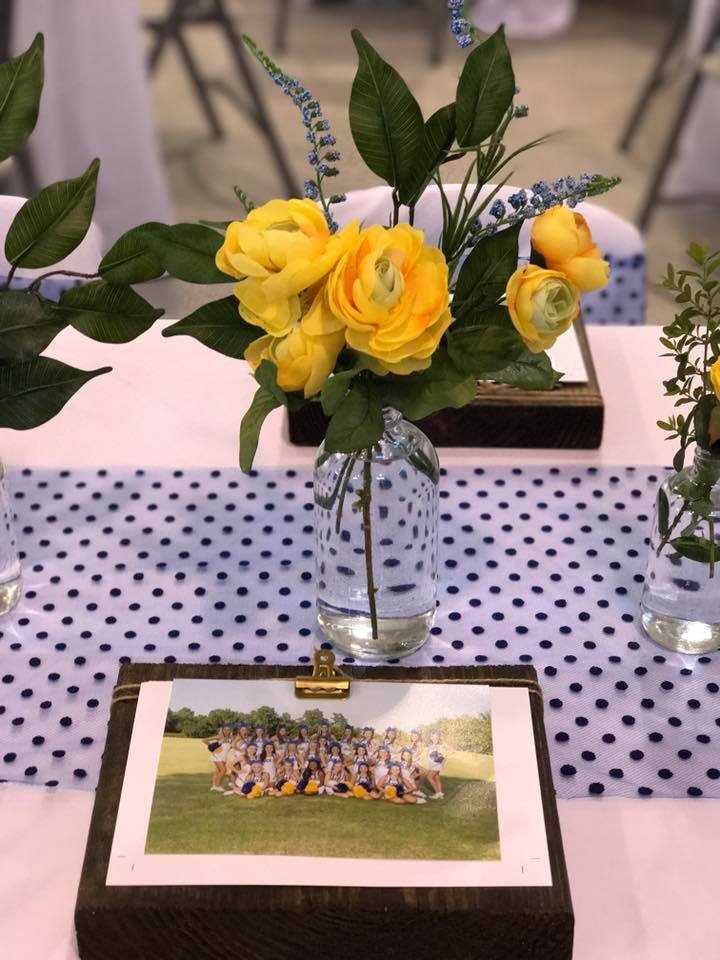 Gifts as Decor
I always use gifts, awards, or goodie bags as part of the decor. Here, the team moms gave the cheerleaders handmade wooden picture frames and included an inspirational printable, as well as a team picture. These were placed at each place setting and just looked so beautiful on the tables. The rich wood added a beautiful depth to the table and I love adding in that bit of texture, too.
Do you have any great tips for sports banquet decorations? I'd love to hear them!
The following two tabs change content below.
Hey y'all! I am Trish and the creative voice behind Uncommon Designs. I adore party planning, holiday celebrations, and all things crafty! I am so excited to share my creative adventures with you!
Latest posts by Trish Flake (see all)