THIS POST WAS SPONSORED BY MARTHA STEWART LIVING
,
Barilla® Collezione
and Reynolds Kitchens™.  ALL OPINIONS ARE 100% MY OWN.
Sunday suppers are back!
No, I'm not starting a weekly blog post, but I am beginning a weekly tradition with my family.
If you're like me, your life is filled with after school practice, homework, meetings, and a never-ending to-do list. The weeks just fly by, and before you know it, you turn around and notice your children look a whole year older! It's a hectic time of life.  That's why we've decided to be intentional about our weekend recovery time with family. Though Saturdays offer a much-needed change of pace, I find that Sunday dinner is our true connection time. It's the one time when everyone is at home, in one place for one event, and tuned in to one another. Everyone loves to gather around a table, and nothing says comfort like warm dinner rolls and happy tummies! It's a wonderful time without the constraint of schedules. We get to focus on one another before the busy week kicks off. Dinner can be as simple or elegant as you wish. Involve everyone in the prep and clean-up. It's a great way to work as a team, play in the soap bubbles, and chase each other with dish towels.  Have fun! Take time to sit down to Sunday dinner and focus on what truly matters – each other.
Today I'm sharing some creative recipe ideas to get you started.

The November edition of Martha Stewart Living is full of ideas to get your family prepared for the holiday season, as well as traditions that you can begin in your home. Can you guess what we are bringing back?  That is right… Sunday Supper!
This past Sunday I whipped up a new recipe for our family… Bucatini Pasta Carbonara with Sausage and an Apple Cinnamon Galette. They were both incredible!
Here is how I made the pasta dish…
Bucatini Pasta Carbonara with Sausage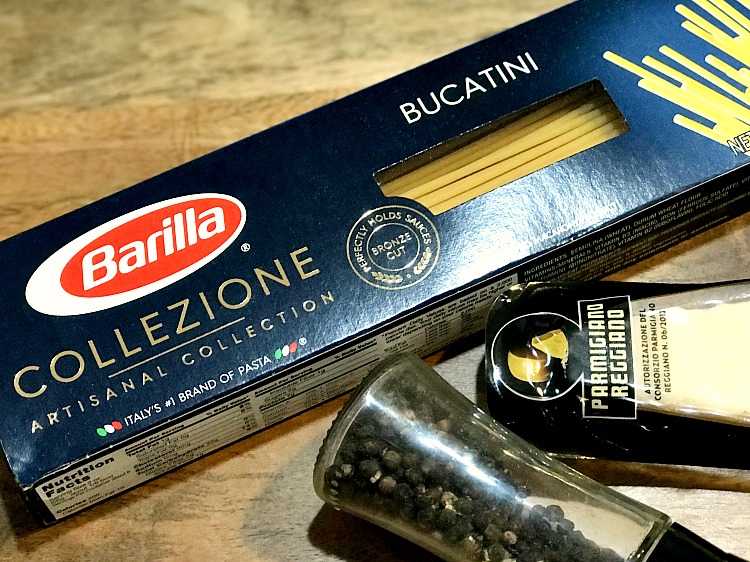 Have you tried Barilla® Collezione Pasta? I did not know what I was missing with this delicious pasta. I used the Bucatini, which is a thick spaghetti-like pasta that has a hole running through it. It was the absolute perfect choice for this dish. There are several other varieties of pasta in the Barilla® Collezione line such as Casarecce, Orecchiette, Penne, 
Rigatoni, Spaghetti, Cheese & Spinach Tortellini and a Three Cheese Tortellini. Barilla® Collezione is special because of the Italian bronze plates that are used. The pasta has a bit of a rough surface which makes it taste like it is straight from the restaurant and the
 sauce just sticks right to it. It feels and tastes amazing in your mouth!
My family was very impressed with this dish and I was pretty proud of myself, too!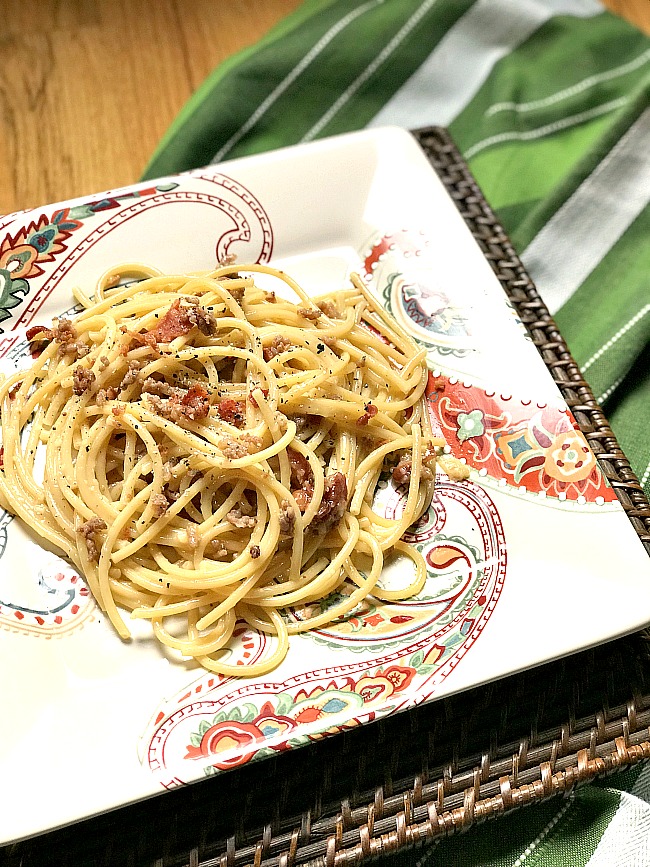 Bucatini Pasta Carbonara with Sausage
12 oz. Barilla® Collezione Bucatini Pasta
3 large eggs
1 cup freshly grated Parmigiana-Reggiano cheese
1 package of bacon
2 cloves of minced garlic
coarse black pepper
1/2 pound Italian Sausage
Directions:
In a large bowl, whisk eggs and then stir in the grated Parmigiana-Reggiano cheese.
Cook the bacon in a skillet until crispy. Add the garlic and cook for 30 more seconds. Drain and chop the bacon. Use the skillet to cook the Italian sausage and drain. Set aside.
Bring a large pot of salted water to a boil. Cook the pasta al dente, approximately 7 minutes. Reserve 1 cup of the pasta water.
Drain the bucatini and mix it with the egg and cheese mixture. Add the bacon, sausage and garlic mixture. Toss everything together well.
If your pasta looks dry, add a bit of the reserved pasta water. I did not need any additional water.
Serve on a plate and top with black pepper.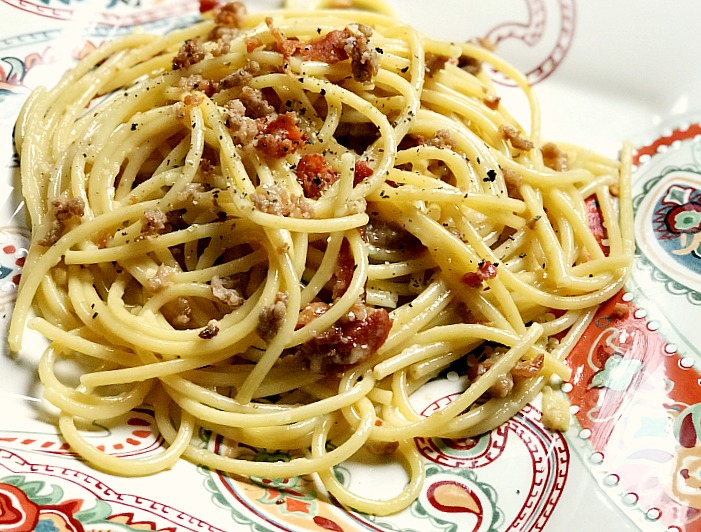 Now for dessert!

I am going to get extra fancy on you now… I made a galette. I don't even know if I pronounce it correctly, but it tastes oh-so good! I was inspired by Martha's own Pear Galette, but I put my own spin on it.
Since it is fall and I haven't made the first apple anything, I decided to try my hand at an apple cinnamon galette.

Apple Cinnamon Galette
1 package refrigerated pie crust
3 large apples
2 tablespoons lemon juice
1 teaspoon vanilla extract
1/4 cup brown sugar
3 tablespoons all purpose flour
2 teaspoons cinnamon
pinch of salt
1 egg
1 tablespoon water
2 tablespoons turbinado sugar
Reynolds Kitchens™ Parchment Paper with SmartGrid®
Directions:
Preheat oven to 400 degrees.

Roll out a sheet of parchment paper to line a baking sheet. I love using Reynolds Kitchens® Parchment Paper because it has the lines. They call it SmartGrid® and it is so smart and makes baking so much easier. Y'all know it has to be easy for me to make it!
I also used the Reynolds Kitchens® Parchment Paper for a clean space for rolling out my pie crust. Just make sure to lightly flour the surface and roll out the dough into a circle shape around 10 inches in diameter. Put the pan in the refrigerator and chill uncovered while you prepare the filling.
In a bowl, toss thinly sliced apples with lemon juice and vanilla extract until they are combined.
In a separate bowl, mix the sugar, brown sugar, salt, flour and cinnamon together with a whisk. Then add the apples to this bowl and toss to coat.
Take the pie crust out of the refrigerator and place the apples in the center. Leave about one inch uncovered and fold up the edge of the crust.
In a small bowl, whisk the egg with the water to combine. Lightly brush the egg wash around the edge of the crust. Sprinkle the turbinado sugar around the edge of the crust.
Bake for 30 minutes or until bubbly. Let cool 5 minutes before serving.

Yum!
Everything was absolutely delicious and we enjoyed our time together. This is just the beginning of our Sunday suppers. There will be countless more to follow and I can't wait!
The following two tabs change content below.
Hey y'all! I am Trish and the creative voice behind Uncommon Designs. I adore party planning, holiday celebrations, and all things crafty! I am so excited to share my creative adventures with you!
Latest posts by Trish Flake (see all)