This shop/post has been compensated by Collective Bias, INC. and The Coca-Cola Company, all opinions are mine alone. #ServeWithACoke  #BowlGames  #CollectiveBias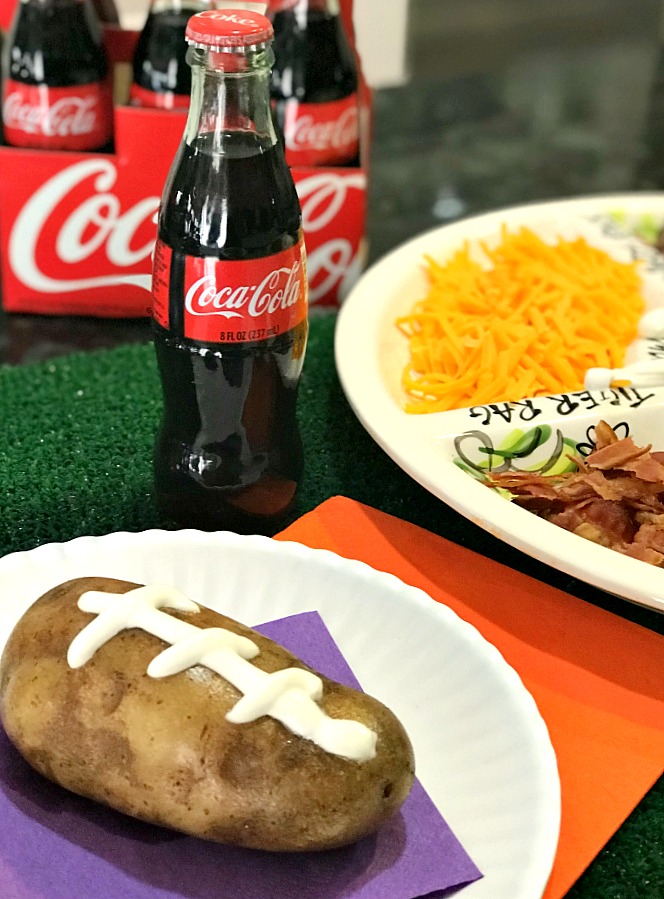 We love football at our house, specifically college football. Since our team has done so well over the last few years, we have had so many reasons to celebrate and gather our friends together for watching our beloved team play.
This week, we will have some of our favorite fans over to watch the big game. After all of the holiday entertaining, I am ready for something simple and casual.  My go-to trick for feeding a crowd?  A baked potato bar and soft drinks! I have a few fun tricks up my sleeve to make it extra special, too!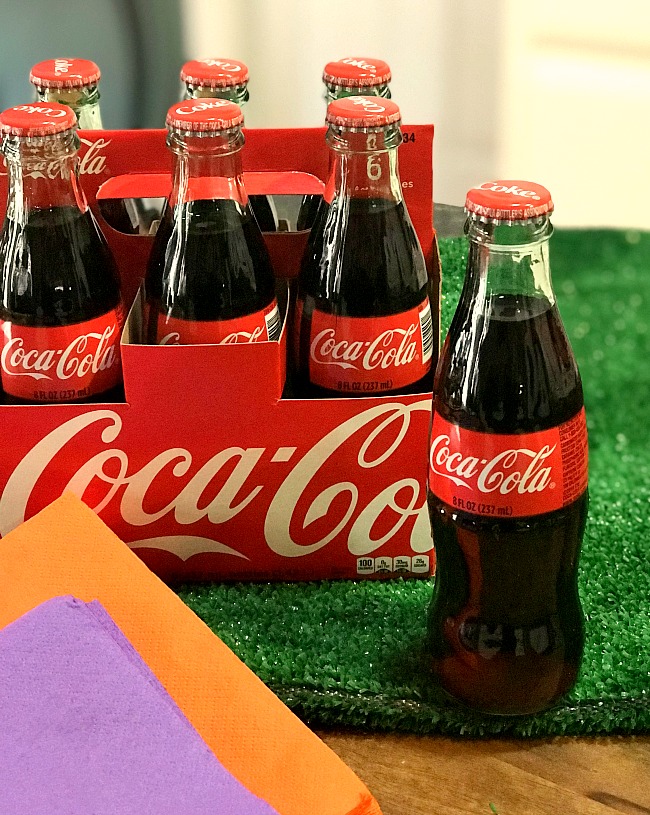 Watching a bowl game is a family affair and we have all ages in attendance.  I love to serve soft drinks and being a Southern gal, my drink of choice is always Coca-Cola® classic. My grandparents instilled a love for this delicious beverage when I was just a little girl.  These glass bottles are just so cute and give a feel for a true celebration, too! I grabbed several six packs of the bottles and we are all just so excited to enjoy them.
Click here to learn all about Coca-Cola pairings! 
Let's dive in to find out how to make baked potatoes for a crowd…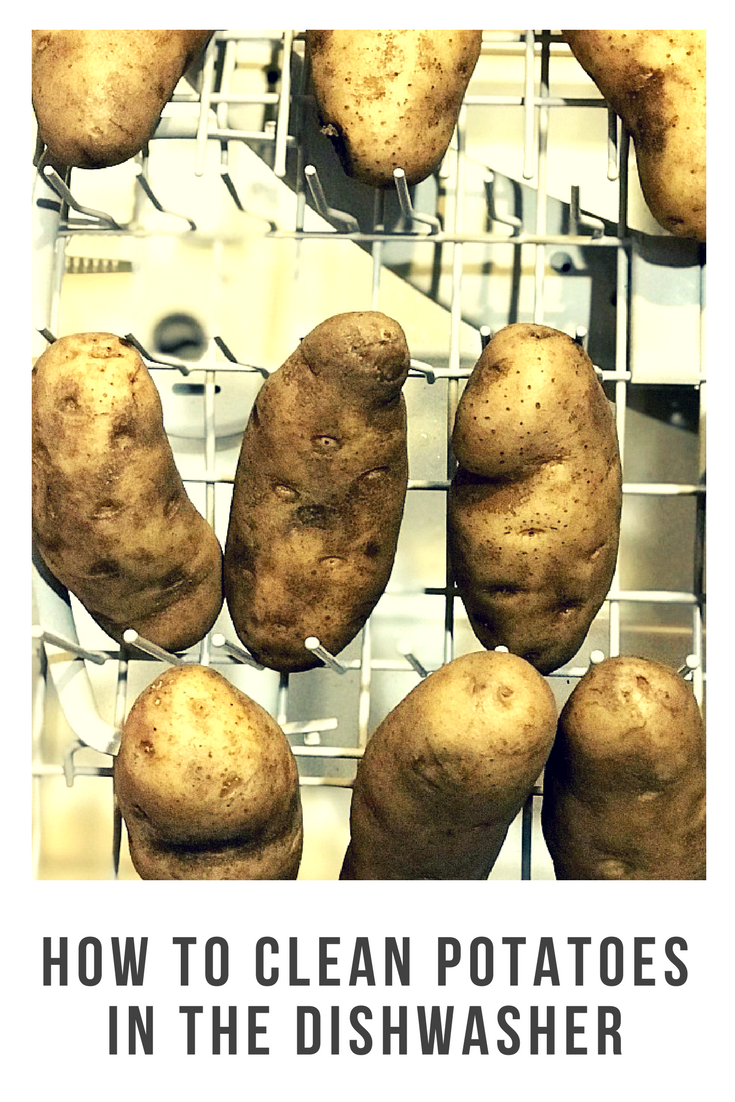 First, we are going to clean a few dozen baked potatoes in the dishwasher. You heard me right!  I loathe scrubbing baked potatoes and the thought of scrubbing an entire bag just is not an option. If you place the potatoes in the top rack of your dishwasher and do a rinse with no soap, this does the trick every time! This can be such a time saver and sanity saver, too.
After they are washed, I brush on olive oil and a little salt, wrap them in foil and bake them on 350 degrees until they are soft.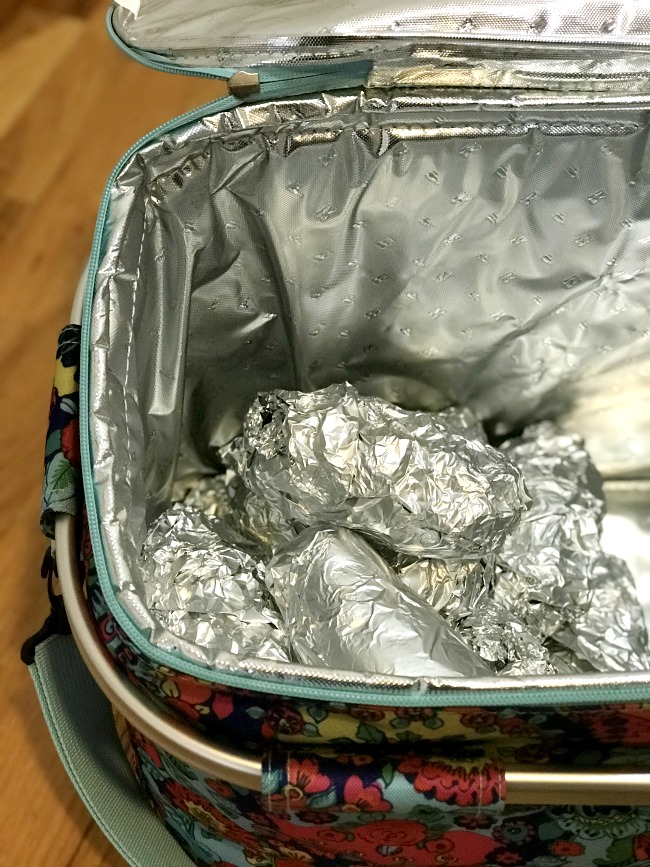 After they are cooked, I transfer them to a cooler where they will be kept.  They stay warm for hours this way and I can even cook them a few hours before my guests arrive.
You guys know that this party gal can't just let a gathering go without a fun touch.  For this game, I will be piping on sour cream laces to make baked potato footballs.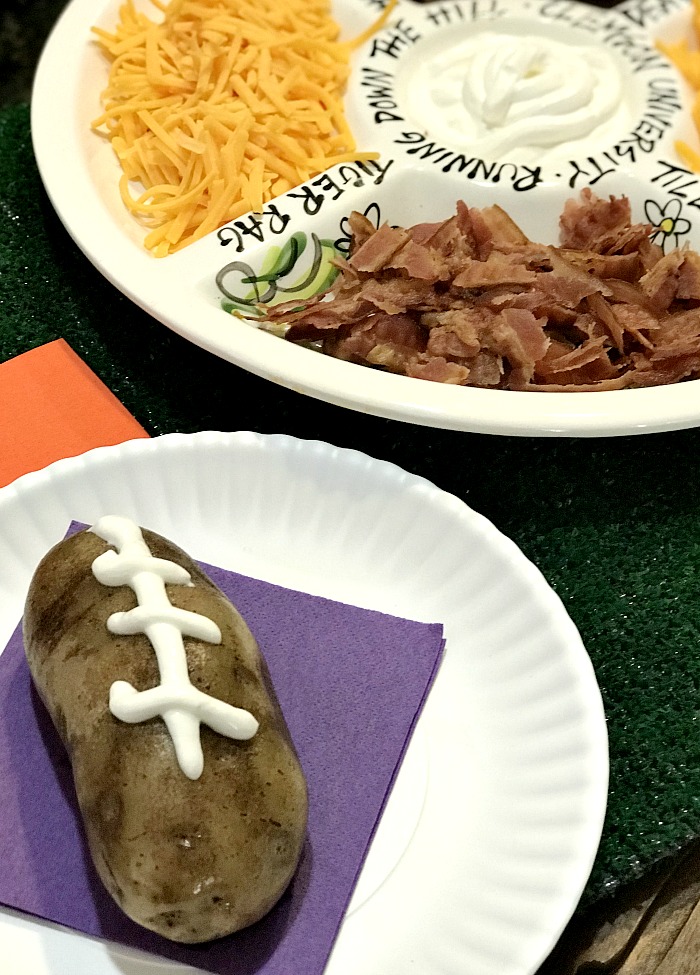 Aren't they so fun?  Just fill a plastic baggie with sour cream, clip the corner and pipe away. You can even let the kids get in on the fun if you'd like!
For the toppings for my baked potatoes, I always use my favorite ceramic divided tray.  I put cheese, bacon, roast beef and sour cream, but you can put your own spin on the toppings.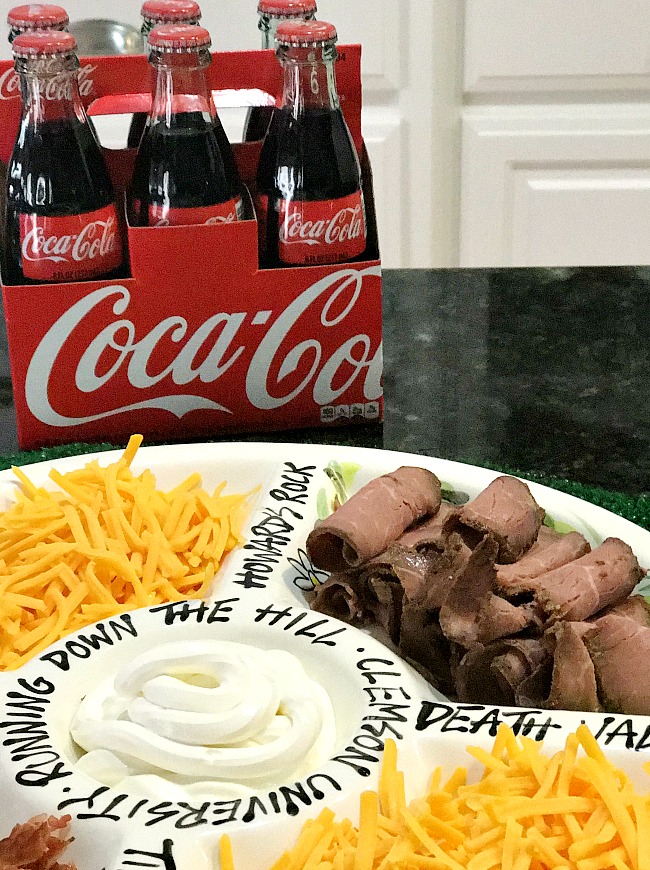 Here are some great baked potato topping ideas:
cheese
bacon
roast beef
turkey
spinach
broccoli
butter
salt and pepper
use your imagination!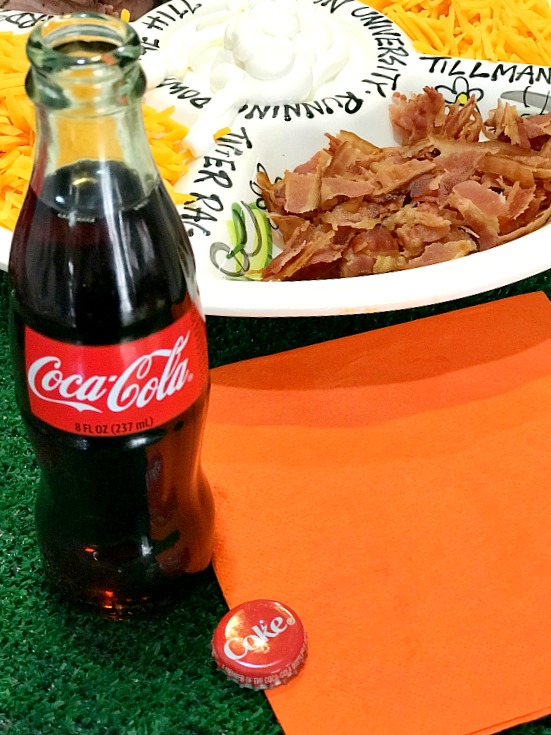 Making baked potatoes for a crowd is so simple and pairing it with Coca-Cola in glass bottles is just so fun. Invite your favorite fans over and watch the big game together
!Click here to learn all about Coca-Cola pairings! 
I hope your favorite team wins!
The following two tabs change content below.
Hey y'all! I am Trish and the creative voice behind Uncommon Designs. I adore party planning, holiday celebrations, and all things crafty! I am so excited to share my creative adventures with you!
Latest posts by Trish Flake (see all)