Hi there, Uncommon Designs friends! It's Samantha from Five Heart Home, and I've just loved having the opportunity to visit with y'all this summer. I'm back today with a yummy Whole Wheat Zucchini Banana Muffins recipe that will not only make good use of those over-ripe bananas on the counter, but it will also use up a bit of that over-abundant garden zucchini!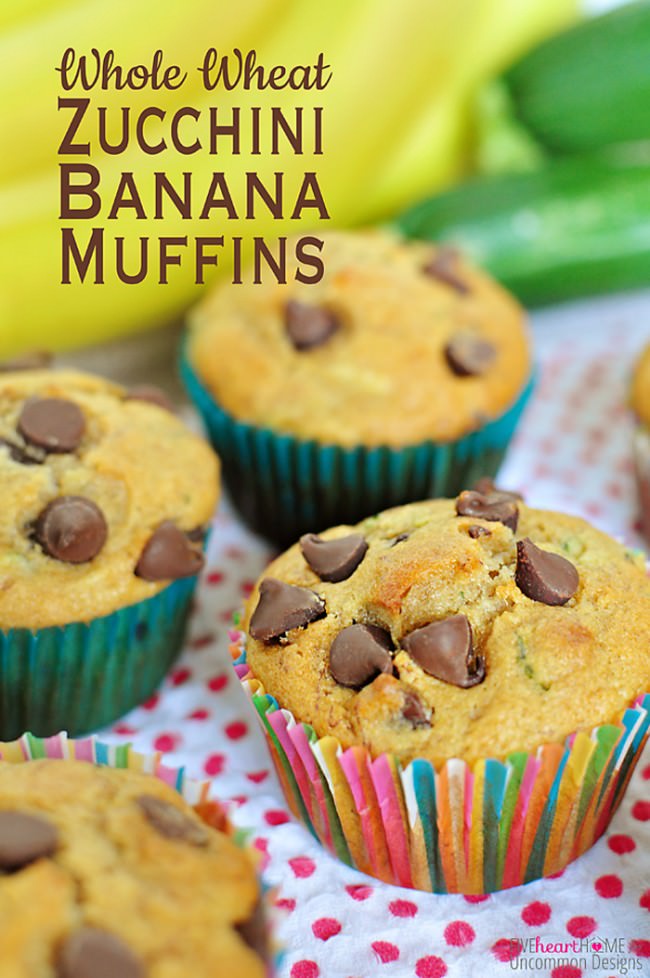 If you are fortunate enough to grow your own garden — or lucky to have a family member, friend, or neighbor with a garden — chances are that zucchini takes residence in that garden. And if that is indeed the case, odd are pretty good that when that zucchini comes in, you have more of it than you know what to do with!
That's certainly the situation around here. My in-laws have a bountiful garden and they are kind enough to share with us…tomatoes, cucumbers, jalapeños, yellow squash, and lots and lots of zucchini! I love it, but I'm always looking for new ways to use it up. I already shared some of my latest and greatest zucchini recipes this summer — from Baked Parmesan Zucchini Rounds to Zucchini Marinara to Zucchini Fudge Bundt Cake with Chocolate Glaze — and today I have just one more for y'all!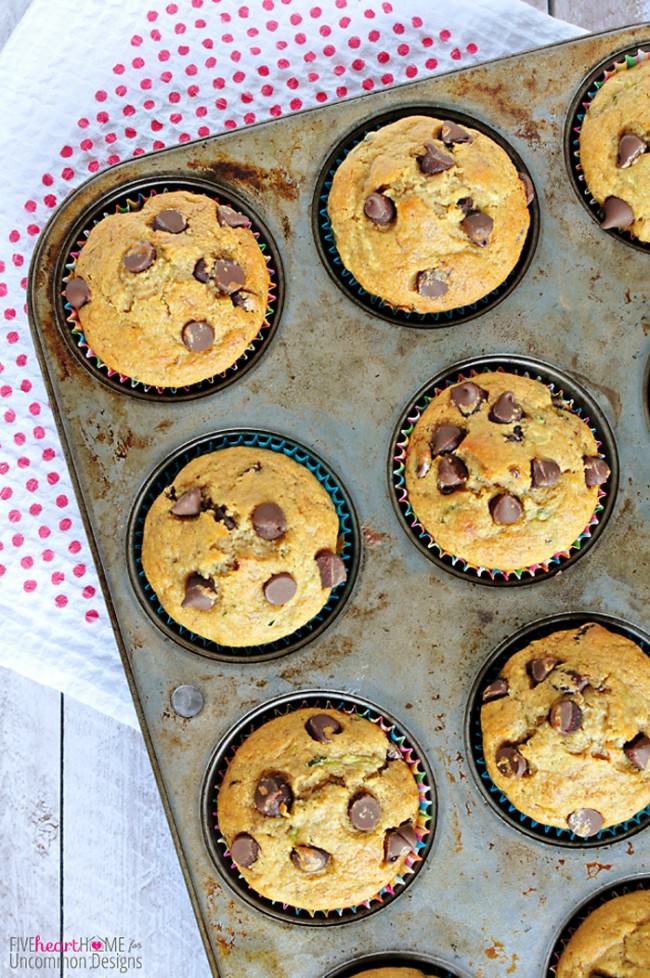 While I find myself gifted with excessive amounts of zucchini all summer, bananas are something that can be found on my counter year-round. And at any given moment, it's likely that I have a few over-ripe bananas in the mix, just waiting to be turned into banana bread or a smoothie or dessert. So it should come as no surprise that last week, I decided to take one of my favorite banana muffin recipes and give it a zucchini twist!
The original recipe for Healthy Whole Wheat Banana Muffins is a frequent flyer and all-time favorite at our house. My kids love these muffins because they're soft and tender, and I love them because they're naturally sweetened with honey and chock-full of nutritious ingredients, like whole wheat flour, coconut oil, and yogurt. So for today's Whole Wheat Zucchini Banana Muffins, I didn't mess too much with a good thing. Rather, I simply replaced a portion of the mashed banana with shredded zucchini…think zucchini bread meets banana bread.
Oh, and I also added some rich, delicious, (completely optional) chocolate chips. Nobody's going to argue with that, right? 😉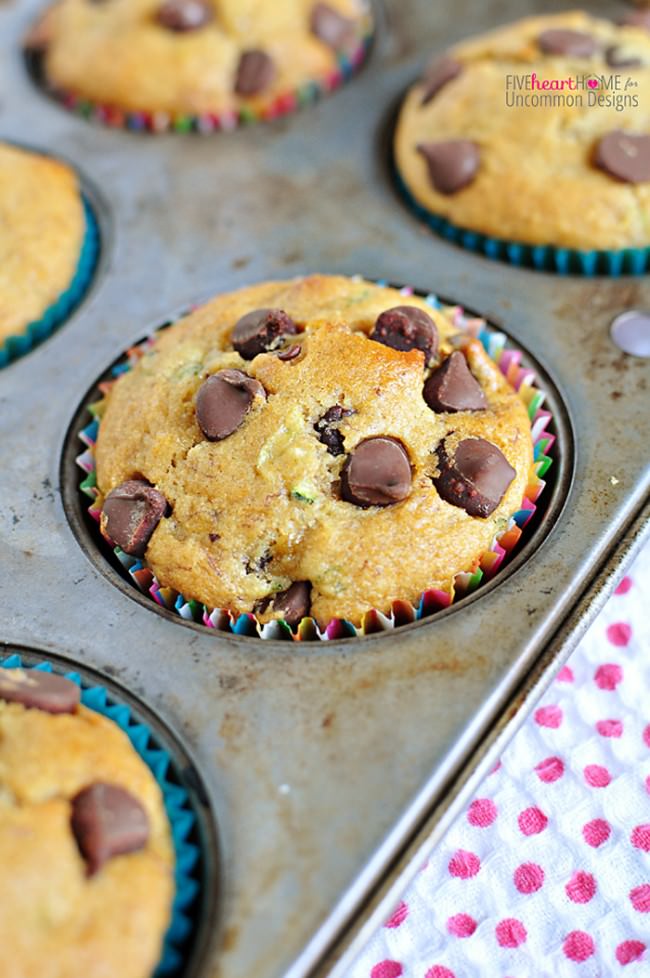 And now for a few notes to aid in your muffin making experience… When I make baked goods using whole wheat flour, I always choose whole wheat pastry flour, which is 100% whole wheat flour, except softer, finer, and with lower protein. As a result, whole wheat pastry flour yields baked goods with a texture closer to that of white flour while still retaining the nutritional benefits of 100% whole wheat.
Another helpful tip is that anytime I bake with zucchini, I like to first draw the excess moisture out of my shredded zucchini by mixing it with a bit of sugar and allowing it to drain in a colander while I assemble the rest of my ingredients. This prevents my cake, bread, or muffins from turning gummy or soggy, since the zucchini would otherwise release water as it bakes.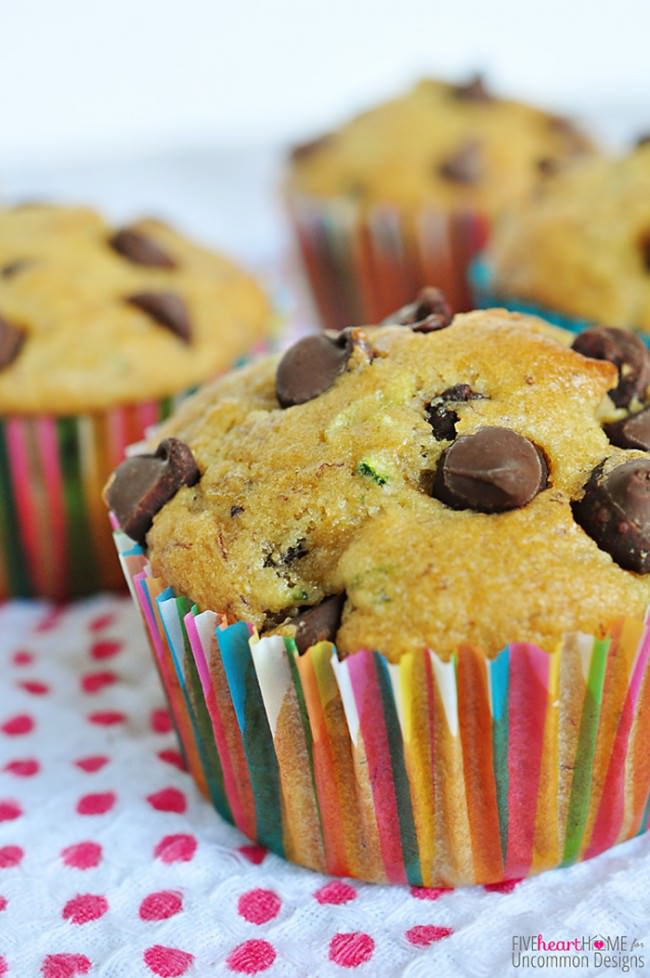 So with all of the chit-chat behind us, who's ready for this recipe? If you find yourself blessed with extra zucchini and bananas this summer, I hope you'll whip up a big batch of these Whole Wheat Zucchini Banana Muffins. Not only are they simple to throw together, but they make a portable snack, a wholesome breakfast, or even a scrumptious dessert. And as an added bonus, they're so moist, tender, and sweet that nobody will ever guess they're healthy!
WHOLE WHEAT ZUCCHINI BANANA MUFFINS
Yield: 18 to 20 muffins
Approximately 6 ounces zucchini (enough to yield 1 cup grated)
1 teaspoon sugar
2 1/2 cups whole wheat pastry flour
1 1/2 teaspoons baking powder
1 teaspoon baking soda
1/2 teaspoon salt
1 cup mashed banana (approximately 2 to 3 bananas, depending on size)
2/3 cup honey
1/2 cup coconut oil, melted and slightly cooled
2 eggs, at room temperature
2 teaspoons vanilla
1/2 cup yogurt, at room temperature
1 to 2 cups chocolate chips, optional
Using a box grater or food processor, grate the zucchini (you should end up with approximately 1 cup). Stir in 1 teaspoon sugar and place in a colander set over a bowl. As you prepare the rest of the batter ingredients, the sugar will draw the moisture out of the zucchini. Occasionally press down on zucchini to squeeze more water into the bowl, and wring out as much liquid as possible before adding it to the batter.
Preheat oven to 400°F. Prepare muffin pans by lining 18 to 20 muffin cups with paper liners.
In a medium bowl, whisk together flour, baking powder, baking soda, and salt. In a large bowl, mix together mashed banana, grated zucchini, honey, coconut oil, eggs, and vanilla. Add half of flour mixture; stir. Add yogurt; stir. Add remaining flour mixture and chocolate chips; stir until just blended.
Divide batter between muffin pans by filling each muffin cup approximately 2/3 to 3/4 full with batter. Bake for 13 to 16 minutes, or until toothpick inserted in center of muffin comes out clean. Cool in pans for a few minutes before turning out onto wire rack to cool completely.
TIPS & TRICKS
Make sure your ingredients are at room temperature or else your melted coconut oil will re-solidify as soon as the cold ingredients touch it. You can quickly warm up cold eggs by putting them in a bowl of warm water for a few minutes.
You may use anywhere from 1/2 to 3/4 cup of honey, depending on how ripe/sweet your bananas are and how sweet you prefer your muffins to turn out.
[amd-zlrecipe-recipe:16]
* * * * * * * * * *
Thanks so much for allowing me to share a few recipes with y'all this summer, Trish, Bonnie, and all of you fabulous Uncommon Designs readers! If quick and easy, family-friendly, real food recipes appeal to you, I'd be honored to have you stop by Five Heart Home sometime, or connect with me via the social media links below. Hope to see you soon! 🙂
BLOG | FACEBOOK | PINTEREST | INSTAGRAM | GOOGLE+ | BLOGLOVIN' | TWITTER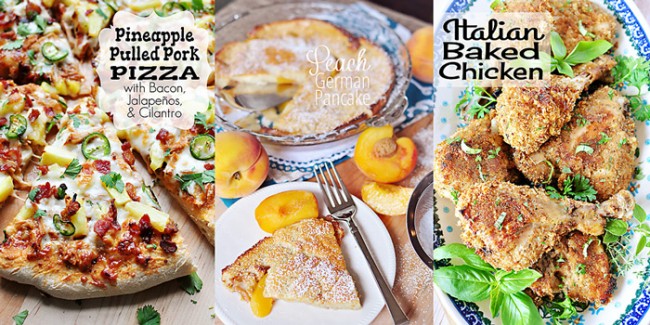 1. Pineapple Pulled Pork Pizza with Bacon, Jalapeños, & Cilantro
2. Peach German Pancake (AKA, Dutch Baby)
3. Easy Italian Baked Chicken
—
~Samantha at Five Heart Home~
The following two tabs change content below.
Hey y'all! I am Trish and the creative voice behind Uncommon Designs. I adore party planning, holiday celebrations, and all things crafty! I am so excited to share my creative adventures with you!
Latest posts by Trish Flake (see all)