Today I am sharing one of my favorite Valentine's Day projects… an adorable DIY heart pom pom necklace!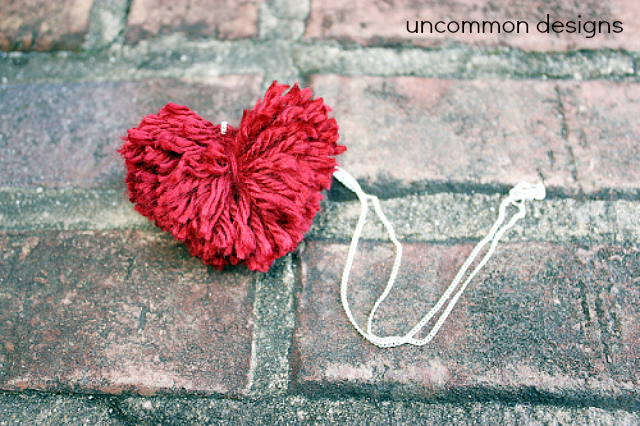 I really do adore pom poms.  There is just something about them that screams fun!  Surprisingly, they are incredibly easy to make and even easier if you pick up a pom pom maker.
Lauren thinks it is pretty cute, too!  I love that I don't have to spend a fortune on a Valentine's Day outfit that she will only wear once.  Now let's learn how to make it!
DIY Heart Pom Pom Necklace
Supplies needed to make your own pom pom heart necklace:
Step One: These first few steps will show you how to make a pom pom with a pom pom maker.  I used the smallest one that came in the package.  You don't have to have this fancy tool, but it was such a huge help and really maintained an even pom pom.  I also thought the directions on the package did a great job of explaining how to thread the pom pom maker.  Once you get it threaded, you will start to wind your yarn from the middle and then to one side.  It should look like the picture below.  You will then wrap the other side and go back to the middle.  Do this three times total to have a nice full pom pom.
Step Two: Once you have everything wound tight, you will clip the yarn on the left and bring both loose ends from the right and left and tie them together.  This is going to be the middle portion and the base of the pom pom.
Step Three: Now it is time to cut your pom pom.  Simply take your scissors and cut along the pathway on the middle top of the pom pom maker.
Step Four: Tighten the tied ends and tie them again to keep all of the yarn in place.  You should not have a pom pom with two longer strings.
Step Five: Now it is time  to shape the pom pom into a heart.  I held it at the top and clipped a 'V' at the bottom of the pom pom.  You will then go back and trim away until you like the heart shape that you have sculpted.
All you have to do now is take your two long strings and tie the heart to the necklace.  You are done!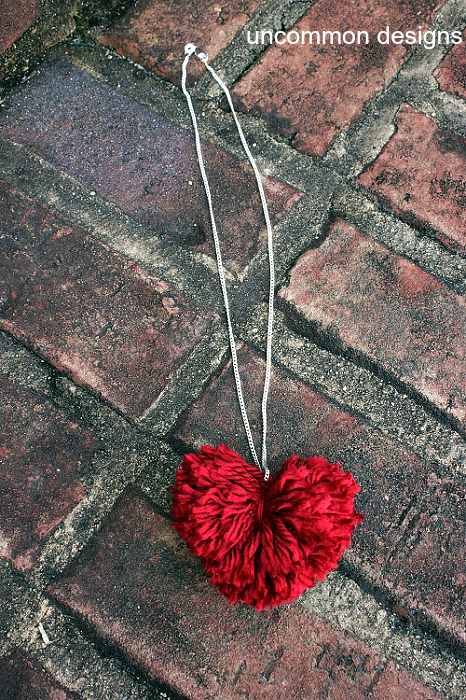 I felt a little like Mr. Miyagi from Karate Kid shaping the heart like he did his bonsai trees!   Hope you guys have a great week!
*Trish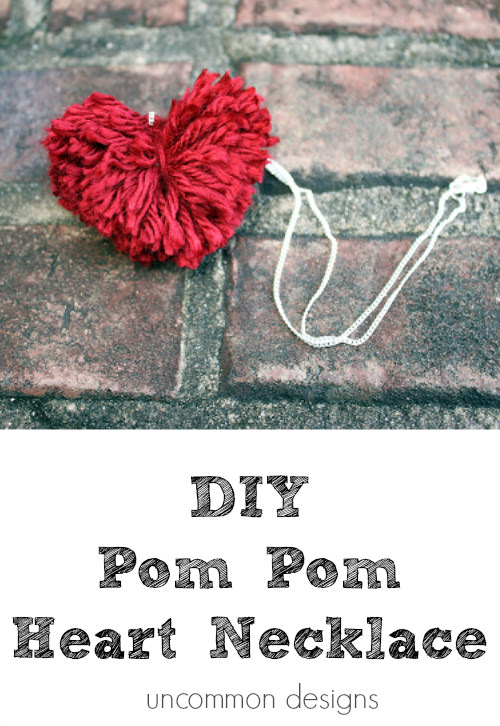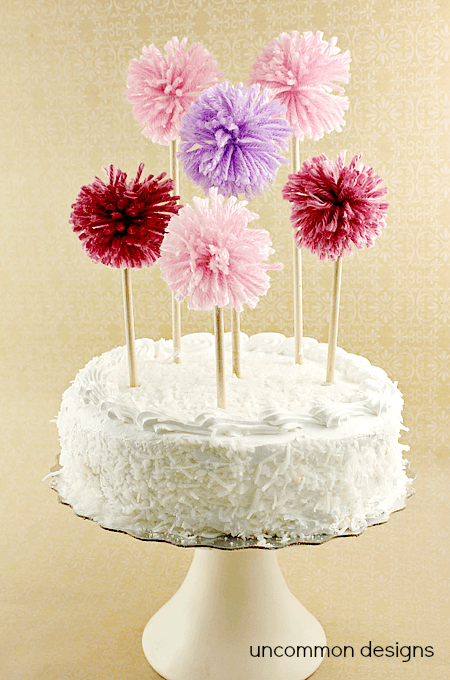 If you are a pom pom fan like us, you will love our Pom Pom Cake Toppers!
this post contains affiliate links 
The following two tabs change content below.
Hey y'all! I am Trish and the creative voice behind Uncommon Designs. I adore party planning, holiday celebrations, and all things crafty! I am so excited to share my creative adventures with you!
Latest posts by Trish Flake (see all)