Thanksgiving Decorating doesn't have to be hard.
Be sure to enter the $100 Savings Pass to 1-800 Flowers at the end of the post! 
Are you hosting Thanksgiving this year? If you are, this post is for you. I've long been a fan of decorating for each and every holiday. When my kids where tiny, I would always have something fun and festive decorating each and every surface of my home. When it came to Thanksgiving, I would take down all of the Halloween decorations and sprinkle leaves, wheat and pumpkins about the living areas of my home. I loved doing it and they enjoyed watching me set everything out. It was magical when they were little and I loved seeing them get so excited.
Somewhere along that path our lives were changing, but I wasn't changing the way I looked at preparing for the holidays. As my kids have grown older, their schedules are packed this time of year. November brings its own frantic pace of holiday blog posts and parties. When it comes to Thanksgiving, I want to create a welcoming environment that makes my family feel at ease and at peace. I want to feel those things, too. Guess how to do that… simplify!
How does one simplify? I'll share with you how I am going to do that, but you can use these same principles to apply to your own family in so many ways. Y'all know that I love to entertain. The part that I love the most is setting the stage in my home for a big shindig. Doing this is so fun, but it can be a little overwhelming. Sometimes I miss the point and the joy. Here is my plan of attack for Thanksgiving this year.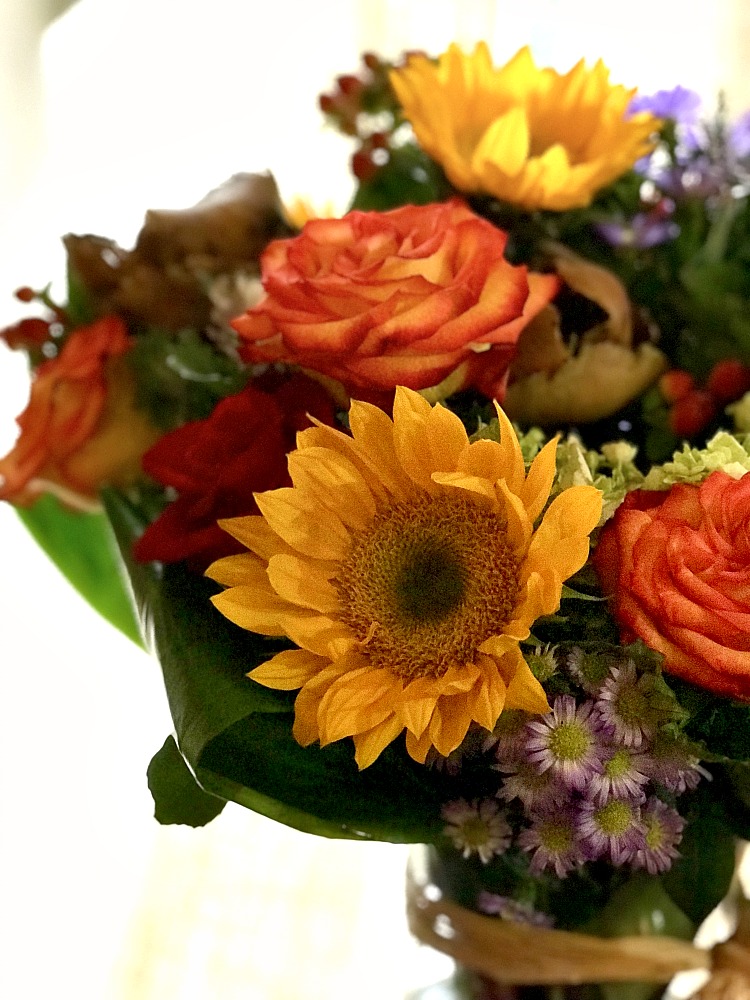 I am going to clean my house well. That means all of the piles of papers and knick knacks have to be put away, trashed or donated. The bathrooms and kitchen will get a much needed deep clean and I'll also clean out the fridge, freezer and pantry. I feel so much more in control with a clean and decluttered house and doing this will have my home ready for guests and for the busy holiday season ahead.
Will there be elaborate decorations this year?  Nope. Not a one.
Will my home be beautiful?  Absolutely.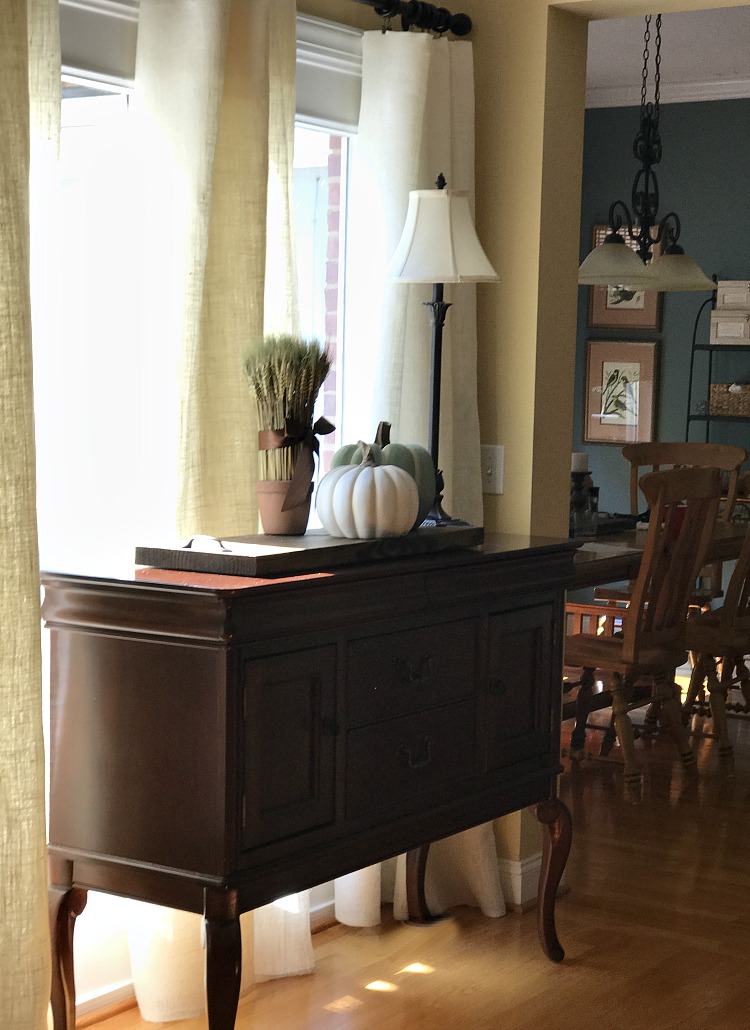 Remember this buffet? It is a focal point in my home. It is nestled between the kitchen and my living area. It is the only place that will be decorated. I am simply going to add fresh flowers.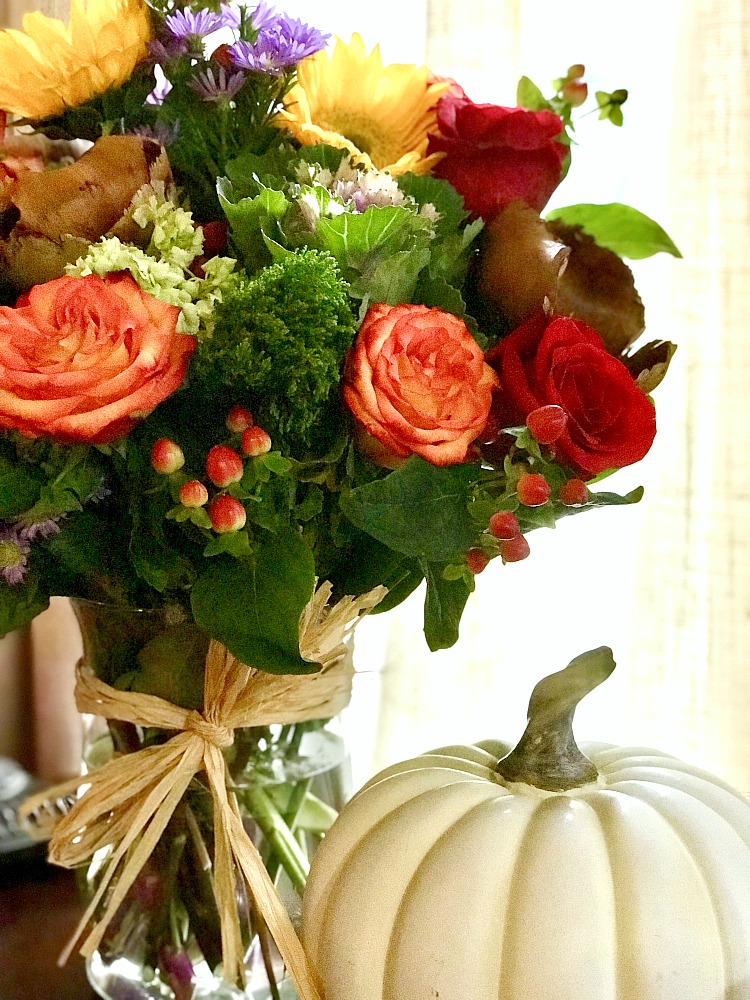 Aren't they gorgeous? They are a show stopper. All of the banners and tiny pumpkins and intricately planned vignettes and centerpieces don't even hold a candle to this beauty.  All I had to do was go to 1-800-FLOWERS.COM and order the Garden of Grandeur for Fall arrangement.
It totally lights up the room and will welcome my guests for Thanksgiving. In this arrangement you'll find radiant roses and sunflowers are hand-gathered with a mix of brightly colored blooms and unique accents. You just can't beat ordering online and having instant elegance in your home!
You can also find 1-800 Flowers in these places online:
What do you think of my plan?  It is so smart for my family. What are you doing this year for Thanksgiving?
I received the flowers from 1-800 Flowers.com to write this post, but my opinions are 100% my own! 
Enter for a chance to win a $100 savings pass to 1-800 Flowers!
The following two tabs change content below.
Hey y'all! I am Trish and the creative voice behind Uncommon Designs. I adore party planning, holiday celebrations, and all things crafty! I am so excited to share my creative adventures with you!
Latest posts by Trish Flake (see all)