This post was sponsored by Cost Plus World Market. All opinions are 100% my own.
What does Christmas Morning look like at your house?
I'm sure most families who have kids find themselves up at the crack of dawn on Christmas morning. Our kids always are up before the sun comes up and are giggling in the den looking through what Santa brought them in the night.
I have to admit, it is one of my favorite sounds on this earth. Two sisters happily laughing. Does it get any better than that sound?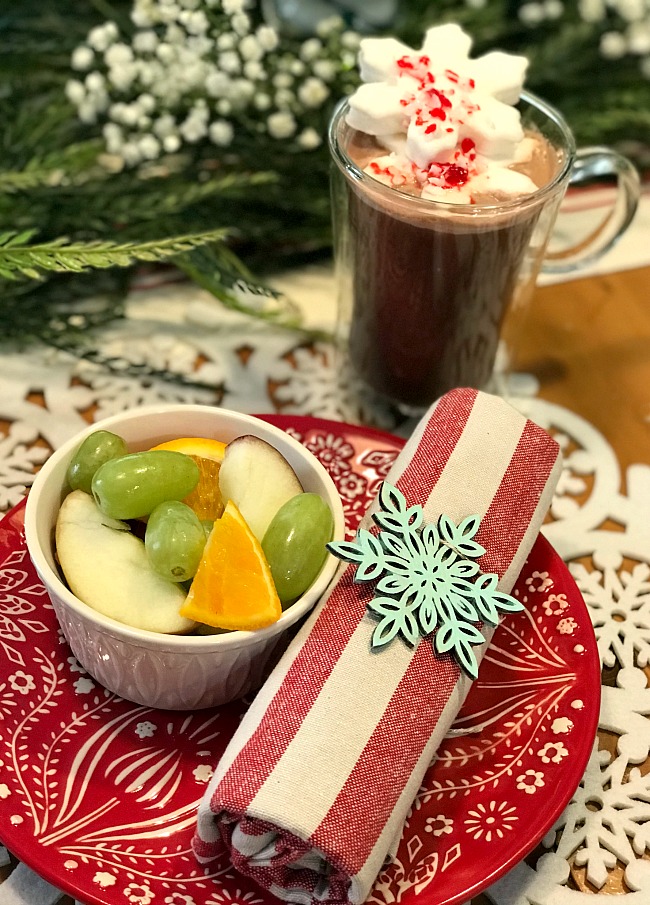 We stumble out of bed to see their excitement and they show us everything they received down to their stocking stuffers. Each and every tiny one. And then they ask… what's for breakfast?
My first thought is normally, it is 6am and I haven't had my coffee yet are you guys insane? Then I remember it is Christmas and they've probably been up since 4am and I already have everything planned out.
You see, I learned long ago that having a breakfast planned for the family on Christmas morning will save my sanity during the holiday season. I always have a simple menu: fruit, a hearty breakfast casserole and something sweet. The girls have hot chocolate and we have coffee, of course.
This year my plan for something sweet are  Raspberry White Chocolate Scones. Don't they look amazing in the scone dish and scones just seem extra fancy, right?! I picked the pan and scone mix and all of the other decorations at Cost Plus World Market. They have everything you'll need for Christmas Baking and Christmas Breakfast!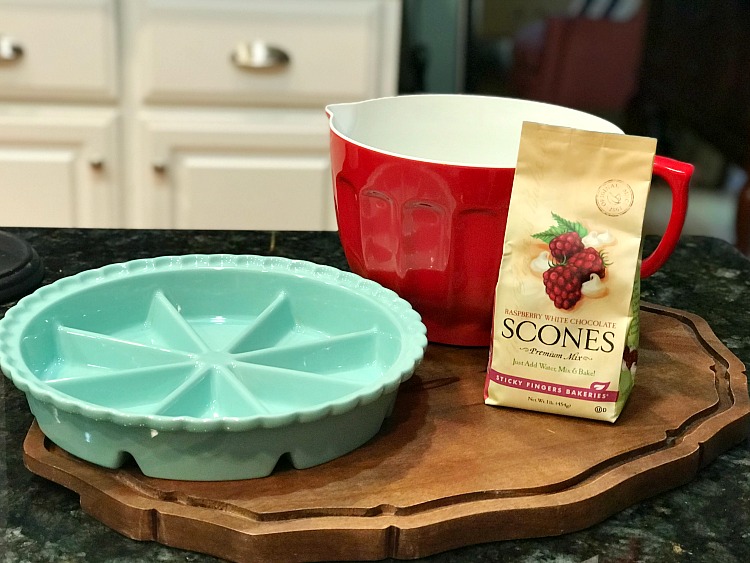 Before you get all impressed. I have a few tricks up my sleeve when it comes to making scones. I use a pre-made mix. All you have to do is add it to a mixing bowl and stir. This aqua ceramic scone pan also comes in so handy to make a picture perfect presentation.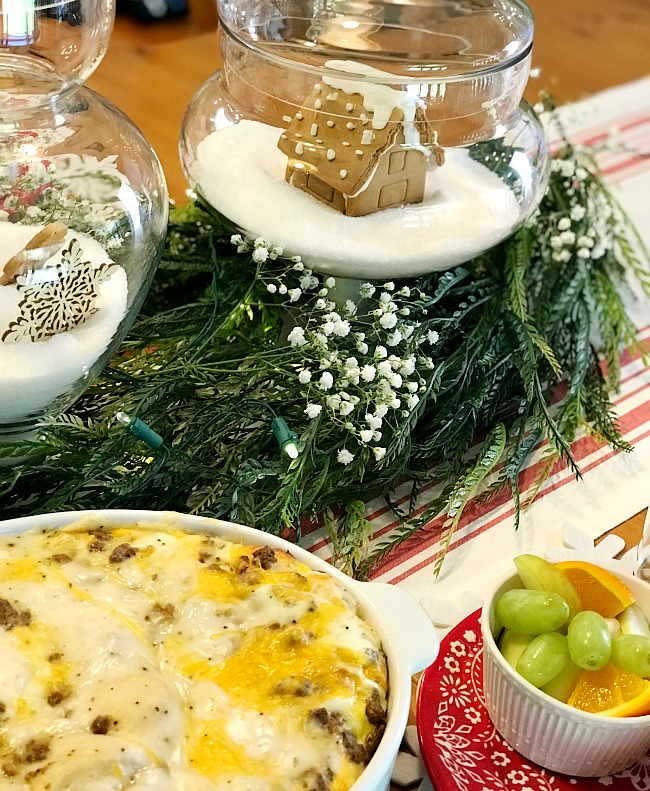 I'll be sharing my recipe for this yummy Sausage and Gravy Egg Casserole with you guys soon. It is a favorite around here and it is SO easy to make. You can see the beautiful red villa stripe table runner that I placed down the center of my table so well here. It ties the entire table together and it keeps everything casual.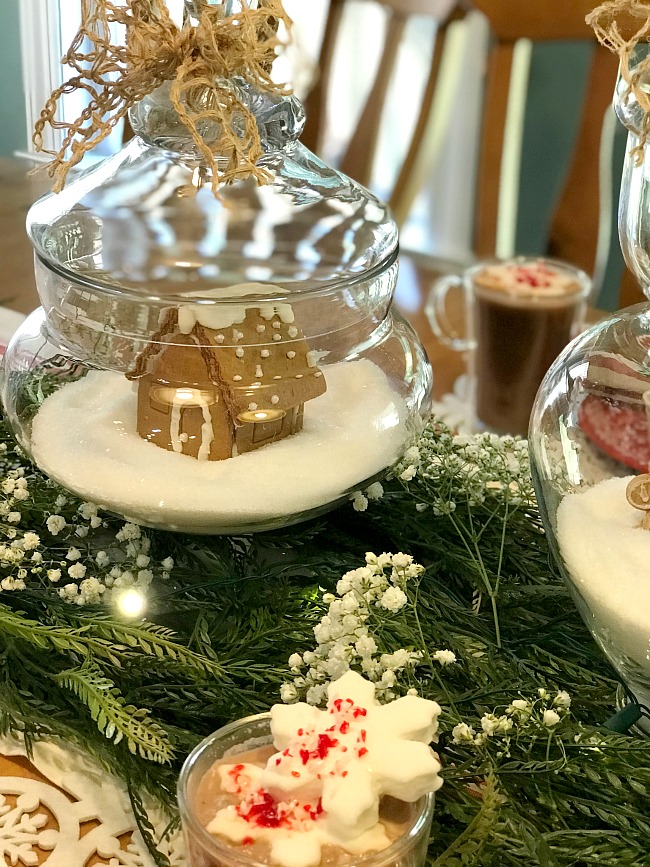 The centerpiece is my very favorite part. The girls and I had an evening of fun making a gingerbread house village together.  When they dried, we placed them inside of glass apothecary jars. We used only white icing and the jars pop when nestled inside greenery.  A little baby's breath and we have a stunning display friends!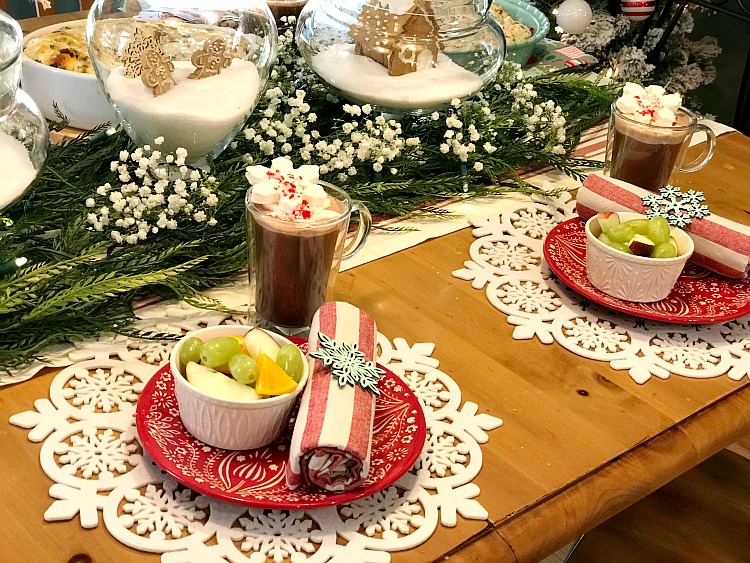 Each place setting began with a sweet ivory felt snowflake placemat and a jolly hearts plate.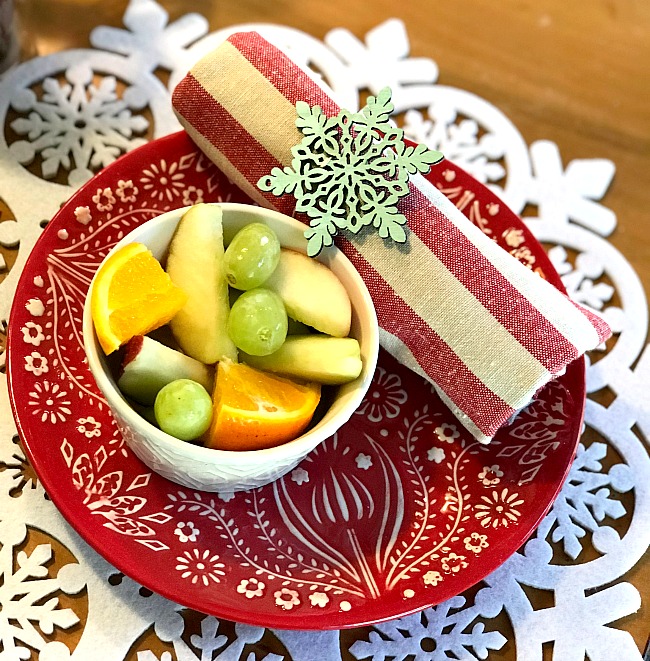 I added a bit more depth to the table with cream ramekins filled with fresh cut fruit. This is the favorite part of breakfast for my little one.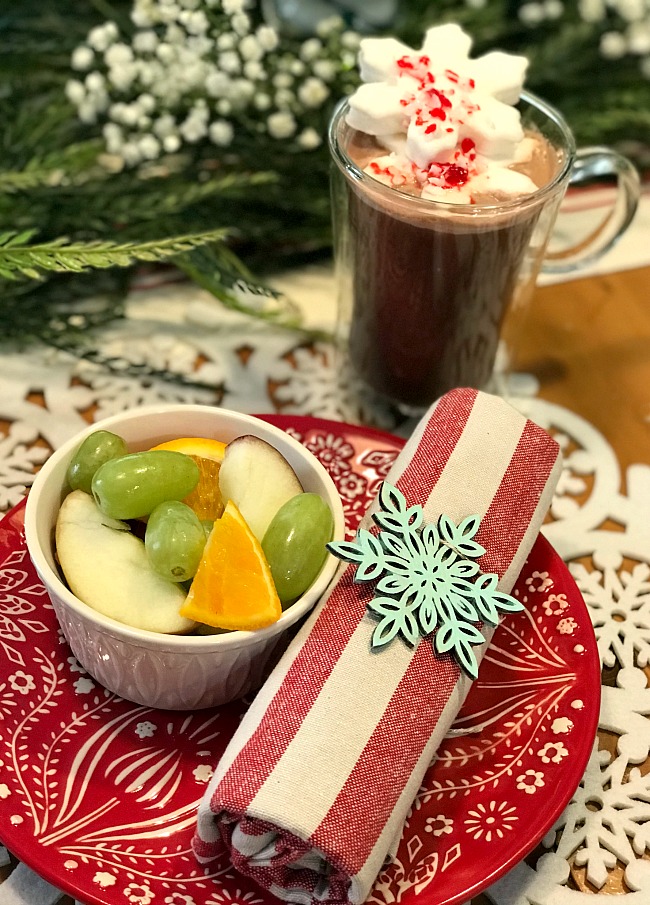 The Striped Kitchen Towels are used as napkins on this table and I painted a wooden snowflake ornament aqua. Just the perfect touch.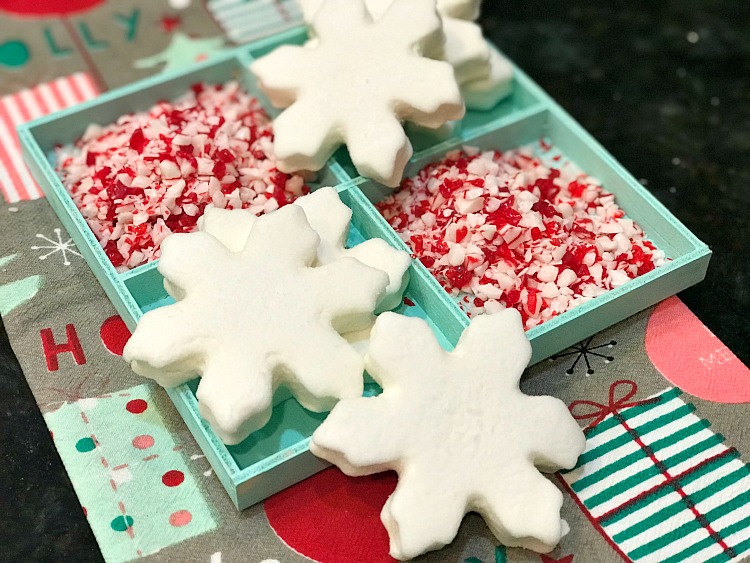 The hot cocoa is served in clear mugs with Snowflake Marshmallow Hot Cocoa Toppers and crushed peppermint candies.
I picked up all of these items at the World Market in Lexington, South Carolina. Be sure to visit your local store for everything you need this holiday season. Click here to find your local store.
SHOP THIS POST…
Crushed Peppermint Candies
Ready for even more inspiration?
Take your Christmas decorating up a notch this season with Brandi Milloy's inspiring ideas for
simple DIY holiday terrarium centerpieces. Perfect for holiday tablescapes, entryway decor or
the mantel, these fun winter scenes come to life with affordable Christmas ornaments, unique
holiday decor, an array of terrariums and more from Cost Plus World Market. Imagine the joy
you'll bring. #GiftThemJoy
The following two tabs change content below.
Hey y'all! I am Trish and the creative voice behind Uncommon Designs. I adore party planning, holiday celebrations, and all things crafty! I am so excited to share my creative adventures with you!
Latest posts by Trish Flake (see all)