Hey y'all!
Hope you are having a wonderful Friday so far!  I am headed to Dallas for the SITs Girls Bloggy Boot Camp and am so excited!  I am also crazy excited to share this sweet Kid's Thanksgiving table with you!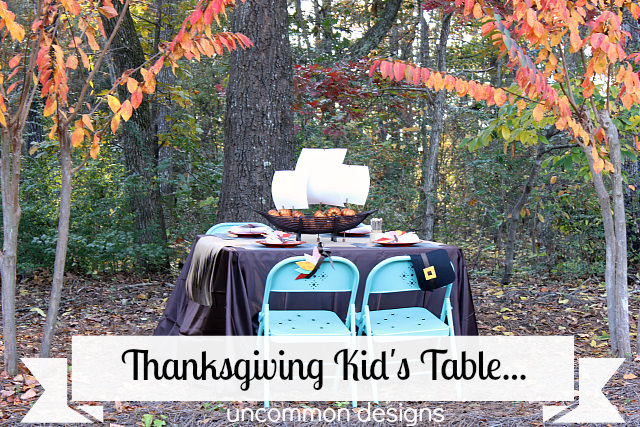 As you know, Bonnie and I both adore the holidays.  The fun always starts at Thanksgiving and to me it is all about the kiddos!  I wanted to do something extra special for our babies this year.  For the first time in ages, the only children who will be at our Thanksgiving celebration are my two rascals and Bonnie's two rascals.  We usually have a gaggle of kids, but not this year… we need to  bring the fun and we have!!!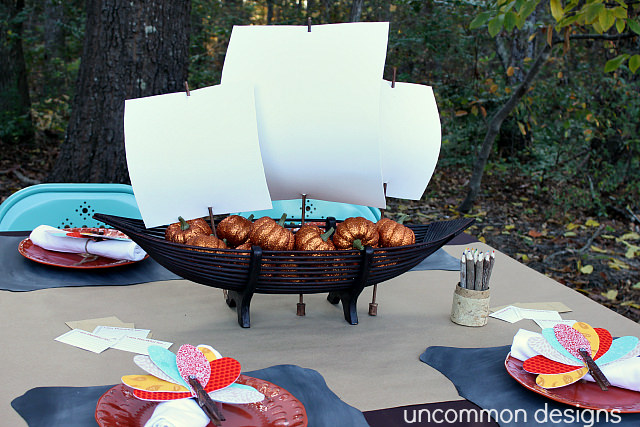 The focal point of the table is the Mayflower-esque boat filled with glittery pumpkins… sorry… I just had to include a little bling!  The basket was a thrift store find and I just knew it would be perfect for the table.  Yes, I know that not everyone will have a basket like this, but I know you could make a boat out of a shoebox and it would still be cute! For the sails, I simply cut rectangles out of white foam and slit two tiny notches to thread the dowel.  It couldn't be easier to do.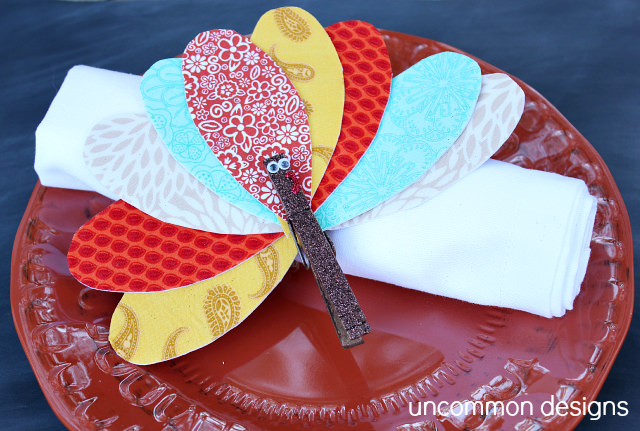 At each setting, I placed a fabulous orange melamine plate that had beautiful shades of brown.  They were topped with these cutie-pie turkey napkin rings holding a simple white napkin.  No worries, we shared how to make these little turkey napkin rings earlier this week and they couldn't be easier!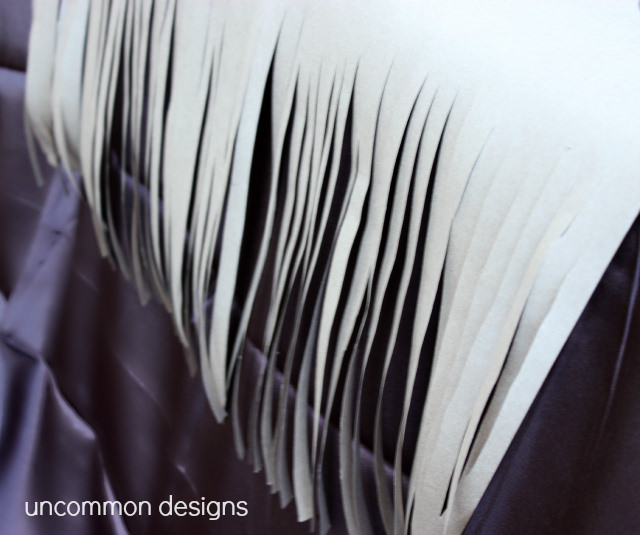 Under all of that was a chocolate brown satin tablecloth and this adorable fringed table runner.  This was made from a roll of brown Kraft paper.  All I did was run scissors up to make the fringes.  You can also use our favorite Martha Stewart Crafts Fringe Scissors
.
If I was organized and everything I would have used mine, too.  Alas, they are put up somewhere… where I don't know!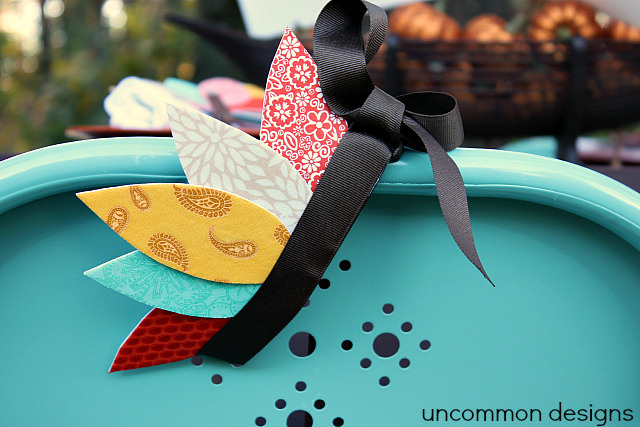 So, I think this was my favorite part of the table… the Native American headdresses.  I also adore these folding chairs that I picked up at Target… they match my house perfectly and are such a steal.  I am thrilled that I finally have folding chairs that I don't want to cover up!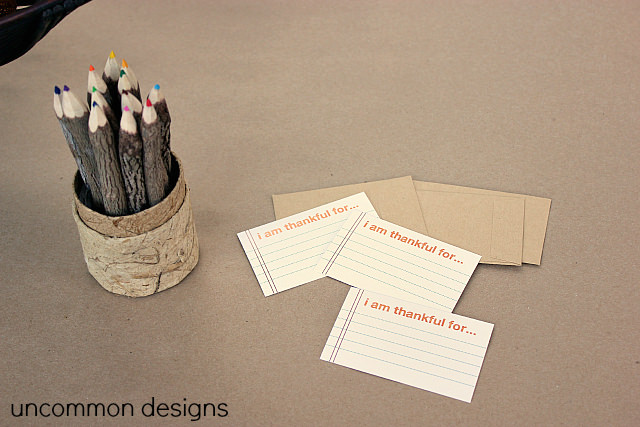 These little cards were picked up on super clearance last year, but they were our inspiration for the Thankful Cards Printable.  I love them both, but Jennifer's turkeys are just too adorable for words.  You simply must check them out if you haven't already.  And how about those little Twig Colored Pencils? Adorable! This will be such a fun activity to do with the kids… I can't wait to hear what they say!
What do you have planned for your kids this Thanksgiving?
this post contains affiliate links
The following two tabs change content below.
Hey y'all! I am Trish and the creative voice behind Uncommon Designs. I adore party planning, holiday celebrations, and all things crafty! I am so excited to share my creative adventures with you!
Latest posts by Trish Flake (see all)