How about a little sunshine and color?!!  I don't know about you, but I am so ready for some beautiful rays and vibrant colors to creep back in to my little part of the world.  Since Winter will be sticking around for a bit, I decided to create my own… an Embroidery Hoop Rainbow!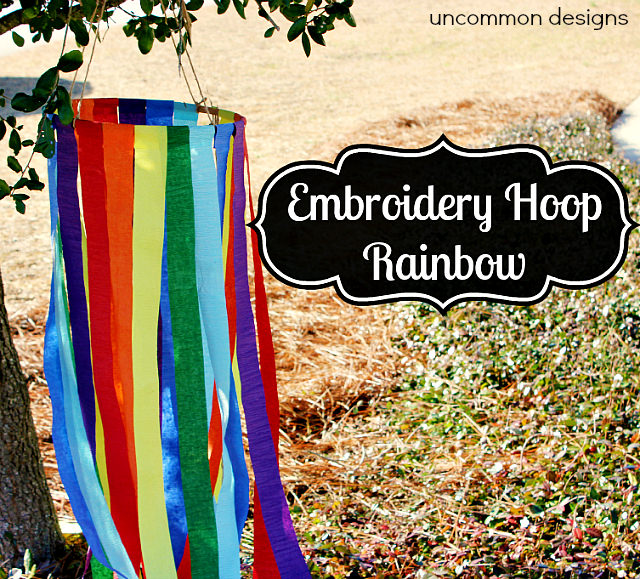 Today I am going to show you how to make this festive embroidery hoop rainbow decoration that is sure to bring a little happiness your way!
Supplies needed to make your own embroidery hoop rainbow:
Crepe Paper Rolls in Rainbow Colors
12″  Round Embroidery Hoop
Glue Runner
Natural Jute String
Step One.  The first thing you will need to do is measure how long you want your rainbow to be.  Once you decide, cut that length plus 4 inches of each color.  I ended up using about 3, four foot lengths of each color.  Next, you will apply glue to one end and fold it over the hoop and press down on top of the other side of the streamer.
Step Two.  Now you will cut four lengths of jute string.  The length to cut will be determined by how you will hang it.  Simply tie one end to the embroidery hoop, as shown below. Repeat with the remaining three pieces of string and be sure to space them equally around the circle.
Step Three.  The final step is to hang your rainbow from a tree, the ceiling, or wherever you plan on enjoying it for the holiday!  Simply gather each string, bring together so that the hoop is level and tie it up!
Now, I just had to include a little surprise at the bottom… after all, every good rainbow has a pot of gold at end, right?!   Hope you have a wonderful week and are able to bring a little rainbow and sunshine to your world, too!
*Trish
The following two tabs change content below.
Hey y'all! I am Trish and the creative voice behind Uncommon Designs. I adore party planning, holiday celebrations, and all things crafty! I am so excited to share my creative adventures with you!
Latest posts by Trish Flake (see all)