Hi everyone! My name is Angela and I'm excited to be a food contributor here at Uncommon Designs. At my blog, Handmade in the Heartland, I share recipes (similar to what I'll be showing here), craft and DIY projects, parenting tips, home decor ideas, lots of dessert recipes and the occasional fashion post.  I'd love for you to pop over and see my blog.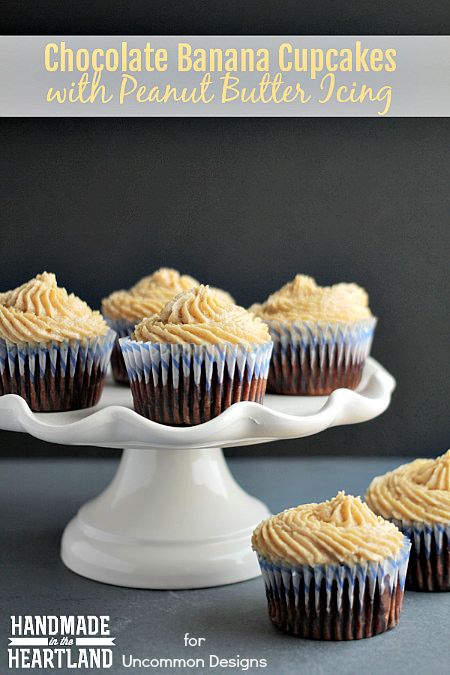 Okay friends, I'm not lying when I say these cupcakes are so so delicious. I mean can you really get a better combo than peanut butter, chocolate and banana? I think not! 🙂 Making these little babies was actually kind of a happy accident, I was using my favorite tried and true dark chocolate cake recipe when I realized I was out of eggs. I googled a substitute and a few different places suggested using mashed banana, and so the best chocolate banana cupcake was born.  The peanut butter icing is truly wonderful, like let me just sit with a spoon and scoop it up right into my mouth, yum!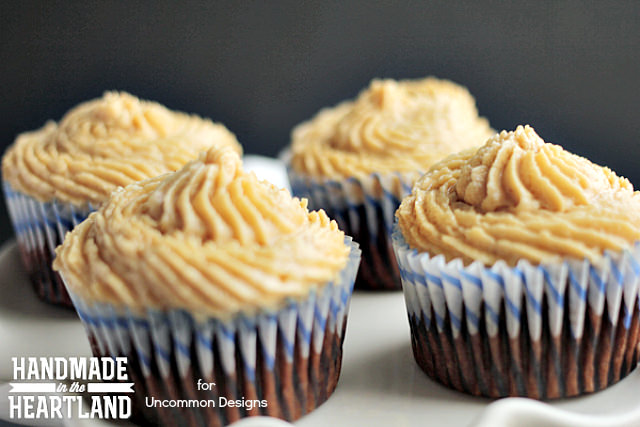 Dark Chocolate Banana Cupcakes
Makes 24 cupcakes
Ingredients:
1 large ripe banana, mashed
1 tsp vanilla
1 1/2 cups all-purpose flour
1/3 cup unsweetened cocoa powder
1 tsp. baking powder
1/2 tsp. baking soda
1/2 tsp. salt
1/2 cup shortening
1 1/4 cups sugar
3 oz. bittersweet chocolate, melted and cooled
1 8-oz carton of sour cream
1 cup milk
Preheat Oven to 350
In a small bowl combine all dry ingredients: flour, cocoa powder, baking powder, baking soda, & salt. In a large bowl beat shortening and sugar on medium speed until combined. Beat in mashed banana and vanilla until combined. Beat in melted chocolate and sour cream. Alternately add flour mixture and milk; beat on low after each addition just until combined. Put batter into cupcake liners, i used a little less than 1/4 cup of dough for each cupcake.
Bake at 350 for 16-18 minutes. Cool on wire rack.
Peanut Butter Buttercream Icing
1 stick unsalted butter, very soft
1 cup peanut butter
8 cups confectioners sugar
1/2 cup milk
2 teaspoons vanilla extract
I often cut the recipe in half because a full recipe will frost almost 36 cupcakes!
Place the butter and peanut butter in a large mixing bowl and beat until creamy with no lumps and it is combined. Add 4 cups of the sugar and then the milk and the vanilla extract. Beat until smooth. Gradually add the remaining sugar, 1 cup at a time, until icing is thick enough to be of good spreading consistency, you may not use it all. Use and store icing at room temperature, as icing will set if chilled. It can store in an airtight container up to three days.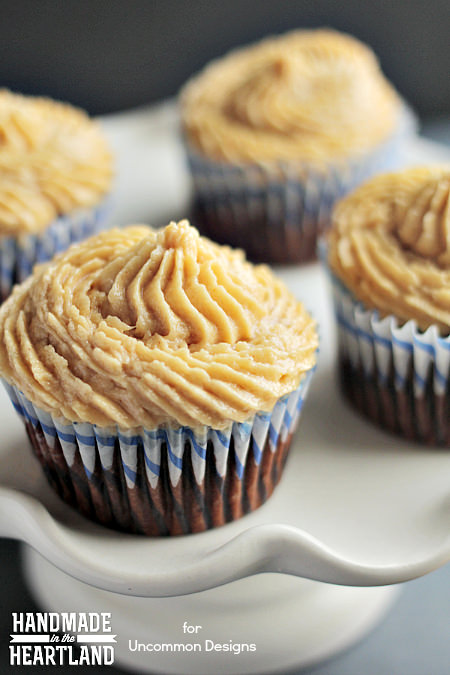 You can thank my son for the cupcake recipe, he turned 3 last week.  He requested chocolate cake and since he loves peanut butter I experimented and came up with this amazing icing.  To top the cupcakes I made fun little Toy Story cupcake toppers and Toy Story themed favors.  I was so excited by the way the pizza planet sugar cookie favors turned out.  You can see both fun projects at Handmade in the Heartland.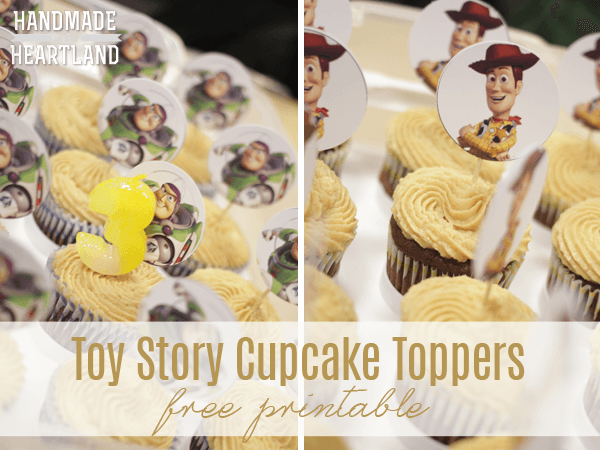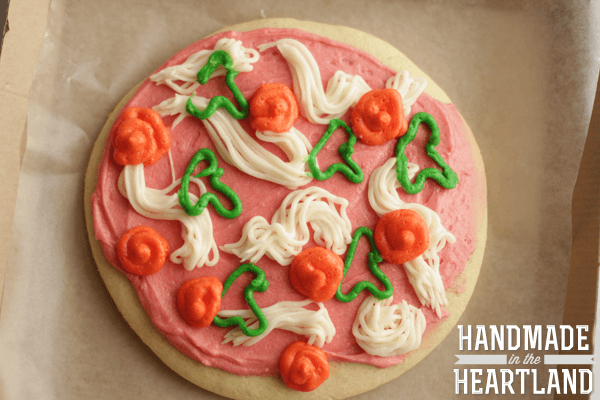 Follow Handmade in the Heartland on Facebook// Twitter// Instagram// Pinterest// Google+//
The following two tabs change content below.
Hey y'all! I am Trish and the creative voice behind Uncommon Designs. I adore party planning, holiday celebrations, and all things crafty! I am so excited to share my creative adventures with you!
Latest posts by Trish Flake (see all)