Hi Friends! I'm Mallory from Chocolate With Grace and I'm thrilled to be able to share several recipes with you over the next several months. I am a bit newer to blogging, but have always loved creating things in my kitchen, especially delicious treats to share with others. It's stress relief to me. On my blog you will find a variety of classic dessert recipes along with some trendier, more seasonal ideas and, of course, some main dishes and healthier dishes as well. Today I am going to be sharing these delcious Pumpkin Cheesecake Swirled Brownies with you!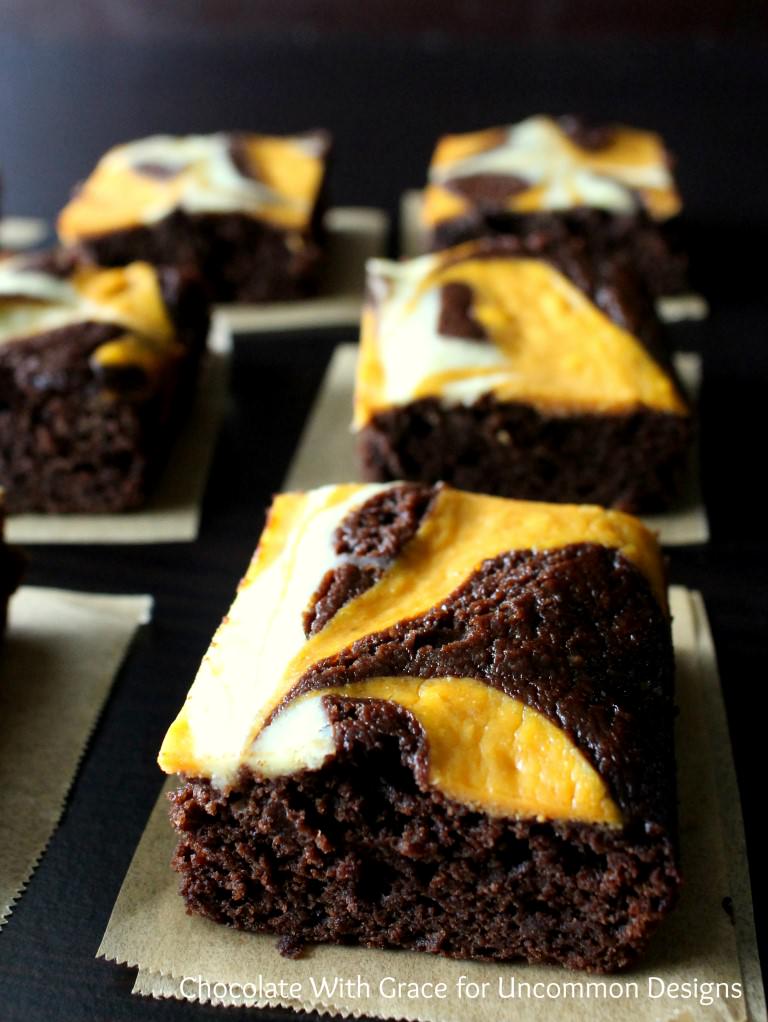 Here in Pennsylvania, today was the first day it actually felt a bit like fall was coming. It was still pretty warm, but a breeze was definitely hinting of cooler weather to come. Although I'm sad to see summer and all its crazy fun leave, I cannot wait for cooler weather, changing leaves, bonfires, boots and, of course, pumpkin! I hope you're as ready as I am for pumpkin; I'm all for the cause of making it a year-round ingredient! I've already shared my new favorite pumpkin cookie recipe on my own blog and now I'm taking the classic brownie and transforming them into a fall favorite: Pumpkin Cheesecake Swirled Brownies! They're one of the prettiest desserts I've made in a while.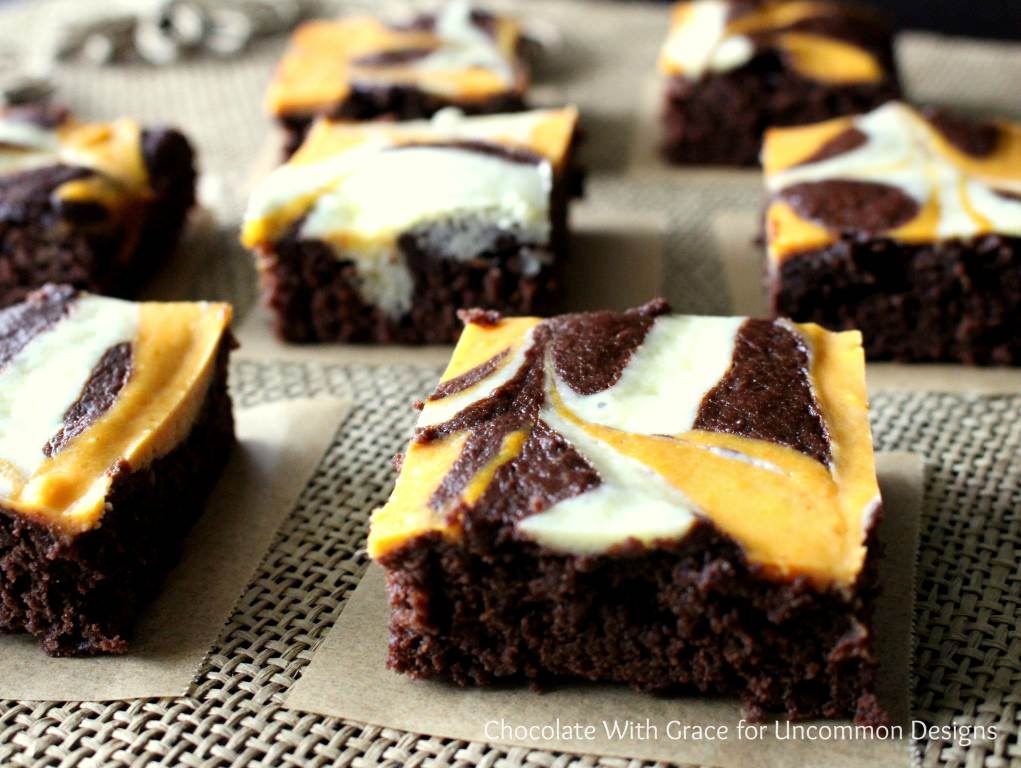 They may look complicated with several layers, but they use common ingredients and only require a bit more time than standard brownies and are so worth the extra effort! Plus, the brownie layer only calls for cocoa, so no trips to the grocery to get a specific kind of baking chocolate bar (If you want a simple and delicious go-to brownie recipe that only calls for cocoa, check out my Fudgy Cocoa Brownie Recipe.) After stocking up on pumpkin for all the fall baking you will be doing, the rest of the ingredients will probably already be in your pantry. (And if you're like me, you've already been buying pumpkin for the past three weeks!)
After several trials of making these brownies, I discovered that adding pumpkin to the actual batter makes the brownie extra soft and moist, and leaves behind extra pumpkin flavor beyond what is in the cheesecake swirl. Don't let the cheesecake swirling scare you, because it's super simple. Just dribble the cheesecake layer over the brownie batter and run a butter knife in through it in a grid pattern. The only trick is to not over swirl the batter. Most of all, just have fun with the process. That is what I love so much about fall, the slower pace that allows me to enjoy the little moments, which of course are always made better with a Pumpkin Cheesecake Brownie!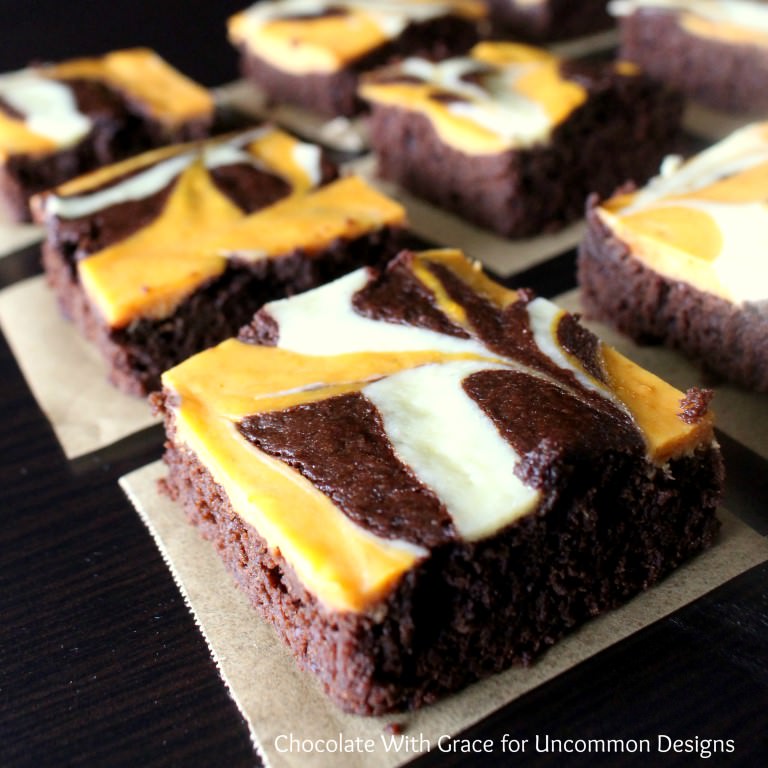 Pumpkin Cheesecake Swirled Brownies
1/2 cup butter, melted
2 cups granulated sugar
1 cup canned pumpkin, not pumpkin pie filling
2 eggs
1 teaspoon vanilla extract
1 cup cocoa
3/4 cup all purpose flour
1/2 teaspoon baking soda
1 teaspoon salt
For the Cheesecake Swirl
4 ounces cream cheese, softened
1/3 cup granulated sugar
1 egg
1/2 tsp vanilla
1/3 cup canned pumpkin
Preheat the oven to 350 F. Grease and four a 9 x 13 inch baking pan. Beat together melted butter, sugar, pumpkin, eggs and vanilla together in a large bowl. In a separate bowl, whisk together the cocoa, flour, baking soda and salt. Add the dry ingredients to the wet and mix together until combined. Pour batter into prepared pan.
To make the cheesecake filling, beat together cream cheese, sugar egg and vanilla in a medium bowl. Reserve about 2/3 of a cup of this mixture. This will be the white cheesecake swirl layer. Mix the pumpkin into the remaining cheesecake mixture. You will have to colors of cheesecake batter. Starting with the white batter, spoon the mixture onto the brownie batter in thin rows. Then do the same with the pumpkin cheesecake batter. Don't worry if they touch or its not perfect. It's art. Run a butter knife through the batter in a grid pattern to get the swirled look. Don't over do it.
Bake at 350 F for 20-23 minutes or until a toothpick inserted comes out clean. Cool completely and chill in the refrigerator for at least 2 hours before slicing. Makes 24 brownies.
Thanks for letting me share with you today! If you have a moment check out my blog or follow me on social media!
Facebook | Twitter | Instagram | Pinterest
[amd-zlrecipe-recipe:20]
The following two tabs change content below.
Hey y'all! I am Trish and the creative voice behind Uncommon Designs. I adore party planning, holiday celebrations, and all things crafty! I am so excited to share my creative adventures with you!
Latest posts by Trish Flake (see all)