This post is sponsored by Martha Stewart Living and O, That's Good!. All opinions are 100% my own.
Today I have a few fun Thanksgiving projects and inspiration to share with you. You guys are going to love them! I also want to chat a little about what giving looks like for our family during the holidays. I think they pair together perfectly… a little thanks and a little giving.
First, while I'm thankful for every little thing, even down to the air that I breathe, this year I am especially thankful for good health. We've had lots of family members with ailments, disease and so much personal struggle. It is almost overwhelming to think about the amount of patience and bravery and sheer determination that some of my favorite people have practiced this year. My eyes have truly been opened to how hard things can be.
One way that I can do better for myself and for my family is to eat with a nutritious twist. This is absolutely necessary for us and I am learning so much. We are making changes one small step at a time.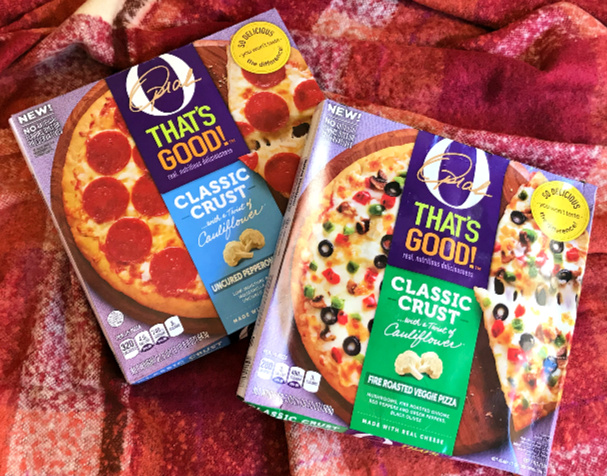 My new favorite pizza is O, That's Good's Classic Crust Fire Roasted Veggie Pizza. Have you ever tried it? It is really tasty and I love that it is spin on one of our go-to meals. You would never guess the crust is made with a little cauliflower! They say that it is so delicious that you won't taste the difference and they are SO right!
Guess what is even more fabulous about O, That's Good! pizza? When you purchase this product a portion of the proceeds will be donated to feeding families and the fight against hunger through Feeding America. See… a little thanks and giving. This company is all about sharing and giving… it is what they are founded upon.
Now let's chat about some of the preparations I'm making for Thanksgiving!
I always fret over what to do with silverware. Do you put it on the table, what napkin rings do you use, do you make if part of the buffet… how fancy should it be? So many choices!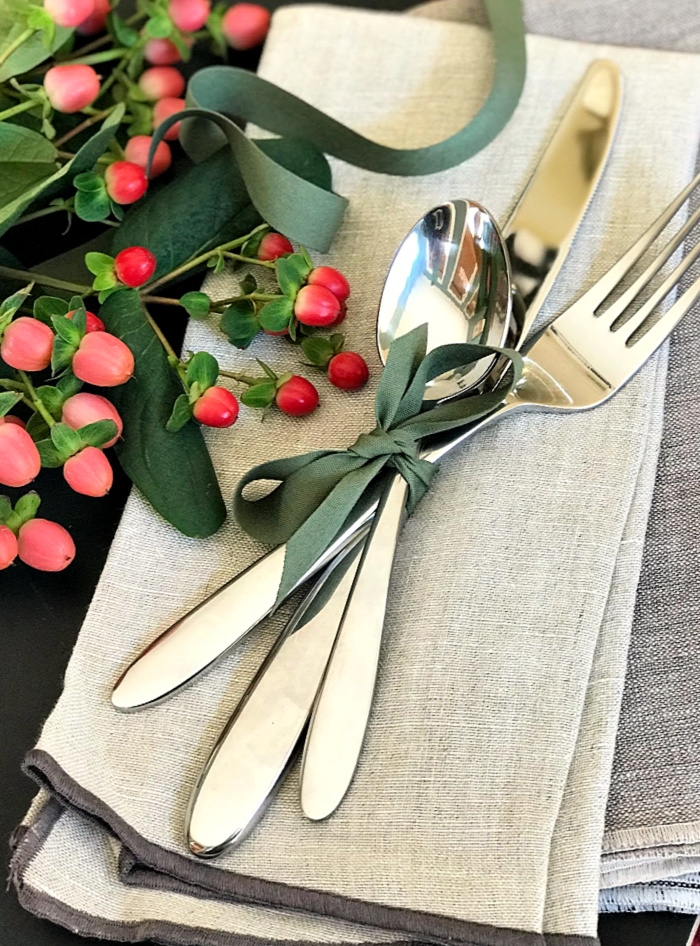 I've decided to go with my favorite combination of inexpensive, crazy easy and fancy. I simply tied a piece of ribbon around the cutlery. I really love how it turned out and you can do this to match your decor by selecting your favorite colored ribbon.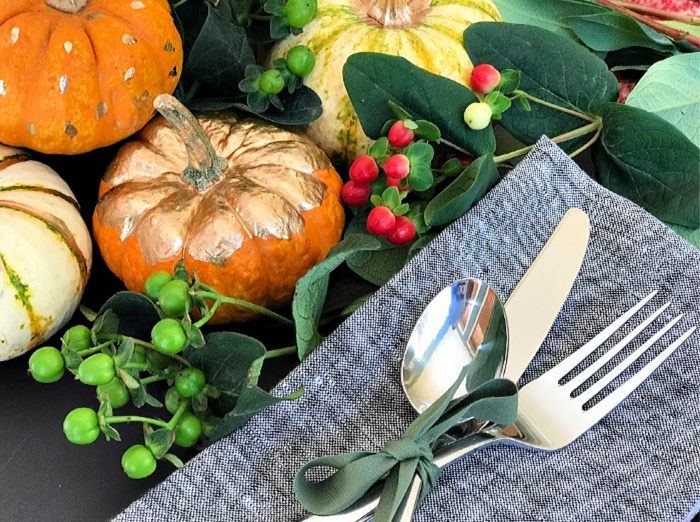 Recently, I've been on a bit of a gilding kick, so I'd add a bit to some small pumpkins.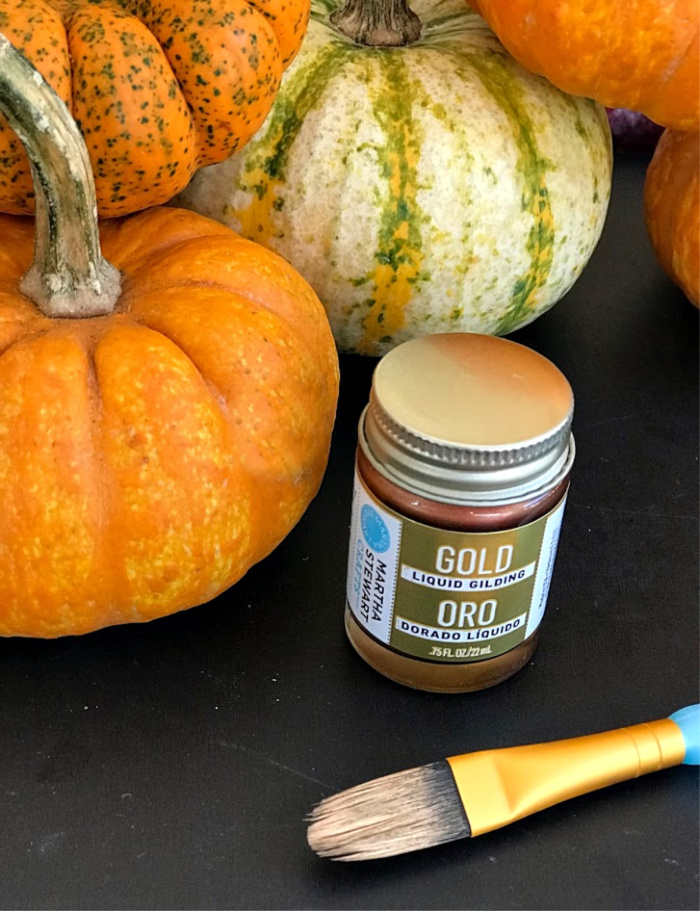 Just add a few strokes of the brush with liquid gilding and you have given your pumpkins a little pizzazz and an almost instant upgrade.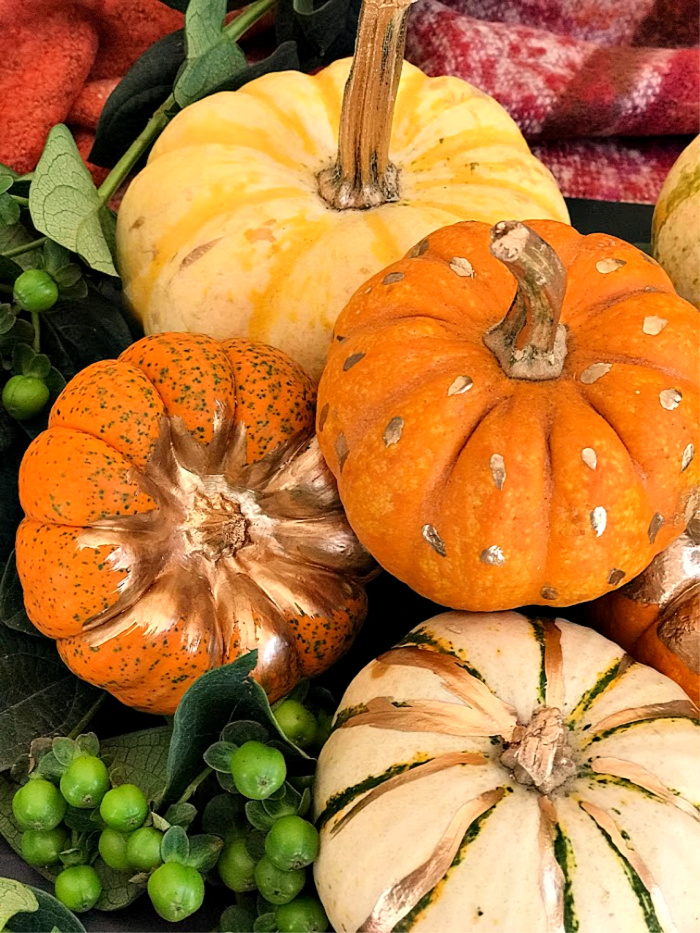 Now we can't forget a treat!
I love the idea for these candy filled corn stalks from this month's Martha Stewart Living Magazine.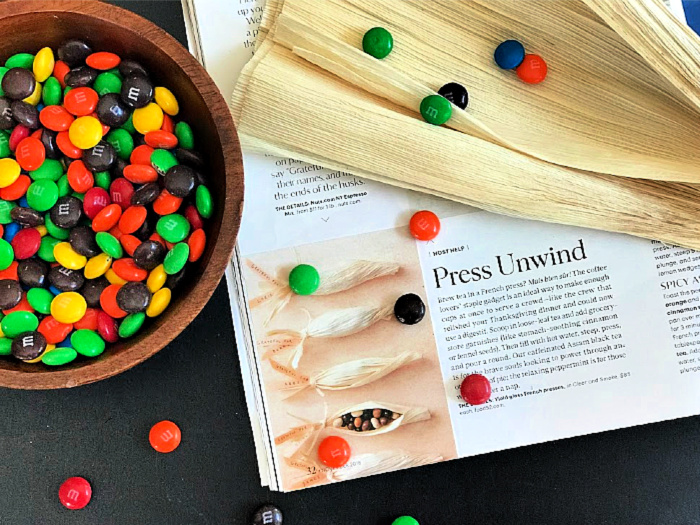 I decided to create my own version with chocolate candies to give to our guests when they go home.
For even more Thanksgiving inspiration, check out the November edition of Martha Stewart Living Magazine.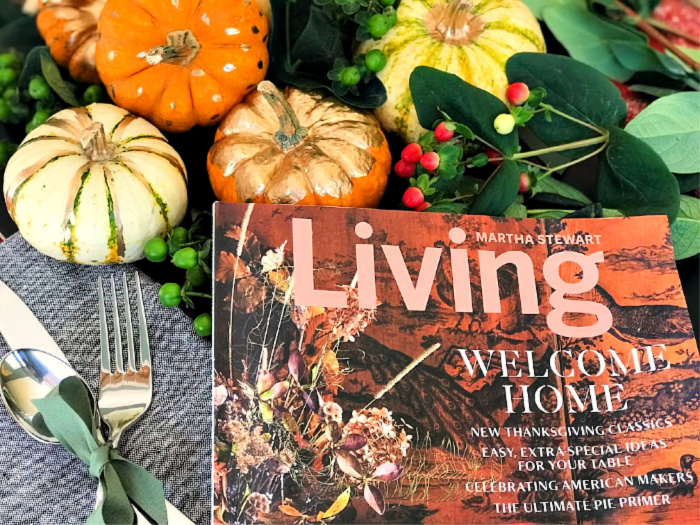 The following two tabs change content below.
Hey y'all! I am Trish and the creative voice behind Uncommon Designs. I adore party planning, holiday celebrations, and all things crafty! I am so excited to share my creative adventures with you!
Latest posts by Trish Flake (see all)