Post and giveaway sponsored by The Home Depot, but all opinions are my own.
Although we feel like our family is complete, I couldn't pass up the opportunity to talk about how to plan for your dream nursery with Home Depot's SoftSpring™ Carpet  and the Bump.   You know how they say hindsight is 20/20?  Well, I wish someone who had been there and done that would have shared some tips with me!
Five Tips for Planning the Perfect Nursery
Step One. Choose wall colors that will grow with your baby…  Go crazy with bedding, rugs, and window treatments, but I wish I had picked a little something more neutral for the wall colors.  It is not an easy task to move a toddler out of their room to repaint… trust me!!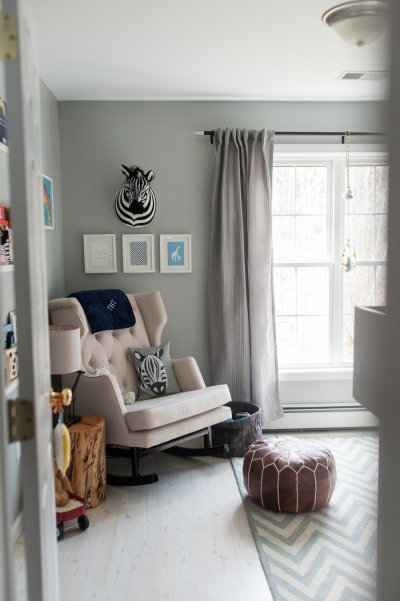 Source: Style Me Pretty
Step Two.  Comfortable Seating…   Make sure you have comfortable seating that includes a rocker.  You have no idea how many hours you will spend feeding, rocking, and reading to your baby.
Step Three.  Soft Flooring…  This is something that I really thought was optional… um no!  Your growing baby will fall about nine million times and it is so good for them to have a soft place to land!  Believe me, the Soft Spring Carpet from the Home Depot is so soft and such a great place for you baby to play, crawl, and take their first steps!  They sent me a carpet sample and it feels divine!
Step Four.  Storage… Before children, I never realized how much stuff they required, especially babies!  Be sure to include furniture that can store lots of diapers, clothes, books, and toys… you are going to need it!
Step Five. Make it your own… You may not have a choice where or how big your nursery will be, but you can choose exactly how to decorate it.  Do what you want to do… not what other's think you should do.  These are memories that you are creating for your little family, not anyone else!
Here are some great facts about SoftSpring™ Carpet
·        The Home Depot is inspiring moms to step into motherhood on the most attractive and durable flooring available: SoftSpring™ Carpet.
·        The Home Depot offers more than 50 style options of SoftSpring™ Carpet in more than 28 different colors.
·        SoftSpring™ Carpet adds comfort and style to any room. It's a great alternative to more expensive products because it features good stain resistance while maintaining soft texture that provides simplicity of design.
·        Family and friends alike will enjoy its benefits. Not only does SoftSpring™ Carpet help hide footprints and vacuum lines, but its inviting color and softness provide a cozy, welcoming atmosphere throughout the home.
·        Made of 100% premium soft nylon with twice the fiber of regular soft nylon, SoftSpring™ Carpet is recognized for its soft touch.
·        SoftSpring™ Carpet comes with a comprehensive warranty including lifetime stain, soil, anti-static, pet urine stain protection and more.
·        SoftSpring™ Carpet is protected with Scotchgard protector advanced repel technology which defends from spills and stains.
·        Mothers can have peace of mind with professional, lifetime-guaranteed installation from The Home Depot.
·        Every SoftSpring™ carpet undergoes strict testing to ensure standards of durability and colorfastness.
·        The Home Depot installers are screened more thoroughly than anyone in the business and are fully insured with a minimum of $1,000,000 in liability protection.
·        Machine-made in the USA, SoftSpring™ Carpet ranges in price from $2.27-$5.19 per square foot, plus installation.
Watch this video for all of the fun details on Home Depot's line of SoftSpring™ Carpet …

Don't miss out a chance to win some awesome prizes…hop over to the Dream Nursery Sweepstakes…you have to PIN it to WIN it!
 Now for even more fun… Home Depot is giving away a $100 Home Depot Gift Card to One Lucky Winner…
Enter via the Rafflecopter Form Below…
Good Luck!!
The following two tabs change content below.
Hey y'all! I am Trish and the creative voice behind Uncommon Designs. I adore party planning, holiday celebrations, and all things crafty! I am so excited to share my creative adventures with you!
Latest posts by Trish Flake (see all)