Hey there! I'm Laura from Inspiration for Moms and I am so thrilled to be a new Food Contributor here at Uncommon Designs. I absolutely love to talk food and today I'm sharing with you a fall cake that is not only beautiful in presentation, it tastes amazing and it's a cinch to make. I'm all about easy recipes that impress. My Pear Cake "Tatin" will not only wow your family and friends, they'll be begging you for another slice!
Now don't let the word "Tatin" intimidate you. It simply means caramelized and baked in the manner of an upside-down cake. By laying your fruit down first and then filling, you can create a beautiful cake effortlessly. You could make this cake with apples, plums, even pineapple if you prefer. I chose pears for two reasons (besides their sweet taste of course!): they're in season right now and they're incredible easy to peel. You can't go wrong with a tasty fall pear. 🙂 So grab those pears and lets get baking!
The first thing you'll want to do is peel and slice your pears. Then grease your pie dish with butter and place those pears in the dish, sliced side down.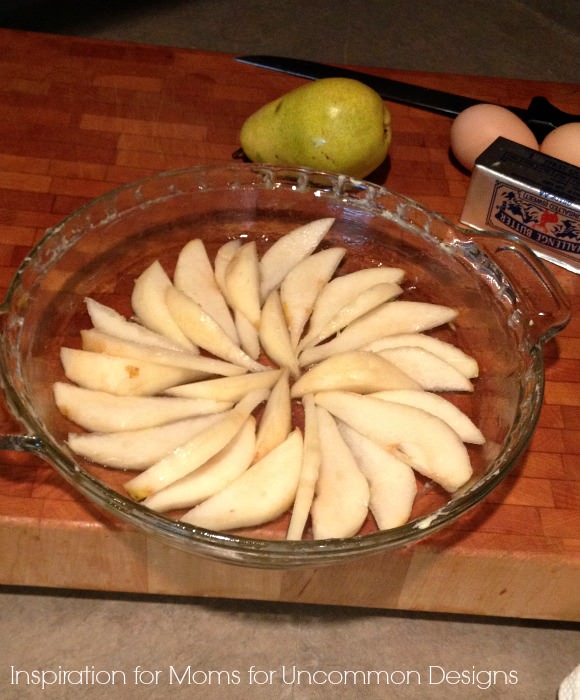 Now it's time to make the caramelized sauce. Fill a small sauce pan with sugar and water and heat on high. Watch this very carefully as it can burn! Once you see a nice amber color, remove from heat and carefully pour over your beautifully placed fruit.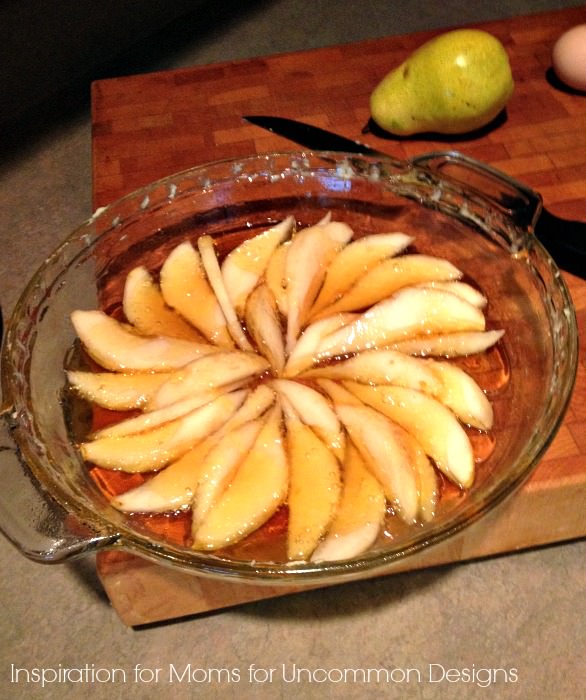 Next is the cake filling. Combine your butter and sugar in a stand mixer until fluffy. Then added the eggs, sour cream, lemon zest and vanilla. Once that is combined, you will add in your flour mixture (flour, baking powder and salt). Beat until just combined then pour over your caramelized pear slices.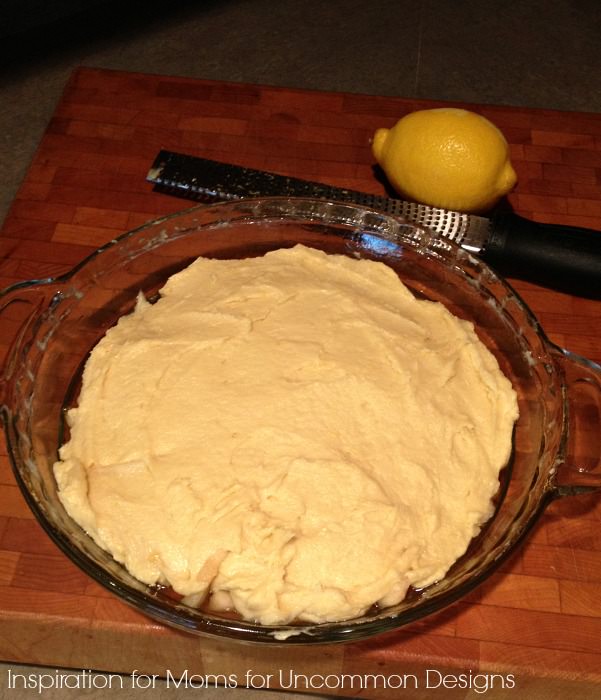 All that's left to do is bake at 350 degrees for about 30 minutes. Let cool 15 minutes then invert onto a plate.  Then stand back and be amazed at your beautiful Tatin! 🙂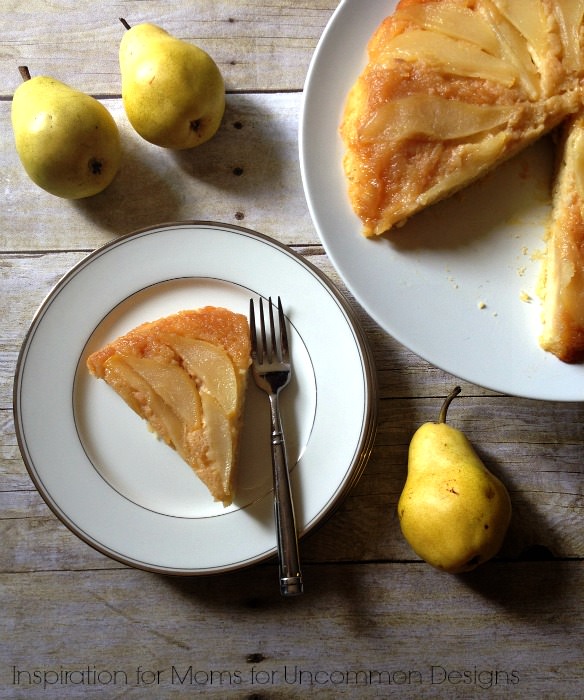 So there you have easy, elegant dessert that I hope you will enjoy.  I can't wait to see you again next month! In the meantime, please feel free to stop byInspiration for Moms anytime and say hi. 🙂
 Subscribe via EMAIL | Follow me on FACEBOOK | Follow me on GOOGLE+
Pear Cake "Tatin"
Prep Time: 15 minutes Cook Time: 40 minutes
Serves 6
Ingredients:
2 pears, peeled and sliced
2 large eggs, room temperature
3/4 cup and 1/2 cup sugar, divided
6 tablespoons butter, room temperature
1/3 cup sour cream
1/2 teaspoon lemon zest
1/2 teaspoon pure vanilla
1 cup plus 2 tablespoons all purpose flour
1/4 teaspoon coarse salt
1/2 teaspoon baking powder
1/4 teaspoon salt
Directions:
Preheat your oven to 350 degrees F.
Generously butter a 9-inch pie dish. Then arrange your pears in the dish, sliced side down.
Combine 3/4 cup sugar with 1/3 cups water in a small saucepan and cook on high heat until it turns a warm amber color. (About 350 degrees F on a candy thermometer.) Swirl the pan but don't stir and be careful not to burn. Pour evenly over pear slices.
Next, cream the 6 tablespoons butter and remaining 1/2 cup sugar in the bowl of an electric mixer fitted with a paddle attachment, until light and fluffy.  Lower the speed and beat in the eggs, adding one at a time. Add the sour cream, lemon zest and vanilla and mix until combined.  Combine together the flour, baking powder and salt, then add to the butter mixture. Mix only until combined.
Pour the cake batter evenly over the pear slices and bake for 30-40 minutes– or until tester comes out clean. Cool for 15 minutes then invert the cake onto a flat plate or cake stand.
Serve warm or at room temperature. You can also dust with confectioners sugar if you like or (my personal favorite) top with a scoop of vanilla ice cream.
[amd-zlrecipe-recipe:21]
The following two tabs change content below.
Hey y'all! I am Trish and the creative voice behind Uncommon Designs. I adore party planning, holiday celebrations, and all things crafty! I am so excited to share my creative adventures with you!
Latest posts by Trish Flake (see all)