**This is a sponsored post written by me on behalf of The Home Depot. All thoughts and opinions are mine. I am super excited to be given this opportunity to work with Home Depot.**
Well, I have spent the last week showing you guys how I planned,shopped, and created a fun Zipper Pathway with the help and guidance of the Home Depot Garden Club.
It was such a fun and rewarding experience for our family.
The best part of the project was that we tackled the project together and absolutely LOVE the results…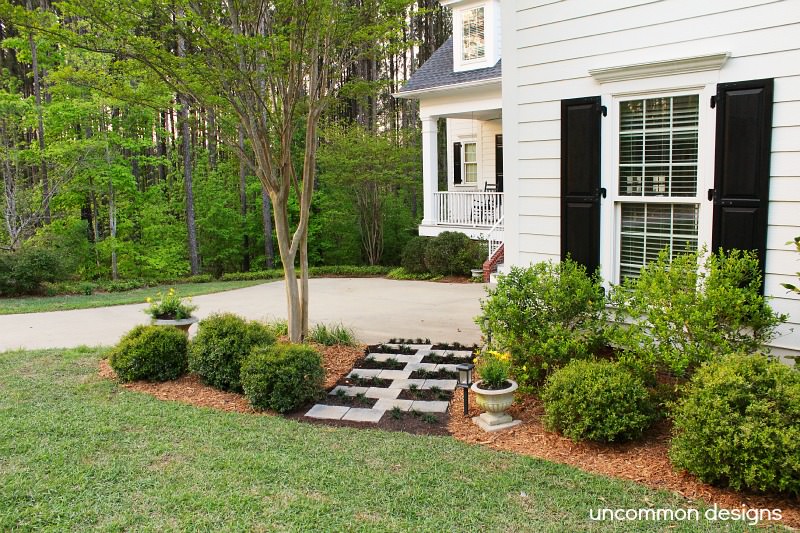 Along the way we had to tackle a few unexpected things…roots…
But we were able to come together and push right past that temporary bump in the road.
To get to the finished results…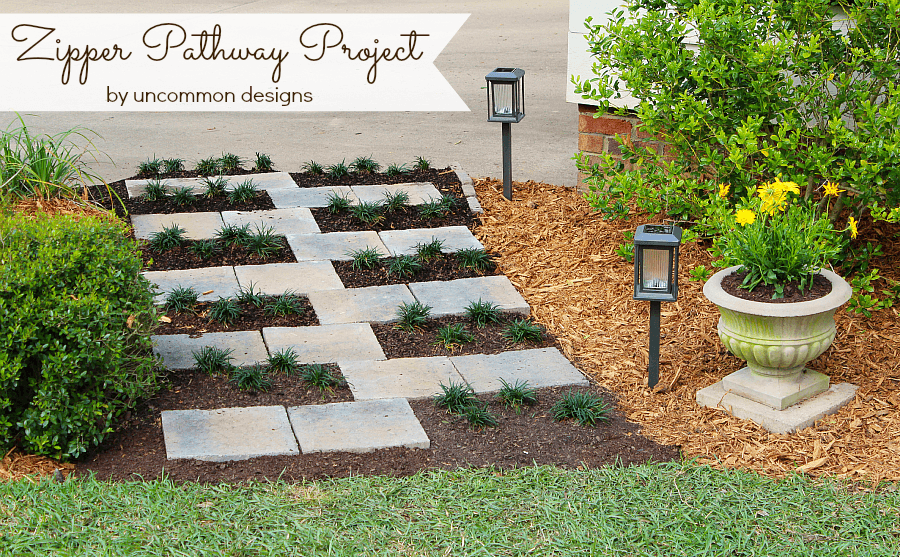 We kinda got caught up in the project and it may have spawned a few more outdoor projects.
So…are you familiar with the children's book…"If You Give A Mouse A Cookie" ?
Well…how about "If You Give A Husband An Outdoor Project"…
Once we began the Zipper Pathway project, my husband caught the outdoor project bug.
The next thing I knew, he had made another trip to Home Depot to pick up mulch. I have to admit, I was doing a little happy dance in my head.
The mulch really pulled it all together and made the paver stone Zipper Pathway stand out. But then we decided that the planters on the sides of the pathway needed a little sprucing up.
So we had the next project on the list… filling the planters on each side.
The Home Depot Garden Club site can help you decide which flowers are the best pick for your area and climate, which makes the shopping trip so much easier!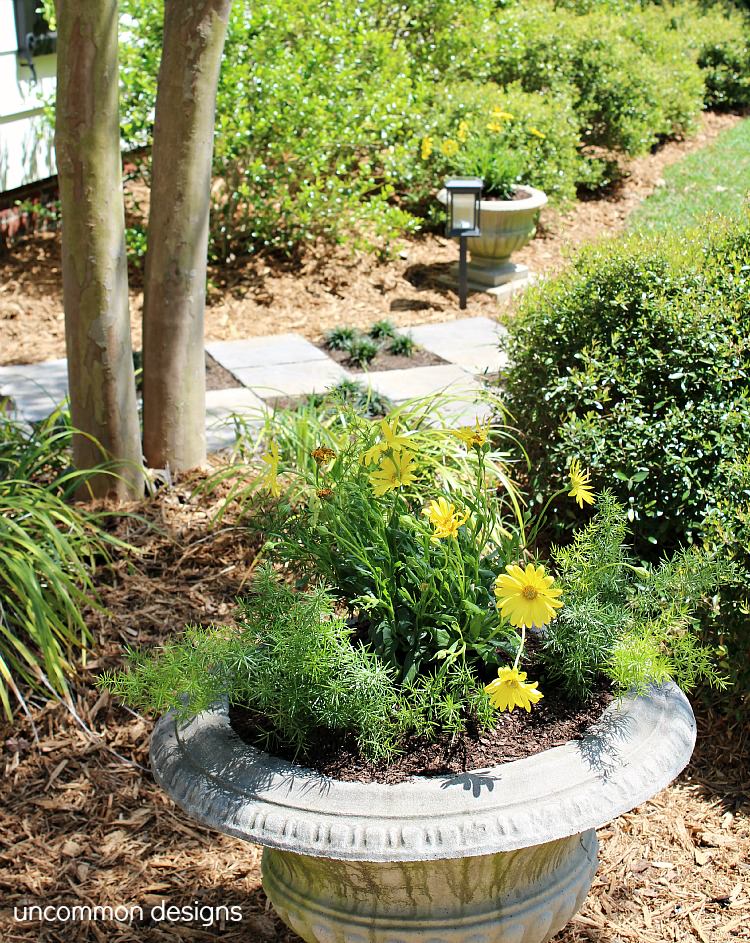 Yep, one more project done! We needed full sun plants and flowers. The sweet yellow daisies and asparagus ferns are so happy and I love the colors.
I am planning on adding a few sweet potato vines once they come in at my local Home Depot. They will add a little fullness and spillover and complete the look.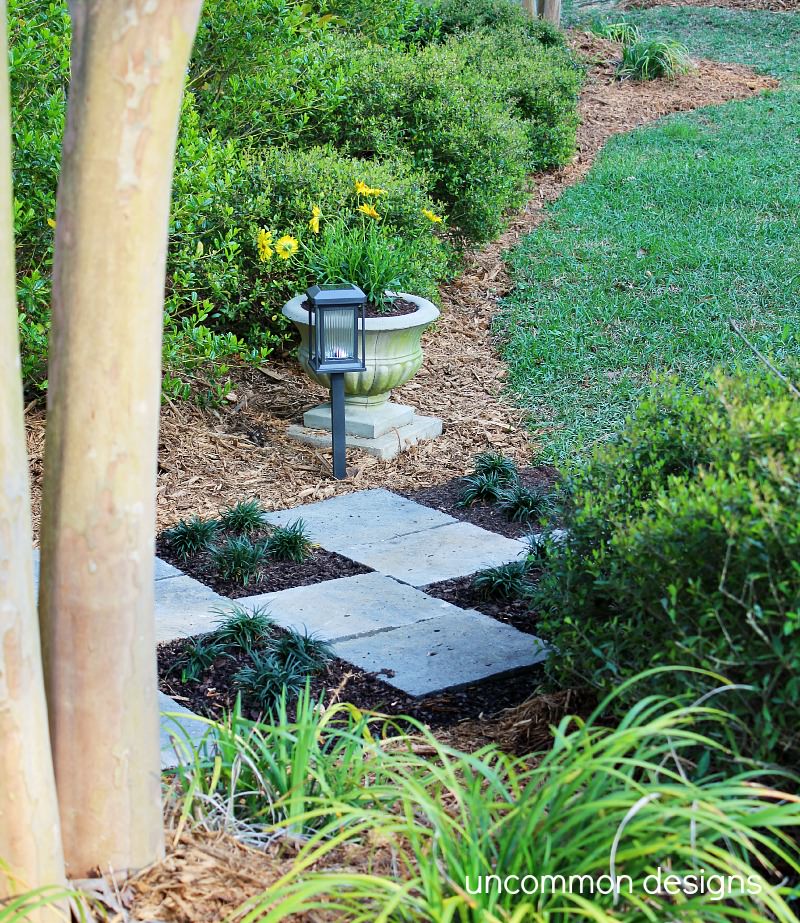 So here are a few tips we learned along the way if you are planning your own paver stone Zipper Pathway…
Pick an area that is relatively flat or allow extra time to get everything built up and level. 

Anticipate some extra time to remove hidden things in the ground if you are digging down.
Measure the space carefully for both width and length, to calculate the number of paver stones you will need. 
Lay your stones out first in the pattern to see how it all is going to fit together in your space. We adjusted the side we stated on to allow for some uneven areas. We also overlapped our pavers just  a bit, due to the width of our area being a little more narrow.
Anticipate having to make a change in the ground cover choice if your Home Depot is out of your choice or does not have enough of the one you want to use. The Home Depot associates can be a wealth of help and information on helping you choose and letting you know if more plants are coming in soon. 
Turn on some god music and enjoy your time creating in the yard!
What is our next outdoor project you ask?
Well…remember these empty little window boxes…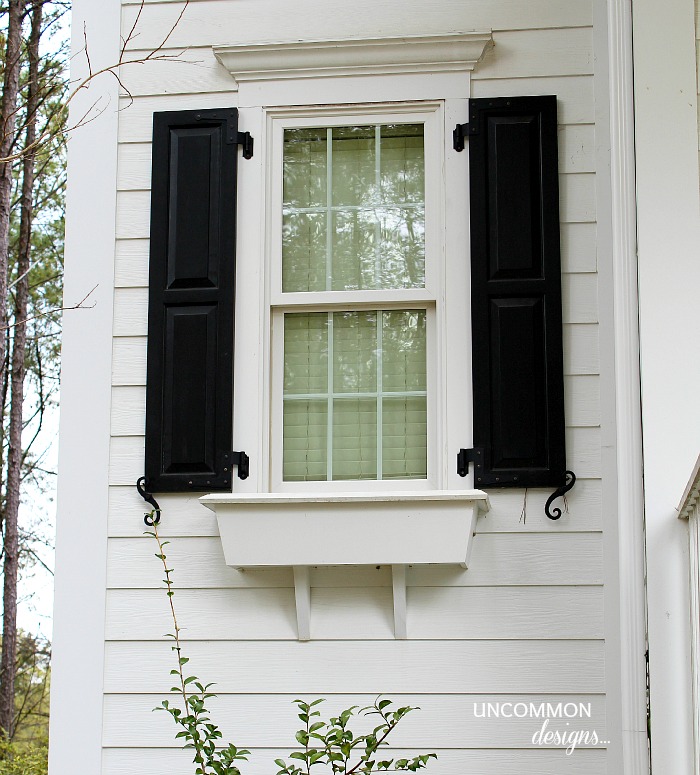 They will be getting filled with beautiful flowers and plants this week! Yea!
I may even plant some herbs in the ones off my kitchen to have a little herb garden at my fingertips! Hmmm…stay tuned!
Bonnie
*********

It's home improvement time, and The Home Depot has everything you need to #DigIn for Spring. No matter what projects you want to tackle, they have great values on all you need. They're ready to help you with renovation ideas and expert advice, too.
Get over $300 in email exclusive savings each year, sneak peeks on new products, monthly lawn & garden ideas for your region and access to The Home Depot's gardening experts. Click here to join the world's largest garden community today! Or go to
http://gardenclub.homedepot.com/ to see some of the many benefits of membership.
This is a sponsored post written by me on behalf of The Home Depot.
The following two tabs change content below.
Hey y'all! I am Trish and the creative voice behind Uncommon Designs. I adore party planning, holiday celebrations, and all things crafty! I am so excited to share my creative adventures with you!
Latest posts by Trish Flake (see all)