Hello again. It's Karyn, from Pint Sized Baker, back again to share these amazingly simple homemade brownies that are rich, moist, and super fudgy.
I think these were the closest I've come with homemade brownies that resemble the texture of a box mix.
The great thing about being homemade is that it doesn't have all of the "stuff" the a regular brownie mix has added to it.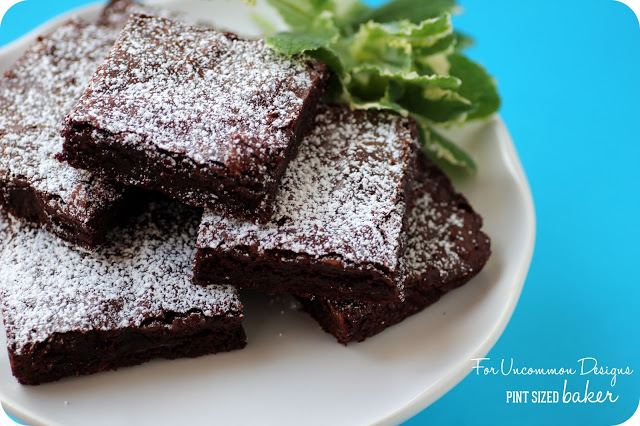 Recently, I've been educating myself about processed food and I have not liked what I have been finding. Now, I'm not saying that these brownies are healthy or good for you, so don't get me wrong… It's about all the extra stuff that makes it ok to sit on the shelf for months. All those items listed on the box that you can't pronounce.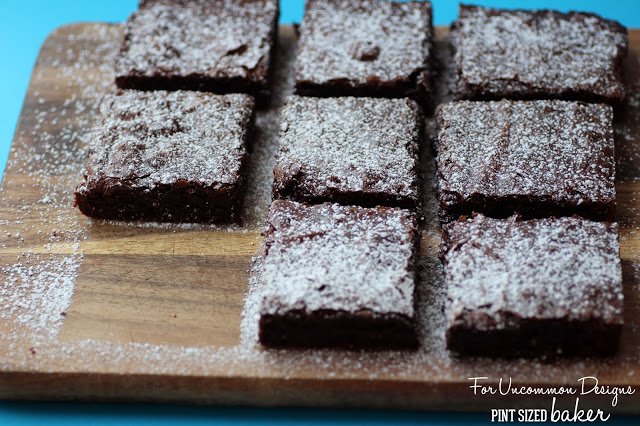 I think that's why I've always liked homemade baked goods.
This brownie recipe is so easy to make. You'll need a medium sized pot to melt your chocolate and then you just use that pot to mix everything together.
Can't get much easier than that and clean up is a breeze.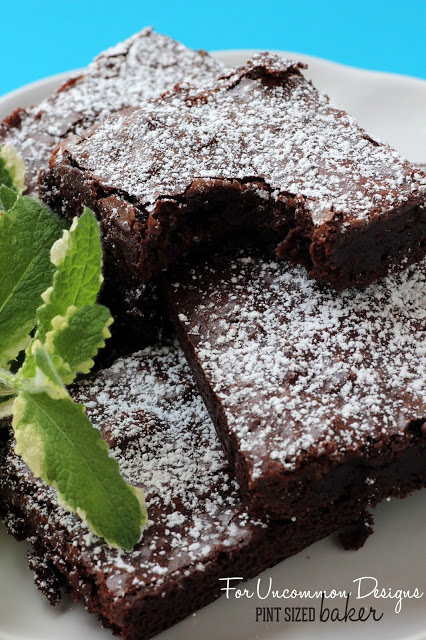 I hope you enjoy these.
Chocolate Mint Fudgy Brownies
Keywords:
chocolate brownies bars
Ingredients
2 cups Hershey's Mint Chocolate Chips
1 stick Butter
3/4 cup Brown Sugar
3/4 cup sugar
4 eggs
1 teaspoon Vanilla extract
1 cup flour
1/2 teaspoon salt
Instructions
Preheat oven to 325 degrees F. Line a 13 x 9 baking dish with foil then spray with Pam with Flour.
Melt mint chocolate chips and butter in a medium pot over low heat. Stir until all melted and smooth. Remove from heat.
Add in both sugars and stir until combined. Mixture will be grainy. Stir for 5 minutes allowing it to cool slightly.
Stir in eggs one at a time.
Mix in flour, vanilla and salt.
Pour into the prepared pan and bake for 40 – 45 minutes.
Allow to cool in the pan. Use the foil to easily lift the brownies from the pan.
Enjoy warm with a dusting of powdered sugar and a glass of milk.
The following two tabs change content below.
Hey y'all! I am Trish and the creative voice behind Uncommon Designs. I adore party planning, holiday celebrations, and all things crafty! I am so excited to share my creative adventures with you!
Latest posts by Trish Flake (see all)