We received product and/or compensation to write about mason jar gifts for neighbors, but we always give you are own opinions!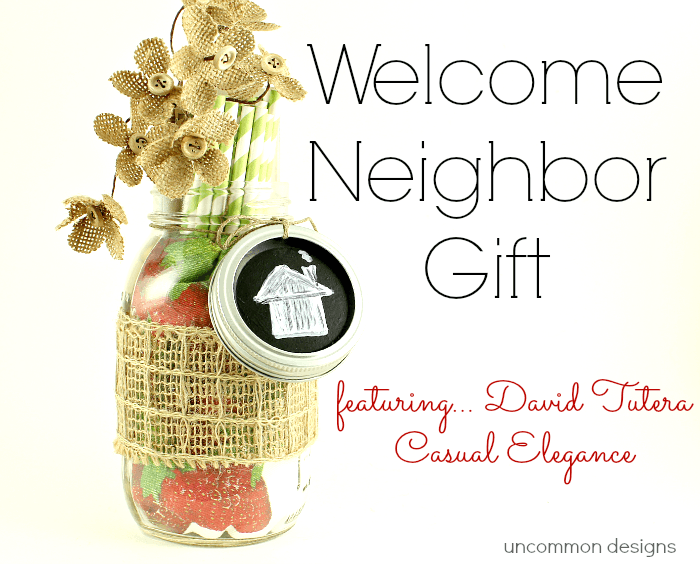 Recently, we had the wonderful opportunity to try out some of David Tutera's Casual Elegance collection. You know we love a good mason jar craft, so I decided to make a welcome to the neighborhood gift for a family who moved in up the street from us.  You might think of weddings only when you hear the word David Tutera, but these elements are perfect for everyday celebrations, as well!   They are the perfect combination of a little rustic and a little modern in feel, but are amazing because they can be formal or informal.  You can use the Casual Elegance elements for almost any occassion!
Welcome Neighbor Mason Jar Gift Tutorial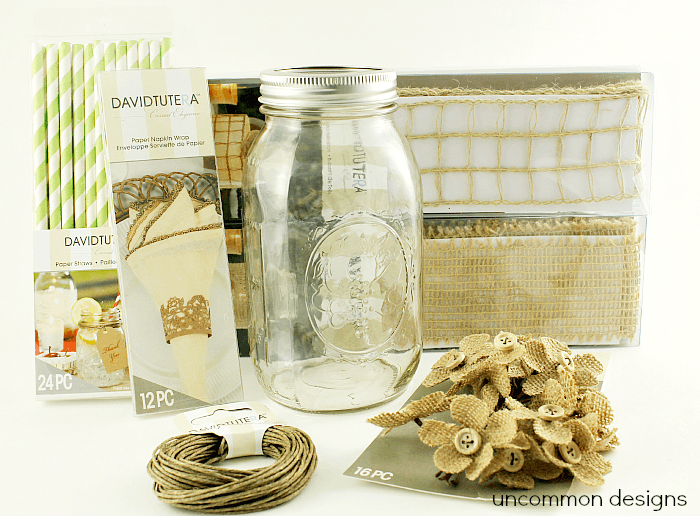 Supplies from David Tutera's Casual Elegance Collection:
large mason jar
small bunch of burlap and button flowers
jute twine
windowpane ribbon
frayed burlap ribbon
paper napkin rings
striped paper straws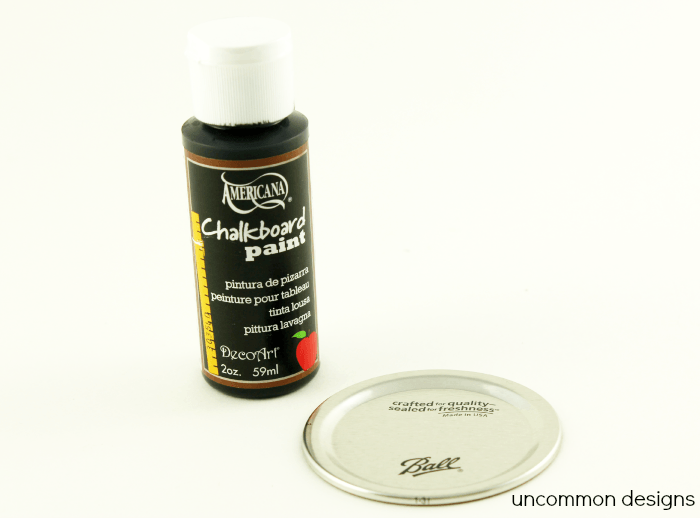 Step One.  Remove the lid from the mason jar and paint a few coats of chalkboard paint on the flat metal section of the lid.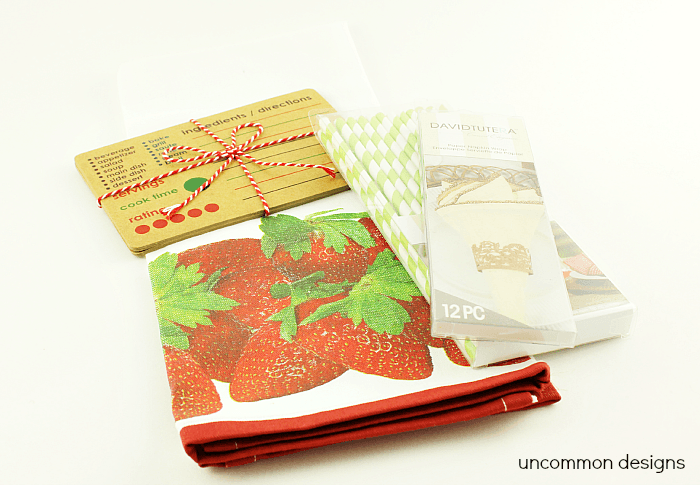 Step Two.  While your chalkboard paint is drying, gather all of the goodies that you want to bless your new neighbor with.  I included a kitchen towel, striped paper straws, matching recipe cards, paper napkin rings, and a rubber spatula.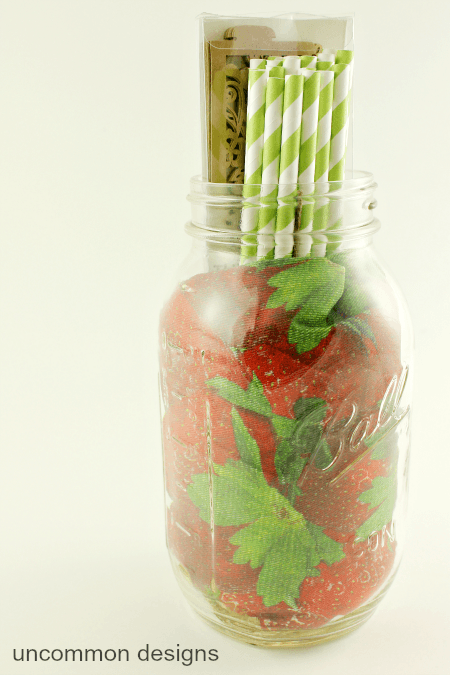 Step Three:  Roll your kitchen towel up tightly and place inside the mason jar.  Now you will insert your other gifts in the middle of the rolled towel.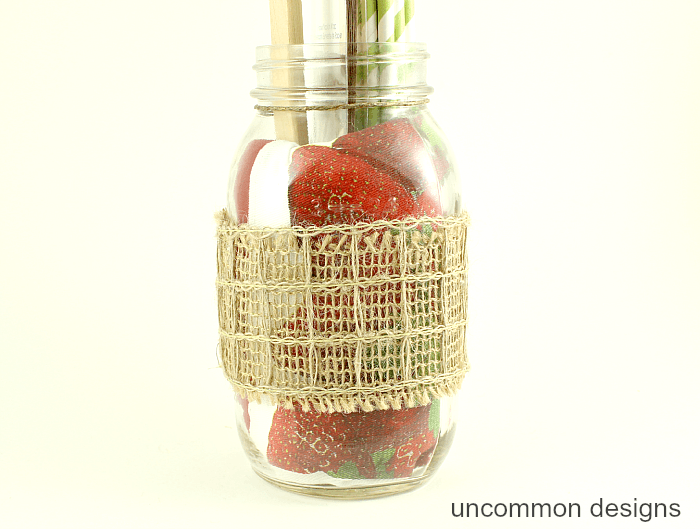 Step Four: Get your hot glue out and get ready to doll up the outside of the mason jar.  Cut two identical lengths of the burlap ribbon and the windowpane ribbon.  Glue down the burlap first, then glue the windowpane right on top.  They look like they were made for each other, right?!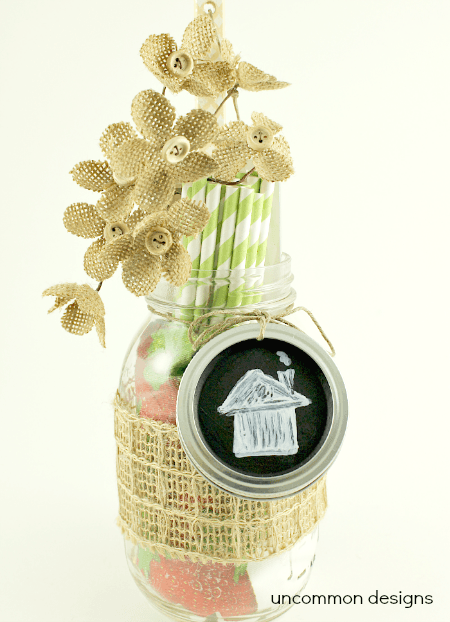 Step Five:  The final step is to add all of the pretty elements.  I tied on the chalkboard painted lid and drew a house, and added a sprig of burlap flowers.  Just perfect and all ready to go welcome our new neighbors to the neighborhood.  Hopefully, we haven't scared them away yet with our barefoot kids and in the front yard spray painting mama!
Bonnie and I would love for you to check out all of David Tutera's Sites:
Facebook: https://www.facebook.com/DavidTuteraDarice
Twitter: https://twitter.com/TuteraForDarice
Pinterest: http://pinterest.com/daricecrafts/david-tutera-casual-elegance
For more fun tutorials using these products…
The following two tabs change content below.
Hey y'all! I am Trish and the creative voice behind Uncommon Designs. I adore party planning, holiday celebrations, and all things crafty! I am so excited to share my creative adventures with you!
Latest posts by Trish Flake (see all)