This post is part of a social shopper marketing insight campaign with
Pollinate Media Group
® and
Dove Hair
,
but all my opinions are my own. #pmedia #LoveYourCurls #pmgdove
http://my-disclosur.es/OBsstV
Curls!! Beautiful, unique curls! The day I gave birth to my now 16 year old daughter I secretly hoped for red curly hair, but alas she ended up with her daddy's hair. All my life I embraced the uniqueness of having lots of red, curly, crazy hair. I never really tried the latest styles or trying to straighten it…instead I embraced my curls cause curly hair don't care! I loved standing out and being a bit different. Let me take you down a bit of my memory lane…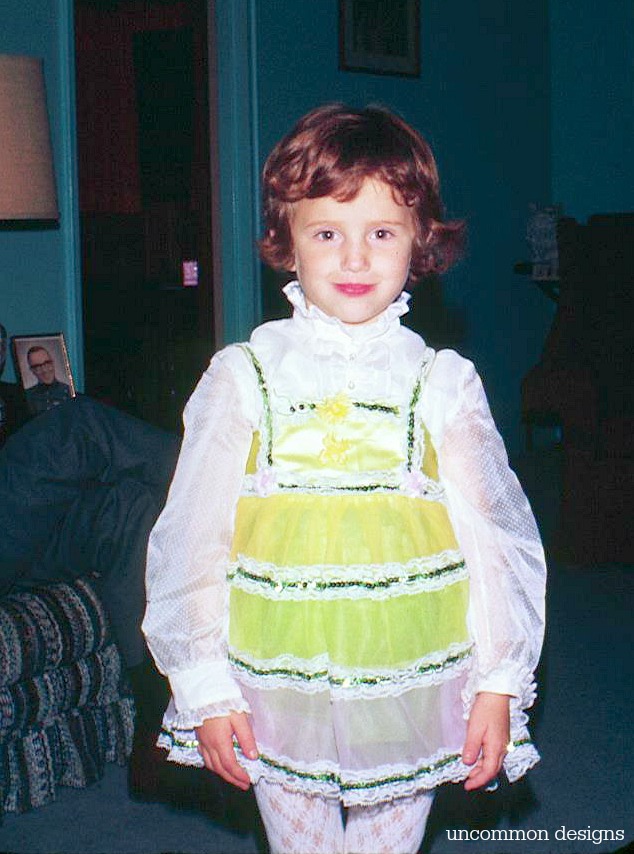 This is me in 1975, note how short my hair was. Why? My mother thought with all my curls, it would be easier to manage. I never really ever styled it, wash and go was my style.
So throughout my childhood, my hair was short and curly. When I hit high school in the 80's, perms and BIG hair were in….OH HAPPY DAY! I never had to get a perm and I let me short Molly Ringwald styled hair grown and grow with lots and lots of curls.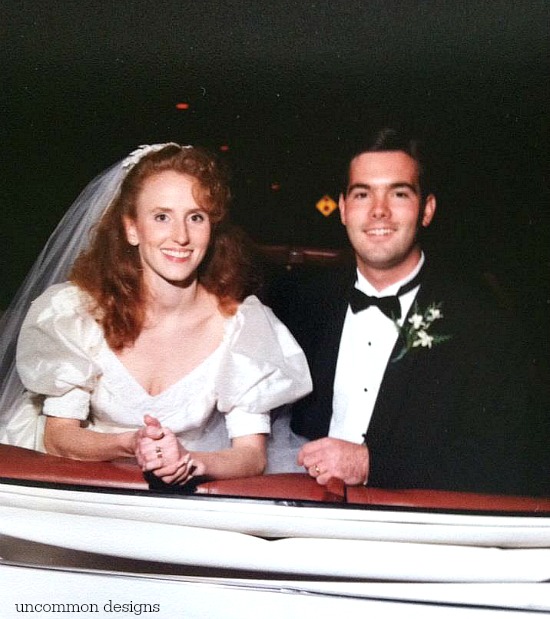 This is my wedding day, 1993. Naturally curly hair, not fuss. My husband wanted me to wear it exactly like I always did…long and curly.
So when the age of cell phones, yes I remember when the very first ones came along, and then texting and then emojis…what was a curly haired girl to do? Much less a red headed one?
Don't worry, Dove Hair has taken care of it with their new Dove Love Your Curls Emoji Keyboard. Wait til you see them! You will #LoveYourCurls !
Now once my kids came along, hair was all about EASY and quick 'cause you know…curly hair don't care!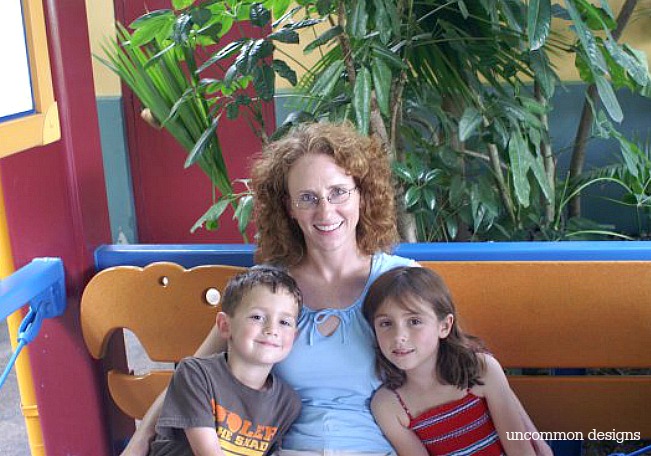 Let's just say, curly hair is super easy on vacation in a tropical environment!
So what about those Dove Hair curly hair emojis? Here's a little peek…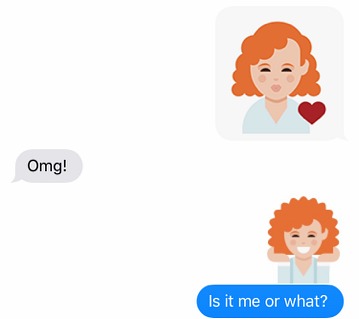 LOVE THEM!!!
No longer do we curly haired girls have to use straight hair emojis available on the current Unicode Emoji keyboard. Look at all the choices…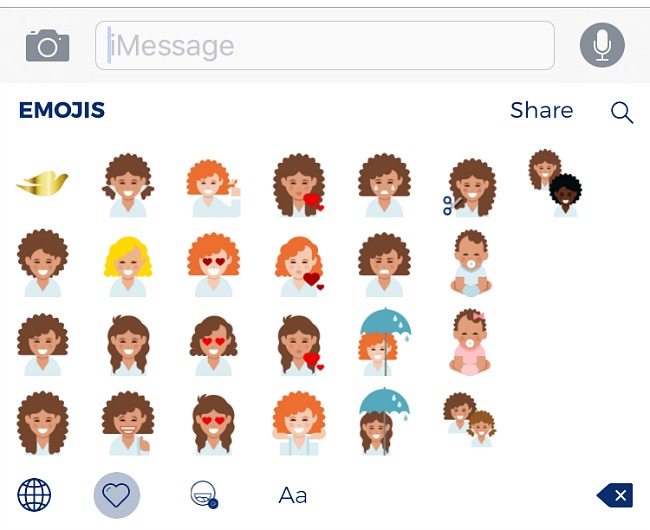 Each one can have a variety of hair colors too! Did you know this little fun fact… 74% of people use emojis everyday. So why not have one that represents you and your individuality and uniqueness.
Download the Dove Love Your Curls Emojis in the App Store and Google Play Store to show you #LoveYourCurls!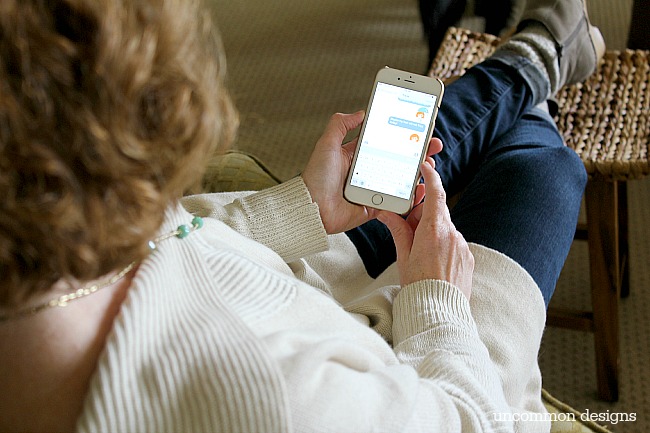 How fun this is! Now my friends and family that I text with can enjoy my little curly headed emoji along with me!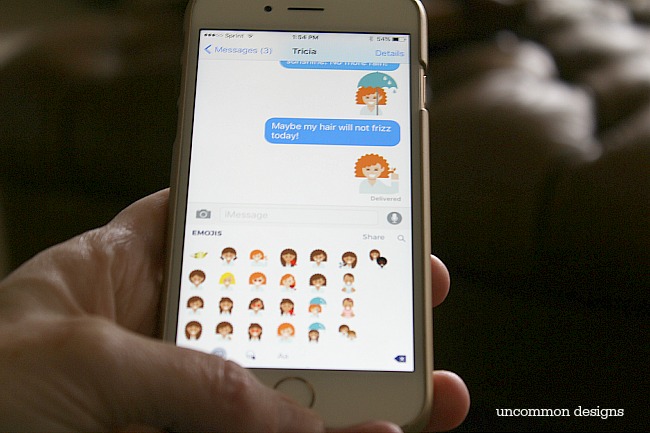 Showing how much you #LoveYourCurls is easier now with the Dove Love Your Curls Emojis! Dove Hair will also be partnering with Twitter so each time women and girls share a #LoveYourCurls moment, a custom Dove Curly Emoji will appear in the tweet.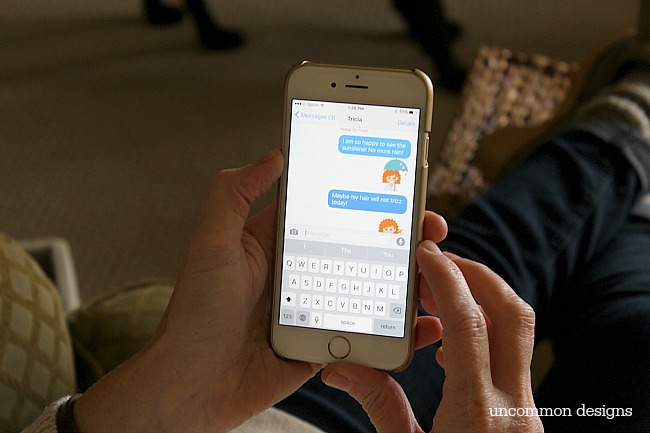 We have had so much rain here lately, the little umbrella one is my current fave!
So, calling all my curly haired friends, show us how much you #LoveYourCurls and download the Dove Love Your Curls Emoji Keyboard in the App Store or the Google Play store. Dove #LoveYourCurls Emojis can be used across SMS Text, Messaging App. Programs, email, and more.
Be sure to check out Dove Hair  on…
Website – Pinterest– Instagram– Twitter – Facebook
The following two tabs change content below.
Hey y'all! I am Trish and the creative voice behind Uncommon Designs. I adore party planning, holiday celebrations, and all things crafty! I am so excited to share my creative adventures with you!
Latest posts by Trish Flake (see all)