Happy Monday everyone!   We are continuing our Love is in the Air series today with one of the biggest sweethearts we've met through blogging…. Lindsay from Southern Lovely!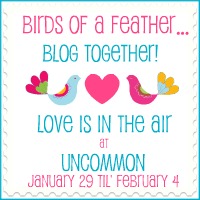 Hello there. I am excited to be here today in the wonderful space of Trish & Bonnie! I adore them both, so it is an honor to be sharing with their lovely readers! I'm Lindsay, from Southern Lovely. Lots of different projects are shared over at my place. It's a little of this & that, but all of it is a great creative outlet for me. 🙂
Today I am going to share a fun little Valentine project that is super easy to create. Meet my Button Burlap Heart…
Supplies needed for Button Burlap Heart:
Canvas

Paint

Tape

 Burlap

 Buttons

 Hot glue

Vinyl (optional)
Start with a blank canvas. Using painters tape, I measured, then marked where I wanted my stripes to be. Then place your tape down, & paint in every other line. You will want to get the sides of the canvas as well, I had to go back & re-tape & paint them, since it looks a lot better that way.
On the burlap, I traced a heart & cut. Now it's time to glue on the buttons. My suggestion is apply a line of glue on your burlap, and add a bunch of buttons at once. It goes much more quickly that way. I would also suggest going around the heart with the buttons, then working your way in.
 Once that is finished, hot glue your button burlap heart to your canvas.
Add the final touch with your vinyl letters & your artwork is complete!
Pretty simple, right?! My favorite kind. 🙂 Thanks so much for having me today. Feel free to drop by Southern Lovely to say hi anytime. 🙂
The following two tabs change content below.
Hey y'all! I am Trish and the creative voice behind Uncommon Designs. I adore party planning, holiday celebrations, and all things crafty! I am so excited to share my creative adventures with you!
Latest posts by Trish Flake (see all)