Welcome to our "Love is in the Air" blog series!  Today we would like to welcome Danielle from Blissful and Domestic!  She is such a sweetheart we are so glad to have her here!  Y'all are going to love her idea! 
Here she is… 
Hi Ladies and gents! I am Danielle and I am so excited to be here today!
Yep that means everything Homemade!
From food to clothes. I am starting a BIG adventure with my family and am very excited to do this.
I also homeschool my muchkins and try to make each day fun with them.
This is especially true during the holidays. I like to make every holiday BIG in my house.
Christmas and Thanksgiving are not the only big hitters in my house.
We like to countdown and do all kinds of fun stuff for everything.
Since Valentine's day is just around the corner, I am in red and pink mode.
Last year during our
Valentine's Day countdown
we did an activity, which I thought was pretty stellar.
I am going to share that with all you lovelies today.
I call this activity "Heart Attacking". When I was 12 years old some girls, from church, did this to me and I have never forgotten it. It is seriously such a nice way to tell someone you LOVE them.
This is how you "Heart Attack" Someone.


Start out by getting those littles ready for some crafting.
Cut out a bunch of hearts and write love notes on them.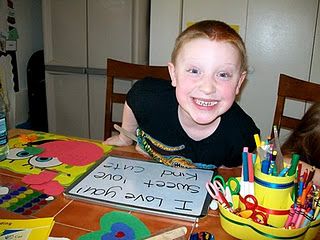 I wrote some key "love words" on a dry erase boards to help the littles with spelling.
This was a BIG help to them.
Let them use stickers, crayons, markers, etc.
Let them have fun with it.
Glitter is always a plus too!
I don't know a kid who doesn't love creating with glitter.
It is way too fun!
We put a few hearts on sticks as well.
Once you have made all your hearts
decide who you will be heart attacking and make them a treat.
We decided to "heart attack" my grandmother.
We made her some yummy sugar cookies
I will share the recipe at the end of this post.
Now that your hearts and treats are done
it is time to be sneaky…….
We quietly taped hearts to her door
well as quiet as two little kids can be when they're giggling and laughing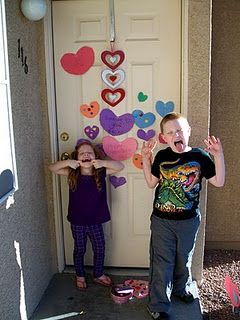 We also put the hearts on sticks in the ground near her walkway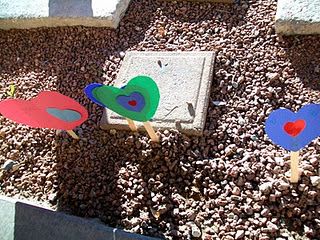 We left her treat in a Valentine's Day tub I purchased at the dollar store
and left it by her door step.
(some of the hearts have Hershey Kisses taped to them)
Now is the time to knock on the door and dash to the car.
This is probably THE most fun part for my kids.
This is seriously the most fun for littles. It teaches them about serving and showing kindness to others. This is a tradition of ours we do each year. I can't wait for us to do it again.
Sharing some love with our family and friends is the greatest thing we can do
I hope you get a chance to do these for someone you love this Valentine's Day.
Oh and before I go,
Here is the reciepe we made for my Grandma. These are THE BEST Sugar Cookies EVER!
We use them for every holiday.
Bake up some goodness and enjoy!
Blissful and Domestic Sugar Cookies
 1 cup of butter/margarine
Blend melted butter/margarine and sugar in a bowl until creamy. Add egg and vanilla. Blend well. Add your baking powder and blend. Last add your flour 1 cup at a time. The last cup may be hard for your beaters. Use your hands if you needs.
Now let me give you a few tips on doing cookie cutters with littles:
First off I use Margarine and my cookies tasted better 
than when made with butter.. 
Second, let your littles do as much as they can.
Although it may be messy, they will so enjoy it!
I taped parchment paper onto my counter. This is where we rolled out the dough and used the cookie cutters. This makes for a very easy cleanup afterwards.
Also spray your hands and your littles hands with cooking spray before picking up the dough. 
This prevents the dough from sticking to your hands.
And lastly sprinkle flour on the dough and the parchment paper 
before flattening your dough.
All these tips helped me when making these. They made it so much easier.
I hope you get a chance to make them too!
Have a fabulous day and don't forget to stop by and say hi!
We hope that you will click on over to see the rest of this post!
The following two tabs change content below.
Hey y'all! I am Trish and the creative voice behind Uncommon Designs. I adore party planning, holiday celebrations, and all things crafty! I am so excited to share my creative adventures with you!
Latest posts by Trish Flake (see all)