Ok…It is such a busy time of the year so today let's do a 2 minute craft….yep 2 minutes! I decided to add a little something extra to my fall decor and these Leather Wrapped Candles are just what my table needed. They add just a bit of depth and texture to the candles. Leather is such a has such a rich look and the deep brown color was the perfect balance to the light candles.
Seriously, 2 minutes. But such an impact. I added a bit to the single candle in my foyer. The leather brought in another texture to complete the look. I think it is a beautiful contrast with the Fall Wheat and Burlap Wreath I created.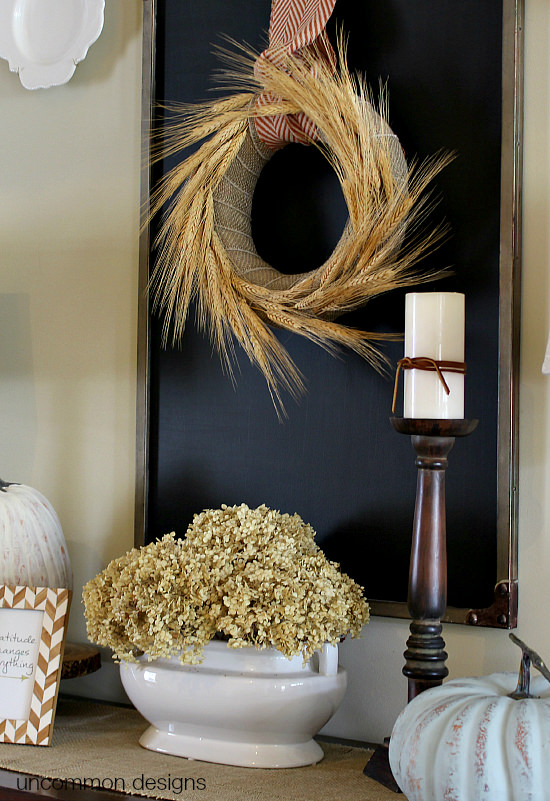 So here is the best part of this simple, and quick project … you need 2 supplies and 2 minutes!
SUPPLIES: 
1. Pillar Candle of Choice
2. Chocolate Brown Leather Cording
Simply wrap the candle 3 times with the leather cording and then tie a square knot. Trim the ends to leave a little bit hanging. You can choose if you want the leather to be in the middle, top, or bottom of the candle.
That's It!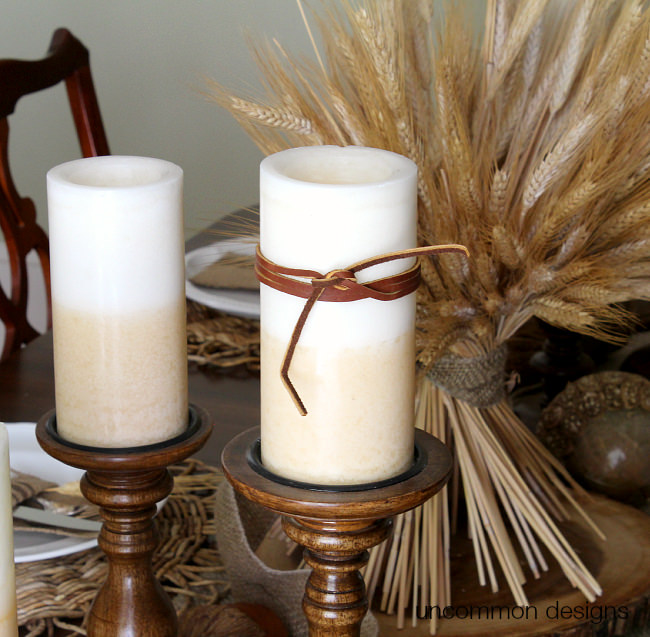 I also added the leather to a few candles on my fall table. I decided to only add it to the tallest candle on each side of my Wheat Bundle Centerpiece. The dark leather really catches your eye and adds a bit of  an unexpected element to the decor.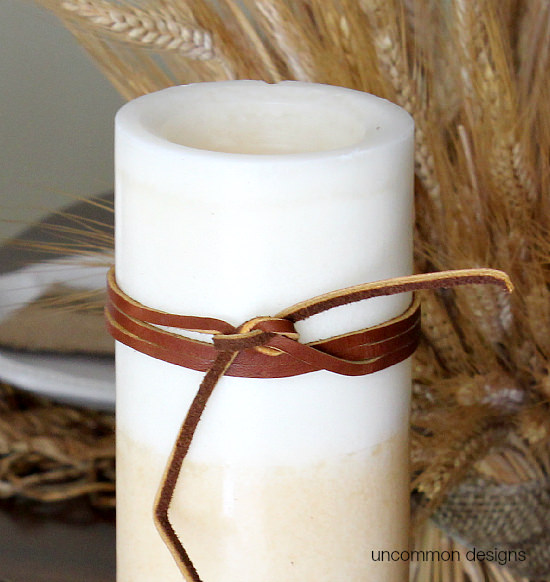 Such a simple and quick detail, but oh the impact it makes. My fall table is just as I had imagined it and I love all the little details that  came together to create a beautiful room where my family and friends can come together.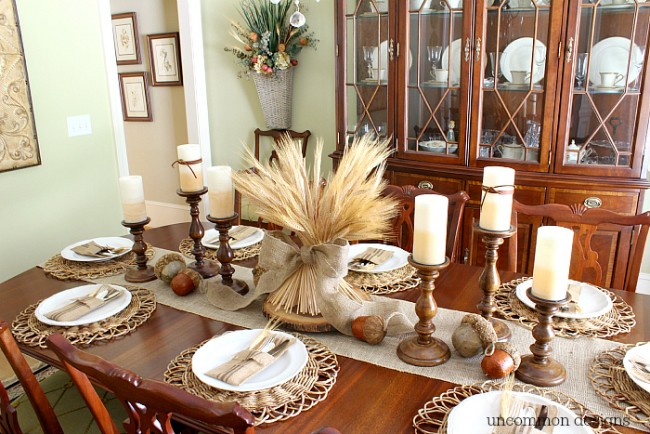 If you did not have a chance to check out my Fall Home Tour, I would love for you to come on over and see it. I have really enjoyed having my home all decked out for fall and the mood it creates is priceless. This is my favorite time of the year and I cherish every second of it.
This time of the year gets so busy, I hope that these simple things that can add such a bit of joy to your decor  will encourage you to create a seasonal setting for you, your friends, and family.
Have a fabulous day friends!
The following two tabs change content below.
Hey y'all! I am Trish and the creative voice behind Uncommon Designs. I adore party planning, holiday celebrations, and all things crafty! I am so excited to share my creative adventures with you!
Latest posts by Trish Flake (see all)