Hey friends! If you are a regular visitor here at Uncommon Designs, then you will know that I used a theme of wheat in my fall decor this year. My Fall Home Tour had quite a few projects throughout our home that included wheat. So, what goes better with fall and wheat than a wreath and burlap?
Isn't she a beauty? I love the contrast of the wheat and burlap, then add a "pop" of your favorite color or pattern in a fabric tie and the look is complete. This is such a quick craft project, and perfect for inside your home from now until the Christmas decor comes out. It really sets a beautiful fall tone in our home, as I have it displayed in our foyer.
Only a few supplies and you can create a stunning piece of diy home decor. And, yes I am a sucker for all things orange!
So let me tell you how you can craft your own Fall Wheat and Burlap Wreath!
_____________________________________
Supplies Needed:
1. 12 inch Straw Wreath Form
2. 2.5 inch Burlap Ribbon
4. Dried Wheat
5. Fabric of Choice for Tie
_____________________________________
STEP ONE: Take the straight pins, wreath form, and burlap ribbon. Pin the end of the burlap ribbon to the straw wreath form and start wrapping the burlap ribbon around the wreath form. Allow a bit of an overlap for each wrap. Once you have wrapped the entire straw wreath form, use more straight pins to secure the burlap ribbon to the wreath.
STEP TWO: Next you will take 3 or 4 stalks of dried wheat and slide them in the folds of the burlap ribbon. I cut each of my wheat stalks down to get the right length for the look I wanted. You do not need to fill each wrapped fold of the burlap ribbon. I did about every third wrap or fold. Once you start placing the wheat in  the ribbon, you will see how the wheat overlaps to create a fuller look.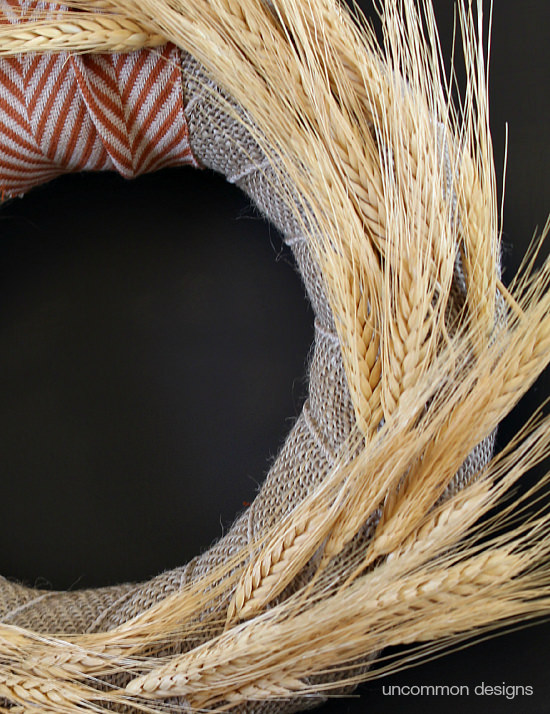 STEP THREE: Once you have your wheat all in place, select where you would like to put the tie. I chose to go in between 2 sections of wheat. I used an orange and cream herringbone pattern fabric. I cut it about 5 inches wide and the length will depend on where you will be hanging the fall wreath.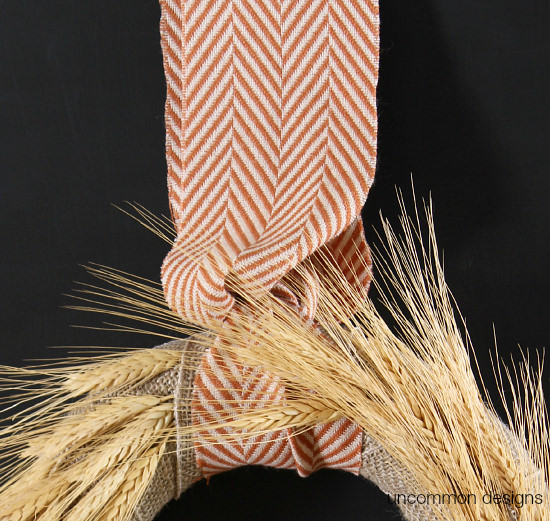 I simply tied a loose knot around the wreath, and then flipped the tails of the tie behind my chalkboard. I attached the actual wreath to the chalkboard with a  Command Adhesive Clear Hook, love those things!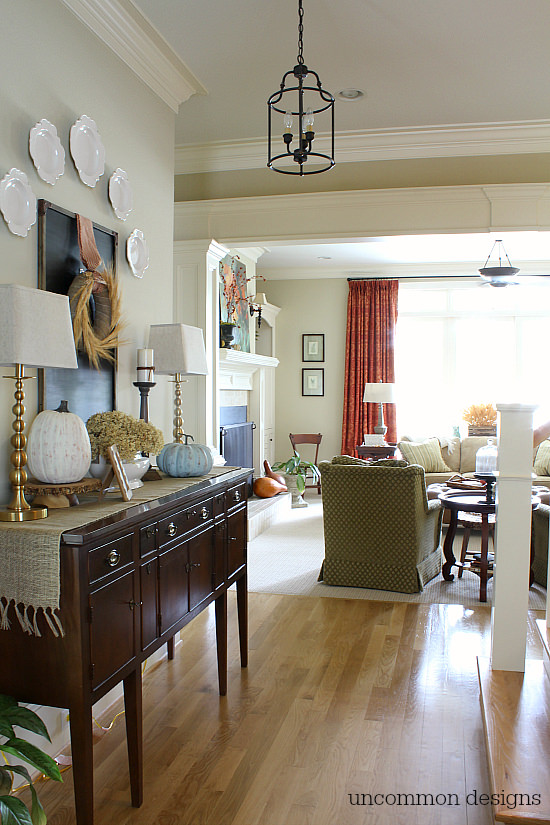 See what a beautiful, welcoming, and cozy feel it creates in my home? I just adore this wreath. Plus it is another casual element to place with my more traditional furniture. A fun contrast!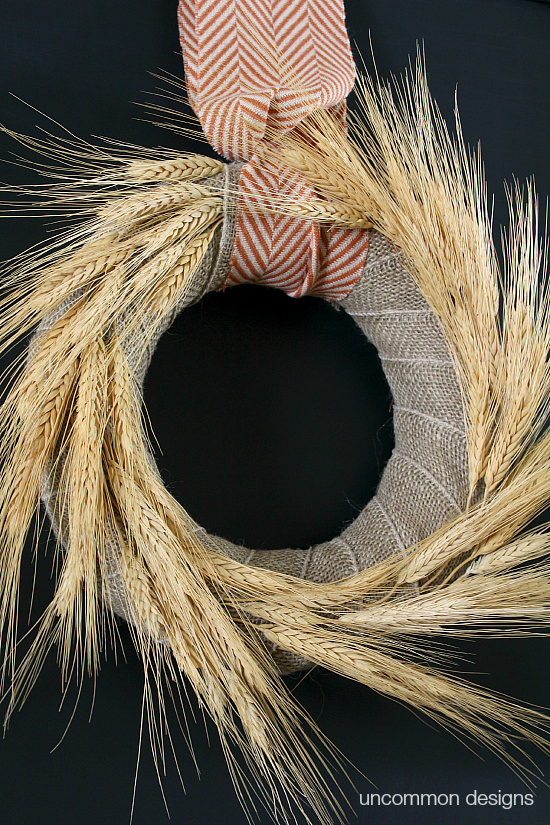 So, you are new here and wondering what else I created with wheat? Well, this Wheat Crate Centerpiece is one of my all time favorite diy projects…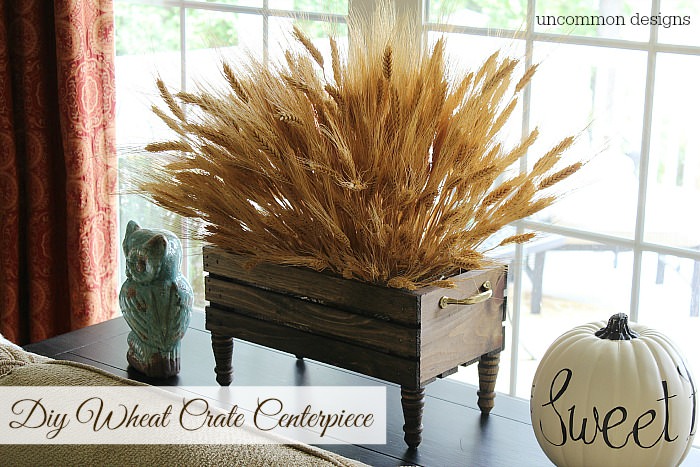 Or, maybe you just want a little touch of wheat during fall like these…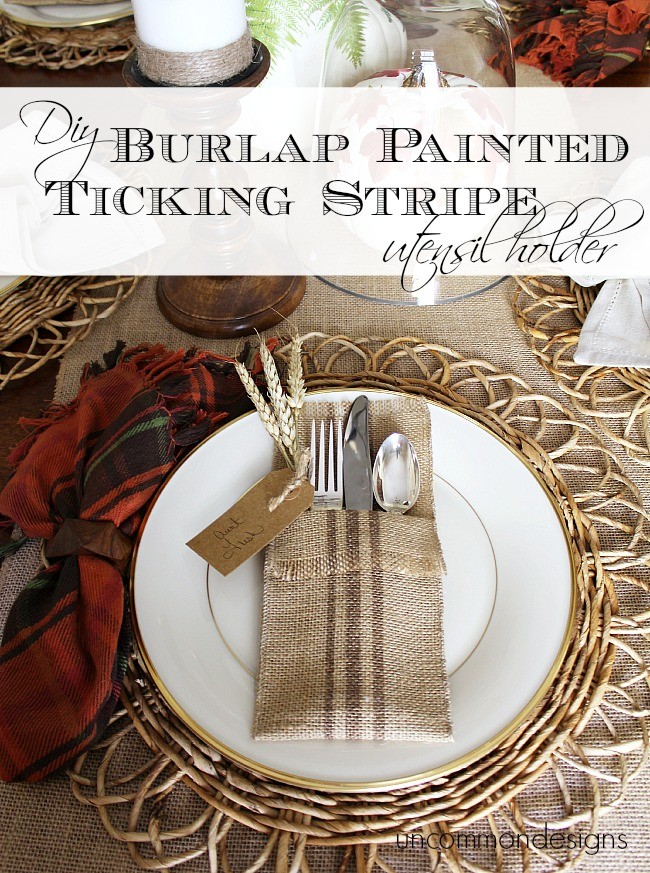 DIY Burlap Painted Ticking Stripe Utensil Holder
 I hope that you are enjoying this fall season no matter where you live. Why not bring a bit of the cozy fall decor inside with one of these projects?
this post contains affiliate links
The following two tabs change content below.
Hey y'all! I am Trish and the creative voice behind Uncommon Designs. I adore party planning, holiday celebrations, and all things crafty! I am so excited to share my creative adventures with you!
Latest posts by Trish Flake (see all)