At long last, it is here… the giant tissue paper flower tutorial!
You guys were so sweet about Ann's Luau party and you loved these tissue paper flowers.  After many emails, I am delivering on my promise for the tutorial.  I know I have said it before, but you would be amazed at what you can make with a little tissue paper and some floral wire.  It is so inexpensive and really packs a punch for your party decor.  If you take good care, you can reuse them!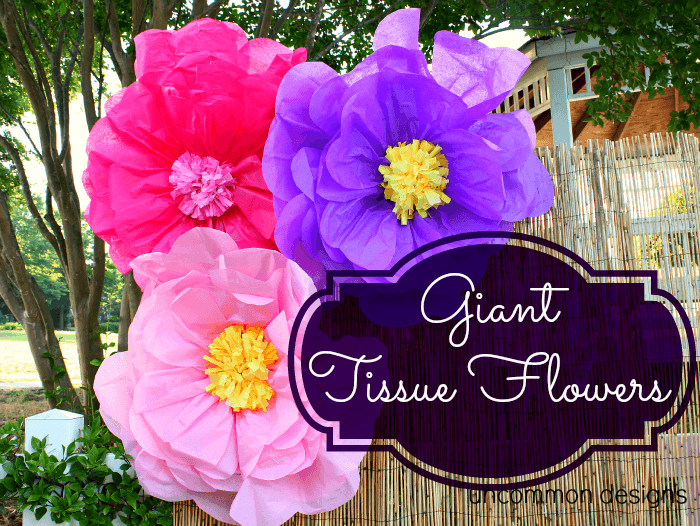 Giant Tissue Paper Flower Tutorial
Get ready for a very simple tutorial on how to fashion these giant beauties for yourself…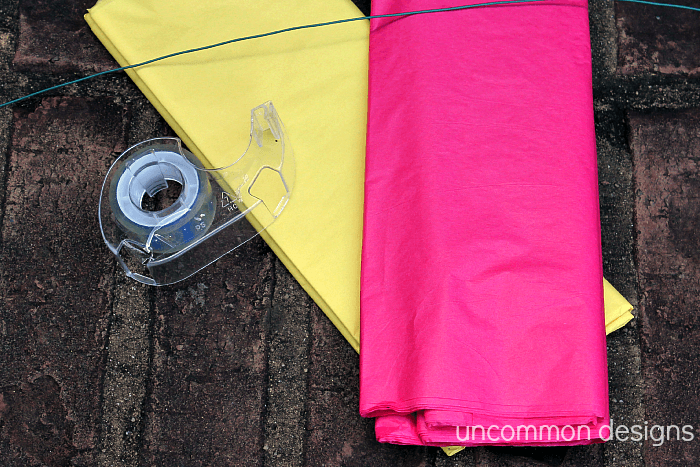 Supplies:
You will need one pack of 8-10 pieces of tissue paper in the main color and 4 sheets of tissue paper for the center color.  Each flower requires one piece of floral wire and some scotch tape. It would be helpful to have a piece of posterboard on hand to make the templates, as well.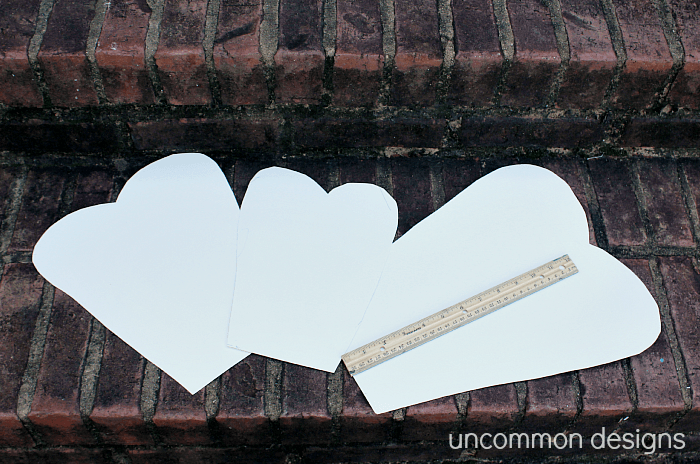 Step One.  The first thing you will do is cut three petal templates out of posterboard.  I made a small, medium, and large template.  The largest is about 13 inches tall by 12 inches wide.  Each petal gets a little smaller.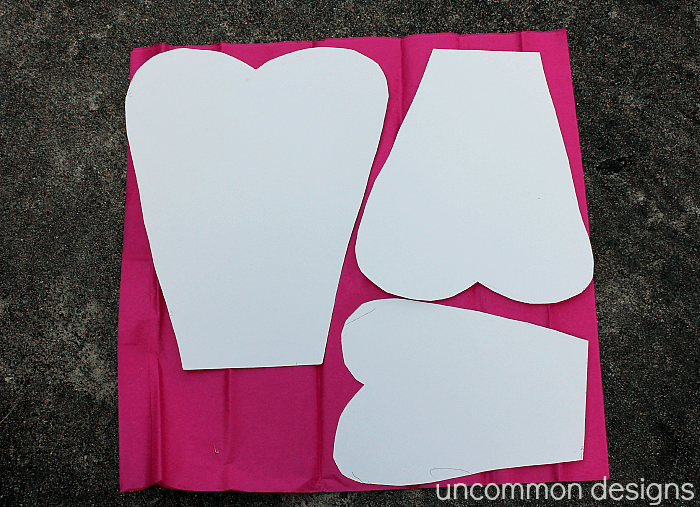 Step Two.  Open up your package of tissue paper and lay it on a flat surface.  Lay your templates on top and cut through all of the layers.  No need to be perfect here, after all no two flower petals are alike, right?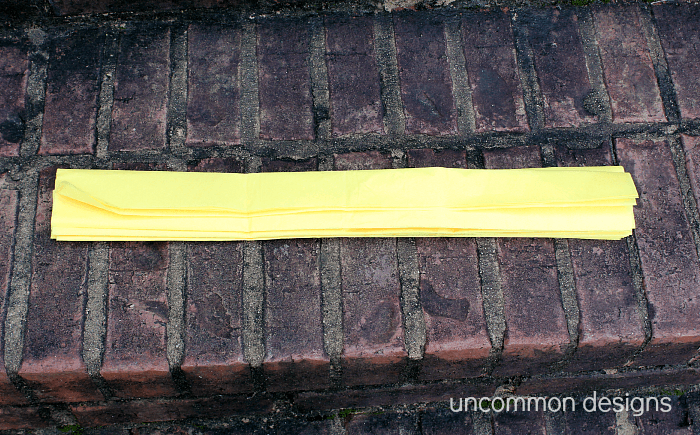 Step Three.  Now you will fold up the tissue paper for the center in an accordian style.  Again, it doesn't have to be perfect.  Once you complete this, you can cut this into thirds.  Now you have enough for the centers of three flowers.
Step Four.  Take your piece of floral wire and twist it around the paper like shown. You will then cut slits down the sides.  Now you can pull the pieces of tissue apart, or just rub them together until you get a pretty fluffy mess.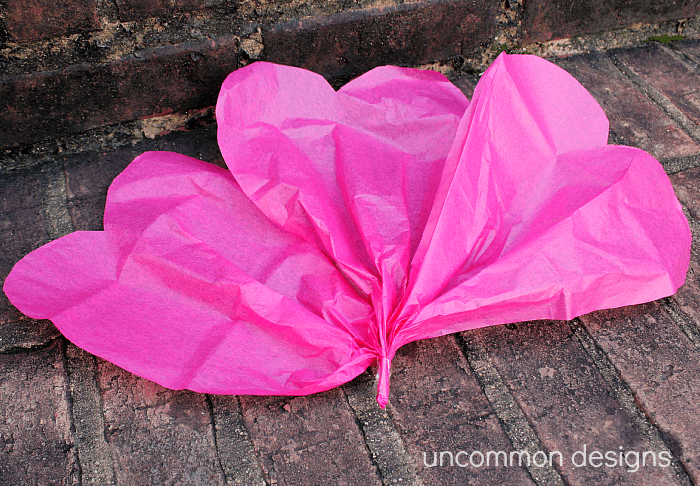 Step Five.  This is where it all comes together…. Take three of your smallest petals and bunch the ends together and put a piece of tape around the bottom to secure it.  Make sure that they are fanned out.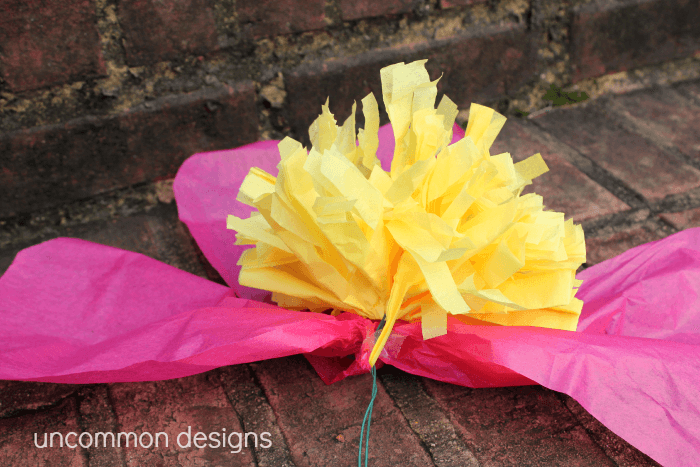 Step Six.  Now you will place the petal trio right under the fluffy center and tape it around the floral wire.
Step Seven.  Now you will continue going around the flower until each layer is complete.  After the small petals, do it again with the medium, and then with the large.  That is it!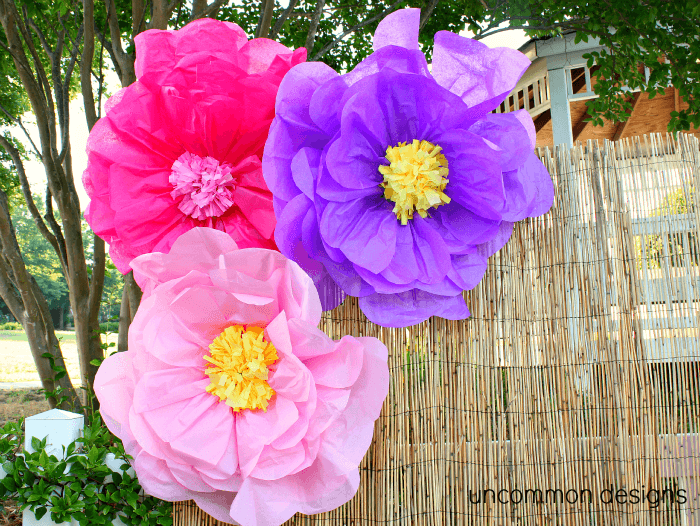 Now it is up to you to create these guys in any color combination that you can imagine… the sky is the limit!



You might like to see these amazing tutorials… Hawaiian Luau Party Decorations, How to Make Different Types of Tissue Poms, and Tissue Tassel Garland.
Thanks for stopping by today, y'all!
*Trish
___________________
Love this idea? Then subscribe to our email to get even more ideas and projects delivered straight to your inbox!
The following two tabs change content below.
Hey y'all! I am Trish and the creative voice behind Uncommon Designs. I adore party planning, holiday celebrations, and all things crafty! I am so excited to share my creative adventures with you!
Latest posts by Trish Flake (see all)