Thought you guys might like it!
Tassel Garland…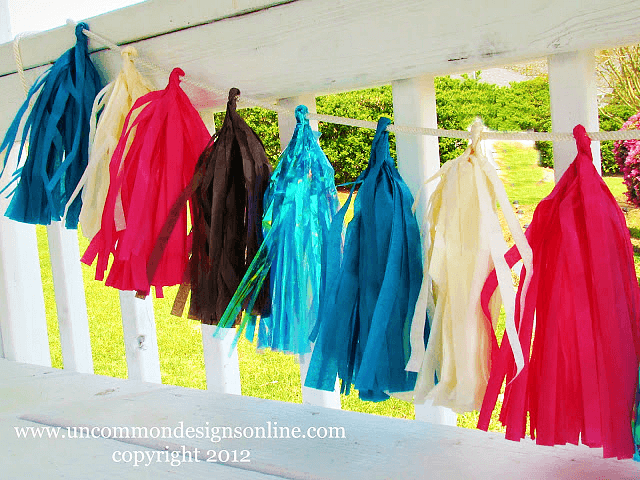 I love styling beautiful parties without breaking the bank. 
  One of my favorite elements to use is tissue paper.  It always amazes me how you can take a few sheets of flimsy, inexpensive paper and create something that is  pretty and so memorable! I have been making tissue paper poms for a while,but I have been wanting to try to make a tissue tassel garland, so I thought I would share a tutorial so you guys to make one, too! 
Tissue Tassel Party Garland Tutorial
2 sheets of tissue paper  (this will make 2 tassels)
cutting mat and rotary cutter or exacto knife
Let's begin…
1. Open both sheets of tissue paper and align them together.  You may need to iron your tissue if it has lots of creases. 
2.  Fold tissue in half across the width.
3. Fold again, but this time fold lengthwise.  Position the tissue so that the folds are to the top and to the left.
4. You will cut the tissue a little less than 1/2 inch wide.  Line your straight edge up and begin cutting about 2 inches down from the top.
5. Continue cutting across at 1/2 inch intervals.  When you get to the end, cut all of the way up.  You will then separate into two tassels. 
6. Open one of the tassels all the way up with the cut portion on the sides. 
7. Start at the bottom and fold the tissue up until you get to the top.
8. You will now twist the solid part in the middle.
9. Next you will twist it into a loop.  Almost done!
10. Arrange all of your tassels in the order you would like to hang them in.
11. You will  now open the loop and twist on to the rope.  You will want to dab with glue as you twist to make sure it is secure.
12.  Finish adding all of the tassels, brush them down a bit, and you are done! 
Isn't it so vibrant and fun? 
 These tissue tassel party garlands sell for a ton in online shops, but you can make one for yourself for just a few dollars!
Need some pom poms to go along with the tissue tassel garland? Our tutorial on making party perfect tissue poms would be a perfect addition!!
What other party decorations have you created on the cheap? 
The following two tabs change content below.
Hey y'all! I am Trish and the creative voice behind Uncommon Designs. I adore party planning, holiday celebrations, and all things crafty! I am so excited to share my creative adventures with you!
Latest posts by Trish Flake (see all)